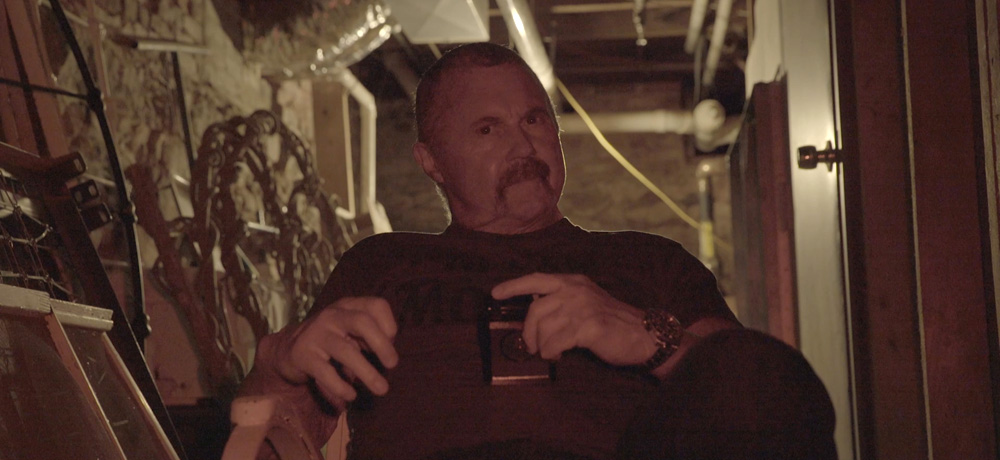 In today's Horror Highlights, we have the trailer for Kane Hodder's Balsam: A Paranormal Investigation, details on Grave Hill (the remake of The Housemaid), and the trailer for Darkness in Tenement 45!
BALSAM: A PARANORMAL INVESTIGATION: "Kane Hodder recently premiered the trailer for his new project, "Balsam: A Paranormal Investigation" at Mad Monster Party Arizona.  Kane Hodder has been working with producer and director Tony H. Cadwell (Behind The Sightings) to produce a documentary entitled "Balsam: A Paranormal Investigation."
Synopsis:  Kane Hodder leads a team of paranormal investigators as they investigate The Grand Old Lady Hotel in Balsam, North Carolina. The Grand Old Lady Hotel is a 112-year-old, 40,000 square foot hotel with a disturbing past. Nestled in the Appalachian Mountains of North Carolina, the hotel is referred to by locals as the South's Stanley Hotel.
Director Tony H. Cadwell stated, "We wanted to put together a project for horror fans that was both an authentic paranormal investigation and cinematically entertaining at a location that was not well known with an amazing horror icon, Kane Hodder."
Kane Hodder is no stranger to paranormal investigations. For years, Kane has been involved in leading paranormal investigations at some of the world's most haunted locations.
Balsam: A Paranormal Investigation was executive produced by White Glove Productions' Tom Sulkowski (Mechanic: Resurrection) and H13 Media's Tony H. Cadwell with Kane Hodder serving as a producer on the project.  The documentary stars Kane Hodder, Amanda Hannah, Mark A. Richardson, and Maeve Ybanez. Balsam is set for release in 2021."
---------
GRAVE HILL: "CJ Entertainment, Korea's leading entertainment conglomerate, and producer of Bong Joon-ho's ground-breaking, multiple Oscar®-winning film "Parasite," has tapped award winning director, Deon Taylor ("The Intruder," "Black and Blue," "Traffik") to direct the gothic horror/thriller "Grave Hill," the company's English language remake of the popular Vietnamese horror film "The Housemaid."
"The Housemaid" was written and directed by Derek Nguyen, produced by Timothy Linh Bui, which CJ Entertainment financed and produced. Released in 2016, the film was a popular hit with a story that explores racial and social themes through a period/romance/horror film. The remake, titled "Grave Hill", will stay true to this concept, taking place in the American South during the Reconstruction Era.
Academy Award® winner Geoffrey Fletcher ("Precious") wrote the adapted screenplay with Derek Nguyen.
CJ Entertainment is financing, developing and producing the new English language remake. Executive producers are CJ Group Vice Chairwoman Miky Lee, CJ Entertainment's Jinnie Choi and Jerry Ko along with Hidden Empire's Roxanne Taylor and Motor's Sean Sorensen.
Producers are Don Handfield ("The Founder"), through his Motor production banner, Timothy Linh Bui (producer of the original Vietnamese "The Housemaid"), through his Happy Canvas, Derek Nguyen, and CJ Entertainment's Yeonu Choi.
The film is expected to begin principal photography in Q1 2021.
Said Jerry Ko, CJ Entertainment's Head of International Division, "Deon is a filmmaker who will absolutely push boundaries and challenge sensibilities when it comes to elevating a story – particularly those rooted in suspense with social and racial themes. His creative vision for 'Grave Hill' involves stepping far beyond the ordinary to retell a haunting story that's different from anything audiences have seen before.
"Having the opportunity to work with CJ Entertainment is absolutely a dream come true," said Director Deon Taylor. "The collaboration they created with Bong Joon Ho and the film 'Parasite' was incredible. I truly believe 'Grave Hill' is a special film that will speak to social themes we are dealing with today and simultaneously push audiences to the edge of their seats just like the original version did. This is a rare film and I'm very excited to bring it to life with CJ and team!"
A prolific and multidimensional filmmaker, Deon Taylor recently wrote, directed and produced the hit thriller "The Intruder," starring Dennis Quaid, Michael Ealy and Meagan Good, which was released by Sony's Screen Gems last year. Taylor's directorial feature "Black and Blue," starring Academy Award nominee Naomie Harris also opened last year to wide acclaim. Taylor produced, with Jamie Foxx, the upcoming comedy feature "All-Star Weekend," as well as produced, wrote and directed the upcoming taut thriller "Fatale," (Lionsgate release) starring two time Academy Award® winner Hilary Swank.
In 2018, Taylor directed the film "Traffik," which was nominated for an NAACP Image Award for Outstanding Independent Motion Picture and a 2019 AMAA Best Dispora Narrative Feature. Additionally in 2019, The Black and Blue director Deon Taylor was awarded The Horizon Award from the African American Film Critics Association. Additionally, Taylor executive produced, with Robert F. Smith and Roxanne Taylor, the series "Be Woke. Vote," an independent digital series and political campaign to inspire kids across the country to get out and vote. The series has won two Webby Awards, Best Social: Education & Discovery and People's Voice Winner 2020 Podcast: Documentary in 2020 and was nominated for Best Host and Social Content Series & Campaigns - News & Politics in 2019.
"Grave Hill" is part of a rapidly expanding slate of English language films for CJ Entertainment. Following the historic critical and commercial success of "Parasite", which included four Academy Award® wins, including Best Picture, CJ is now working on a "Parasite" television series with HBO, and producing an English language remake of "Extreme Job", which is one of two current collaborations with Kevin Hart and Universal Pictures on English language remakes of Korean hits - the other being the female-driven dramedy, "Bye, Bye, Bye", based on the Korean hit titled "Sunny."
The company is currently in post-production on two English language films – "Hide and Seek" and "Press Play." "Hide and Seek", directed by Joel David Moore and staring Jonathan Rhys Meyers, is a remake of the 2013 NEW's Korean social horror-thriller that was a monster hit. "Press Play" is Greg Björkman's music-driven romantic drama starring Clara Rugaard, Lewis Pullman, Danny Glover and Lyrica Okano, produced alongside Jonathan Schwartz, Josh Boone and Logan Lerman.
Earlier this year, CJ made a strategic investment in David Ellison's Skydance Media that will see the companies collaborate on film and TV projects, tapping into libraries that appeal to a worldwide audience.
Glen Mastroberte negotiated the deal for Hidden Empire Film Group while Adam Mehr at McCathern Law negotiated on behalf of CJ Entertainment."
---------
DARKNESS IN TENEMENT 45: "Wood Entertainment, in partnership with The Horror Collective, is proud to announce the November 3 digital/VOD release of the timely, pandemic-set, isolation horror/thriller DARKNESS IN TENEMENT 45 from writer/director Nicole Groton ("The Melting Family"). Wood Entertainment acquired worldwide rights to the film in March 2020 at the start of COVID 19 shutdowns in a deal negotiated by CEO Tara Wood, writer/director Groton as well as producers Crystal Collins and Simone Lapidus.The film will debut on all digital VOD platforms November 3, including: iTunes; Amazon; Vimeo, Xbox, Google Play; iNDEMAND; FandangoNOW, and more.
Arriving during the most pivotal election in US history, DARKNESS IN TENEMENT 45's themes of power, corruption, and generational divide also make it the perfect election horror film.The film had an unstoppable festival run, including screenings at Horrible Imaginings Film Festival (where it received runner-up for best Actress and best Screenplay), Big Apple Film Festival (where it received Best Feature Film), Sarasota Film Festival, Capital City Film Festival, Heartland Film Festival."