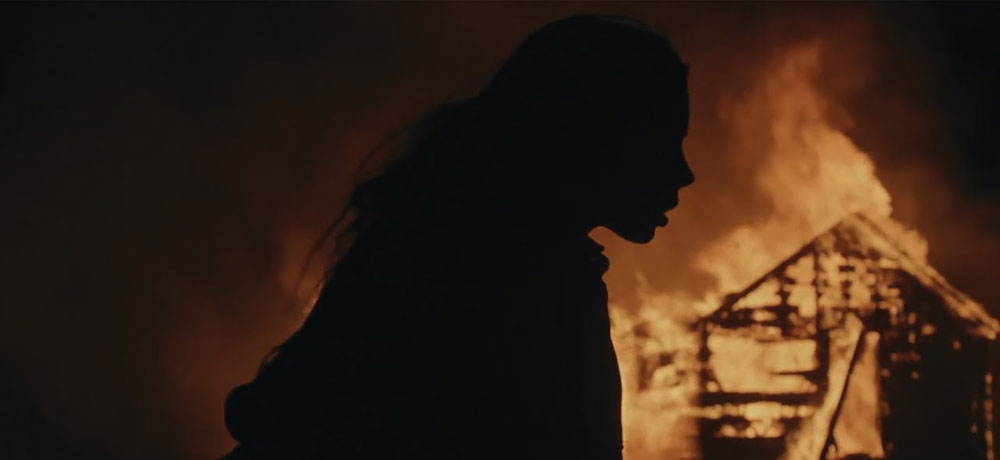 We're back with another edition of Horror Highlights! In today's installment, we have news of Dark Sky acquiring Before the Fire, details on the digital edition of the Etheria Film Festival, a look at the trailer for Two Heads Creek, and details on the We Summon the Darkness soundtrack release:
Dark Sky Films Acquires BEFORE THE FIRE: "Dark Sky Films today announced it has acquired all North American distribution rights to the timely new pandemic thriller BEFORE THE FIRE, the debut feature from director Charlie Buhler and written by and starring Jenna Lyng Adams of The Kominsky Method.
Nicola Goelzhaeuser, MPI/Dark Sky's VP of Sales & Acquisitions, negotiated the deal for the Madfire Picturesproduction with John W. Bosher and Chris Charles of Throughline Films and Michelle Chang of Ramo Law on behalf of the filmmakers, including producer Kristen Murtha. Dark Sky plans to release the film in theaters and on digital platforms by mid-summer 2020.
BEFORE THE FIRE had its world premiere at the Cinequest Film Festival in March, immediately preceding the national lockdown in the U.S., which brought the film's festival run to a halt. BEFORE THE FIRE received wide acclaim as a frightening and timely look at how individual lives are turned upside down by a global crisis and strikes an eerie resemblance to how we are living life today. The film follows Ava Boone (SAG Award nominee Jenna Lyng Adams), a Hollywood actress whose rising career is cut short when a pandemic influenza sends her back to the small town she fled years before, only to find something more dangerous than any virus waiting for her. Instead of shelter, her South Dakota hometown brings her face to face with unforeseen peril.
Adams, who is repped by Luber Roklin Entertainment and BRS/Gage Talent Agency, is joined in the cast by Jackson Davis (Vida, Palm Swings), Ryan Vigilant (Naked as We
Came) and Charles Hubbell. Director Charlie Buhler is repped by attorney Lev Ginsburg.
Buhler said, "We fought to make this movie because we felt that there was a very specific expectation about the types of stories women were able to tell. Jenna and I both love action and sci-fi, so we wanted to make a female protagonist that we women could really rally behind."
Screenwriter and star Jenna Lyng Adams added, "Audiences are thirsty for unconventional, layered and imperfect women on-screen. Dark Sky Films has been known to support female driven films and we are happy to have found the right partnership for this movie."
Among the raves BEFORE THE FIRE received upon its premiere, Liz Whittemore of the Alliance of Female Film Journalists said the film "is about trauma, family dynamics, fear, betrayal and power. It will pull you in from the very first moments and not let up until the credits." "BEFORE THE FIRE couldn't be more timely, giving audiences a chance to ponder who they want to be versus who they will be if things get worse," said Fanboy Planet's Derek McCaw.
Dark Sky Films' Nicola Goelzhaeuser said, "BEFORE THE FIRE arrives as the world is caught in an existential crisis, but it is really a timeless achievement that reveals how far people will go to survive. We look forward to bringing this female driven film to audiences everywhere."
---------
Etheria Film Festival Official 2020 Lineup and Screening Information: "Because of the world-wide Covid-19 quarantine in effect, Etheria will not be having a live event as planned in June 2020 at the Egyptian Theatre in Hollywood, California. Instead, Etheria 2020 will be a digital event and we want you there with us!
Etheria 2020's nine short films will be available to watch on Shudder, AMC Networks' premium streaming service for horror, thrillers and the supernatural, on Friday, June 19, 2020 through July 20, 2020. New members can sign up for a 30-day free trial with promo code ETHERIA at shudder.com
In addition, live digital celebrations featuring interviews, panels, and much more with Etheria 2020 filmmakers, judges, friends, and fans will be hosted by The Screenland Armour Theater in Kansas City, Missouri on June 20. Tickets for this separate Etheria Celebration and more info can be found here: screenlandonline.com/etheria.
The 2020 Etheria Film Festival Lineup includes SXSW 2020 Midnighters selection Waffle starring comedians Katie Marovitch and Kerry Barker (CollegeHumour), Australian horror shocker Maggie May starring actress/singer Lulu McClatchy (The Very Excellent Mr. Dundee), terror tale of revenge Conversion Therapist starring Sara Fletcher (Days of Our Lives), Dutch sci-fi comedy Offbeat from actress/director Myrte Ouwerkerk starring TV star Christopher van der Meer, dystopian character study Live from actress/director Taryn O'Neill (Granite Flats, Continuum) starring Tyler Wiseman (This Is Us), the Black Mirror-esque Ava in the End starring Allie Gallerani (James Franco's Blood Theatre, The Blacklist), and newcomer Alexandria Perez's award-winning slasher The Final Girl Returns.
Etheria Film Festival 2020 Official Short Film Selections:
Waffle
Directed by Carlyn Hudson (11:00) (Dark Comedy) (USA)
Kerry is at a sleepover with the socially awkward, mysteriously orphaned heiress Katie. Friendship--in a society that grows ever isolating--is explored as Kerry learns the hard way that Katie always gets what she wants.
Maggie May
Directed by Mia'kate Russell (14:00) (Horror) (Australia)
Sometimes doing nothing can be the worst move of all.
Basic Witch
Directed by Yoko Okumura (12:00) (Magical) (USA)
Young witch Lily prepares a magic pumpkin spice latte that forces Brian to relive the physical experience of their terrible sex from the previous night--but from Lily's perspective.
Conversion Therapist
Directed by Bears Rebecca Fonte (20:00) (Horror) (USA)
A pansexual, polyamorous trio kidnap a 'pray-the-gay-away' evangelical conversion therapist and torture him until he sees the light.
Offbeat
Directed by Myrte Ouwerkerk (20:00) (Science Fiction) (The Netherlands)
In a polluted future 20 year-old drummer Olly wants only one thing: to get inside the dome, where the air is clean and the best musicians live. In order to get in, he must pass a series of absurd tests.
The Final Girl Returns
Directed by Alexandria Perez (16:00) (Horror) (USA)
A driver emerges from a massacre unscathed and finds himself trapped in an endless cycle of saving the final girls. The Driver soon learns that one mustn't fight the rules of horror, and the past he's been driving from catches up to him.
LIVE
Directed by Taryn O'Neill (12:30) (Science Fiction) (USA)
An online 'livecaster' with a dangerous brand has a crisis of conscience over her volatile career choice in a future world where jobs are limited and conflict is currency.
Man in the Corner
Directed by Kelli Breslin (9:45) (Horror) (USA)
What starts out as a hot hookup with his dream guy turns into a nightmare when Daniel realizes they aren't alone in the house.
Ava in the End
Directed by Ursula Ellis (10:00) (Science Fiction) (USA)
After tripping over her dog and dying, a struggling actress wakes up in a virtual purgatory and waits for her mind to be downloaded into a new body.
Some other incredibly exciting news is that a full Etheria Film Festival retrospective collection featuring our official selections from every festival season, 2014-2019, will be released on digital streaming by The Horror Collective (thehorrorcollective.com) beginning with the release of Season 2014 on July 23, 2020 on Amazon.com. Stay tuned for more details about those releases and how to watch them!

---------
Horror-Comedy TWO HEADS CREEK Sets Summer Release: "[Los Angeles, CA] This summer just got a little hotter! Genre label The Horror Collective will be releasing the UK/Australian horror-comedy TWO HEADS CREEK on June 23rd, 2020. The film will be coming to VOD and on-demand platforms.
The film has been hailed by Nova Stream Network as "this year's most extravagant romp" and Screen Space says the movie "...plays like a Monty Python-meets-Peter 'Braindead' Jackson"!
Synopsis: A timid butcher and his drama-queen twin sister adventure to Australia in search of their birth mother, but the seemingly tolerant townsfolk are hiding a dark, meaty secret.
Written by Jordan Waller, TWO HEADS CREEK is directed by Jesse O'Brien (ALIEN ARRIVAL) and produced by Jayne Chard and Judd Tilyard. Vickie Gest and Brett Thornquest co-produce with Steven Matusko serving as executive producer. 
The film stars Kathryn Wilder (MURDER ON THE ORIENT EXPRESS, READY PLAYER ONE), Jordan Waller (VICTORIA, DARKEST HOUR), Kerry Armstrong (THE VERY EXCELLENT MR. DUNDEE), Stephen Hunter (THE HOBBIT trilogy), Gary Sweet (WOLF CREEK), Don Bridges (JUDY & PUNCH, TROLL BRIDGE), Kevin Harrington (SEACHANGE), and Helen Dallimore (HARDBALL, INTO THE WOODS)."
---------
WE SUMMON THE DARKNESS Soundtrack Release: "Lakeshore Records has digitally released the Original Motion Picture Soundtrack to the horror comedy We Summon the Darkness from director Marc Meyers (My Friend Dahmer, All my Life), which Vulture calls one of the best horror movies of 2020. The original score is composed by Timothy Williams (Brightburn, Wild Horses), which The Hollywood Reporter says, "has just enough vintage John Carpenter flavor." The film is available on digital and On Demand.
Timothy Williams on his scoring process: "When director Marc Meyers reached out to me about creating a score for We Summon the Darkness, I showed him my bank of 80s synthesizers and we both agreed they would be perfect. Not only do the Mono/Poly, Prophet and Juno 106 bring an authentic feel to his 80s-era film, but using legitimate 80s synthesizers is a more organic experience as a composer. With contemporary synths, you can call up the same sounds again and again, but with the old school synths, you adjust multiple knobs to create sounds that are impossible to replicate. When you find a sound you like, you have to record it immediately because once you change any of the knobs, the sound is gone forever.
It was new territory for me to blend an 80s soundscape with horror, and Marc and I discussed the idea of writing a different kind of darker 80s score with inspiration from John Carpenter. When I watched the film for the first time, I was struck by the high energy, the dark humor and the amazing performances by the cast, which includes Alexandra Daddario, Maddie Hasson, Amy Forsyth and a great cameo by Johnny Knoxville. It turned out to be the most fun two months I've ever spent writing a score. I am honored that it won best score at LA Screamfest 2019. Hope you enjoy!"
For more details on how to stream and purchase, visit:
http://smarturl.it/wesummon