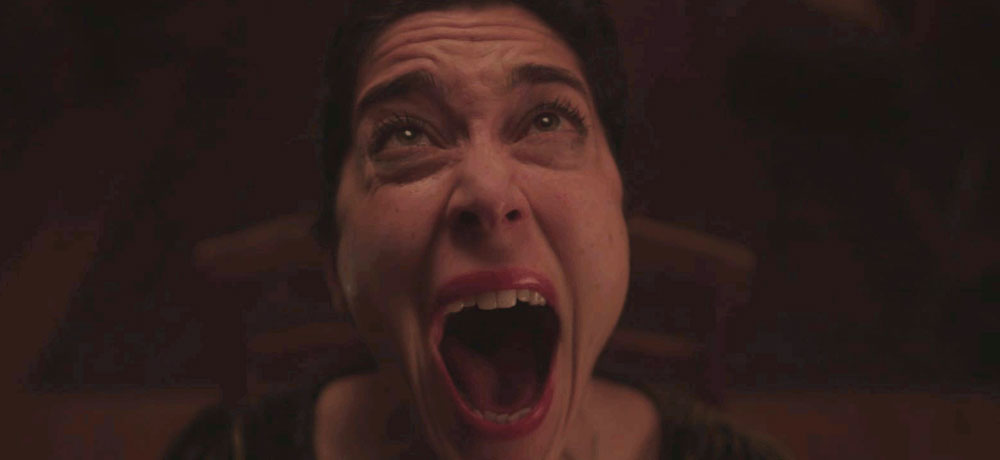 In today's horror highlights, we have a short film for you to watch, the reveal of a new poster, and details on Frontières' project selections for their Cannes online event:
Watch the Short Film BILL: "BILL tells the story of a grieving widow who employs the dark arts to see her husband once more.
The film is a DIY Self Funded short film inspired by the Ghost our two young sons would talk to in the ceiling called 'Bill'. We were chilled to the bone and the events inspired this 3 minute film which premiered at the prestigious Encounters Short Film Festival 2019. The film was partially conceived as a challenge to shoot a short film in our own house, with our own props in just 1 day."
The film was written and directed by Dan Gitsham & Sophie Mair. You can watch the film below and learn more about the film making team at: www.sketchbookpictures.co.uk
-------
Poster Reveal for Hallowed Be Thy Name: "Superstition, magic, and bad decisions drive us down a road into a small town in rural Louisiana with Devin, a 17-year-old boy, being dragged to his mother's hometown after his parents' ugly divorce. After arriving at his grandmother and settling into his unwanted new life, Devin meets two locals who sweep him out of his comfort zone. Like most teens they are curious and ignoring all warnings they venture deep into a forsaken Cave, thought to be haunted by local town people. Together they meet, CAUCHEMAR, a legendary demon that wreaks havoc on all those it encounters. They learn quickly that sometimes in life we have to allow nature to take its course, because there are some things that just aren't meant to be. Ever hear the saying "When man plans, God Laughs?" That statement has never been more true than in this story.
Cast: Collin Shephard, Alissa Hale, Bryen Lenis, Bill Barrett, Travis West, Hal Whiteside, and Fiona McQuinn
Director of Photography: Torin Penwell
Editors: David Bergen and Drew Cook
Run-Time: 100 minutes
Release Date: June 2, 2020 (On all VOD platforms)
Written, Directed, and Produced By: Taylor Ri'chard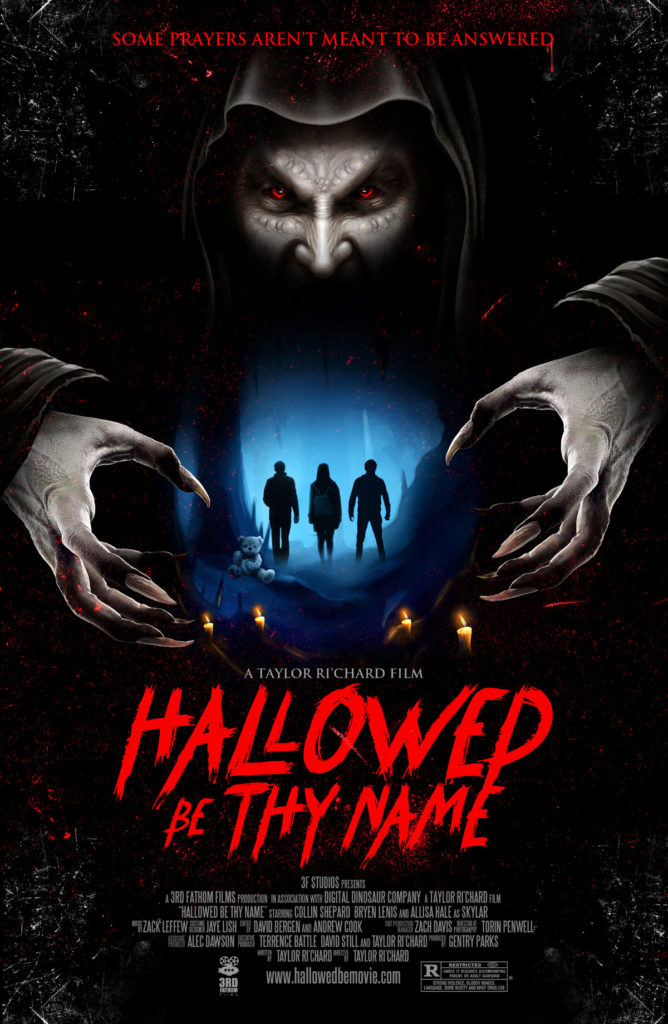 ---------
Frontières Platform Cannes Announces 13 Genre Projects for 2020 Event: "Montreal, QC - May 13th, 2020 - Frontières announces today the final selection of projects for their Cannes platform, returning for the fourth year to the Marché du Film as part of its upcoming online edition. The 2020 slate, which focuses on emerging voices in genre filmmaking from around the globe, will feature six projects selected for the Buyers Showcase and seven for the Proof of Concept Presentation.
A co-presentation between Montreal's celebrated Fantasia International Film Festival and the Marché du Film - Festival de Cannes, the Frontières selection this year sees over 15 countries represented. Films that are recently completed or in post-production make-up the Buyers Showcase, which will screen footage for buyers, sales agents and festival programmers, while the Proof of Concept Presentation grants films in the advanced financing stages to present completed teaser trailers directly to prospective partners.
This marks the first initiative under newly appointed Executive Director Annick Mahnert, who added, "We are extremely proud and elated to be presenting these thirteen projects at the Frontières Platform in Cannes. Despite the disruptions, the Marché du Film fought to exist in a digital way and I am sincerely grateful we can be part of it, as Frontières has become a must-attend event for the genre industry during the market. The filmmakers have all put a lot of work into their projects and it is capital that they should now be able to share their work with their peers. This year's selection is very diverse in style and origins, coming as far as Argentina, Israel and Russia, and I'm looking forward to the industry discovering these gems."
"We're thrilled to join forces again with Fantasia for this one-of-a-kind edition of Frontières on the Marché du Film Online," added Jérôme Paillard, Executive Director of the Marché du Film - Festival de Cannes. "As our industry is facing unprecedented challenges, we wish to provide the industry with a platform to facilitate the development and distribution of genre films."
Accessing the Marché du Film Online and its virtual events will be limited to industry professionals who have been accredited by the Marché du Film, as well as select industry representatives invited by Frontières organizers. Further networking boosts are planned following the engagements, which are scheduled to take place on June 25th.
Notable inclusions in the Buyer's Showcase are the XYZ and AMP repped THE PAPER TIGERS, starring Jae Suh Park (Friends from College) and Ron Yuan (Mulan), and BLOODTHIRSTY, a female-driven and directed werewolf thriller from the producer of HARPOON. Noted films to present through proof of concepts are South American filmmaker Tamae Garateguy's DOGMAN, which was awarded the Creative Excellence award for best project at the International Film Festival & Awards Macao, and RULES FOR WEREWOLVES starring Stranger Thing's Finn Wolfhard in both the SXSW-selected short and attached for the feature-length adaption.
The Frontières Platform in Cannes is funded by the Government of Canada, with the major support of Wallimage, the Netherlands Film Fund, the Norwegian Film Institute, Telefilm Canada, and SODEC.
Frontières Platform in Cannes: Complete List of Projects
BUYERS SHOWCASE
BLOODTHIRSTY (Canada)
Director: Amelia Moses
Producer: Michael Peterson (775 Media Corp), Wendy Hill-Tout (Voice Pictures)
BREEDER (Denmark)
Director: Jens Dahl
Producer: Amalie Lyngbo Quist, Maria Møller Christoffersen (Beo Starling)
Sales Agent: Level K
IO SONO VERA (VERA DE VERDAD) (Italy/Chile)
Director: Beniamino Catena
Producer: Simone Gandolfo (Macaia Film), Karina Jury (Atomica)
KRATT (Estonia)
Director: Rasmus Merivoo
Producer: Tõnu Hiielaid, Rain Rannu (Tallifornia)
THE PAPER TIGERS (USA)
Director: Tran Quoc Bao
Producer: Michael Velasquez, Al'n Duong, Yuji Okumoto, Dan Gildark (Beimo Films)
Sales Agent: XYZ Films & AMP International
THE RETREAT (Canada)
Director: Pat Mills
Producers: Alyson Richards (Outside Line Studio), Lauren Grant (Clique Pictures)
PROOF OF CONCEPT PRESENTATION
THE CHANGE (United Kingdom)
Director: Jennifer Handorf
Producers: Jen Handorf (Dark Matter Films), Alex Bentley (AB Plus Films)
Sales Agent: MPI
COMING SOON (Canada)
Director: Ante Kovac
Producers: Lauren Grant (Clique Pictures), Daniel Bekerman (Scythia Films), Rory Halsall (Santa Carla Films), Dave Huakoc, Daniel Quinn (levelFILM)
Sales Agent: Altitude Film Sales
DOGMAN (Argentina/Peru)
Director: Tamae Garateguy
Producer: Silvia Rodriguez (Tedigoque Producciones), Melissa Cordero (Lunática Films)
FINGERNAIL (Israel)
Director: Boaz Armoni
Producers: Yoav Roeh (Gum Films)
IN HER HEAD (Russia/Lebanon/Georgia/France/Lithuania)
Director: Maria Ivanova
Producer: Maria Ivanova, Olga Erofeeva (Scoop Production)
THE OCCUPANT (Netherlands)
Director: Hugo Keijzer
Producers: Maurice Schutte (HAA! Films), Raymond van der Kaaij (Revolver Amsterdam)
RULES FOR WEREWOLVES (Canada/USA)
Director: Jeremy Schaulin-Rioux
Producers: Peter Harvey (Peter Harvey Productions Inc.), Kelly Williams, Jonathan Duffy (Ten Acre Films)"
Learn more at: http://frontieresmarket.com