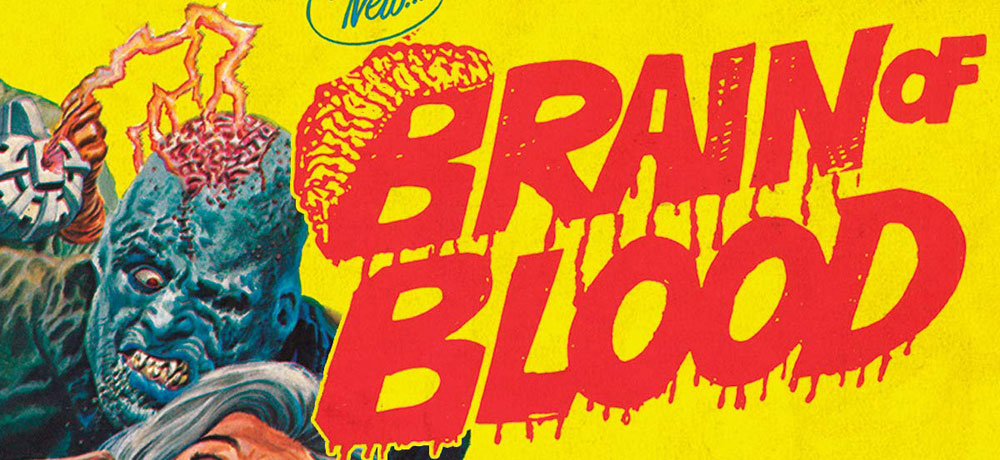 THE CIRCLE DRIVE-IN IN SCRANTON, PENNSYLVANIA, TO HOST THE FIRST ANNUAL BLOOD-O-RAMA SHOCK FESTIVAL ON FRIDAY, OCTOBER 22, 2021: "Calling all horror movie fans and drive-in movie enthusiasts! The Frankenstein Monster from 1971's cult classic DRACULA VS FRANKENSTEIN will be returning from the dead after a 50-year rest, courtesy of makeup effects artist Roy Knyrim of SOTA FX STUDIO. The man-made monster will be making a live appearance as Sam Sherman's Retro Road Show Drive-In Tour returns to the State of Pennsylvania with two back-to-back screenings of the Al Adamson cult classics, DRACULA VS. FRANKENSTEIN (1971) and BRAIN OF BLOOD (1971), both films celebrating their 50th Anniversary, on October 22rd, 2021 as part of THE FIRST ANNUAL BLOOD-O-RAMA SHOCK FESTIVAL at The Circle Drive-In in Scranton, PA. Gates open at 4 pm for this special event which will feature a local community Blood Drive and an opportunity to see the resurrected Monster of Frankenstein before the sun sets, and the film festival begins at 6 pm. The night will also feature two other blood-soaked movies, THE MAD DOCTOR OF BLOOD ISLAND and BEAST OF BLOOD, during the evening's film program, as well as an opportunity to experience THE CIRCLE DRIVE-IN's spooky Halloween haunt, THE CIRCLE OF SCREAMS! Don't be surprised if another creature, The Beast of Blood, shows up to meet and greet fans during the evening's drive-in festivities with free Zombie swizzle sticks. In addition, the first 100 cars that arrive at the drive-in will receive a free "Drac Pack," which includes a plastic Dracula ring and plastic vampire fangs. (Note: One "Drac Pack" per car.)
The idea for THE CIRCLE DRIVE-IN'S BLOOD-O-RAMA SHOCK FESTIVAL with the Drive-In Blood Drive and Blood themed movie event was based on a couple of producer/distributor Sam Sherman's packaging and marketing campaigns for Hemisphere Pictures during the early 1970s, entitled THE CHILLER CARNIVAL OF BLOOD and THE BLOOD-O-RAMA SHOCK FESTIVAL. A number of the films Mr. Sherman worked on emphasized the word "Blood" in the title to lure "blood-thirsty" horror and gore fans to seek the films out at their local theatre or drive-in. Some of the film campaigns and titles Sherman worked on include BLOOD CREATURE, THE BLOOD DRINKERS, BRIDES OF BLOOD, BLOOD OF DRACULA'S CASTLE, HORROR OF THE BLOOD MONSTERS, HELL'S BLOODY DEVILS, and BLOOD OF GHASTLY HORROR. In fact, it was Mr. Sherman who was the brains behind the classic drive-in campaign and audience-participation gimmick called "THE OATH OF GREEN BLOOD" for the Tiki creature feature, THE MAD DOCTOR OF BLOOD ISLAND (1968), which is part of the festival. Mr. Sherman, a drive-in movie pioneer, just completed his memoir WHEN DRACULA MET FRANKENSTEIN (Murania Press), which will be available in limited supply at The Circle Drive-In.
The film DRACULA VS FRANKENSTEIN was also originally conceived with the crimson fluid in titles like SATAN'S BLOOD FREAKS, THE BLOOD SEEKERS and even BLOOD OF FRANKENSTEIN before Sam Sherman decided to add and exploit a classic monster match-up plot with the immortal characters of the King of the Vampires, Dracula, and the man-made Frankenstein Monster.
Sherman, who still has the original latex appliance for the Frankenstein Monster's head used in 1971's DRACULA VS FRANKENSTEIN, has been trying to find the original make-up man responsible for the man-made monster, Anthony Tierney. "Sadly, we haven't found Tony, and the latex appliance for the Frankenstein Monster is deteriorating beyond repair," Sherman relayed. However, all was not lost. Sherman and his colleague David Sehring of Drive-In-Sanity Films were referred to veteran make-up and FX wizard, Roy Knyrim of SOTA FX Studio, to help resurrect the monster. Knyrim jumped at the opportunity to tackle the Monster of Frankenstein and sought out whatever reference material he could find. Knyrim remembers DRACULA VS FRANKENSTEIN as, "One of my childhood favorites! Having the opportunity to re-create the Frankenstein Monster from DRACULA VS FRANKENSTEIN was a childhood dream come true for me. I have great memories of this movie on the Saturday afternoon Creature Features in NY. " Knyrim added, "We are trying our best to make the Monster as accurate as possible using traditional sculpture and mold-making techniques. The same way it was made back in the day. What an honor to be able to be a part of this!"
Sam Sherman's Retro Road Show Tour of Drive-In Cult Classics features recently restored and remastered versions of the films he made with drive-in maverick Al Adamson, including DRACULA VS FRANKENSTEIN and BRAIN OF BLOOD. In addition, Adamson's life and tragic death and the films he made with Sam Sherman were celebrated in the recent documentary BLOOD & FLESH: THE REEL LIFE & GHASTLY DEATH OF AL ADAMSON by director David Gregory for Severin Films.
Tickets for The Circle Drive-In's Blood-O-Rama Shock Festival on October 22, 2021, are available in advance on Ticketleap: https://circle-drive-in-theatre.ticketleap.com/blood-o-rama-shock-festival"
----------
VIOLATION - Available on Digital HD and Blu-ray on September 21, 2021: RLJE Films, a business unit of AMC Networks, has picked up select rights to the horror film, VIOLATION from Shudder, AMC Networks' premium streaming service for horror, thriller and the supernatural. RLJE Films will release VIOLATION on Digital HD and Blu-ray on September 21, 2021.
The feature screenwriting and directorial debut of Madeleine Sims-Fewer and Dusty Mancinelli, VIOLATION stars Sims-Fewer along with Anna Maguire (Ever After: A Cinderella Story), Jesse LaVercombe ("Murdoch Mysteries"), and Obi Abili (21 Bridges, "Billions"). VIOLATION had its World Premiere at Toronto International Film Festival, International Premiere at Sundance Film Festival and screened at SXSW. Sims-Fewer received a TIFF Rising Star award for her performance. RLJE Films will release VIOLATION on Blu-ray for an SRP of $28.96.
In VIOLATION, with her marriage about to implode, Miriam (Sims-Fewer) returns to her hometown to seek solace in the comfort of her younger sister and brother-in-law. But one evening, a tiny slip in judgement leads to a catastrophic betrayal, leaving Miriam shocked, reeling, and furious. Believing her only recourse is to exact revenge, Miriam takes extreme action, but the price of retribution is high, and she is not prepared for the toll it takes as she begins to emotionally and psychologically unravel.
Bonus features on the DVD include:
Meet the Filmmakers
Toronto International Film Festival Introduction
----------
WITCHES OF BLACKWOOD: "New Era announce a September release for the latest film starring Australian favourite Cassandra Magrath (Wolf Creek, Scare Campaign, The Dustwalker,).
The film will receive a home entertainment release, with a day-and-date DVD and Premium TVOD September 7th followed by a full digital release.
Witches of Blackwood, hails from Australian female film maker Kate Whitbread (The Dustwalker, Life on Earth: Severance, Spirit of the Game, Surviving Georgia) and stars Cassandra Margrath (Wolf Creek, Scare Campaign, The Dustwalker,), John Voce (Penelope, Pimp, Crush) and Nicholas Denton (Spirit of the Game, Glitch).
The film follows a young woman Claire (Magrath) who, following the death of her mother, returns to her hometown, to discover it riddled with witchcraft and overshadowed by a mysterious darkness, steeped in rumours of a soul-stealing entity.
As she seeks the truth behind her mother's death, a confrontation with a coven of witches is the only way to survive.
WITCHES OF BLACKWOOD will be on DVD/Digital September 7"
---------
THE RETALIATORS: "London, UK - Better Noise Films (The Dirt, Sno Babies) have announced the World Premiere of their latest production, The Retaliators, at London's Arrow Video FrightFest 2021. The rock and roll gorefest follows a broken pastor as unimaginable grief leads him to depths of depravity he never imagined. The Retaliators will world premiere at FrightFest on Monday, 30 August.
Michael Lombardi ("Rescue Me"), Marc Menchaca ("Ozark"), and Joseph Gatt ("Game of Thrones") headline the cast alongside Jacoby Shaddix, front man of Papa Roach, making his acting debut. The Retaliators features cameos and music by Mötley Crüe's Tommy Lee, Five Finger Death Punch, Papa Roach, The Hu, Ice Nine Kills, Escape The Fate and many more, anchored by an original score from Emmy-winning composers Kyle Dixon and Michael Stein ("Stranger Things").
Ahead of the premiere, Better Noise President Dan Waite shared his delight: "Since the early days of production, we've always thought FrightFest would be the perfect place for this film to make its premiere. The Retaliators is an unapologetic horror film at its core, and we're thrilled that Paul McEvoy and the rest of the FrightFest team understand our vision and have extended an invite for this story to be a part of its epic legacy in the genre. We also look forward to further bridging the relationship between rock music and horror films with this project."