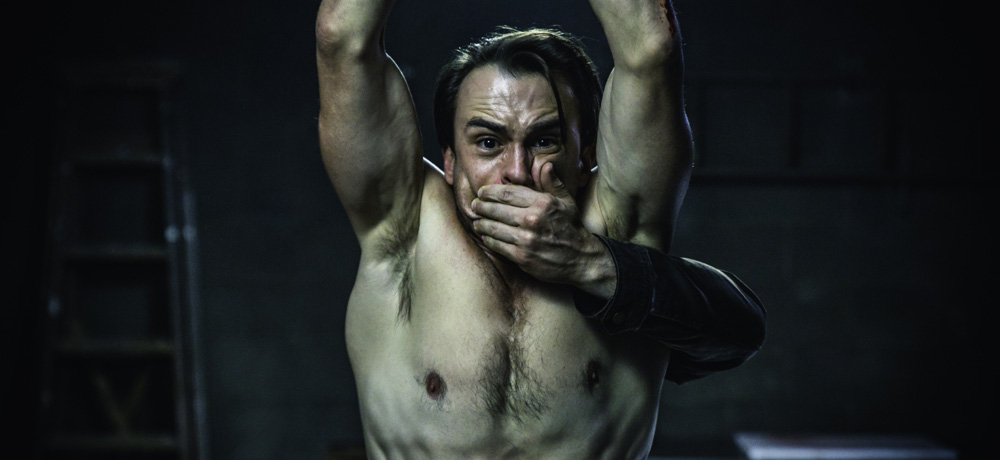 In today's packed edition of Horror Highlights, watch the trailer for Bloody Hell, learn more about Panic Fest Presents: TRICKS AND TREATS and the Mile High Horror Film Festival, read about the Boobs & Blood charity issue, and find out about how you can join the Miskatonic Institute of Horror Studies' virtual semester:
Watch the Trailer for BLOODY HELL: "A man with a mysterious past flees the country to escape his own personal hell - only to arrive somewhere much, much, much worse."
Festival Schedule
- World Premiere at Fantasy Filmfest / September 13
- Australian Premiere at Brisbane International Film Festival / October 3
- Spanish Premiere at Molins Film Festival / November 6
- North American Festival Premiere to be announced soon
Instagram: @BloodyHellTheFilm
Facebook: @BloodyHellTheFilm
Twitter: @BloodyHellFilm
#BloodyHellTheFilm
Director: Alister Grierson
Cast: Ben O'Toole, Caroline Craig, Matthew Sutherland, Travis Jeffery, Jack Finsterer, Meg Fraser, Ashlee Lollback
Writer: Robert Benjamin
Producers: Brett Thornquest, Joshua Paul, Steven Matusko
Run Time: 95 minutes
Australian Distributor: Entertainment Advocate
Australian Release Date: October 8, 2020
Sales Agent: Arclight Films International
---------
Panic Fest Presents: TRICKS AND TREATS: "Kansas City, MO --- September 8, 2020 --- Trick or Treaters. Candy bingeing. Horror marathons. Pumpkin carving. Costume contests.
Even though this Halloween turned out to be more gnarly than Regan projectile vomiting green pea soup - that doesn't mean we can't celebrate the best time of the year together! Panic Fest won't let Halloween die! Panic Fest Presents: TRICKS AND TREATS, a special virtual Halloween celebration that runs October 30 thru November 1st.
Every year we look forward to these traditions but with the pandemic they are in real jeopardy of not existing this year. Fear not, Panic Fest is here to satisfy your horror appetite.
The three day event features new and classic films, shorts, live events including horror themed trivia, live podcasts, special guests and more. Best of all, you, the horror community get to participate with each other throughout the weekend. Hell, we even have a 'Best in Show' style pumpkin carving contest.
So, grab your costume and bowl of candy and join us for a jam packed weekend celebrating our favorite time of year. Tickets are now on sale with full programming coming in October.
Have a feature or short? Submissions are open: https://filmfreeway.com/TricksTreats
Tickets on sale now: https://panicfilmfest.com/tricks
Panic Fest enters it's 9th year and has been recognized for three years running as one of the top 25 best genre festivals in the world by MovieMaker Magazine. Panic Fest is scheduled to take place Jan. 29th - Feb. 4th 2021."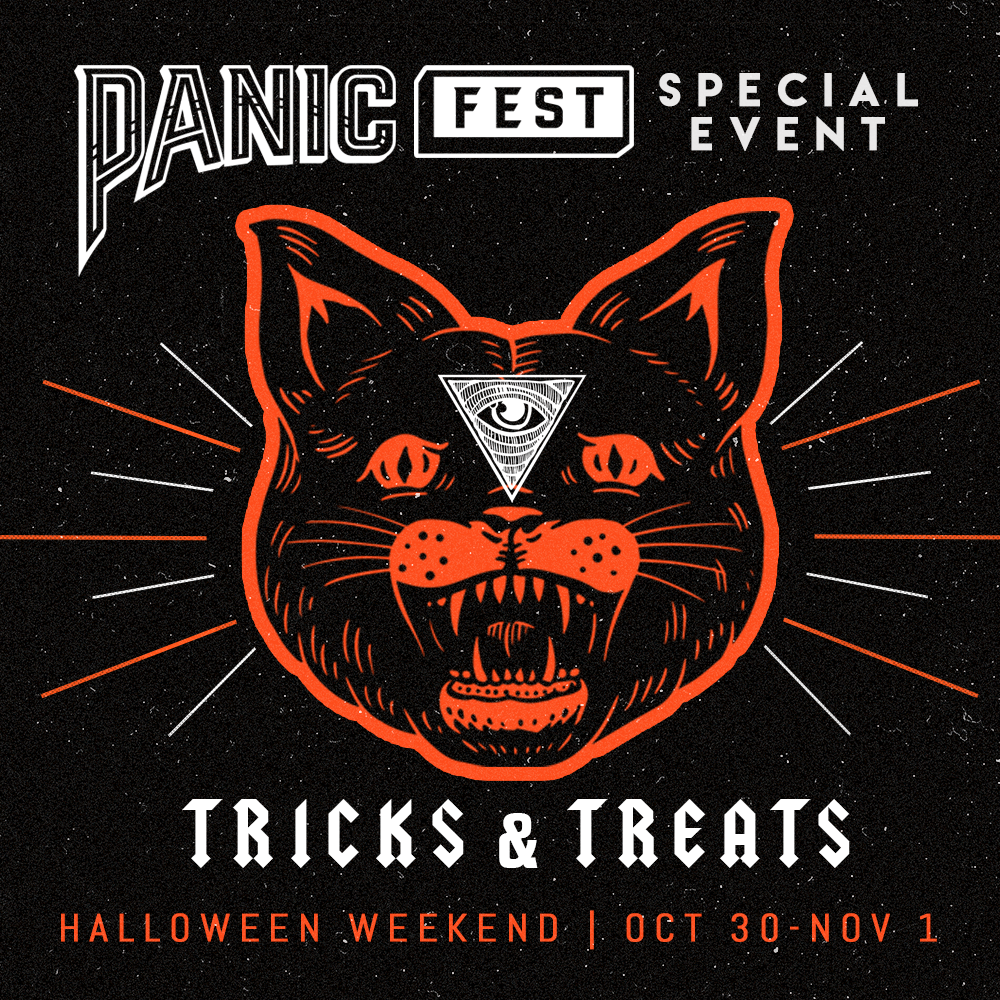 -
Mile High Horror Film Festival Returns Virtually 9/24: "DENVER, CO -- (Tuesday, September 8) -- Mile High Horror Film Festival (MHHFF) is pleased to announce its return on Thursday, September 24th running through Sunday, October 4th. Established in 2010, the festival will be held virtually, allowing for attendees to watch over 80 of the best horror, thriller and sci-fi films from around the world along with Q&A's with filmmakers and special guests. Scream Passes are now on sale here with individual tickets coming soon.
"With theaters closed and large gatherings no longer allowed, we are launching our festival virtually this year," says MHHFF co-director Timothy Schultz. "Horror fans are hungry for new films and we're excited to shine a spotlight on them."
This year's special guests will include Adam Green (the HATCHET series), John Hyams (ALONE), John Kassir (TALES FROM THE CRYPT), Jeffrey Reddick (FINAL DESTINATION) and Dan Myrick (THE BLAIR WITCH PROJECT) as the 2020 special guest judge of the feature film category. Additionally, the festival will host a Women in Horror panel moderated by programmer and host of Scream Screen, Theresa Mercado. Panelists include actors Tiffany Shepis (VICTOR CROWLEY), Jennifer Holland (BRIGHTBURN), and filmmaker Natasha Halevi (BEAUTY JUICE).
Throughout the ten days, attendees will be able to stream films at their own convenience, including 12 shorts programs and over five features. Most films included in the festival are new films, giving fans a chance to see them before they are released to the general public.
The full festival schedule will be announced soon."
----------
All New BOOBS & BLOOD Magazine Fundraising for Breast Cancer Charity: "
It's a magazine that gives all its profits to charity, in this case the KEEP A BREAST FOUNDATION. A magazine for whom everyone involved works entirely for free. It looks like an art magazine yet it covers the world of exploitation culture. It's a magazine called BOOBS & BLOOD, and it's celebrating its 3rd issue this month.
To quote the magazine itself, it is "an unapologetic celebration of all things psychotronic," from films to art to culture in general, but with a decidedly female-centric angle. The current issue features an exclusive and personally revealing interview with cult exploitation actress and model CHRISTINE NGUYEN. If you thought you knew everything about her, think again. Plus there's an in-depth, and very funny, interview (by celebrated author & journalist PAT JANKIEWICZ) with the only female horror host to go national since ELVIRA, the fabulous and trail-blazing IVONNA CADAVER.
The magazine is the brainchild of filmmaker and festival director, and now magazine publisher, MILES FLANAGAN. "Essentially we're a serious publication, with a damn silly name. But people like it - so why change it," he states. "I've always loved glossy magazines and wanted to create one that was both beautifully designed and written, yet covered not fashion but obscure and current exploitation culture from around the globe." Well things don't get much more obscure that the work of filmmaker, the late LINDSAY SHONTEFF, whose 1970s James Bond send-ups get more exposure than they've seen in decades in this issue. "I've always seriously admired Shonteff's work for its sheer mind-bending audacity. And felt more people needed to discover his cinematic insanity before it was forgotten entirely." And there's more…
Issue 3 definitely has something for everyone - from rare images of PHILIP CASTLE'S art for A CLOCKWORK ORANGE, to the no-holds-barred erotic artwork of talented MORGAN WILSON (aka LUX NOVA) "I first discovered Morgan's work at Monsterpalooza. She's an important artist with a unique voice that deserves more attention," states FLANAGAN. "Whether you're outraged or applaud her work, you simply can't deny her raw talent." The magazine also features a piece about the oddest (and funniest) item ever listed on eBay. What other magazine writes about things like that?
The current issue also features Part 2 of a comprehensive interview with U.K. publishing legend DEZ SKINN of V FOR VENDETTA, HOUSE OF HAMMER and MONSTER MAG fame. With its finger on the indie filmmaking scene it also interviews producer/director CHRISTINE PARKER and delves into how filmmakers finance, produce and get distribution for their passion projects. This being a MUMMY film, replicating ancient Egypt in North Carolina! was a miracle in itself.
And with it being election year (how can anyone forget), PRESIDENT WOLFMAN director MIKE DAVIS reviews a selection of the best POTUS horror films ever made.
With the year being what it has been, with the coronavirus disrupting virtually every part of normal life, FLANAGAN was initially unsure whether there'd even be an issue 3 this year. But he's had so much support that an even more exciting issue is promised in November.
"Yes, it's been a tough year for everyone. But what I'm most proud of," says FLANAGAN "is the fact that everyone, from the designers to writers to photographers, put this amazing magazine together for free. No-one's paid a penny. Can you believe that?" For FLANAGAN it was his intent from the get-go to have all the profits go to a breast cancer charity. It was the reason for the entire B&B project. As he explained, "It was because I, and many people close to me, had personally experienced how this awful disease affects not only individuals, but also family and friends. Because of that I wanted to do whatever I could, however small, to help. And the KEEP A BREAST organization are an amazing group, who also love what I do too." FLANAGAN started fundraising through the BOOBS & BLOOD Film Festival 10 years ago and now continues with the magazine, and as he sums up, "If you can fundraise and have fun at the same time - and with a name like ours that's not hard to do - life simply doesn't get any better."
BOOBS & BLOOD MAGAZINE can be purchased exclusively online here:
https://www.magcloud.com/browse/issue/1822165
To celebrate Issue #3, digital copies of past issues are available for free for a limited time.
More information on all things BOOBS & BLOOD: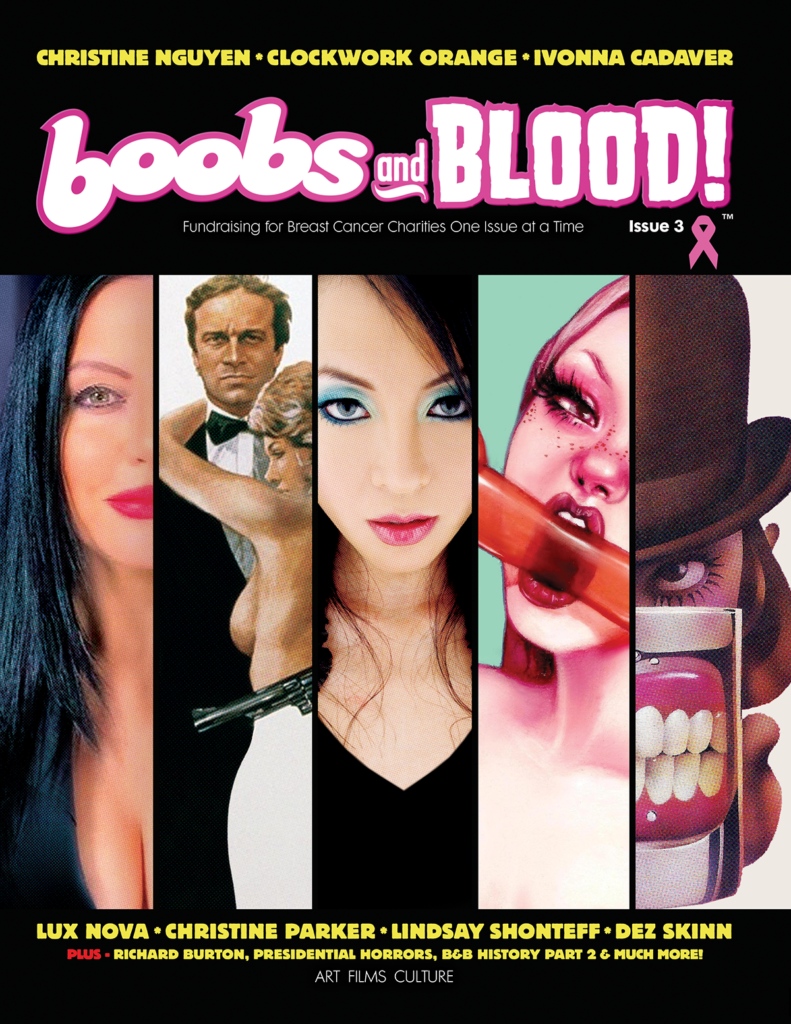 ----------
MISKATONIC INSTITUTE OF HORROR STUDIES MOVES TO ONLINE FORMAT FOR FALL SEMESTER: "The Miskatonic Institute of Horror Studies, established in 2010 to offer classes in horror history, theory and production with branches in London, New York and Los Angeles, will be moving to exclusively online classes for all three of its branches for the Fall 2020 semester. Attendees from anywhere in the world can mix and match individual classes from different branches (please note the time zone will be local to that branch), or buy a full semester pass to a specific branch. Each Miskatonic branch has its own pricing structure and method of registration – full program and ticketing details for each branch are below.
FALL 2020 LINEUP:
MISKATONIC LONDON
Miskatonic London offers monthly classes and a discounted full semester pass. For our Fall 2020 Online semester, admission to individual classes is £8 GBP (these individual ticket links are accessible on the event page for each class), and full semester passes including all four classes curated by Miskatonic London are £25 GBP, available through Billeto HERE. Please note students from anywhere in the world can register for these online classes.
Thurs Sept 17 – 7:00pm (GMT)
THE PSYCHOLOGY OF HORROR: ANDY NYMAN IN CONVERSATION
Instructors: Andy Nyman and Rosie Fletcher
Tickets and full description HERE>>
Accomplished actor, writer and director Andy Nyman (Ghost Stories, Peaky Blinders, The Woman in Black) joins Den of Geek's Rosie Fletcher to explore the part that psychology plays in horror cinema and theatre. What makes one scare work when another does not? How have themes of mental health played into his own work including the incredible stage play and later film adaptation of Ghost Stories? And how does his deep understanding of what makes people tick feed into his work with illusionist Derren Brown? This intimate conversation will explore Andy's career, his personal love of horror and what makes him tick, as a performer, creator and as a fan.
Thurs Oct 8 – 7:00pm (GMT)
SPANISH HORROR CINEMA: INDUSTRY, POLITICAL TRAUMA AND THE GOTHIC IMAGINARY
Instructor: Xavier Aldana Reyes
Tickets and full description HERE>>
Spain did not become well-known for its contribution to horror cinema until the late 1960s, when the long-running success of the genre in other countries like Britain and Italy made its relatively low-risk production attractive to independent directors. The cycle that emerged from the overdrive period of filmmaking that began in 1968 and had petered out by the introduction of the Miró decree in 1982 has often been termed 'fantaterror' (a portmanteau combining 'fantástico' and 'terror' – both words which have culturally specific meanings in the country). After laying the ground for this financially driven cinematic surge, this presentation by Dr. Xavier Aldana Reyes will consider the terminological implications of the modern use of 'fantaterror' to refer to all forms of supernatural cinema, especially its shortcomings: its lack of affective and narrative specificity. Highlighting the need to separate Gothic horror from other horror subgenres (like the giallo), especially in the contemporary context, Dr. Aldana Reyes makes a case for the usefulness of the increasingly global term 'Gothic' to refer to a certain aesthetic and thematic category that foregrounds ideas of tyrannical oppression, ideological repression and, especially, the return of a haunting past.
Thurs Nov 12 – 7:00pm (GMT)
THE STRANGE STORY OF MISTY AND GOTHIC FOR GIRLS IN BRITISH COMICS
Instructor: Julia Round
Tickets and full description HERE>>
British comics dominated children's entertainment in the UK in the last century but have been all but forgotten today. When they are remembered, it is often assumed that the boys' titles were all about sports, space and war, while girls got stories about ponies, ballet and boarding schools. But nothing could be further from the truth! – these comics were not for the fainthearted and the girls' titles in particular told many stories of outsider protagonists, psychological cruelty, isolation, and supernatural mystery. Misty (IPC, 1978-80) comic stories included "Pacts with the devil, schoolgirl sacrifice, the ghosts of hanged girls, sinister cults, evil scientists experimenting on the innocent and terrifying parallel worlds where the Nazis won the Second World War." This lecture will introduce students to Misty and its creators, explore the ways in which it draws on Gothic themes and archetypes, and argue that its combination of fairytale abstraction and psychological mystery constructs a particular type of 'Gothic for Girls'.
Dec 10 – 7:00pm (GMT)
BLOOD IN THE STREETS: FILM CYCLES, SERIAL KILLERS AND THE GIALLO
Instructor: Austin Fisher
Tickets and full description HERE>>
(Rescheduled from Spring 2020) This talk will investigate how a collection of film cycles within the giallo capitalised on preoccupations with the recent past in 1970s Italy, and an attendant sense of disquiet towards modernity and the pace of socio-cultural change. This will in turn reveal various strategies that were being deployed to exploit the local film market, in a perpetual attempt to capitalise on topicality and the perceived tastes of the popular audience.
MISKATONIC LA
Miskatonic LA offers monthly classes and a discounted full semester pass. For our Fall 2020 Online semester, admission to individual classes is $10 USD (these individual ticket links are accessible on the event page for each class), and full semester passes including all four classes curated by Miskatonic LA are $30 USD, available through Eventbrite HERE. Please note students from anywhere in the world can register for these online classes.
Thurs Sept 24 – 7:30pm (PDT)
SYMPHONY MACABRE: BERNARD HERRMANN AND THE SCORING OF HORROR
Instructor: Steven C. Smith
Tickets and full description HERE>>
In his 35-year film career, Bernard Herrmann scored "respectable" screen classics like Citizen Kane, Jane Eyre, and The Ghost and Mrs. Muir. But this emotionally volatile iconoclast was no snob. He loved exploring the dark side of human nature, in classic horror and suspense titles for multiple media. Through clips and music cues, plus interviews with the composer himself, we'll discover how Herrmann earned his reputation as the twentieth century's top composer of horror and suspense scores, and explore techniques he used to put us inside the minds of characters that society would consider "monsters," and how he made us feel their humanity as well as their madness.
Thurs Oct 22 – 7:30pm (PDT)
THE MASK IN HORROR CINEMA: RITUAL, POWER AND TRANSFORMATION
Instructor: Alexandra Heller-Nicholas
Tickets and full description HERE>>
As Alexandra Heller-Nicholas argues in her Bram Stoker Award nominated book Masks in Horror Cinema: Eyes Without Faces (University of Wales Press, 2019), three factors have long been at the core of how masks have endured so unrelentingly as extremely powerful cultural objects: the intersection of ritual, power and transformation. Beginning with early cinema, the lecture will provide a chronological tour of how the mask evolved and became such an enduring, ubiquitous, yet bewilderingly critically overlooked element of horror cinema iconography. What does this tell us about horror? What does this tell us about the cultures that produce and consume the genre? And what can it tell us about where we are today, where the very presence of the mask instantly speaks to very specific political affiliations and beliefs where masks are now a life or death matter?
Thurs Nov 5 – 7:30pm (PST)
HA! AAAH! THE PAINFUL RELATIONSHIP BETWEEN HUMOR AND HORROR
Instructor: David Misch
Tickets and full description HERE>>
(Rescheduled from Spring 2020) Veteran comedy writer David Misch (Mork & Mindy, Police Squad!, Saturday Night Live) explores how both humor and horror share a mordant view of our relationship to pain - an obsession with the human body and its multifarious fluids, and a subtext of death and transcendence underlying the eviscerated flesh and fart jokes. What could be more blood-curdlingly fun?
Thurs Dec 3 – 7:30pm (PST)
WASTELAND: THE GREAT WAR AND THE ORIGINS OF MODERN HORROR
Instructor: W. Scott Poole
Tickets and Full description HERE>>
Can we say the Great War created the horror film? In many respects yes. The idea of the terrifying supernatural, of course, has its roots in the earliest human civilizations and probably back to the first ceremonial burials. But we will learn how modern horror received a special impetus from what happened to the human body, what could be done to the human body, by the terrifying tech introduced in the Great War. The Great War transformed the modern world. The Great War also filled that world with nightmares, some old as time but made new in the ghastly aftermath of the conflict. Join us in exploring the wasteland.
MISKATONIC NYC
Miskatonic NYC offers select classes throughout the fall. For our Fall 2020 Online semester, admission to individual classes is $10 USD, and these individual ticket links are accessible on the event page for each class. Please note students from anywhere in the world can register for these online classes.
Thurs Sept 17 – 7:00pm (EDT)
HAUNTING THE NATIONAL CONSCIOUSNESS: THE RISE OF INDIGENOUS HORROR
Instructor: Kali Simmons
Tickets and full description HERE>>
History shows that Indigenous peoples played a key role in structuring the imaginary of many film genres, especially horror. In the 1960s, during the rise of the "Red Power" movement in the United States and Canada, Indigenous peoples captured international attention by reigniting debates about environmental racism, land theft, and the destruction of cultural patrimony. Despite a surge in depictions of Indigenous peoples, Hollywood has continuously co-opted indigeneity, producing additional stereotypes, especially within the horror genre. This includes such representations as the "Medicine Man" who warned against both environmental catastrophe in films such as Nightwing and Prophecy (both 1979) as well as the lingering trope of "The Indian Burial Ground," which we encounter in everything from blockbusters like The Amityville Horror (1979) and The Shining (1980), and in low-budget efforts such as Scalps (1983) and Grim Prairie Tales (1990). In recent years, Indigenous filmmakers in the United States and Canada have increasingly embraced horror as a means to narrate their historic and ongoing experiences under settler-colonialism. Instructor Kali Simmons will guide us through the cultural shifts that have affected and informed the depiction of Indigenous cultures onscreen over the last 50 years of horror history.
Thurs Oct 15 – 7:00pm (EDT)
QUEER HORROR AND THE GOTHIC
Instructor: Laura Westengard
Tickets and full description HERE>>
Since the first Gothic novel, Horace Walpole's The Castle of Otranto (1764), the Gothic has included themes of transgressive sexuality. Queerness is embedded in the roots of Gothic fiction, and conversely gothicism has become a means of creating a "queer world" in art, literature, and culture. Though Gothic themes and tropes have morphed over the years to reflect shifting cultural anxieties and desires, gothicism along with its inherent queerness has persisted in various forms up to the present. Horror often contains Gothic elements such as monstrosity, cannibalism, haunting, live burial, torture, subterranean passages, and sexualized power dynamics that signal overt or sub-textual queer content. This class asks students to consider how and why gothicism emerges in queer horror contexts.
Thurs Dec 17 – 7:00pm (EST)
TALKIN' TO DRACULA AND HIS CREW: THE GOTH SUBCULTURE'S ETERNAL AFFAIR WITH HORROR
Instructor: Andi Harriman
Tickets and full description HERE>>
(Rescheduled from Spring 2020) This lecture will discuss the inextricable link between horror and the goth subculture through music, visuals, fashion, and spaces - with an emphasis on the 1980s. It will focus on the allure of the unknown and its pleasurable horrors, as well as their underlying meanings. While the foundation of goth gathers inspiration from early horror films (Dracula, The Cabinet of Dr. Caligari), it also influenced later iterations of the horror genre through visuals and soundtrack selections (The Crow, Queen of the Damned). Additionally, we will discuss how the aesthetics of the horror genre leaked into the interior of the club: not only did the music set the tone, but the decor of its walls created the overall atmosphere, which at times included meat bags (Planet X, Liverpool) and an elevated coffin surrounded by candelabras (The Magic Circle, Zürich). Topics covered will also include Freud's das unheimliche (the uncanny) within album art - such as X-Mal Deutschland's cover for their 1982 single for "Incubus Succubus" - as well as Danielle Dax's performance in The Company of Wolves, and Propaganda Magazine's video trilogy. Plus, musical and visual samples from beloved artists including The Cure and Siouxsie and the Banshees as well as the ghastly theatrics of bands such as Specimen, Neva, Parálisis Permanente, and the Virgin Prunes."