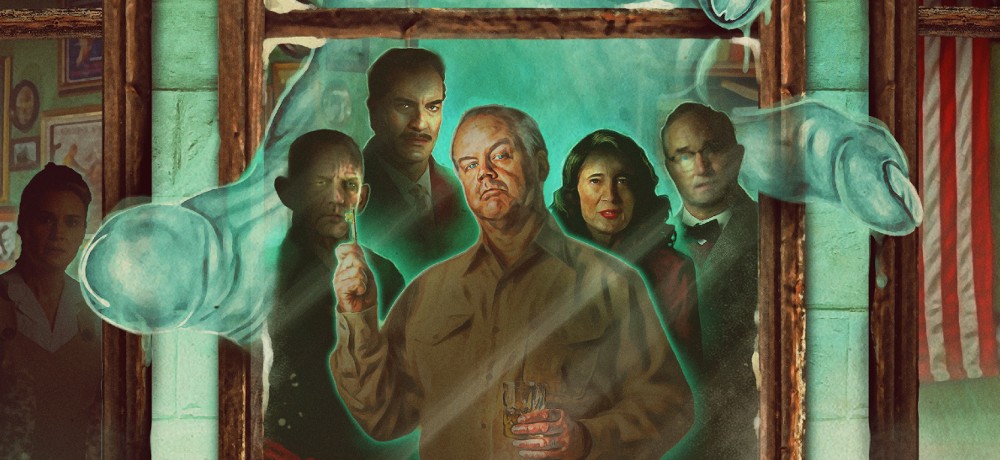 BROOKLYN 45 Poster Released: "Friday, December 27, 1945. Five military veterans gather in the ornate parlour of a Brooklyn brownstone. Best friends since childhood, they've reunited to support their troubled host – but when his invitation for cocktails turns into an impromptu séance, the metaphoric ghosts of their past become all-too-literal. Trapped in their host's lounge, the Greatest Generation now finds themselves put to one final test...with their only route to freedom being more bloodshed."
Starring Anne Ramsay (A League of Their Own), Larry Fessenden (Depraved), Ron E. Rains (The Onion's Film Standard), Jeremy Holm (House of Cards), Ezra Buzzington (The Hills Have Eyes), Kristina Klebe (Rob Zombie's Halloween)

**2023 SXSW FILM FESTIVAL - WORLD PREMIERE - MIDNIGHTERS**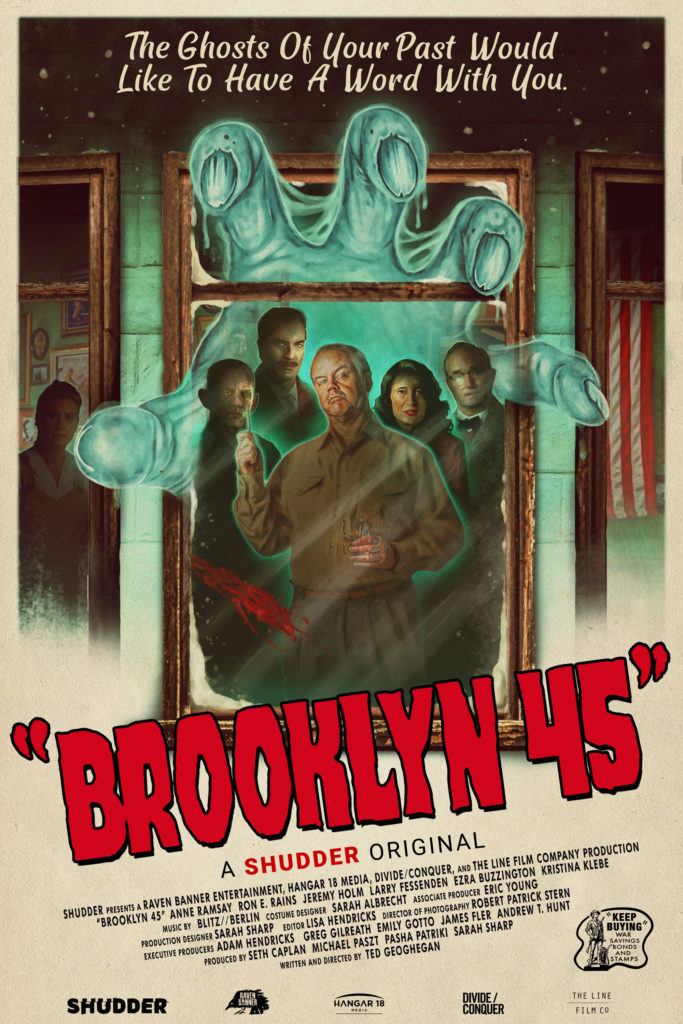 ---
THE LAUNDRYMEN: The Laundrymen, a new supernatural graphic novel series, has been fully funded on Kickstarter, but you can still preorder your copy at laundrymen.ca
"The Laundrymen follows two mercenary monster hunters who work out of their laundromat to solve supernatural mysteries. The Laundrymen: The Life Thief follows Wade and Bryan as they investigate a suspicious murder in Wade's hometown. This series is perfect for anyone who loves GHOSTBUSTERS, X-FILES, or SUPERNATURAL!"
Written and Lettered by Lyndon Radchenka, Art by Steven Kaul
---
CANNIBAL COMEDIAN: "Charlie is ready to take the stage in the new trailer and poster for the upcoming horror comedy film Cannibal Comedian from writer/director Sean Haitz (Big Top Evil, Mangrove Slasher 2, AREA 5150). 
The preview follows a psychopathic cannibal (Aaron Prager) fed up with his lack of ambition who decides to try his hand at standup comedy in an attempt to satisfy his appetite for normalcy.
Set in the modern-day American west, the film pairs dark, over-the-top humor and rampaging horror at full throttle. Littered with scary, grotesque, and wildly energetic characters, Cannibal Comedian is a love letter to stand-up comedy and horror films such as Tobe Hooper's 1974 cannibal classic The Texas Chainsaw Massacre, of which two of the original cast members lend their talents here with involvement from original cast members Edwin Neal, most known for his unforgettable role as The Hitchhiker (A.K.A. Nubbins Sawyer) and Allen Danziger (A.K.A. Jerry). 
Joining Prager (AREA 5150) and the Leatherface legacy members are Happy Fright familiars Austin Judd (Big Top Evil), Robert Dunne (Criminal Minds), David Vega & Mis Sadistic (Mangrove Slasher 2).
Haitz, who hails from Sarasota, Florida, recalls the making of the project, "After finishing my previous film Big Top Evil, I had my hand at stand-up comedy and discovered how brutal that world was. Comics also use phrases like "I killed" or "I murdered tonight" and thought it would be fun if we had a serial maniac who really did kill on and off stage, and so Cannibal Comedian was born! We shot out in the high desert around and throughout the pandemic which made things more difficult with a skeleton crew, but we safely got it done! I'm super proud of this passion project and everyone involved!
He serves as producer alongside fellow Florida native Ryan James of Pink Plaid Productions (Dark Circles). James, who also plays one of the Funny Pit comics Bruce, believes that "Cannibal Comedian is designed to bring both the pain and the funny, so fans of both genres will have their hands full of entertainment while screaming with laughter and terror. While Charlie is no stranger to using his zany charm to kidnap victims for the nutritional value of their bodily organs, the film wholeheartedly captures the process behind the artist's journey about following your dreams and not letting anyone stand in the way, including yourself. Between crafting creative kills in the desert and writing horrifically lived-in jokes for the stage, it's both fascinating and mesmerizing to watch Aaron tap into Charlie's passionate pursuit while juggling his slasher side."
The film is now seeking distribution for a release later this year.
Follow the project's updates on social media at Facebook.com/CannibalComedian, Instagram at @cannibal_comedian, and Twitter at @CannibalComic for more updates. 
Trailer cut by Samuel Gonzalez Jr.
Poster designed by Rafael Aráujo"