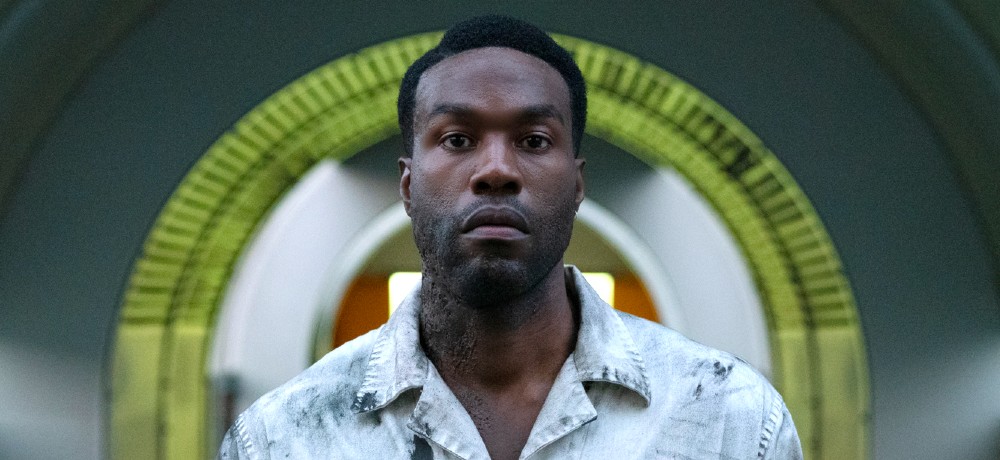 CANDYMAN is Available on Digital 11/2 and 4K UHD, Blu-ray and DVD 11/16: "Dare to say his name. Oscar® winner Jordan Peele (Get Out, Us) and director Nia DaCosta (Little Woods, Disney's upcoming film The Marvels) expand on the infamous Candyman legacy with "a new horror classic" (FOX TV) that is "smart, stylish, and scary as hell" (Danielle Ryan, /FILM). Certified Fresh on Rotten Tomatoes with a score of 84%, Metro Goldwyn Mayer's (MGM) CANDYMAN is back and yours to own on Digital November 2, 2021 and on 4K Ultra HD, Blu-rayTM and DVD November 16, 2021 from Universal Pictures Home Entertainment. All versions come packed with over an hour of bonus features including a never-before-seen alternate ending, deleted and extended scenes as well as special featurettes taking viewers behind-the-scenes of the film and deeper into this complex and deeply resonant contemporary take on the bone-chilling urban legend.
For decades, the housing projects of Chicago's Cabrini-Green were terrorized by a ghost story about a supernatural, hook-handed killer. In present day, a visual artist (Yahya Abdul-Mateen II; HBO's "Watchmen," Us, forthcoming Matrix Resurrections) begins to explore the macabre history of Candyman, not knowing it would unravel his sanity and unleash a terrifying wave of violence that puts him on a collision course with destiny.
Yahya Abdul-Mateen II leads an incredible buzz-worthy cast in CANDYMAN, which also stars Teyonah Parris (If Beale Street Could Talk, "Wandavision," forthcoming The Marvels), Nathan Stewart-Jarrett ("Generation," "Misfits") and Colman Domingo (HBO's "Euphoria," Ma Rainey's Black Bottom, Assassination Nation). A bold, expansive take on the tragic and terrifying urban legend, CANDYMAN is produced and co-written by Academy Award® winner Jordan Peele and directed by rising filmmaker Nia DaCosta, the first Black woman to helm a #1 film at the box office!
EXCLUSIVE BONUS FEATURES ON 4K UHD, BLU-RAYTM, DVD AND DIGITAL:
ALTERNATE ENDING
DELETED AND EXTENDED SCENES
SAY MY NAME: Filmmakers and cast discuss how the horror at the center of Candyman is both timely and timeless, which is a tragedy in and of itself.
BODY HORROR: We explore director Nia DaCosta's influences in the subgenre of body horror, and what Anthony's physical transformation means to the story.
THE FILMMAKER'S EYE: NIA DACOSTA: Take a closer look at director Nia DaCosta, and how her singular voice and perspective were perfect to tell this story.
PAINTING CHAOS: Filmmakers reveal how Anthony's artwork evolves throughout the film and how they strived for authenticity in recreating Chicago's vibrant art scene.
THE ART OF ROBERT AIKI AUBREY LOWE: Composer Robert Aiki Aubrey Lowe reveals some of the unconventional methodology he used to create the unique and haunting soundscapes sounds of the film.
TERROR IN THE SHADOWS: A behind-the-scenes look at how the analogue shadow puppetry scenes were created and an unpacking of why this ancient artistic medium was the most conceptually relevant for depicting the legends' cycle of violence.
CANDYMAN: THE IMPACT OF BLACK HORROR: A roundtable discussion moderated by Colman Domingo about the nuanced relationship Black Americans have with Candyman, the horror genre and the overall idea of monsters and victims.
CANDYMAN will be available on 4K Ultra HD, Blu-ray™, DVD and Digital.
4K Ultra HD delivers the ultimate movie watching experience. Featuring the combination of 4K resolution, the color brilliance of High Dynamic Range (HDR) and HDR10+, which delivers incredible brightness and contrast for each scene and immersive audio for a multidimensional sound experience.
Blu-ray™ unleashes the power of your HDTV and is the best way to watch movies at home, featuring 6X the picture resolution of DVD, exclusive extras and theater-quality surround sound.
Digital lets fans watch movies anywhere on their favorite devices. Users can instantly buy or rent.
The Movies Anywhere Digital App simplifies and enhances the digital movie collection and viewing experience by allowing consumers to access their favorite digital movies in one place when purchased or redeemed through participating digital retailers. Consumers can also redeem digital copy codes found in eligible Blu-ray™ and DVD disc packages from participating studios and stream or download them through Movies Anywhere.  Movies Anywhere is available only in the United States."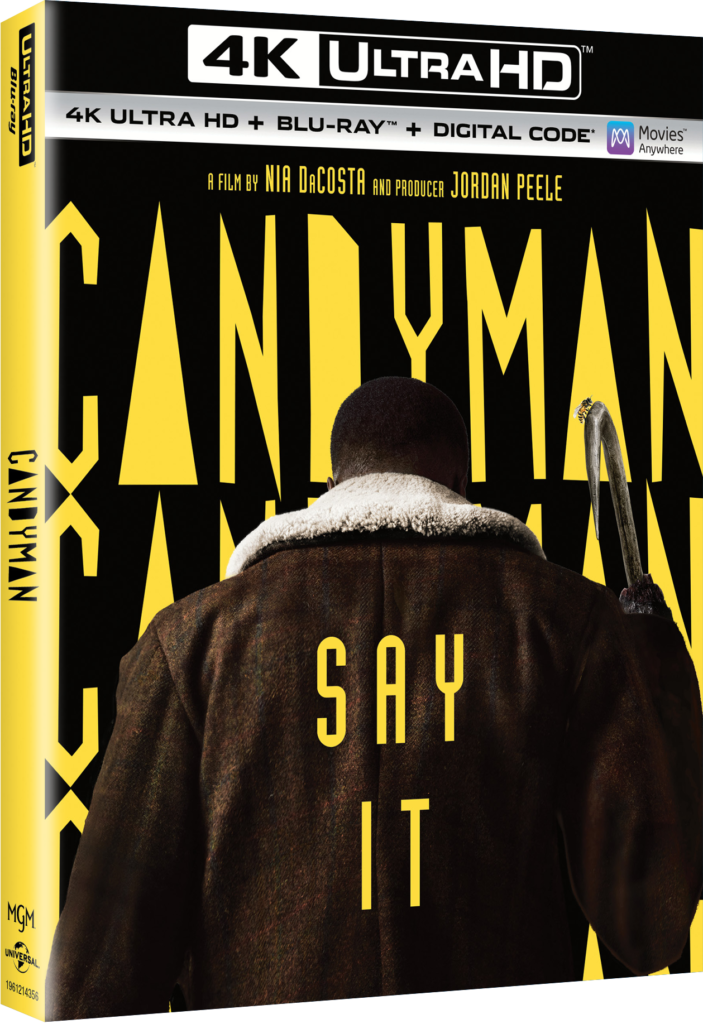 ----------
PRISONERS OF THE GHOSTLAND STARRING NICOLAS CAGE TO STREAM EXCLUSIVELY ON AMC+ AND SHUDDER NOVEMBER 19: "The premium streaming bundle AMC+ and Shudder, the premium streaming service for horror, thriller and the supernatural, announced that PRISONERS OF THE GHOSTLAND will stream exclusively on both platforms in the U.S. starting on November 19. The film, starring  Nicolas Cage (Mandy), made its world premiere at this year's Sundance Film Festival.
Directed by the acclaimed Japanese director Sion Sono (Why Don't You Play in Hell), the film was written by Aaron Hendry and Rexa Sixo Safai (Western Wonderland).  In addition to Cage, the film stars Sofia Boutella (The Mummy), Nick Cassavetes (Face/Off), Bill Moseley (Texas Chainsaw Franchise), Tak Sakaguchi (Tokyo Tribe) and Yuzuka Nakaya (The Forest of Love). Joseph Trapanese (Tron: Legacy, The Raid: Redemption, The Greatest Showman) composed the original score. 
PRISONERS OF THE GHOSTLAND is set in the treacherous frontier city of Samurai Town where a ruthless bank robber (Cage) is sprung from jail by wealthy warlord The Governor (Moseley), whose adopted granddaughter Bernice (Boutella) has gone missing. The Governor offers the prisoner his freedom in exchange for retrieving the runaway. Strapped into a leather suit that will self-destruct within three days, the bandit sets off on a journey to find the young woman—and his own path to redemption."
---------
Well Go USA Acquires North American Rights to Irish "Creature Feature" Horror Pic UNWELCOME: "Leading international and indie film distributor Well Go USA Entertainment has acquired North American rights to the chilling creature feature UNWELCOME, which spins a tale of what happens to people who come in contact with the violent, bloodthirsty goblins known originally in Irish folklore as the fear dearg or "far darrig," now often referred to worldwide as the "Redcaps." The film, releasing in the United Kingdom by Warner Bros. Entertainment, Inc, will open in U.S. theaters from Well Go USA on March 17, 2022. In addition, AMC Networks' Shudder—the premium streaming service for horror, thriller and the supernatural—has negotiated exclusive North American streaming rights with Well Go, with the film set to premiere later in 2022 following the conclusion of the theatrical window.
UNWELCOME, which is directed by Irish-born Jon Wright (Grabbers, Robot Overlords) and based on an original screenplay by Mark Stay, stars Hannah John-Kamen (Red Sonja, Black Mirror, Ant-Man and The Wasp, Ready Player One) and Douglas Booth (Loving Vincent, hit Netflix film The Dirt, Jupiter Ascending, Pride and Prejudice and Zombies) as a couple who escape their urban nightmare to the tranquility of rural Ireland only to hear stories of mysterious beings who live in the gnarled, ancient wood at the foot of their new garden. As warned by their new neighbors, in Irish mythology, the Redcaps will come when called to help souls in dire need of rescue, but it's crucial to remember that there is always a dear price to pay for their aid.
"We are thrilled to bring this new spin on an age-old Irish legend to North American horror fans, who may or may not know about the legend behind this mysterious group of faerie folk," said Doris Pfardrescher, President and CEO at Well Go USA Entertainment. "The entire ensemble of stellar, tried-and-true cast and crew members have really outdone themselves bringing this story to life, and we believe audiences will be delighted by the result."
Additional cast members include Golden Globe nominee Colm Meaney (Star Trek: Deep Space Nine, Get Him to the Greek, Gangs of London) Jamie-Lee O' Donnell (6 Degrees, Screw, Derry Girls), Chris Walley (The Young Offenders, Bloodlands) and Kristian Nairn (Game of Thrones, The Appearance). The film also has reunited the Grabbers creature team. The powerhouse ensemble includes prosthetics by Shaune Harrison, who has worked on some of the world's highest-grossing blockbusters (including the Harry Potter films, Star Wars: The Phantom Menace and Avengers: Age of Ultron), creature designs by Paul Catling (Maleficent, Thor, Fantastic Beasts) and longtime Wright collaborator VFX supervisor Paddy Eason (28 Weeks Later, Harry Potter and the Prisoner of Azkaban, Grabbers)."