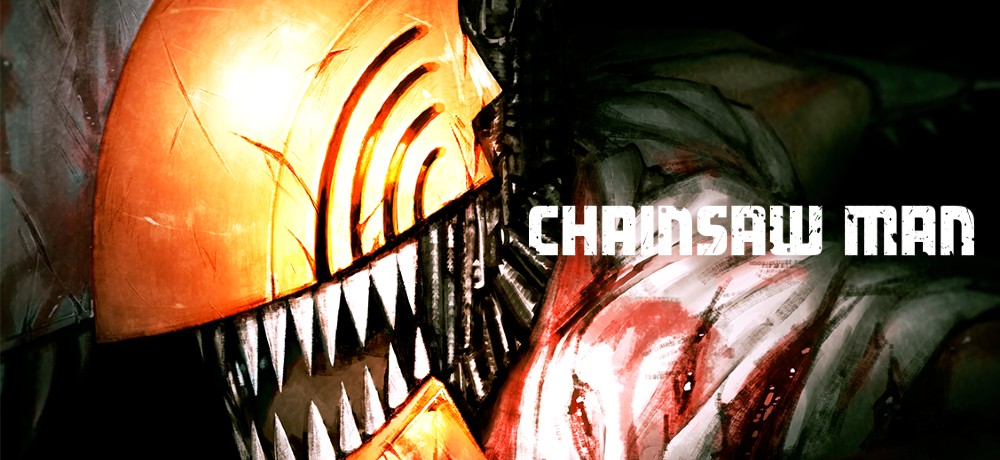 CHAINSAW MAN Is Coming to Crunchyroll: "Crunchyroll has announced that a new series has made the cut and will be included in one of its upcoming seasons as it has acquired the streaming rights to the highly anticipated anime adaptation of Chainsaw Man. Crunchyroll will simulcast the series from Japan later this year, subtitled and dubbed, in more than 200 countries and territories around the world. Dubs will include English, Latin American Spanish, Brazilian Portuguese, French, and German.
Based on the widely popular and award-winning manga of the same name written and illustrated by Tatsuki Fujimoto (Fire Punch; Look Back; Goodbye, Eri) and serialized in Shueisha's Weekly Shōnen Jump, Chainsaw Man is directed by Ryū Nakayama (Fate/Grand Order Absolute Demonic Front: Babylonia; The Rising of the Shield Hero).
"With dark humor, dynamic characters and a sharp story, Chainsaw Man is one of the most anticipated new series this year, and we are wickedly excited to bring it to fans on the Crunchyroll service," said Asa Suehira, Chief Content Officer at Crunchyroll.  "Anime fans will be up all night thinking about the spectacular visuals and high-octane action."
In a supernatural world of Devils manifested from the collective fears of humans, the series follows a teenage Devil Hunter named Denji who makes a contract with his pet Devil, Pochita, in order to be resurrected from the dead, thus becoming "Chainsaw Man."
Additional Chainsaw Man credits include screenplay by Hiroshi Seko (Attack on Titan Final Season; Mob Psycho 100; Banana Fish), character design by Kazutaka Sugiyama (Mushoku Tensei: Jobless Reincarnation), devil design by Kiyotaka Oshiyama (The Wind Rises; The Secret World of Arrietty; Space Dandy), art direction by Yusuke Takeda (Vivy -Fluorite Eye's Song-; Sword Art Online; Penguin Highway), and music composed by Kensuke Ushio (The Heike Story; Devilman: Crybaby; Space Dandy).
Animation is produced by MAPPA (Maruyama Animation Produce Project Association), the prestigious anime studio from Japan known for Attack on Titan Final Season; JUJUTSU KAISEN; Yuri!!! on Ice, takt op.Destiny, and the upcoming Hell's Paradise. MAPPA also released the global box office sensation JUJUTSU KAISEN 0, which has become one of the top five highest-grossing anime movies in the US, top 10 highest-grossing anime movies in the world, and top 20 highest-grossing movies in Japan."
----
JOE BOB'S JAMBOREE ANNOUNCES PROGRAMMING: "Joe Bob's Drive-In Jamboree 2022, to be held July 8-10 at the landmark Malco Summer  Drive-In in Memphis, announced its programming lineup and several confirmed guests  today. 
Kicking off the annual event on July 8 is "Halloween 3 Throwdown," with the cast and  crew of the 1982 film showing up for a 40th anniversary reunion and confronting festival  founder Joe Bob Briggs over his longstanding opposition to the only movie in the  Halloween franchise that departs from the iconic Michael Myers narrative. 
"This is all Darcy's doing," said Briggs, referring to his combative sidekick Darcy the Mail  Girl on The Last Drive-In with Joe Bob Briggs, the hit series on AMC's Shudder  streaming service that just celebrated the screening of its 100th movie. "I told her she  could program Friday night and she's bringing in Tom Atkins, Stacey Nelkin and director  Tommy Lee Wallace to gang up on me." 
The Friday-night event will consist of a screening of the movie, interrupted several times  for commentary and debate, followed by a one-hour Q&A with all involved "to  determine, once and for all, whether Halloween 3 belongs in the franchise." The issue  will be settled by an audience vote. 
Atkins, Nelkin and Wallace will also be appearing all three days at the Jamboree fan  convention held at the Hilton Memphis the same weekend. 
The Saturday night program will feature two cult movies presented in the format of The  Last Drive-In with Joe Bob Briggs, and in keeping with the show's tradition, guests and  titles will not be announced in advance. 
The World Drive-In Movie Festival, featuring indie films made outside of the usual New  York, Los Angeles and London funding sources, will take place on Sunday night, with  screenings of the 10 winning films, the presentation of their "Hubbies" (engraved on  Chevy hubcaps), the awarding of the Joe Bob Briggs Lifetime Achievement Award, and  a special appearance by Jonah Ray of Mystery Science Theater 3000, who will riff on a  beloved (and hated) film from the Last Drive-In archives. 
Headliner musical acts for each night's pre-show will be announced later.
Other Jamboree guests being announced today, all of whom will be at the fan  convention, are: 
P.J. Soles, star of

Halloween, Carrie, Rock 'n' Roll High School, The Devil's  Rejects, Stripes,

and many other films. 

Sybil Danning, pioneering female action star (

Battle Beyond the Stars,  Chained Heat, Hercules, Reform School Girls,

Rob Zombie's

Halloween, Grindhouse). 

Danhausen, the horror-themed professional wrestler currently signed to All  Elite Wrestling (AEW). 

Jonah Ray, primary host of

Mystery Science Theater 3000,

actor, comedian  and writer who is also known as the co-host of Comedy Central's

The  Meltdown with Jonah and Kumail. 

Fred Williamson, better known as "The Hammer," the All-Pro defensive back  in Super Bowl I who became a superstar during the blaxploitation era with  films like

Black Caesar

and

Hell Up in Harlem,

then a successful  
writer/producer/actor in both Rome and Los Angeles. 
Kelli Maroney, star of

Fast Times at Ridgemont High, Night of the Comet, Chopping Mall

and many other drive-in movies as well as stints on two long running soap operas. 

Felissa Rose, who made her film debut at age 12 as the lead in the cult  classic

Sleepaway Camp

and has had hundreds of roles since, including her  recurring appearances as the "Mangled Dick Expert" on

The Last Drive-In  with Joe Bob Briggs. 

The Bunny, a champion wrestler currently signed with AEW. 

Dave Sheridan, the comedian, writer and producer best known for his  portrayal of Officer Doofy in

Scary Movie. 

Honey, the first Mail Girl on Joe Bob's first two shows,

Drive-in Theater

on  The Movie Channel and

MonsterVision

on TNT. 

The Blade, the professional wrestler best known for his tag team work with  The Butcher. 

Yuki Nakamura, "The Tokyo Cowboy," who started out as the art director on 

The Last Drive-In

in 2018 but emerged through many cameo appearances as  a celebrity in his own right. 

John Brennan, music director and composer for

The Last Drive-In,

whose  band, The Bigfeet, will perform before each show during the Jamboree. 
Joe Bob Briggs and Darcy the Mail Girl will be doing meet-and-greets throughout the  weekend, at both the fan convention and the drive-in. 
Additional "surprise" guests will be announced later."
Tickets are available through Tixr at:
https://www.tixr.com/groups/joebobbriggs/events/joe-bob-s-drive-in-jamboree-2022- 42288 
For all other information, visit: https://joebobsjamboree.com/
---
Indiecan Entertainment Bites Into the Market With New Genre Label RED WATER ENTERTAINMENT, Launched Ahead of Buyers Market With Six New Titles Set to Release This Fall: "On the heels of the release of Junta Yamaguchi's festival hit time paradox comedy BEYOND THE INFINITE TWO MINUTES, Avi Federgreen's Indiecan Entertainment is launching a new genre-focused distribution arm and announcing six new international genre titles for late 2022 release.
Stefano Lodovichi's THE GUEST ROOM (Italy), John Farrelly's THE SLEEP EXPERIMENT (Ireland), Carlo Lavagna's SHADOWS (Italy/Ireland), Rasmus Merivoo's KRATT (Estonia), and Xiaofeng Li's BACK TO THE WHARF (China) will be released in Canada and the US. Karen Lam's THE CURSE OF WILLOW SONG (Canada) will be a Canada-only release. Rights for The Guest Room were secured through Gaetano Matorino of True Colours, Shadows through Catia Rossi of Vision Distribution, for Kratt with Justyna Koronkiewicz of Media Move and producer Tõnu Hiielaid, and Back to the Wharf with Fen Chen of Rediance Films. Negotiations for The Sleep Experiment and The Curse of Willow Song were handled directly with the filmmakers.
The Guest Room (aka The Room) (Italy): The morning Stella decides to take her own life, a stranger knocks at her door claiming the guest room he booked for the night. Surprised but charmed by this man who seems to know her, Stella decides to let him in. But when Sandro, the man who broke her heart, joins them at home, the situation immediately turns into chaos.
The Sleep Experiment (Ireland): Two detectives begin an investigation into a disastrous secret military experiment where five prisoners were kept awake for thirty days in a sealed gas chamber.
Shadows (Italy/Ireland): Hidden in the darkness of the forest, teenage sisters Alma (Mia Threapleton) and Alex (Lola Petticrew) live in an old, abandoned hotel together with their strict Mother (Saskia Reeves), who shields them from outside dangers. As time passes, a new awareness dawns on the two girls, pressing them into breaking the rules and the apparent balance of their life, bringing a disturbing secret to light.
Kratt (Estonia): Two city kids, zero smartphones, one village. When left at Granny's, the siblings find an instruction on how to build a devilish creature. The only missing puzzle is one soul...
Back to the Wharf (China): 15 years later, a man guilted by his teenage crime spree returns to his hometown only to find the truth about his unspeakable past. The seemingly perfect new lives that he and his father have builr for themselves take a turn at the wharf.
The Curse of Willow Song (Canada): Having served her time for arson, Willow Song is now fending for herself on the unforgiving streets of Vancouver's Downtown Eastside. There, she's asked to contend with the squalid condition of her SRO, a sketchy bestie, her ongoing struggle to stay clean, constant harassment in her workplace and festering resentment towards Asian-Canadians. With the fates seemingly conspiring against her, she's thrown a lifeline by a figure from her past. As Willow holes up in an abandoned warehouse, her latent psychokinetic abilities manifest and an uncanny transformation commences.
Red Water Entertainment will serve as a home for genre cinema from around the world, bringing North American audiences high-quality cinema with no language or regional barriers. While the focus will primarily be in horror, science fiction and action genres, the company will release films from the vast spectrum that the term 'genre' encompasses. The launch slate strongly reflects Red Water's commitment to the diverse and inventive storytelling that exists globally beyond the mainstream. "There's a lot of wonderful genre cinema that never sees the light of day in North America, and I'm excited to help some of these films find the audiences they deserve," stated Federgreen. Red Water Entertainment will be run by CEO Avi Federgreen, with the help of long-time Indiecan acquisitions and operations advisor Justin McConnell, as well as Indiecan's existing acquisitions and support team, plus the distribution network already established over the last decade via Indiecan Entertainment.
For more information on Red Water Entertainment, visit their official website, and follow them on socials: Twitter, Instagram and Facebook."