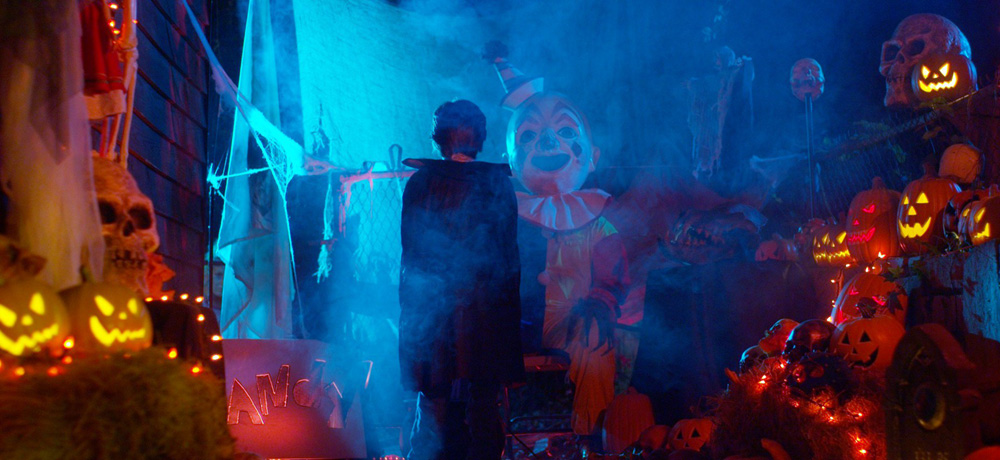 Today's Horror Highlights includes details on the virtual edition of the Chattanooga Film Festival, the trailer for Painter, details on Joe Bob's Haunted Drive-In, and the trailer for Blind!
Chattanooga Film Festival Announces its Virtual Edition: "This year marks the 10th edition of the Frightening Ass Film Fest (FAFF); the Chattanooga Film Festival's seasonal festival held in and around Halloween. Slated for October 30 and October 31, FAFF will be an exciting mix of short films, new indie features, and carefully curated cult classics. Organizers are also putting together a series of live events, similar to the events that made CFF's virtual edition in May an interactive fan-friendly experience.
FAFF All Access Badges are available now for the price of $25 with individual tickets for certain films being made available closer to the event. Attendees will be able to access all films beginning 12:00am EST October 30, and access ends 6:00am EST the morning of November 1st. This yearly event functions as a fundraiser for the Chattanooga Film Festival, a 501c(3), with all proceeds benefiting the staging of the 2021 edition of the fest.
FAFF also marks the return of Chattanooga Film Festival collaborators Media Team and Silver Scream FX Lab along with the much-anticipated return of fan-favorite characters Bubz, Professor Morte and Guna, who will be on hand to host the weekend's live offerings.
OFFICIAL FILM SYNOPSIS
76 HORROR BOOKSTORE: TIN OF FEAR | Directors David Chuang & Hung Tze-Peng
Taiwan, 2020
FAFF 10 is proud to present all four episodes in the first series of this bonkers Tawainese anthology series.
2011 | Director Alexandre Prieur-Grenier
Canada, 2020
The daily life of a night owl video editor working in his apartment, gradually slides into anxiety when a mysterious neighbor, whom he never meets, but whose presence is constantly felt, gradually torments his existence.
ANONYMOUS ANIMALS | Director Baptiste Rouveure
France, 2020
In Baptiste Rouveure's surreal and gorgeously photographed film, we're presented a series of vignettes in which humans and animals seem to have switched places. The result is one of the most haunting and unique films you're likely to see this year. It gives all new meaning to the phrase The Deer Hunter.
BAD CANDY | Directors Scott Hansen & Desiree Connell
USA, 2020
At FAFF, we're suckers for horror anthologies and even bigger suckers for films that take place on Halloween Scott Hansen & Desiree Connell's Halloween manages both with genre fan faves Zach Galligan (Gremlins) and Corey Taylor (Slipknot). DJ's Chilly Billy and Paul spin a bloody and twisted version of a small town's craziest Halloween Happenings.
CYST | Director Tyler Russell
USA, 2020
In the 1960s, a nurse's last day is ruined when a doctor inadvertently creates a cyst monster that terrorizes the office. Genre fans will be happy to see The Room's Greg Sestero in this icky slice of frightening ass fun. 
GET THE HELL OUT | Director I-Fan Wang
Taiwan, 2020
Taiwan's parliament turns deadly when a virus transforms politicians into ravenous zombie mutants. We cannot wait to see how people react to this bloody blast of pure fun! 
HAIL TO THE DEADITES | Director Steve Villeneuve
Canada, 2020
HAIL TO THE DEADITES is a documentary about the fans of the EVIL DEAD films and explores the classic franchise's undying and ever-growing popularity.
LUCKY | Director Natasha Kermani 
Special Bonus Screening - USA, 2020
A suburban woman finds herself being stalked by a threatening figure who returns to her house night after night. When those around her don't believe her, she is forced to take matters into her own hands.
SHE DIES TOMORROW | Director Amy Seimetz 
Special Bonus Screening - USA, 2020
Amy thinks she's dying tomorrow...and it's contagious.
SISTER TEMPEST | Director Joe Badon
USA, 2020
Anne Hutchinson's troubled relationship with her missing sister is under alien tribunal. Meanwhile, her new roommate's mysterious illness causes her to go on a cannibalistic killing spree.
SPARE PARTS | Director Andrew Thomas Hunt
Canada, 2020
A group of girls get lost on a random dirt road. The tow truck driver toes them to his junkyard. Everything seems normal until they wake up with weapons for limbs, thrown into the fight of their lives.
STING OF DEATH | Director William Grefé
USA, 1966
College girl Karen visits her dad, a marine biologist, at his island compound in the Florida Everglades. Her partying friends show up, dance to Neil Sedaka tunes, and taunt the doctor's creepy assistant, Egon. Soon they're victims of a wetsuit-wearing, bipedal jellyfish monster. Jealous of Karen's boyfriend, Egon kidnaps her and carries her to his secret underground lair.
THE STRINGS | Director Ryan Glover
Canada, 2020
In the dead of winter, a musician travels to a remote cottage to work on new material, but soon finds herself under attack from a mysterious dark presence.
THE HORROR CROWD | Director Ruben Pla
USA, 2020
A revealing, intimate documentary spotlighting the Hollywood horror community.
OFFICIAL SHORT FILM SYNOPSIS
ABBYGAIL WAS HERE | Director Keaton Smith
A young woman is left stranded at an abandoned house in apocalyptic rural America. Isolated for the first time in her life, she searches for a mysterious and valuable object. Is it all just a cruel trick? Or is it a cruel trick?
AXE TO THE FACE | Director Andrew Moorehead
Anna and Dylan meet on a dating app, and the two begin a budding relationship. As their chemistry progresses, we begin to see there is much more to this seemingly chance encounter than we were originally led to believe.
BLOODSHED | Director Paolo Macini
 Grief-stricken and ridden with guilt after his wife's untimely death from a rare blood disease, Getty turns his hobby shed into a bloody altar of worship and brutal sacrifice in his relentless search for Redemption. As he descends into madness, many will bleed. BLOODSHED. It's where you bleed.
CASSETTE | Director Ilya Polyakov
A young man working the graveyard shift at an old video store soon discovers something very sinister about the place.
COTTONMOUTH | Director Zachary Wincik
A woman takes action once she is sure that someone, or something, is sneaking into her room at night.
DEATH WALKS ON NITRATE | Director Kevin Fermini
Rose, an icy photographer, encounters a mysterious old woman who plunges her headfirst into a psychedelic nightmare.
INFECTION | Director Michael Davis
A bizarre late-night text message from a friend sends a woman's quiet evening hurtling into violent madness, with only one hope of salvation. Based on the "Smile Dog" Creepypasta and made in quarantine on an iPhone8.
In collaboration with Michael Lutz and The NoSleep Podcast.
MOMMA, DON'T GO | Director Rael De Leon Jr.
A mother and daughter struggle to survive a deadly home invasion.
NO ONE IS COMING | Director Matthew Barber
A young woman awaits the return of her boyfriend at a secluded cabin only to discover that she may not, in fact, be alone. 
QUARANSTEIN | Director Brian Lonano
Filmmakers Brian Lonano & Kevin Daniel Lonano, responsible for the cult short film Gwilliam", sought out filmmakers and friends under quarantine to create an exquisite corpse version of the classic film "Frankenstein." Expect other notable monsters to appear in the film, including Brian and Kevin's own creation "Gwilliam."
SEEK | Director Aaron Morgan
Two sisters have been driving all night when they come across a dilapidated roadside park and bathroom. Horrific events follow when one of them stumbles upon a strange message and a mischievous resident that wants to play a terrifying game.
SUSPENSE | Director Ben Burghart
Having survived a harrowing plane crash, an army pilot finds himself suspended from a canopy of trees high above the forest floor by his parachute. After making contact with his co-pilot on the ground, they realize that something is stalking them in the dark.
THE DOOR | Director Kyle Mumford
After the unexpected death of her twin sister, a young woman makes an escape to the family cabin to get away from the trauma and guilt. However, all goes belly up when a mysterious tiny door appears at the foot of her bed.
THE HOUSE GUEST | Director David Walton Smith
A young woman reluctantly agrees to a seance because she suspects her house is haunted.
THE PURPLE IRIS | Director Arif Khan
In the near future, a refugee with a purple iris attempts to cross the border to start a new life, but is kidnapped by a doctor obsessed with collecting the rarest eyes.
THE SURROGATE | Director South Turk
A young boy ventures into the woods to retrieve a ball, unaware that he's being watched.
WELCOME TO HELLTOWN | Director Dominic Reno
SHOCK! Ghost stories. BOO! Local legends. GAG! Everything you've heard is true. In Helltown, allow the Genuine Nerd from Cleveland, Ohio, Toby Radloff (American Splendor), to guide you through three weird tales that could only happen in Northern Ohio on the Fourth of July. Welcome to Helltown.
Events + Podcasts
GAYLY DREADFUL SCARRED FOR LIFE PODCAST
JUNK FOOD CINEMA PODCAST: HALLOWEEN EDITION
MICK GARRIS On HOCUS POCUS
NIGHTMARE UNIVERSITY LECTURE BY DR. REBEKAH MCKENDRY
SCREEN DRAFTS PODCAST: HALLOWEEN WES CRAVEN EDITION
THE PUMPKIN PIE SHOW: HALLOWEEN EDITION
About the Chattanooga Film Festival
The Chattanooga Film Festival loves everything about cinema: the films, filmmakers and audiences; the critics, collectors and curators; and most especially the popcorn. The first ever Chattanooga Film Festival was held in 2014, and has been quickly making a name for itself among film-lovers, filmmakers and the film industry, having been hailed the "Sundance of the South" by Southern Living Magazine.
We share films and events that are unique, challenging, critically significant and a helluva lot of fun. Our ultimate goal is to remember, discover and cultivate cinema worthy of everyone's love and respect. As always, CFF is proudly continuing its mission to "Respect Cinema," in hopes of increasing film exhibition, education and production in the state of Tennessee.
For more information, visit chattfilmfest.org and follow us on  Facebook, Twitter and Instagram. "
---------
Watch the Trailer for Painter: "Joanne Marco, a wealthy art collector and benefactor, has been searching for an artistic genius. When she discovers a young, unknown painter named Aldis Browne, she becomes obsessed and determined to force his success. Joanne invites Aldis to move into her mansion where she can foster his talent. When Aldis' first solo show is deemed a critical failure, Aldies flees the city. But Joanne lures him back with a frightening gift from his past."
Painter is now available on VOD & Digital platforms
-------
Joe Bob's Haunted Drive-In: "Just in time for the Halloween season, legendary horror host Joe Bob  Briggs and Los Angeles-based Black Vortex Cinema are bringing Joe Bob's Haunted Drive-In, a brand new, one-of-a kind, COVID-conscious haunt experience/short horror film festival to drive-ins in Southern California this October. 
"I'm excited to bring some of the very best short horror films to drive-ins this October, but I take no responsibility for  any zombie attacks that may occur," said horror icon Joe Bob Briggs, who will act as the pre-recorded Master of  Ceremonies of Joe Bob's Haunted Drive-In, along with his The Last Drive-In sidekick Darcy the Mail Girl, and scream  queen and actress Felissa Rose. 
With tickets now on sale for screenings at Pasadena's historic Rose Bowl on October 31st, as well the Roadium  Drive-In in Torrance, CA on October 27th & 28th, the unique event will blend the nostalgia of watching a drive-in fright  film festival with a live, interactive haunt. As audiences watch Joe Bob, Darcy the Mail Girl, and Felissa onscreen in  the Joe Bob's Haunted Drive-In film fest from the safety of their own cars, the drive-in itself will be prowled by socially  distant ghouls, eager to terrorize. 
As for the film at its center, curated from international submissions, the drive-in flick is comprised of fifteen insane short films from some of today's freshest voices in horror. From director Tony Reames' love-letter to the genre  Playtime's Over and Chris Youngless' satanic heavy metal horror-comedy Melvin and the Microphone, to filmmakers  Lee Bader and Liri Navon's wry take on the impact of COVID on the genre Six Feet Apart, Joe Bob's Haunted Drive In runs the gamut from demonic sex toys to cyber-bullying and most everything in between, all humorously  commented on by film host Joe Bob Briggs. Joining Joe Bob and company on the screen are Halloween film series  star Danielle Harris, Scary Movie's Dave Sheridan, and Youtube stars and Dead Meat podcast hosts James A.  Janisse and Chelsea Rebecca.
"Seeing the closures of many of our favorite Halloween events during this terrible year, we wanted to provide a safe,  exciting, and scary new way to celebrate our favorite season from the comfort of our cars," said Black Vortex Cinema  founder Christian Ackerman of Joe Bob's Haunted Drive-In. "And we couldn't be more excited to join forces with Joe  Bob on this. His wicked humor is the perfect counterbalance to the live scares taking place within the audience." 
Tickets for Joe Bob's Haunted Drive-In start at $99 per car. For more information on the series of events, including  more soon-to-be-announced dates, special event packages, details on live signing appearances by Joe Bob, Darcy,  Felissa and more, please visit www.JoeBobsHauntedDriveIn.com."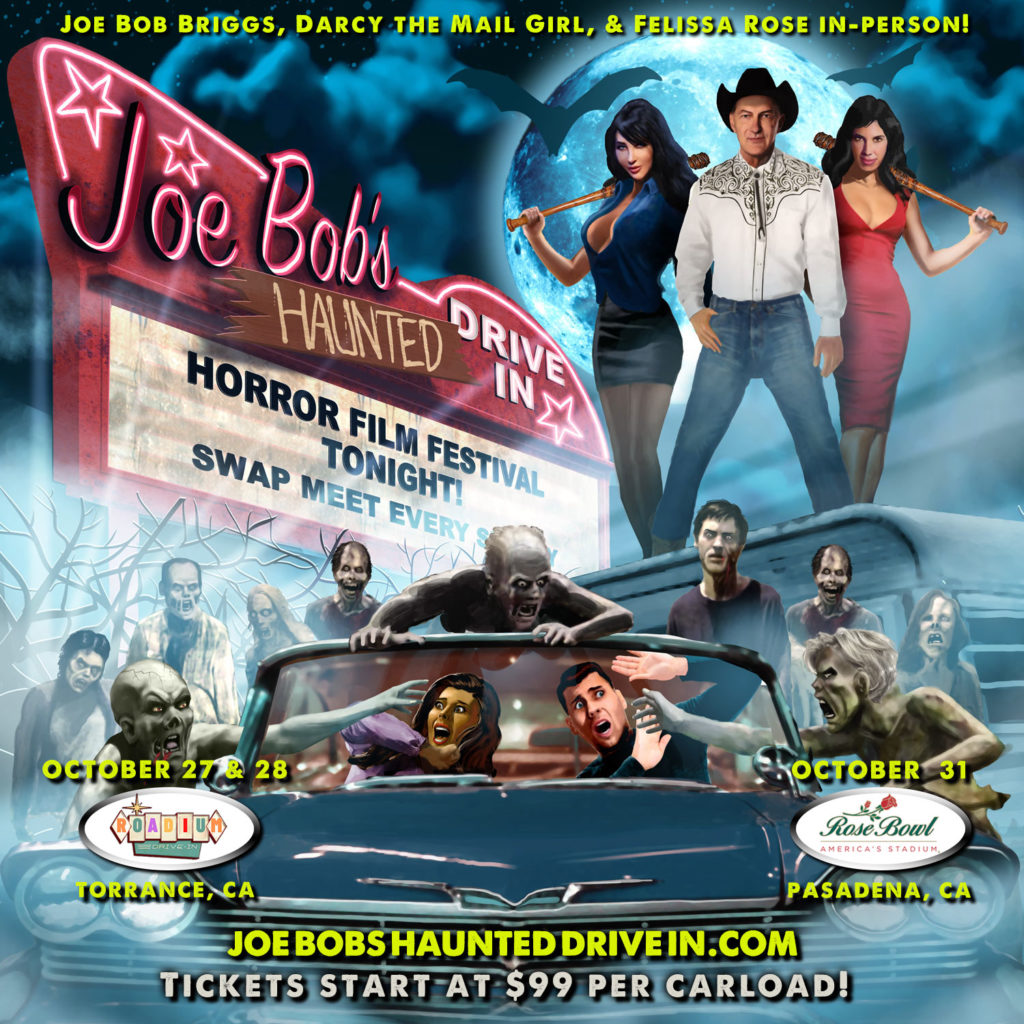 ----------
Watch the Trailer for BLIND: "Faye, a former actress that lost her vision due to botched laser eye surgery, struggles to put her life back together while living alone in her dream house in the Hollywood Hills. She soon starts opening to Luke, a personal trainer who is mute and can only communicate through his cell phone. When a masked stranger named Pretty Boy shows up, Faye will realize that she is not as alone as she thinks.
Sarah French (Art of the Dead), Jed Rowen (Halloween Pussy Trap Kill! Kill!), Tyler Gallant (#FollowMe), Ben Kaplan ("Alex and the Single Girls"), Caroline Williams (Ten Minutes to Midnight, Texas Chain Saw Massacre Part 2), Thomas Haley (Lilith), Sheri Davis (Hair of the Dog), Jessica Galetti (Crazy Rich Asians), Michael St. Michaels (Freshwater), and Kevin Cooper star in a Marcel Walz film.
Blind will be available on DVD, iTunes, Amazon, Google Play, YouTube, Xbox, Vudu, Fandango Now, Direct TV, Dish Network, Comcast/Xfinity, Spectrum, Cox, Verizon Fios and through local cable providers on November 3 from Uncork'd Entertainment."