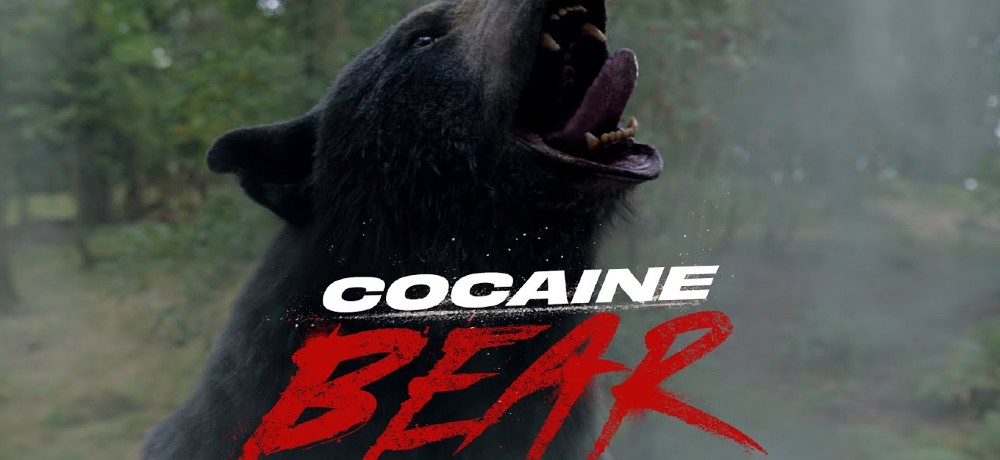 COCAINE BEAR: "Inspired by the 1985 true story of a drug runner's plane crash, missing cocaine, and the black bear that ate it, this wild dark comedy finds an oddball group of cops, criminals, tourists and teens converging in a Georgia forest where a 500- pound apex predator has ingested a staggering amount of cocaine and gone on a coke-fueled rampage for more blow … and blood.
Cocaine Bear stars Keri Russell (The Americans), O'Shea Jackson, Jr. (Straight Outta Compton), Christian Convery-Jennings (Sweet Tooth), Alden Ehrenreich (Solo: A Star Wars Story), Jesse Tyler Ferguson (Modern Family), Brooklynn Prince (The Florida Project), Isiah Whitlock Jr. (BlacKkKlansman), Kristofer Hivju (Game of Thrones), Hannah Hoekstra (2019's Charlie's Angels) and Aaron Holliday (Sharp Objects), with with Emmy winner Margo Martindale (The Americans) and Emmy winner Ray Liotta (The Many Saints of Newark).
Directed by Elizabeth Banks (Charlie's Angels, Pitch Perfect 2) from a screenplay by Jimmy Warden (The Babysitter: Killer Queen), Cocaine Bear is produced by Oscar® winners Phil Lord and Christopher Miller (Spider-Man: Into The Spider-Verse, The Mitchells vs. The Machines) for Lord Miller, Elizabeth Banks (Pitch Perfect franchise) and Max Handelman (Pitch Perfect franchise) for Brownstone Productions, Brian Duffield (Spontaneous) for Jurassic Party Productions and Aditya Sood (The Martian) for Lord Miller. The film is executive produced by Robin Mulcahy Fisichella, Alison Small and Nikki Baida."
COCAINE BEAR – In Theaters February 24
----
THE ZOMBIE WEDDING: "Weekly World News Studios, the entertainment arm of the Weekly World News tabloid universe, is in the midst of principal photography on The Zombie Wedding, its first feature film, just wrapped Principal Photography in Vineland, NJ. The following are confirmed in the cast: Cheri Oteri (SNL), Krystina Alabado (American Psycho), Mu-Shaka Benson (The Blacklist), Kevin Chamberlin (The Addams Family), Donald Chang (Squid Game), Heather Matarazzo (Welcome to the Dollhouse), Seth Gilliam (The Walking Dead), Vincent Pastore (The Sopranos), Deepti Menon (Never Rarely Sometimes Always), Christine Spang (Succession), Ajay Naidu (Office Space) & Micky Dolenz (The Monkees).
The Zombie Wedding, written by Greg D'Alessandro, Chief Creative Officer of Weekly World News Studios, was originally launched as an interactive theater event in New York. Joe Corcoan (the original Producer of Tony N' Tina's Wedding) produced the theatrical event and is also a producer on the film. The Zombie Wedding is the first ever wedding of a human bride and a zombie groom. Directed by Micah Khan (Safe House), the film follows the story of a young couple in Vineland, NJ during the zombie apocalypse, who decide to go ahead with their wedding, even though it seems like an impossibility to pull it off. The humans turn out to be more difficult than the zombies and the ceremony takes a turn for the weird when the Zombies become brain deprived. In the end the wedding delivers a universal message of acceptance, love and understanding.
"As a huge fan of zombies, aliens, Bigfoots and cryptids, I'm ecstatic to direct The Zombie Wedding and bring the Weekly World News universe's first film to audiences. Greg's script immerses you in a wacky, absurdist wedding gone wrong. Our amazing cast is sure to create anxiety about zombie apocalypses breaking out during your special day," said Director Micah Khan
This "ZomCom" is a comedy/horror/romance with original music throughout. The Zombie Wedding is about zombies, but it has a strong heart and a message of universal acceptance, peace and understanding. Original music produced/recorded by Jean-Paul Bourelly, including a new version of Nile Rodgers' Le Freak.
The town of Vineland, Cumberland County, The NJ Film Commission, Weekly World News Studios and outside investors provided needed funding and support to bring the film to fruition. Weekly World News Studios received a 99-year lease for a production building with a soundstage in Vineland for film, television, podcast and other work intended to stimulate the local economy.
"Thomas Edison made New Jersey a pioneering film center in the early 1900's. The state, county and Vineland community are building on that legacy to support this film and those that follow," said Greg D'Alessandro , WWN Studios' Chief Creative Officer.
Grace Lovret and Robert Dragotta are Executive Producers. Greg D'Alessandro , Joe Corcoran, Sue Wolf and Maria Capp are Producers.
Micah is represented by Candice Kreinbrink at ESE Management and Josh Sandler at Granderson Des Rochers, LLP."
---
ON THE EDGE at MonsterFest: "Family man Peter (Aramis Sartorio) gets more than he paid for when he books a 36-hour session with the sadistic Mistress Satana (Jen Soska) who seems more intent on making him suffer for his sins. Is it blackmail? Is it torture? Or is it the Devil come for his soul? Will Peter's faith save him from his own personal Hell or is he already damned? A brilliant depiction of how Kink Culture can heal past trauma and be a source for shocking redemption."
On the Edge stars Jen Soska and Sylvia Soska, who also share writing, directing and producing duties. The film also stars Aramis Sartorio, Ola Dada, Andrea Jin, Brianna and Alanna Finn-Morris, Ivan Decker, Mackenzie Gray, Sophie Buddle. The Soskas produced alongside Glenn Burchnall of Cathasaigh Productions, Luna Wolf of Disturbia Films, and Kevvy of GothMamba Productions.
On the Edge screened November 26th at Cinema Nova in Melbourne and will encore on December 9th at venues in Brisbane, Sydney, Perth and Adelaide. To learn more, visit: https://www.monsterfest.com.au/australia/program/on-the-edge-2/