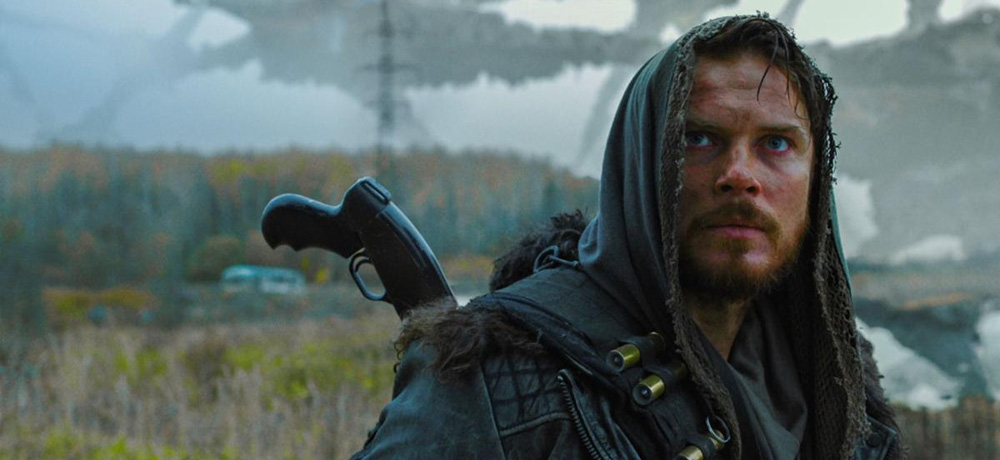 We're back with a new installment of Horror Highlights! In today's edition, we trailers for Coma, Shifter, Fear Pharm, and Sputnik:
Watch the Trailer for COMA: "After a tragic accident, a young architect wakes up in a dystopian world: COMA. Here, reality is made from the memories of people who have fallen into a comatose state. Cities, rivers and the sky all flow in and out of each other -fragmented and unstable just like our memories. The common laws of physics don't exist and nightmarish reapers roam the land spreading death. Having lost most of his own memory, the architect must develop new skills to survive and adapt to the chaos around him. On his search for a way back to reality, he joins a rogue group of fighters and discovers a secret that will affect their lives forever.
Written by: Nikita Argunov, Aleksei Grawitski, and Timofei Dekin
Directed by: Nikita Argunov
Language: English dub and Russian/Original with English subtitles
Genre: Science Fiction
Distributor: Dark Sky Films
Produced by:
Sarik Andreasian, Gewond Andreasian, Ruben Dischdinjan, Armen Ananikjan, Raphael Minasbekjan, and Nikolai Larionow
Cast: Irina Starshenbaum, Rinal Mukhametov, Anton Pampushnyy, Lyubov Aksyonova, Milos Bikovic, and Konstantin Lavronenko"
Dark Sky Films and Capelight Pictures bring COMA to blu-ray and DVD on August 4th.

---------
Watch the Trailer for SHIFTER: "A young woman experiences painful and gruesome side effects after an experiment with time travel goes wrong."
Directed by Jacob Burns, who co-wrote alongside Zach Burns, SHIFTER was produced by Jacob Burns, Zach Burns, and Vinnie Hogan.
SHIFTER stars Nicole Fancher (Unchained Love), Ashley Mandanas (Golden Arm), Paul T. Taylor (Hellraiser: Judgment), and Jamie Brewster (The Adventures of Jurassic Pet: Chapter 1).
---------
FEAR PHARM Trailer & Release Details: "One corn field, a number of psychos and numerous killings... welcome to scarytales.
It's Halloween and, if four high school seniors can make it through the world's scariest maze in under two hours, they'll win a cash grand prize at the local fair. Seems fun and easy enough, but - little do they know - they'll only make it through if they can escape a deranged family looking to harvest the DNA of young teens for their special pharmaceutical cream. Hopefully their high school P.E. class taught them enough to figure out how to run for their lives! 
From director Dante Yore (Apparition), and Apparition producers Mark S. Allen and Howard Burd, Fear Pharm will arrive on DVD and On Demand on September 15. The pulse-pounding horror film will be available via Apple TV, Google Play, Prime Video, FandangoNOW and more.

DVD Special Features:
Cast Behind-the-Scenes

Chainsaw Day Footage

Table Read
On Demand + DVD Release
Release Date: September 15, 2020
Run Time: 79 minutes 
Rating: Not Rated"
---------
Watch the Trailer for SPUTNIK: "Due to her controversial methods, young doctor Tatiana Yurievna (Oksana Akinshina, Lilya 4-Ever) is on the precipice of losing her medical license. Her career may not be over, though. After she's recruited by the military, Tatiana is brought to a secure science research facility to assess a very special case, that of Konstantin Sergeyevich (Pyotr Fyodorov, The Darkest Hour), a cosmonaut who survived a mysterious space accident and has returned to Earth with a unique condition: there's something living inside of him that only shows itself late at night. The military has nefarious plans for it. Tatiana wants to stop it from killing Konstantin. And the creature itself thrives on destruction.
With the ever-looming shadow of influence and importance cast by Ridley Scott's ALIEN, extraterrestrial malevolence in genre cinema more often than not feels as if it's been beamed down directly from the Nostromo. SPUTNIK bucks that tradition of pastiche and delivers something fresh to the interplanetary monster-movie canon. And with its massive scale and brutal carnage, this sci-fi gem signals the arrival of a major new voice: first-time Russian director Egor Abramenko.
SPUTNIK will open in select theaters, digital platforms, and cable VOD on August 14, 2020."
-