CORMAN/POE By Chris Alexander Coming in 2022 from Headpress Books: "Toronto, Canada, March 19, 2021 - Filmmaker, magazine editor and writer Chris Alexander announced today that he is in production on a new book centering on a classic film series that stands among the most fascinating and enduring of all time.
CORMAN/POE: Interviews and Essays Exploring the Making of Roger Corman's Edgar Allan Poe Films, 1960-1964 will be published by Britain's Headpress Books and released in early 2022.
"No other film series means as much to me as those iconic eight pictures collectively referred to as Roger Corman's 'Poe Cycle'," says Alexander.
"I've spent decades thinking about them, obsessing over them, re-watching them and writing about them. CORMAN/POE is my passion project; a collection of my thoughts and observations mixed with extensive, in-depth interviews that I've conducted with Roger over the years. I'm thrilled that Headpress has taken a chance on this book."
Corman's "Poe Cycle" officially consists of eight movies, starting with 1960's HOUSE OF USHER then continuing with 1961's PIT AND THE PENDULUM, 1962's PREMATURE BURIAL and TALES OF TERROR, 1963's THE HAUNTED PALACE and THE RAVEN and 1964's MASQUE OF THE RED DEATH and THE TOMB OF LIGEIA. Most of these pictures starred horror icon Vincent Price and were written (and "freely adapted") by the likes of Richard Matheson, Charles Beaumont and Robert Towne. Popular in their time as escapist horror fare, the films have since gone on to be recognized as essential works of cinema.
CORMAN/POE: Interviews and Essays Exploring the Making of Roger Corman's Edgar Allan Poe Films, 1960-1964 is now in production and will be released by Headpress Books in 2022."
---------
Lanier Burton's From Scratch Comics: Lanier Burton is an indie comic writer / creator that has been self-publishing his own work for nearly two years and has released 15 comic books spanning multiple genres from his From Scratch Comics:
"From Scratch Comics is all about self publishing. There's no limit or boundaries to what we release. From Scratch Comics represents the new modern age of consistent content. A multi media experience! Where the Quality is enhanced by the Quantity of works."
Lanier Burton has provided us with an exclusive preview and synopsis of his work, which you can read by clicking on the image below. To learn more about From Scratch Comics, visit: https://www.coolesdolo.com/

--------
DEVELOPMENT HELL: "For every horror movie to hit VOD, countless others end up DOA. Check out this brand new episode of DEVELOPMENT HELL from the DREAD Podcast Network to learn all about the lost, snowbound Candyman sequel from the early 2000s. This season premiere episode features special guest Zena Dixon (cohost of @The Bloody Disgusting Podcast). Subscribe today on Apple Podcasts and check out develhellpod.com to hear every episode!"
Socials for Development Hell: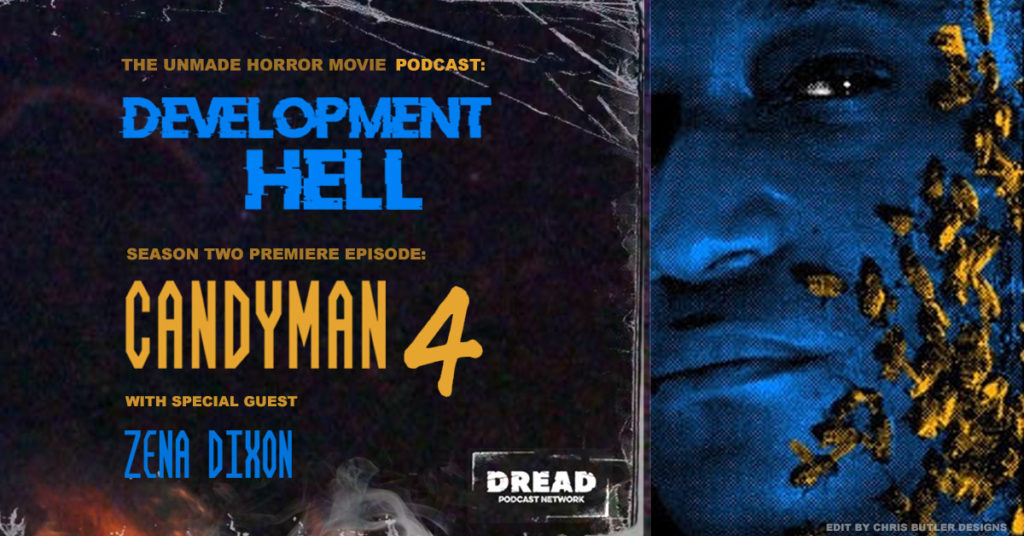 ---------
PARANORMAL TRUTH: "Horror icon Linnea Quigley presents PARANORMAL TRUTH, premiering soon on all major digital platforms.
From vampires, exorcisms, devil worship to supernatural hauntings. Each episode will take you behind the myths and realities of these subjects. With interviews from leading investigators around the world. Paranormal Truth will delve into a world never seen before. Hosting the show is the world's number one scream queen, Linnea Quigley, star of Return of the Living Dead.
PARANORMAL TRUTH is presented by MAHA films, ScreamQueen Productions and Red Rock Entertainment.
The 12-episode first season premieres soon on Amazon, Tubi and other major On Demand platforms.
Edited by Chris Newman
Directed by Jeff Sheldon & Victor Huesca. Produced by Linnea Quigley & Ross Fall"