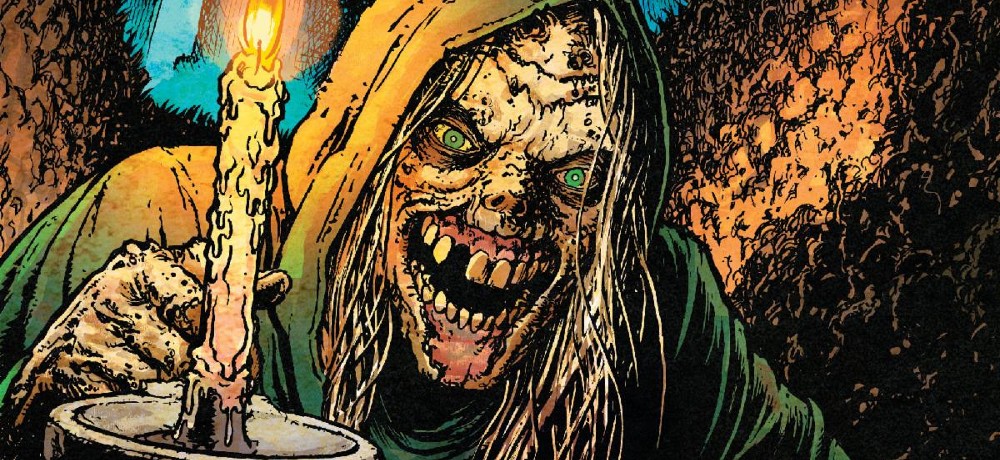 CREEPSHOW #1: ALL THE GORY DETAILS ANNOUNCED!: "Today Skybound announced the superstar creative teams and stories behind Creepshow #1, the debut issue of the hugely anticipated five-issue comic book anthology based on Greg Nicotero's hit Shudder TV series which is produced by Cartel Entertainment, which is also acting as the studio for the TV series. Creepshow #1 will arrive in comic book shops September 21, 2022.
In the spirit of all iterations of Creepshow in pop culture, each issue of the Creepshow comic anthology series will come packed with two spine-chilling stories.
All-star writer/artist Chris Burnham (Die! Die! Die!) kicks off the debit issue with a terrifying tale of trick or treaters who are taught what happens when you mess with the wrong house.
"I first saw Creepshow in third or fourth grade...right around the time I had the initial germ of the idea for the story in this issue!" said Chris Burnham. "I was absolutely terrified to take more than one candy bar from the TAKE ONE bowl. What if the owner of the house was hiding in wait? And what would they do if they caught me?!? I've chewed these questions over for thirty years...and this story is the definitive answer!"
Then, legendary writers Paul Dini (Batman: The Animated Series) and Stephen Langford (Creepshow TV series) team up with artist John McCrea (Hitman) to petrify readers with the party antics of Shingo, the birthday clown with an appetite for more than cake!
"Parents might fool themselves into believing that anything big, cute and silly is good for kids, but little ones recognize a monster when they see one. Stephen Langford and I put ourselves back into that childlike mindset when we dreamed up Shingo," said Paul Dini. "In the world of Creepshow, kiddie birthdays are rarely fun, parents often have worse outbursts than their kids, and that strangely grinning party character is not as friendly as it seems."
"Writing for Creepshow was mind-blowing but having co-written a Creepshow comic goes beyond any of my expectations as a writer," said Stephen Langford. "It's hard to believe that Paul and I created the character Shingo and he's finally come to life!"
"Working on the Creepshow book was thrill enough, but to be teamed up with Stephen and Paul was the gory icing on the creepy cake," said John McCrea. "And the character Shingo is such freaky fun to draw, it's a dreamscream!"
In addition to the main cover by Chris Burnham featuring the iconic Creep, Creepshow #1 comes with an impressive lineup of variant covers. A cover by Declan Shalvey (Moon Knight) and a 1:10 incentive cover by singular artist Vance Kelly will also be available.
The lineup behind this Creepshow issue joins the superstar roster of creative teams from the worlds of comics, film, television, and beyond working on the anthology, including Josh Malerman (Creepshow TV series, Bird Box), David & Maria Lapham (Stray Bullets), Steve Foxe (Razorblades: The Horror Magazine), Kelley Jones (Batman, The Sandman), and Steve Orlando (Spider Man 2099), with many more to be announced. Brian Witten is overseeing on behalf of Nicotero's Monster Agency Productions. Each issue of the five-part anthology will feature uniquely horrifying standalone stories guaranteed to SCARE YOU TO DEATH.
The Creepshow comic miniseries deal was brokered by Striker Entertainment, a global licensing IP accelerator.
Creepshow #1 (of 5) will be available at comic book shops and digital platforms including Amazon Kindle, Apple Books, comiXology, and Google Play on Wednesday, September 21, 2022."
---
"Crimes of the Future" Coming to Blu-ray and DVD August 9th: "Distribution Solutions, a division of Alliance Entertainment, announces the release of NEON and DECAL's Crimes of the Future coming to Blu-ray™ and DVD August 9, 2022. 
A performance artist – who turns the removal of organs into real time theatre – is forced to consider the most shocking performance of all as the government and a strange subculture take note of his act. 
Written and directed by David Cronenberg (The Fly, A History of Violence), the film is his directorial return to the science fiction and horror genres for the first time since the 1990s. Cronenberg pioneered the "body horror" genre involving mutation, parasites, and medical conditions."
----
NOPE - "It Takes A Village" Featurette: "Oscar® winner Jordan Peele disrupted and redefined modern horror with Get Out and then Us. Now, he reimagines the summer movie with a new pop nightmare: the expansive horror epic, Nope.
The film reunites Peele with Oscar® winner Daniel Kaluuya (Get Out, Judas and the Black Messiah), who is joined by Keke Palmer (Hustlers, Alice) and Oscar® nominee Steven Yeun (Minari, Okja) as residents in a lonely gulch of inland California who bear witness to an uncanny and chilling discovery.
Nope, which co-stars Michael Wincott (Hitchcock, Westworld) and Brandon Perea (The OA, American Insurrection), is written and directed by Jordan Peele and is produced by Ian Cooper (Us, Candyman) and Jordan Peele for Monkeypaw Productions. The film will be released by Universal Pictures worldwide."
Cast: Daniel Kaluuya, Keke Palmer, Steven Yeun, Michael Wincott, Brandon Perea
Written and Directed by: Jordan Peele
Producers: Ian Cooper, Jordan Peele
Only in Theaters 7.22.22