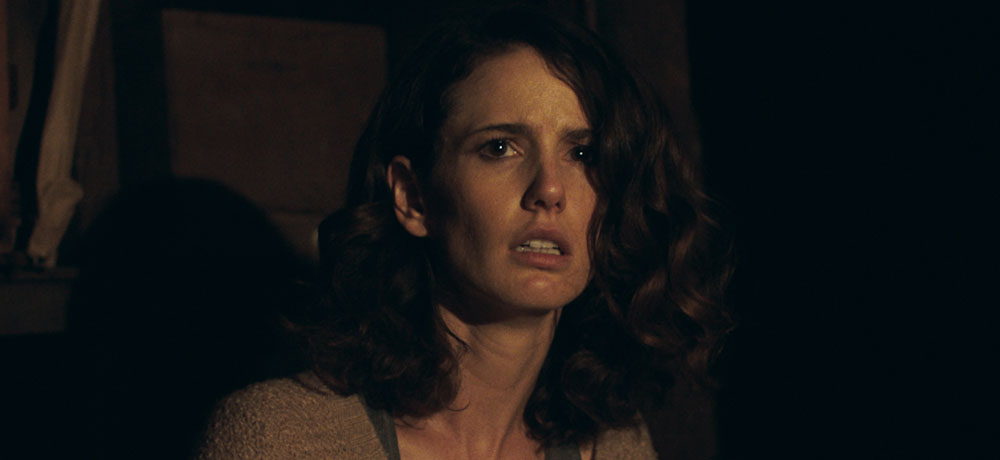 We're back with another installment of Horror Highlights! In today's feature, we have a clip from Crypt TV's new release, Shadow, the short film Home Invasion, info on Scarecrows' Canadian release, and details on Hola Mexico's virtual theater plans:
Crypt TV's SHADOW: "Los Angeles, CA -- Director/producer Benjamin Howdeshell has unveiled the first look at his latest genre short Shadow.  A grieving family is given a second chance when their husband and father returns from a nearly fatal accident.  But their reunion is less than joyful when they realize he hasn't come back alone.  Howdeshell (director of 20th Century Studios' Alien: Harvest and Withorwithout starring Milla Jovovich) and Crypt TV have released new stills and a clip from the short ahead of its debut.
Shadow will premiere on Friday 5/15 on Crypt TV's YouTube Channel at 1p PST. The live premiere chat will open at 12p PST, so fans can comment along before and during the short as it plays for the first time.  Shadow will then release on Crypt TV's Facebook page at 1:30p PST."
--------
Home Invasion Short Film: "Quarantined in a big house all alone, Hal awakes one night to the alarm going off. A call comes in from the security company: Someone has triggered the garage. But who? (Official Selection: Fantaspoa at Home)"
To keep up with Sergio Guerra, visit: http://instagram.com/thesergioguerra
---------
Scarecrows Canadian Release Details: "Black Fawn Distribution has acquired the Canadian rights to the cult horror hit Scarecrows. The company has also announced that it has moved up the digital release of the film by three months. Scarecrows is set to debut on all major Canadian digital VOD platforms next Tuesday, May 19, 2020. The film has already become a sleeper hit in one of horror's most interesting sub-genres. 
"Originally, the plan was to release Scarecrows this fall," explains Black Fawn Distribution's Operations Manager CF Benner. "However, we understand that people are doing the right thing by staying home right now and, since we had the ability to move up the release date, we figured why not? This really is a fun horror flick and, as a genre film distributor, it's our responsibility to get films like Scarecrows out to horror fans, regardless of the circumstances." 
Produced by 5'7 Films and Breakthrough Entertainment Inc., and directed by Stu Stone (The Haunted House on Kirby Road, Jack of all Trades) , Scarecrows follows four stoner teenagers who, while on a hike to find a secret lagoon, are kidnapped by a psychotic farmer and turned into scarecrows. The film stars Hannah Gordon, Mike Taylor, Umed Amin and Maaor Ziv. Scarecrows was co-written by Stu Stone and Adam Rodness, with Rodness serving as producer. 
"When Black Fawn Distribution presented us with an opportunity to release Scarecrows across Canada, it was a no-brainer for us," states director Stu Stone. "We hope our film can help people escape the crazy cycle of watching stale reruns and old sporting events while doing the responsible thing during self-isolation. We are beyond thrilled to have the opportunity to share our film across Canada and thank Black Fawn Distribution for making it possible so quickly!" 
"Making a movie is a crazed task to begin with and there's nothing more satisfying than being able to share it on your home turf," concurs producer Adam Rodness. "Black Fawn Distribution has proven themselves as a powerful distribution outlet for genre films across the board. This is a valued partnership and we are proud of them being able to release Scarecrows across Canada." 
Synopsis: "While on a hike to find a secret lagoon, four stoners have no choice but to pass through an ominous cornfield. Unbeknownst to them, a psychotic farmer despises trespassers and has vowed to kill anyone who crosses his land by turning them into living scarecrows, leaving them to rot in his fields. Once one goes up... it never comes down."
---------
Hola Mexico Virtual Theater Opens with Mexican Horror Film Los Parecidos: "Hola Mexico Film Festival proudly presents the Hola Mexico Virtual Theater online film series starting May 21. The festival, which has been postponed until September 2020, wants to help give viewers a chance to see some of the best films that have come out of Mexico in recent years and serve as a reminder of how much Mexican cinema has grown in the past two decades. The films have been specially curated for this online theater event experience.
Due to the COVID-19 health crisis, organizers of the Hola Mexico Film Festival will practice social distancing by offering this virtual theater experience before the 12th edition of Hola Mexico Film Festival presented in the fall. Viewers will have the opportunity to watch the best in recent Mexican cinema while staying safe at home.
Hola Mexico Virtual Theater to include the following screenings:
May 21, Los Parecidos – Dir. Isaac Ezban
May 22, El Estudiante – Dir. Roberto Girault
May 23, Revolucion- Directors- Mariana Chenillo, Fernanda Eimbcke Amat Escalante, Gael Garcia Bernal, Rodrigo Garcia, Diego Luna, Gerardo Naranjo, Rodrigo Plá, Carlos Reygadas, Patrica Riggen
May 24, Oso Polar- Dir. Marcelo Tobar
May 28, Los Ojos del Mar- Dir. Jose Alvarez
May 29, Historias Del Desencanto- Dir. Alejandro Valle
May 30, El Cielo Abierto –Dir Everardo Gonzalez
May 31, Tiempos Felices-Dir- Luis Javier 
*More films to be announced soon! With weekly screenings from Thursdays to Sundays.
Each one of the curated films will play for only twenty-four hours, and will include a pre-recorded Q&A session.
The price of "tickets," aka the cost to screen each film, is only $4.99 and the proceeds of each "ticket" will be shared with the filmmaker. Support the festival, support the filmmaker!
"We're talking about some of the best films to have come out of Mexico yet were never released in the United States, or if they did screen in the U.S., it was for a limited time, and they are certainly not currently available to view anywhere else," says Samuel Douek, Founder & Director of the Hola Mexico Film Festival.
Tickets for screenings of the Hola Mexico Virtual Theater are available at:
https://xerb.tv/channel/holamexicoff/virtual-events
PLEASE NOTE: The traditional Hola Mexico Film Festival 2020 has not been cancelled, and the festival's organizers hope to help keep viewers safe at home during this time of required social distancing. We'll hopefully see everyone in September. In the meantime, please enjoy the Hola Mexico Virtual Theater!
ABOUT HOLA MEXICO FILM FESTIVAL
Founded in 2008, Hola Mexico Film Festival, the largest Mexican Film Festival outside of Mexico, strives to highlight the best and brightest talents in Mexican cinematography. Spanning comedies, dramas, horror films and documentaries, the festival showcases high quality films in a festive atmosphere in conjunction with exclusive parties and outdoor concerts. Celebrating its 12th edition, Hola Mexico Film Festival returns to Los Angeles in September 2020, offering film enthusiasts a chance to screen many beloved Mexican films and interact with the filmmakers and talent through special events. Sponsors include: Cinelatino, Corolla, HBO, Delta Aeromexico, Herradura, and UNAM LA."