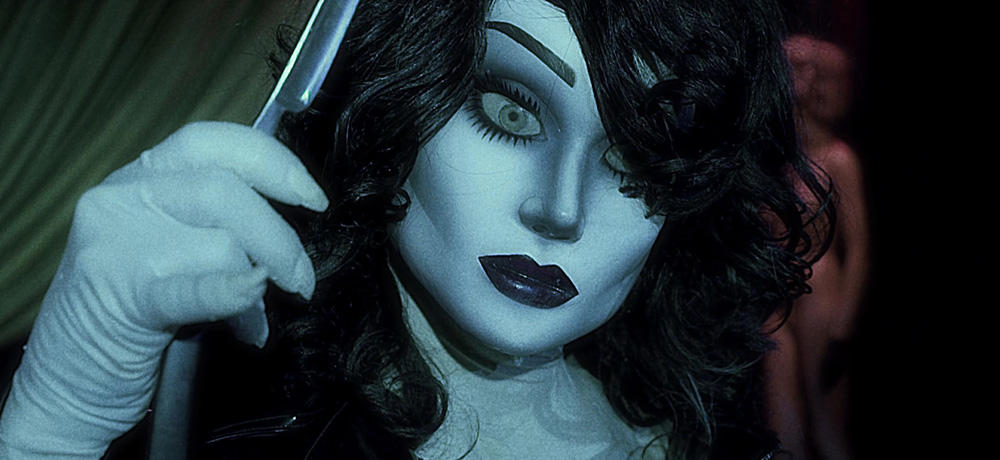 In a packed edition of Horror Highlights, we have a clip from Crystal Eyes, details on the To Your Last Death Blu-ray release, info on The Year Without Halloween book, the short film We Got a Monkey's Paw, details on Joe Bob Brigg's drive-in event, and the trailer for Chop Chop!
Watch a Clip from CRYSTAL EYES: September's Arrow Video Channel offerings bolster the already great lineup with an eclectic mix of titles that include Crystal Eyes, Graveyard of Honor, Return of the Killer Tomatoes, and more. Here's a look at a clip from Crystal Eyes and more details on Arrow's September lineup:
"London, UK - Arrow Video is excited to announce the September slate of titles on their subscription-based Arrow Video Channel, including the Argentinian giallo homage Crystal Eyes, Fukasaku's Graveyard of Honor, and Miike's 2002 remake. The stylish slasher Crystal Eyes, Fukasaku's classic crime thriller Graveyard of Honor and Miike's reimagining lead a selection of cult classics, hidden gems and iconic horror films coming to the Arrow Video Channel September 1st.
Crystal Eyes, Graveyard of Honor (1975), and Graveyard of Honor (2002) will be available September 1st on the Arrow Video Channel in the US and the UK. Additional new titles available September 1st include Ivansxtc (UK/US), The Holy Mountain (UK), Fando Y Lis (UK), El Topo (UK), and Return of the Killer Tomatoes (UK/US). The Arrow Video Channel is available on Apple TV in the UK and US, as well as on Amazon in the UK.
Buenos Aires, 1985. It's the first anniversary of the death of stunning supermodel diva Alexis Carpenter - who met a fantastically fiery demise whilst strutting her stuff on the runway. To mark the anniversary, fashion editor of Attila magazine Lucia L'uccello - who gives The Devil Wears Prada savage Miranda Priestly a run for her money - plans a tribute to the fallen model. However, when Alexis' dresses are stolen, and staff start to disappear, it seems a mysterious mannequin killer in a black raincoat is out for blood and ready for their closeup.
September Additions:
Crystal Eyes (UK/US) Exclusive
Ivansxtc (UK/US) Exclusive
Graveyard of Honor (1975) (UK/US)
Graveyard of Honor (2002) (UK/US)
The Holy Mountain (UK) Exclusive
Fando Y Lis (UK) Exclusive
El Topo (UK) Exclusive
Return of the Killer Tomatoes (UK/US)
September Seasons:
Fashion Victims
Crystal Eyes (UK/US)
Society (UK/US)
Death Walks on High Heels (UK/US)
Death Walks at Midnight (UK/US)
Blood and Black Lace (UK/US)
The Red Queen Kills Seven Times (UK/US)
The Night Evelyn Came Out of the Grave (UK/US)
The Bloodstained Butterfly (UK/US)
The Fifth Cord (UK/US)
The Pyjama Girl Case (UK/US)
Whirlpool (UK/US)
The Forbidden Photos of a Lady Above Suspicion (UK/US)
Double Face (UK/US)
There's Always Vanilla (UK/US)
The Coming of Sin (UK/US)
Crimes of Passion (UK)
Heathers (UK)
The Iguana and the Tongue of Fire (UK)
Blood of the Yakuza
Graveyard of Honor (1975) (UK/US)
Graveyard of Honor (2002) (UK/US)
Yakuza Law (UK/US)
Teenage Yakuza (UK/US)
Battles Without Honor And Humanity (UK/US)
Hiroshima Death Match (UK/US)
Proxy War (UK/US)
Police Tactics (UK/US)
Final Episode (UK/US)
New Battles Without Honor & Humanity (UK/US)
New Battles Without Honor & Humanity: The Boss's Head (UK/US)
Last Days of the Boss (UK/US)
Blind Woman's Curse (UK/US)
Orgies of Edo (UK/US)
Inferno of Torture (UK/US)
Street Mobster (UK/US)
Detective Bureau 2-3: Go to Hell Bastards! (UK/US)
Massacre Gun (UK/US)
Retaliation (UK/US)
Gangster VIP (UK/US)
Gangster VIP 2 (UK/US)
Shinjuku Triad Society (UK/US)
Rainy Dog (UK/US)
Ley Lines (UK/US)
Dead or Alive (UK/US)
Dead or Alive 2: Tôbôsha (UK/US)
About the Arrow Video Channel:
The Arrow Video Channel gives cult movie fans the opportunity to watch a wide selection of movies that the Arrow Video brand has been famous for - personally curated by members of the Arrow team. From horror to sci-fi, thrillers to westerns, the Arrow Video Channel is home to cutting edge cult and undiscovered gems such as Takashi Miike's Audition, Wes Craven's seminal masterpiece The Hills Have Eyes, George A. Romero's contagion classic The Crazies, Edwin Brown's slice-and-dice staple The Prey and so much more. In the coming months the Arrow Video Channel will be adding cult classics from Alejandro Jodorowsky including The Holy Mountain and American made horrors such as The Deeper You Dig, Children of the Corn 2 & 3 and The El Duce Tapes. In addition to crowd pleasing cult movies on the service, the Arrow Video Channel will continue to give you an exclusive platform to brand new genre as part of a new global strategy.
The Arrow Video Channel also hosts a growing collection of documentaries, interviews and never-before-seen content from the Arrow Video archives, as well as newly produced material. These documentaries will breathe new life on the Arrow Video Channel, giving movie fans an immersive look into the creation of many cult movie classics such as Donnie Darko and Hellraiser. The service will be updated regularly with new content, new curation focus and never-before-seen content, all hand-picked by the Arrow Video team.
Subscribe to Arrow Video Channel on Apple TV (UK/US)
Subscribe to Arrow Video Channel on Amazon (UK)"
---------
TO YOUR LAST DEATH Blu-ray Release: "Los Angeles, CA - Following a wildly successful run on the global film festival circuit, having netted over two dozen awards and 60 nominations, Coverage Ink and Quiver Distribution have announced the Blu-ray release of Jason Axinn's To Your Last Death.  The blood-splattered, timewarped animated family drama will be available nationwide October 6th on Blu-ray.  It is currently available on a number of digital and cable platforms, including iTunes, Amazon Video, Vudu, Comcast, Spectrum, and Cox.
To Your Last Death combines a wildly imaginative script with eye-popping animation. The film is anchored by a first-class voice cast: Morena Baccarin (Deadpool, "Firefly", "Gotham") as the mysterious Gamemaster, Ray Wise ("Twin Peaks", Batman: The Killing Joke, Robocop), Dani Lennon (The Love Witch, Bite Me), Bill Moseley (House of 1000 Corpses, Repo! The Genetic Opera, The Devil's Rejects), and William Shatner (the "Star Trek" franchise, "The Practice") as the sadistic Overseer.
Of her time in the recording booth, Baccarin shared, "What drew me to this project was how dark it was. This idea that we can be finger puppets, that somebody could be up there, wreaking chaos in our lives... Obviously, it's a fantasy world, and it's always fun to do something that's completely unrealistic and at the same time plays with themes from reality. I enjoyed this character because one could say she's evil -- she's doing these terrible things -- but she's really just doing her job. It's not about emotion, and it's not about being mean or terrible to people. It's about entertainment, and in a weird way, I thought it would be really fun to attempt vocally to do that."
"If you can make people feel that they could die horribly, that's scary. That's close to the bone," added Shatner.
To Your Last Death had its world premiere at the Arrow Video FrightFest in London, beginning a global tour of critical and audience acclaim.  The film has taken home over twenty awards to date including Best Film at the Northeast Film Festival Horror Fest and Horror Avenue Film Festival, Best Horror Film at Vidi Space Film Festival, Bloodstained Indie Film Fest and the Big Apple Film Festival, Best Supporting Actor (Wise), Best Villain and Best Writing at Hexploitation, Fearmaker of the Year at Spooky Empire, and Best Feature Screenplay and Best Sound at FilmQuest.  To Your Last Death was also nominated for Best Feature at the Pasadena International Film Festival in addition to Best Feature, Best Director and Best First-time Filmmaker at HorrorHound.
To Your Last Death was produced by Coverage Ink Films and directed by Jason Axinn, from a script by Coverage Ink's Tanya Klein and Jim Cirile.  Axinn produced alongside Cindi Rice and Paige Barnett.   Tanya Klein, James Cirile, and John Frank Rosenblum served as executive producers."
----------
THE YEAR WITHOUT HALLOWEEN: "Award-winning writer, Shane Bitterling, and Illustrator, Robert Kern III, are publishing their first children's picture book, THE YEAR WITHOUT HALLOWEEN, a 31-page (BOO!) paperback, which oozes with holiday traditions and the theme of making the best of what you have to overcome the hardships of celebrating Halloween in 2020. 
Bitterling came up with the idea for this story at the beginning of the pandemic, when he was sure everything would be back to normal by Halloween. But the New Normal reality hasn't ended and officials and doctors across the United States have, for the most part, written off our beloved holiday this year. No trick-or-treating? No haunted houses? No way! Bitterling took a break from selling his infamous pizza out of his driveway as a means to see friends (from a safe distance) and made pumpkinade out of pumpkins. His imagination has never been so timely. Or scary. 
Description: Something scary has creeped into town and stopped Boone's favorite holiday from happening. The stores are closed. His friends are all stuck inside. This year, it's all tricks and no treats. 
With hard work and a big imagination, Boone sets out to make this the best Halloween ever. But does he have a ghost of a chance? 
A SPOOKTASTIC new picture book for Monster Kids from ages 2 to 102 about keeping the Spirit of Halloween alive 365. 
THE YEAR WITHOUT HALLOWEEN Written by Shane Bitterling Illustrated by Robert Kern III 
Available for the holiday and beyond through: gbmi.pub/Halloween www.darkdel.com Amazon, B&N, etc. sales/links coming soon. "
--------
Watch the Short Film WE GOT A MONKEY'S PAW: "Zack and Jakki are you typical "odd couple" roommates. Jakki likes staying in, reading a good book now and again; while Zack has other hobbies like waking the dead. Things get hairy when Zack convinces Jakki to spend the day making wishes on a Monkey's Paw. Soon the two find themselves doing backflips trying to undo the cataclysmic series of events they've set off. Ghost brides, demon boxes, dead-y bears, oh my! This paw is definitely in the wrong hands.
Directed by Aaron Pagniano
Written by Zack Ogle & Aaron Pagniano
Produced by Travis Campbell, Zack Ogle, & Aaron Pagniano
Music by Tom Hatfield
Cinematography by Carissa Dorson (additional photography by Idan Menin)
Edited by Zack Ogle
VFX by Aaron Pagniano
Gaffer- Maryn McGaw
Sound Recordists- Spencer Showalter and Clinton Cornwall
Hair and Makeup- Kathleen Pardo
Production Assistant- Stephanie Carnes
Colorist- Pedro Vivas Hernandez
Starring- Jakki Jandrell & Zack Ogle"
----------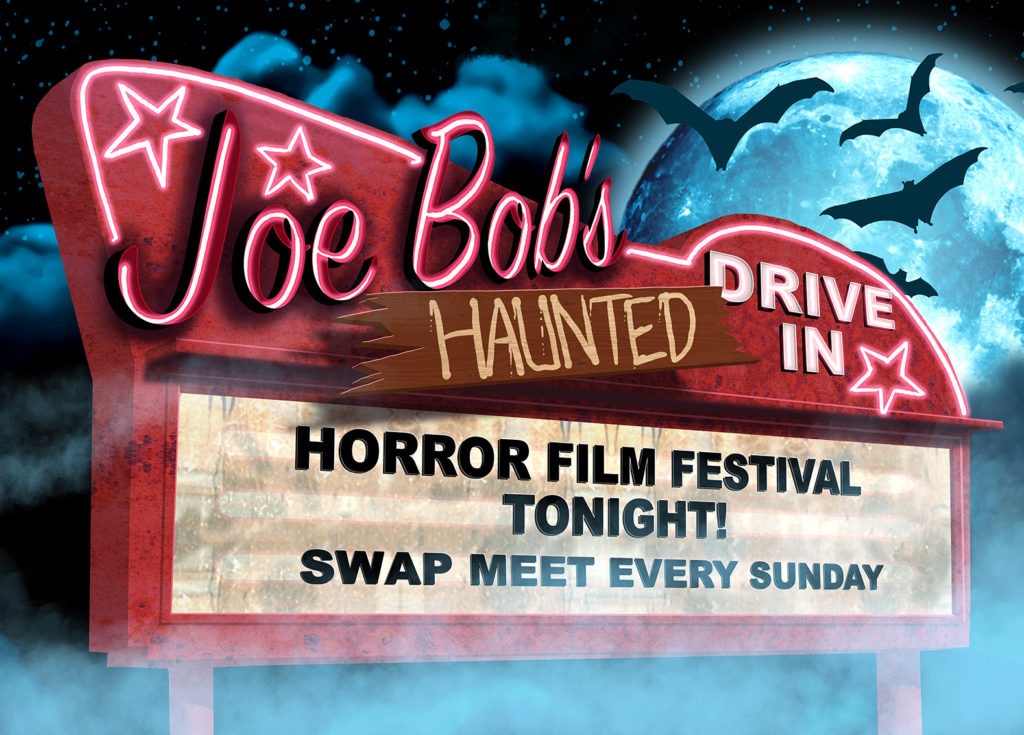 Joe Bob's Haunted Drive-In Coming to Southern California: "Just in time for the Halloween season, legendary horror host Joe Bob Briggs and Los Angeles-based Black Vortex Cinema have announced today their partnership on "Joe Bob's Haunted Drive-In," a brand new, one-of-a-kind, COVID-conscious haunt experience/short horror film festival now being curated, and coming to drive-ins in Southern California this October.
"During these troubling times, we've seen many of our favorite seasonal Halloween events being forced to close, so we wanted to provide a safe, exciting, and scary new way to celebrate our favorite season from the comfort of our own cars," said Black Vortex Cinema founder Christian Ackerman. "And we couldn't be more happy to join forces with Joe Bob on this. His wicked humor onscreen is the perfect counterbalance to the live scares that'll be happening throughout!"
"I'm excited to bring the best short horror films you submit to drive-ins, but I take no responsibility for any zombie attacks," added horror icon Joe Bob Briggs, who will act as the pre-recorded Master of Ceremonies of "Joe Bob's Haunted Drive-In," along with his "The Last Drive-In" sidekick Darcy the Mail Girl, and scream queen & actress Felissa Rose.
Set to take place over several nights, the unique event will blend the nostalgia of watching a drive-in fright film festival with a live, interactive haunt: as you and your friends watch Joe Bob, Darcy, and Felissa onscreen in the "Joe Bob's Haunted Drive-in" film fest from the safety of your own car, the drive-in itself will become overrun by flesh-hungry ghouls fresh from a Halloween party, eager to terrorize you!
Tickets for "Joe Bob's Haunted Drive-In" start at $99 per car. For more information, including soon-to-be-announced screening dates, special event packages, possible live appearances by Joe Bob, Darcy, Felissa and more, sign up for the email list at www.JoeBobsHauntedDriveIn.com now.
To join in the conversation, use the hashtag #JoeBobsHauntedDriveIn, and on social media, you can 'like' BlackVortexCinema on Facebook: https://www.facebook.com/blackvortexcinema and follow them on Instagram @BlackVortexCinema and Twitter @BlackVortexCine for updates.
And as the anthology film at the center of "Joe Bob's Haunted Drive-In" will consist of the cream-of-the-crop of short horror films by cutting-edge directors, all commented on by Joe Bob himself, Black Vortex Cinema is now accepting short horror film submissions for consideration, and at no charge, via their Film Freeway account at https://filmfreeway.com/JoeBobsHauntedDriveInFestival (full details can be found there).
The submission window does close on September 28, 2020 at 11:59PM PST, however, so for filmmakers who would like to possibly see their work up on the big screen as part of "Joe Bob's Haunted Drive-In," Black Vortex Cinema"
---------
CHOP CHOP: " Los Angeles, CA - Kamikaze Dogfight in partnership with Gravitas Ventures, a Red Arrow Studios company, has announced the Digital HD and Cable VOD launch of Rony Patel's debut slasher Chop Chop. An ordinary pizza delivery leads to a night of chaos when a murderous psychopath targets a young couple who might be harboring a secret of their own. Chop Chop will be available to rent or own October 20th on Amazon, iTunes, Comcast, Spectrum, Vudu and more.
Atala Arce and Jake Taylor star as the young couple whose attack by a murdering psychopath is only the beginning of a very dangerous night. Chop Chop was directed and produced by Rony Patel, from a script he co-wrote with Andrew Ericksen.
"We are so proud to be launching Rony's debut feature. It's exactly the kind of energy, style and storytelling that Kamikaze fans will appreciate and want to see more of," said Andrew van den Houten, partner at Kamikaze Dogfight.
"Our team is always excited when Andrew and Han identify budding genre filmmakers. That excitement is certainly stoked with Chop Chop and we are happy to launch Rony Patel into the fray," said Gravitas Ventures Acquisition Manager Nick Royak.