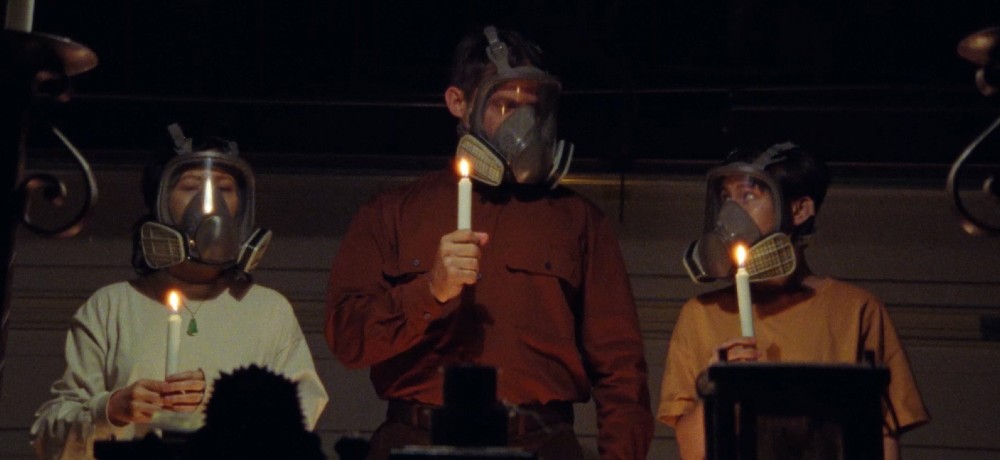 DAUGHTER: "A young woman is kidnapped and inducted into a bizarre family as their new surrogate daughter. As she navigates through this twisted dynamic, awful secrets about the past are revealed, leading to even darker implications about the future."
Starring: Casper Van Dien, Elyse Dinh, Vivien Ngô and Ian Alexander
Written and Directed By: Corey Deshon
---
FIVE NIGHTS AT FREDDY'S SCARE-IN-THE-BOX: "Turn the crank as far you dare… but if Freddy pops out, you're captured! Whether you pass the box or take a risk, Scare-in-the-Box will have you laughing with fear!
Pop-up action Freddy creates edge-of-your seat suspense!
Creepy music and sound effects capture all the scares of Five Nights at Freddy's.
Two ways to win: play it safe and outlast your opponents or spend a token to scare them!
Quick, engaging gameplay is fun for groups of all sizes."
MSRP: $24.99
Age Range: Ages 8+
Players: 2 -8 Players
Play time: 15 minute gameplay
Item No.: 65393
UPC: 889698653930
Learn more at: https://funkogames.com/games/five-nights-at-freddys-scare-in-the-box/
---
Exclusive Clip from FREE TO A BAD HOME: "From the Hale Brothers, and in the tradition of Creepshow and V/H/S, a new horror anthology about the various forms of evil that lurk in the shadows.
The lives of three strangers - a widow, a thief, and an addict - are terrorized by cursed objects and those that spread them in FREE TO A BAD HOME starring Miranda Nieman, Jake C. Young, Olivia Dennis, Hayley Sunshine, and Roni Locke.
Says directors Scott and Kameron Hale, "Ever since watching classics horror movies, such as Night of the Living Dead and Halloween, at far too young of an age, we have always had an unshakeable love and obsession with film, but especially Horror. In our opinion, it is the most flexible, creative, and honest subgenre, and it affords those who embrace it an opportunity to tell stories that tap into every aspect of the human experience.
We have always wanted to write, produce, and direct films. Now, we are fortunate enough to be in a place in our lives to make that a possibility. Our feature film, Entropy, was our first foray into filmmaking, and it was shortly after wrapping production that Kameron began thinking about our next project – Free to a Bad Home. What began as a short film about grief and possession quickly became a smaller whole of a larger narrative about cursed objects passed down through the generations, to be used as gateways for cruel spirits who revel in suffering. Telling the story in an anthology format just made sense, and it gave us an opportunity to explore how to stretch the format while also staying true to it. Regardless of budget and time, it is always our goal to challenge ourselves, and we loved the idea creating an anthology with a singular vision that used seemingly disconnected-but-actually-strongly-linked stories that subtly form what amounts to an origin story for our villainess.
Free to a Bad Home wasn't the next feature we had planned – that one awaits a larger budget – but it was, in retrospect, the next logical step in our career. With our skills refined, our cast expanded, and our ambitions greater than ever, Free to a Bad Home, like the cursed objects in the film, found us and changed us, and now we're ready to unleash it onto an unsuspecting world."
On Digital February 17 from Terror Films.
---
Exclusive Clip from FIRENADO: "Uncork'd Entertainment has acquired FIRENADO, a wildly unique new disaster movie from filmmakers Scott Jeffrey and Rhys Frake-Waterfield (Blood and Honey).
The film, one to rival Geostorm and The Day After Tomorrow, tells of four scientists that uncover a ground-breaking technology capable of controlling weather. On the first use of the device, it malfunctions and creates a Fire Tornado. As the Firenado leaves a wake of destruction, the group assist in evacuating nearby residents but stumble upon into an organized crime home invasion. Stuck between a rock and a hard place; the group struggle to survive the two threats.
"Scott and Rhys have done it again. FIRENADO is rip-roaring entertainment!." said Keith Leopard, President Uncork'd Entertainment. "With great effects, wonderful cinematography and some fun performances, it's a perfect fit for Uncork'd".
FIRENADO blazes onto digital Jan 3, 2023 from Uncork'd Entertainment. A DVD will follow in February."