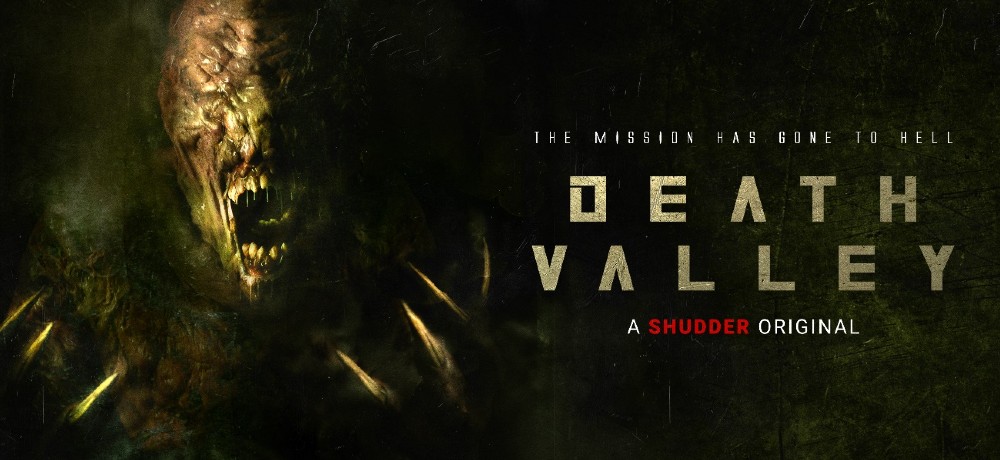 DEATH VALLEY: "Shudder, AMC Networks' premium streaming service for horror, thriller and the supernatural, announced today that it will release the original film Death Valley in North America, the United Kingdom, Ireland, Australia and New Zealand on Thursday, December 9.
Written and directed by Matthew Ninaber (Psycho Goreman), who also appears as the frightening monster in the film, the adrenaline-fueled action horror stars his brother Jeremy Ninaber (Escape the Dark), Ethan Mitchell (Escape the Dark) and Kristen Kaster (If I should Die).
When a secret experiment goes horribly wrong, bioengineer Dr. Chloe (Kaster) becomes trapped inside a secret underground facility. With only 24 hours before a fatal decontamination protocol destroys the entire lab, Chloe deploys an emergency distress signal before a terrifying creature (Matthew Ninaber) of unknown origin can consume what's left of her.
Alerted by the distress beacon, battle-weary guns for hire, Marshall (Mitchell) and Beckett (Jeremy Ninaber) are commissioned to carry out a covert operation to extract the imprisoned scientist. Upon deployment, the team is ambushed by another heavily armed militia hell-bent on finding a way into the compound themselves.
Severely outnumbered, the mercenaries find entry to the bunker through an unsealed emergency hatch only to find themselves in a horrific fight for survival. With time and ammunition running out, the team must locate Dr. Chloe while also navigating the underground maze of corridors before they're hunted down one by one.
Death Valley is produced by Black Fawn Films who also produced the Shudder original Vicious Fun. The film is executive produced by Matthew Ninaber, Ira Levy, Michael McGuigan and Patrick Ewald. The film is produced by Chad Archibald, Cody Calahan and Matthew Ninaber."
----------
'GHOSTBUSTERS: AFTERLIFE 'ScARe' ON CALL 24 HOURS A DAY TO SERVE ALL YOUR SUPERNATURAL ELIMINATION NEEDS: "Imprezario Entertainment, an augmented reality (AR) mobile gaming company, announced today its upcoming Fall release Ghostbusters: Afterlife ScARe to be available on iOS and Android on November 19.
Ghostbusters: Afterlife ScARe sets users in Sony Pictures' upcoming film Ghostbusters: Afterlife. In the experience, players seek to defend their surroundings amid an oncoming apocalypse. Character interactions relay hidden clues which unlock unlicensed nuclear equipment to battle supernatural entities. Banding together with newfound friends, users wage a high-tech battle against evil to overcome a town's hidden past in order to save the day.
Ghostbusters: Afterlife ScARe pioneers state-of-the-art technology to immerse users into a paranormal thriller set in the original Ghostbusters universe. The phone's camera, vibration fx, touch screen, LED light, ASMR audio, and other system features offer users the highest level of interactive experience. Players must duck and dodge incoming slime attacks. If unsuccessful, they find themselves wiping their view of ectoplasmic residue. Players collect and earn nuclear energy cells to power their in-game equipment by solving an ESP test puzzle, or else suffer shocking consequences.
"I'm always interested in new ways to tell stories and I'm thrilled to see the Ghostbusters mythology expand into the augmented reality front. Ghostbusters: Afterlife has always been about the Ghostbuster in all of us that wants to pick up the proton pack and this is a chance for fans of the new film to join Phoebe and the gang for a new adventure" said co-writer and director Jason Reitman.
Finn Wolfhard, McKenna Grace, Celeste O'Connor, Logan Kim and Dan Aykroyd reprise their roles from Ghostbusters: Afterlife and provide guidance throughout the playing experience. Master magician, writer, and producer, David Kwong, crafted the interactive in-game elements. Kwong has built a reputation for developing intricate puzzles and illusions for such films as Now You See Me, The Imitation Game and Mission Impossible: Ghost Protocol.
The first two episodes of gameplay will be available for free beginning November 19. Additional episodes will be available for purchase, including new episodes scheduled for release in the months after launch. Imprezario CEO and the game's director, Brett Tomberlin, adds, "All episodes will incorporate the most convincing level of AR content, it is our hope we offer a generation of both past and future Ghostbusters a gateway to another dimension."
The band, The Flux Capacitors, will be re-recording a new rendition of Rockwell's "Somebody's Watching Me" which will be featured in one of the first episodes in the ScARe experience.
From director Jason Reitman and producer Ivan Reitman, Ghostbusters: Afterlife will debut exclusively in movie theaters on November 19 via Sony Pictures.  The film is written by Gil Kenan and Jason Reitman."
---------
THE DARKNESS OF THE ROAD: "Horror favorite Najarra Townsend (Contracted, Dementia: Part II) stars in the spine-chilling The Darkness of the Road, premiering on DVD and Digital December 14 from Uncork'd Entertainment.
A single mother and her young daughter are driving on a desolate road in a moonless desert. After meeting a young female hitchhiker at a gas station, the mother realizes her daughter is missing. As they search for her, a merciless force begins to torment the two women, unraveling a world of terror they must survive if they are to discover the terrifying truth behind the daughter's disappearance.
From director Eduardo Rodriguez (Fright Night 2, El Gringo), and also starring Leah Lauren and Johnny Whitworth ("The 100", Empire Records), The Darkness of the Road will again remind you to be careful who you pick up on the road!"
On DVD, Digital & On Demand December 14th