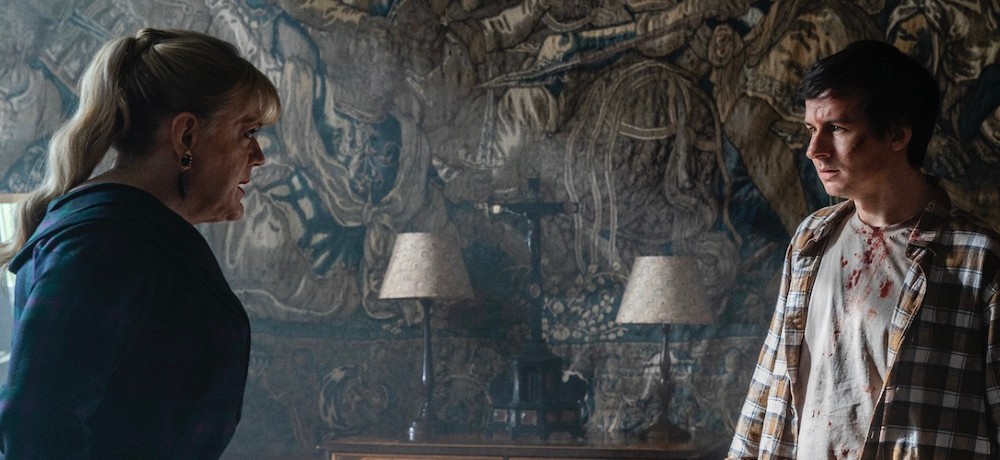 Hammer Films Annoucnes October Release for DOCTOR JEKYLL: "Hammer Films is thrilled to announce the theatrical release of B Good Picture Company's Doctor Jekyll exclusively in UK cinemas from 27 October 2023.
Directed by Joe Stephenson ("Chicken", "McKellen: Playing The Partand") featuring an impressive cast including Eddie Izzard, Scott Chambers, Lindsay Duncan and Simon Callow, Doctor Jekyll's UK-wide release marks the first release for the recently resurrected Hammer, following its acquisition by theatre and entertainment mogul John Gore.
Bringing a modern twist to the critically adored tale, Doctor Jekyll will receive its red-carpet premiere at London's iconic Odeon Leicester Square on 11 October.  The film was also selected to play at FrightFest London 2023 where an initial cut of the film was screened as part of the festival's line-up.
A modern interpretation of Robert Louis Stevenson's novella 'The Strange Case of Dr. Jekyll and Mr. Hyde, Doctor Jekyll, is a reimagining of the classic story starring Eddie Izzard who plays Dr. Nina Jekyll, a recluse who finds friendship with her newly hired help, Rob, played by emerging actor Scott Chambers ("Chicken"). They must work together to prevent Hyde from destroying her life. The screenplay is by Dan Kelly-Mulhern.
The release of Doctor Jekyll heralds a new era for Hammer, founded in 1934. As well as significant investment, Gore's new vision for the company, fuelled by a lifelong love of all things Hammer, will lead to a string of new films bearing the iconic Hammer name, and Doctor Jekyll is only the beginning.  Gore commented "Given Doctor Jekyll was the first Gothic Horror book it is very appropriate that Joe Stephenson's thrilling new film should be the first of a new generation of Hammer movies".
An isolated mansion, a mysterious locked room, creepy corridors, a dusty cellar and a mad doctor… Hammer horror is back with a modern reimagining of the classic Robert Louis Stevenson's 1886 novella 'The Strange Case of Dr Jekyll and Mr Hyde'. When ex-convict Rob takes the carer position to the infamous Nina Jekyll, little does he know he's part of an evil master plan devised by her alter ego Rachel Hyde. But to what lengths will Rob go to satisfy his client's weird wishes and his own ambitions for the daughter he has never even seen? "
---
APPENDAGE: "Hannah (Hadley Robinson), a young fashion designer, seems fine on the surface, but secretly struggles with debilitating self-doubt. Soon these buried feelings begin to make Hannah physically sick and sprout into a ferocious growth on her body: The Appendage. As Hannah's health declines, The Appendage begins to fuel her anxieties – her perceived lack of talent at work, her deteriorating relationships with her boyfriend and best friend, and her parents' lack of love and understanding. At her breaking point, Hannah makes a shocking discovery—there are others out there like her.
"Appendage" was developed by 20th Digital Studio with David Worthen Brooks, Arbi Pedrossian, and Jenna Cavelle serving as executive producers. Also serving as producers are Hadley Robinson, Anna Zlokovic and Alex Familian. Production services were carried out by the film's producer Katrina Kudlick through her production company, Fever Dream Studios. Emma Buerklin serves as co-producer."
"Appendage" is Anna Zlokovic's feature directorial debut, based on her 2021 short of the same name.
Cast:  Hadley Robinson, Kausar Mohammed, Emily Hampshire, and Brandon Mychal Smith
Available on October 2nd
---
CELLO North American Release Date Revealed: "The haunting World Premiere of Cello was held on September 8 in Riyadh, Saudi Arabia at the Muvi Cinemas on famed Riyadh Boulevard. The premiere was attended by most of the film's international stars and crew, including acclaimed horror director Darren Lynn Bousman (Saw II, III, IV, Spiral) and producer Lee Nelson (The Ice Road, Celeste & Jesse Forever). Riyadh Boulevard was transformed into a spectacle straight out the movie itself and its first public screening played to a captive packed house.  Others in attendance included stars Elham Ali, Samer Ismail, Suad Abdullah, Ibrahim Samman, Muhanad Al-Hamdi, Fahad Alqahtani, Baraa Alem and Ghassan Massoud as well as co-producer Raul Talwar & executive producer Niko Ruokosuo.  The film has already pre-sold well over 15,000 tickets for the upcoming opening weekend in the Arab region and will release in North America December 8.
After the premiere, Director Darren Lynn Bousman said, "Getting to experience the movie in Riyadh with a packed audience was surreal. I have been so lucky in my career to shoot all over the world and Cello took me to Saudi Arabia, Prague & Ireland. It was such a fantastical adventure getting to work and play in such different and unique areas. We had the great fortune to work with superstars of the Arab region. Then, add Jeremy Irons and Tobin Bell into the mix it & was a once in a lifetime experience."
Producer Lee Nelson added, "The production was comprised of an international team of artists from all over the world. Our 250-person crew came from the United States, Saudi Arabia, Lebanon, Canada, Italy, Egypt, Africa, India, Ireland, Tunisia, Jordan, Dubai, and the UK. It was a such a humbling experience to be in the center of so many talented people at the top of their trade.  It was a true global collaboration."
Cello tells the story of a cellist who finds out his new cello comes with a centuries old curse. The film is written by Turki Alalshikh, the current Chairman of the General Authority for Entertainment of Saudi Arabia, a best-selling poet, musician and lyricist, based on his novel and is produced by Rozam Media, Alamiya, and Envision Media Arts."