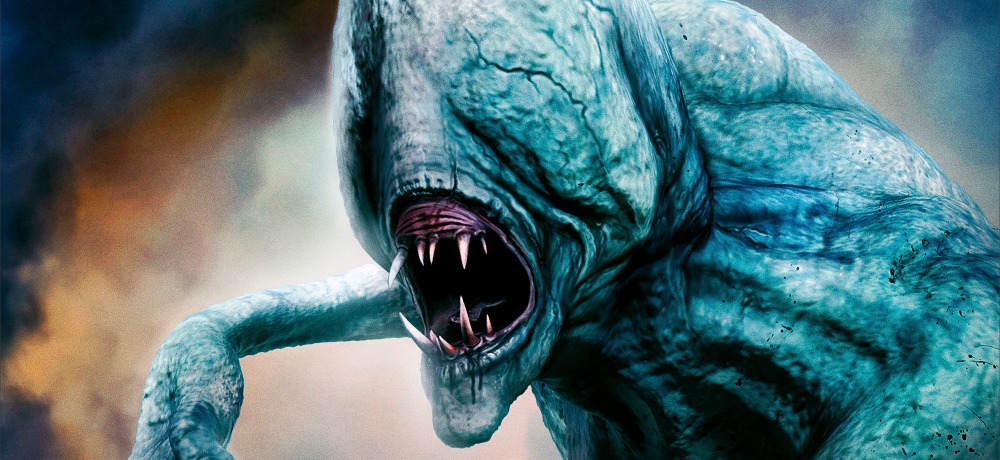 Scott Jeffrey's Don't Speak will debut on DVD and digital platforms on March 10th, and we have a look at the film's trailer. Also in today's Horror Highlights: details on Jennifer Nicole Stang's short film The Whistler coming to Shudder and a Q&A with Chad Rehmann, the composer of Shout! Studios' new horror film Camp Cold Brook.
Don't Speak Trailer: "It wasn't supposed to escape.
This March, writer-director Scott Jeffrey sets the creature free.
Terror abounds in Don't Speak, premiering on DVD and Digital this March 10.
Upon arriving at their grandparents' farm, a family soon realizes the entire town has been taken out by an unknown monster. And soon, they become their prey.
Stephanie Lodge, Ryan Davies, and Jake Watkins star in Don't Speak – on DVD and Digital March 10 from Uncork'd Entertainment."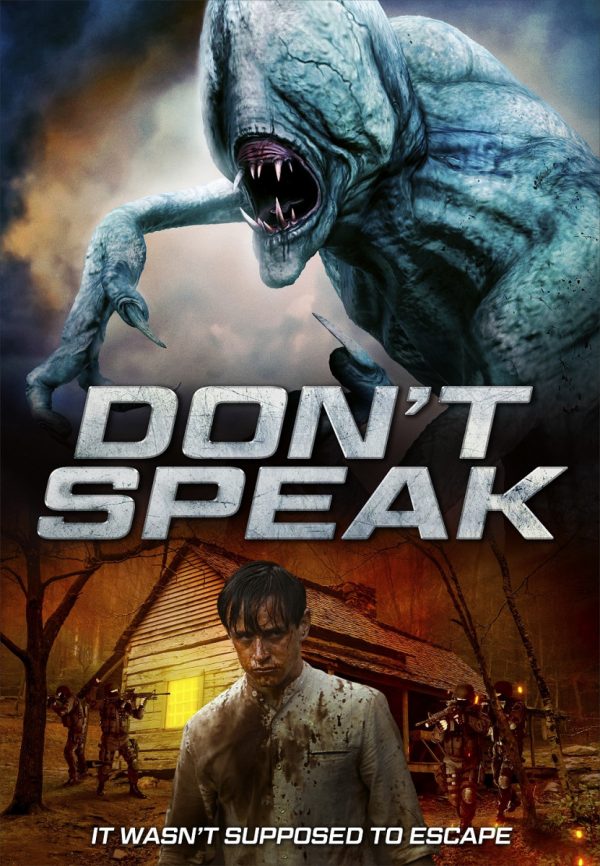 ---------
The Whistler Coming to Shudder: Press Release: "(Vancouver, BC-January 25th, 2020) - The Whistler, the latest indie fantasy-horror short film, from award-winning director Jennifer Nicole Stang of Round Table Pictures, is coming to video on demand! The award winning film will be available to stream on the premium horror thriller streaming platform Shudder, starting February 3rd, 2020.
Inspired by the story of The Pied Piper of Hamelin by Robert Browning, The Whistler tells the story of Lindsey (Karis Cameron) who is forced to babysit her younger sister Becky (Baya Ipatowicz) one night. After falling asleep, Lindsey awakens to find her sister missing. Someone has taken Becky and may be after Lindsey as well.
"Our intention with The Whistler was to portray a classic horror story of a night of babysitting gone wrong with an original Pied Piper like monster who has been stealing children since the founding colonies of America in the 1600s. It's a suggestive piece that evokes questions about the time-old theme of purity and sin; a theme, that despite ideological changes, remains strong. I hope that viewers enjoy putting the pieces together and are surprised by a few jump scares as well," says Jennifer.
Co-produced by Karen Wong & Sasha Filipovich, the film has been awarded accolades on the festival circuit as well as receiving great reviews from San Diego Comic Con. The Whistler won Best International Horror Short Film at Women in Horror Film Festival, Best International Horror Short Film at HEMOGLOZINE Film Festival in Ciudad Real, Spain, Best Horror Short at the NYC Horror Film Festival and Best Fantasy Short from Flickers' Rhode Island Vortex Film Festival, amongst others.
With her production company Round Table Pictures, Jennifer has directed numerous award-winning music videos and short films. Jennifer's short film, El Lago (The Lake) was awarded Best Fantasy Film at the Mexico International Film Festival and 1st place at the Honolulu Film Awards. El Lago is also featured on GAIA TV. In addition, Jennifer's web series Englishman in LA starring Ashley Fink of Glee fame and Eddie Jemison of the Ocean's franchise received rave reviews from In Touch Magazine and Broadway World, along with several accolades at the LA Web Series Festival, and can currently be found streaming on Amazon Prime.
The film will be available to stream on the premium horror thriller streaming service Shudder, starting February 3rd, 2020.
Get updated news on The Whistler on Facebook, Twitter, Instagram and at www.roundtablepictures.ca and follow Jennifer Nicole Stang on Twitter, Facebook and Instagram for the latest on her projects."
---------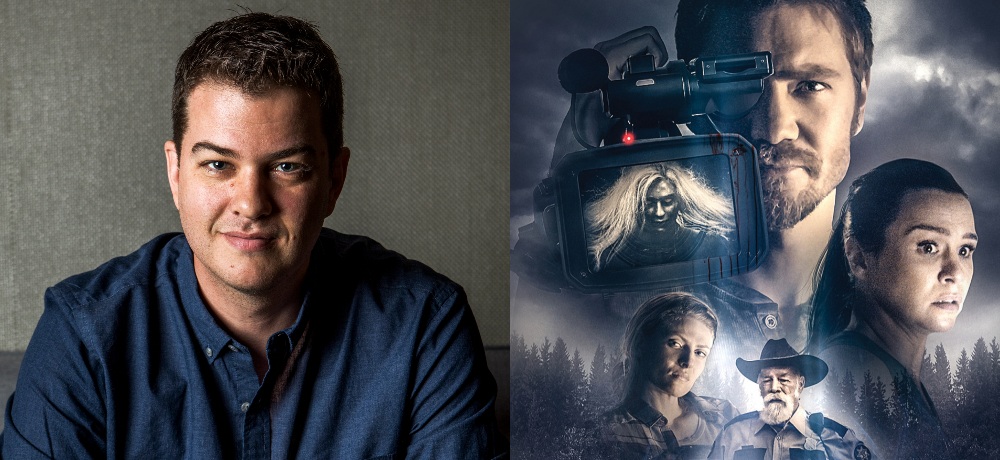 Q&A with Camp Cold Brook Composer Chad Rehmann: "Next month there is a slew of new horror films being released, such as Blumhouse Production's Fantasy Island and The Invisible Man, STX Entertainment's Brahms: The Boy II and Neon's The Lodge. Another title worth paying attention to is Andy Palmer's Camp Cold Brook, which is getting released by Shout! Studios.
Camp Cold Brook stars as a reality TV producer and host named Jack Wilson, who finds himself in a tough spot when his show Haunt Squad is about to be canceled. In a last-ditch effort to spark ratings, he and his producer Angela (Danielle Harris) choose to film their next episode at the legendary Camp Cold Brook, where young campers were drowned in a nearby creek 20 years ago. Their arrival begins like any other episode — but the TV crew finds that they get more than they bargained for.
What would a good horror film be without a great score heightening the suspense and signaling when a ghost or killer is about to appear?
In the case of Camp Cold Brook, that job goes to composer Chad Rehmann. After looking at his resume and seeing The Funhouse Massacre, I think it's safe to say horror lovers are in good hands. In the below exclusive interview, Chad discusses everything Camp Cold Brook. The film's score will also be getting released on February 7, 2020.
What was the initial appeal of Camp Cold Brook for you?
Chad Rehmann: Any time Andy Palmer (the director calls), I jump at the chance to collaborate! Camp Cold Brook is my fourth film with him, and because he allows those on his team to push the boundaries and experiment, I knew that there were some really fun things that we could do with this score.
You have scored a lot of horror films. In your opinion, what are some of the key elements that make a great horror film score?
Chad Rehmann: Silence. Early in my career, I had the tendency to overwrite, and over the years I've come to appreciate how silence and simplicity can be just as effective. There were many times in this film where a few cello squeaks were all that was needed. If the script works and the actors are strong, sometimes we composers just need to get out of the way – of course, other times we need to pull every tool out of our arsenal! I think another important aspect of any great score is to have a concept before writing a single note. My grandfather was a carpenter, and he always told me, "Measure twice, cut once". Having a plan in place will serve any composer well when they begin the scoring process.
Were there any specific challenges with scoring Camp Cold Brook?
Chad Rehmann: Organization! My team and I recorded an orchestra in Budapest, children singing in Los Angeles and field recordings of camp sounds, all while communicating with the production team in Oklahoma. It went off without a hitch, but I'd be lying if I didn't admit that there were a few moments of, "Where the hell did we put that file?"
Were there particular things the director, Andy Palmer, talked about wanting for the score? If so, what were those?
Chad Rehmann: One of the first conversations that Andy and I had about the score was this idea of incorporating sounds that one would hear in a camp into the score, as well as having two different musical languages – one for the world outside the camp, and one for the world inside the camp. For all of the scenes that take place outside of the camp, a more traditional orchestral score was written and recorded. For all of the scenes that take place inside the camp, a more avant-garde score was created using a palette of sounds that could be found in a summer camp, as well as using traditional instruments in non-traditional ways. Because of the flashbacks and unique sonic worlds created for each location, the walls of my studio were covered in diagrams and flowcharts to make sense of it all – it was really like writing music for two different films at the same time!
What instrument(s) did you find was key with this particular project to set the tone?
Chad Rehmann: While the film was in production, my team and I spent a couple of weeks processing recordings that we had made of splashing water, twigs breaking, windows creaking, swing set chains, static from walkie-talkies and similar objects. Anything that could be found in a summer camp we recorded and messed with! I even recorded my own children screaming (which they absolutely loved doing in the studio!) Another fun experiment was recording different bugle calls that one might hear at camp and slowing them way down to create some of the droning sounds heard throughout the score. This film definitely pushed me as a composer, and it was one of the reasons that I wanted to get the soundtrack out there. I'm really proud of how different and unique the music is when compared to my more traditional scoring projects and how that uniqueness (I hope!) was effectively used to help tell the story.
You have composed music for a wide range of horror subgenres. What does the supernatural subgenre allow in terms of opportunities that you think a slasher may not offer?
Chad Rehmann: Because I was trained as a contemporary composer for the concert hall, I was always taught to push boundaries and experiment. Horror films allow me to do that. While there are instances where a composer can explore and experiment in other genres, horror films have always allowed me the most opportunities to try new things. A perfect example of this is my work with Andy on the film Funhouse Massacre. I remember playing him some tracks from Metallica's S&M concert with the San Francisco Symphony and asking him to consider a metal meets orchestra score. He said "Let's try it" and the rest is history!
Is there going to be a score release for Camp Cold Brook?
Chad Rehmann: Yes! The score will be available for download and streaming on all major platforms, and physical copies can be ordered through my website chadrehmann.com.
Do you have a personal favorite horror film score? Why did it resonate with you?
Chad Rehmann: I love the work that Michael Abels did with Jordan Peele and Jason Blum, and I'm a huge Marco Beltrami fan. And, even though it took me a couple of years to admit it publicly, my wife got me hooked on This Is Us and I am in love with Siddhartha Khosla's work on that show."