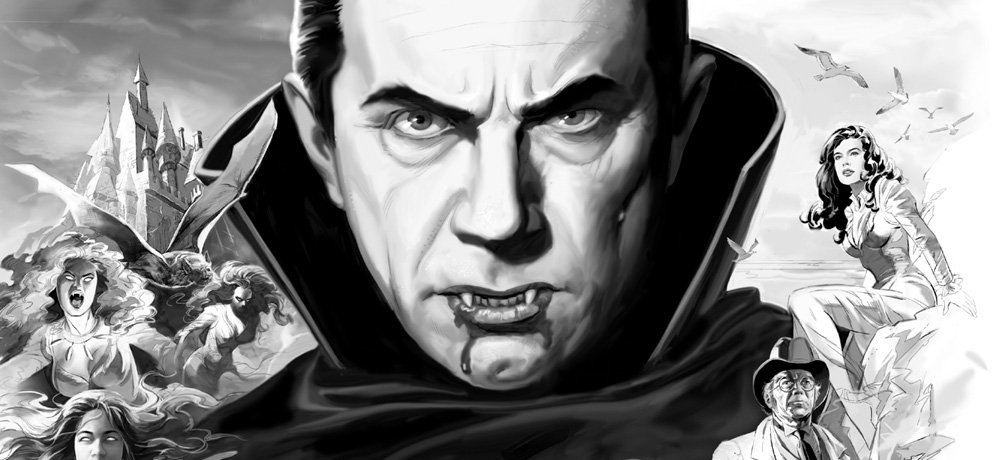 In today's Horror Highlights: the motion trailer for the upcoming Dracula graphic novel, details on the acquisitions of Caveat and Bloody Hell, and an interview for Noise in the Middle!
New Motion Trailer for Legendary Comics' DRACULA starring Bela Lugosi Graphic Novel: "Bram Stoker. Bela Lugosi. Two names forever bound by Dracula. And for the first time ever, Bram Stoker's gothic masterpiece is being united with the definitive screen Dracula, Bela Lugosi, in Legendary Comics' all new graphic novel!
In the late 19th Century, Dracula, an ancient Transylvanian vampire, moves to England to find fresh blood and spread his evil contagion. There, he encounters two women, Lucy and Mina, who become the targets of his dark obsession. Aided by a group of brave men, Professor Van Helsing arrives on the scene to take on the Vampire Prince in the ultimate battle between the forces of light and dark!"
Creative team:
Adaptation and Editor: Robert Napton
Art: El Garing
Art Director/Co-Editor: Kerry Gammill
Executive Consultants: Lynne Lugosi Sparks and Bela G. Lugosi
Dracula will be available on November 3rd. To pre-order, visit: https://bit.ly/37Q7YpQ
----------
Dark Sky Films Acquires CAVEAT: "Dark Sky Films today announced it has acquired all U.S. distribution rights to CAVEAT, the acclaimed new suspense thriller from rising director Damian Mc Carthy. Dark Sky parent company MPI Media Group will be handling worldwide sales of the film and will bring it to the American Film Market in November.
The agreement was negotiated by Nicola Goelzhaeuser, MPI's VP, Television, Digital and International Sales, and MPI's  Giles Edwards, Head of Acquisitions and Development. Dark Sky plans a U.S. theatrical release in early 2021.
CAVEAT recently screened at FightFest in London and Screamfest in Los Angeles, where it received rave reviews.
The film is set mainly in an isolated house on a remote island. When Isaac (Jonathan French, A Soldier's Voice), a lone drifter with partial memory loss, accepts a job to look after his landlord's niece Olga (Leila Sykes, Missing Something, Lancaster Skies) for a few days it all seems like easy money, but there is a caveat: he must wear a leather harness and chain that restricts his movements to certain rooms. Once Olga's uncle, Barrett (Ben Caplan, Call the Midwife, Band of Brothers), leaves the two of them alone, a game of cat and mouse ensues as Olga displays ever worsening psychological issues. With Isaac trapped and at the mercy of Olga, he begins to discover secrets in the house that coincide with the terrifying resurgence of his own memory.
Damian Mc Carthy is an award-winning filmmaker based in Cork, Ireland. His short films - including He Dies at the End, Hatch, Hungry Hickory, Never Ever Open It and How Olin Lost His Eye - have screened in such prestigious festivals as the New York City Horror Film Festival and the San Sebastian Horror & Fantasy Film Festival. He is a two-time winner of the Melies d'Argent Award for Best European Short Film, the Delta Film Award, the International Indie Short Film Award and the Cutting Edge Award for Best Emerging Horror Director.
MPI's Nicola Goelzhaeuser said, "Damian Mc Carthy's tension-filled feature debut marks the emergence of a major new talent, and we are thrilled to work with him.""
---------
The Horror Collective Acquires BLOODY HELL: "BLOODY HELL has been acquired by Entertainment Squad, who will release this unique "Pop Horror" through its genre label The Horror Collective in Select Theaters, Drive-In's, and On-Demand on January 14th, 2021, as announced this morning by The Hollywood Reporter.
Directed by Alister Grierson (Sanctum) BLOODY HELL follows a man with a mysterious past who flees the country to escape his own personal hell... only to arrive somewhere much, much, much worse. In an effort to survive this new horror, he turns to his personified Conscience. Together, they must race against time to free themselves from a twisted family hiding a very dark secret.
BLOODY HELL stars Ben O'Toole (Hacksaw Ridge), Meg Fraser (Leech), Caroline Craig (Blue Heelers), Matthew Sunderland (Out Of The Blue), and Travis Jeffery (Pirates of the Caribbean: Dead Men Tell No Tales)
BLOODY HELL makes the third collaboration between Shaked Berenson's Entertainment Squad and Eclectik Vision's Brett Thornquest and Steven Matusko, who produced along with Heart Sleeve Production's Joshua Paul.
BLOODY HELL will be hitting Cinemas in Australia this weekend via distributor Entertainment Advocate."
---------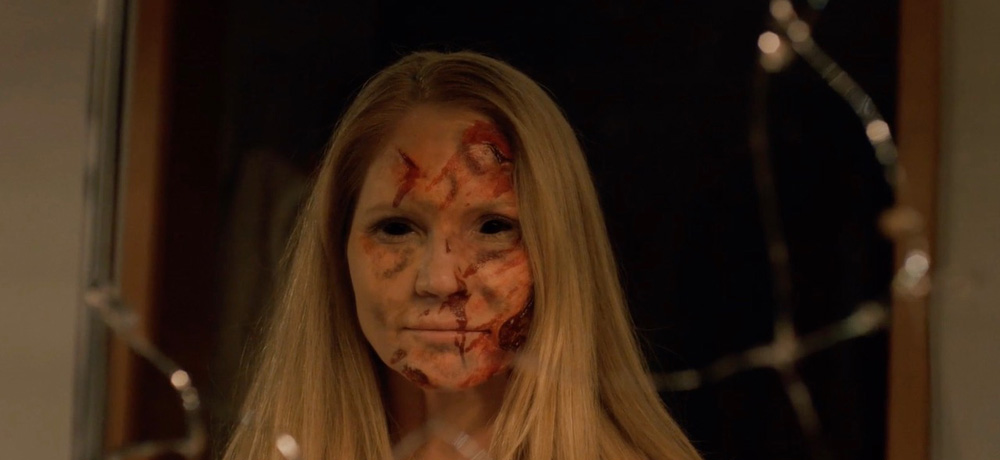 Interview with Mark Conley, Producer of NOISE IN THE MIDDLE: "Terror Films has acquired the worldwide digital rights to Marcus McCollum's feature film debut, "NOISE IN THE MIDDLE". 
After the sudden death of his wife Sara, Richard, a grieving and emotionally ill-equipped father, is left on his own to care for his severely, non-verbal autistic daughter Emmie. Before her death Sara had arranged for Emmy to partake in an experimental therapy and rented a house near the facility where the treatments would take place. Little does Richard know the house has a haunted history. While Richard struggles with his wife's death he soon realizes he has no patience, skills, or even any empathy to deal with Emmie's condition and begins to find solace in drinking and drugs.  As the spirits in the house grow restless,  so does the noise in Emmie's head, awakening her psychic abilities along with Richard's personal demons. When visions of his dead wife begin to appear, Richard is convinced she has returned to help him. But is the spirit really his wife or something more sinister sent to take them both?
Written by McCollum and Glen Kannon, the film stars John Mese (Night of the Scarecrow), Tara Buck (True Blood), Tom Konkle (Hornet), Juliette Jeffers (Lemon), Jim Holmes (How to Be a Vampire) and features Faye Hostetter as Emmie. The film was produced by McCollum and Mark Conley under their Whiskey Tango Films production shingle. 
The film will make its exclusive, worldwide premiere on the premium AVOD Horror Channel, Kings of Horror Thursday, October 29th and will include a live stream chat with the filmmakers and several cast members. It will remain on the platform exclusively for 6 weeks before launching onto multiple digital platforms beginning Friday, December 11th.
This is a collaboration between yourself and Marcus McCollum. How far does that working relationship date back? Any more projects on the horizon?
Marcus and I have been working together since September of 2016.  Almost Two years exactly before we filmed Noise In The Middle. We met through a personal friend that introduced us in the commercial production world.  Marcus has been directing award winning commercials for over 15 years at that time and I have been producing and Executively Producing commercials for over 20.  We got along immediately and started creating our own destiny ever since.
We have many other projects that we are developing currently, from full features, episodic series and also a number reality based television series.
How does this project differ from the previous things you've worked on?
Noise In The Middle is the first full-length feature that was solely written and produced by Whiskey Tango Films.  We started the company to continue creating commercial campaigns, but we always want to create thought provoking films and other projects as well. We have made a few award winning short films; like Best Driver In The County: https://vimeo.com/152796195
Was this always intended to be the first film you guys got up?
Actually no it wasn't.  We realized that as "First Time" filmmakers, we needed to create a film that we could afford to produce as a launching pad for future work.  We are very proud of how it turned out. Before NITM, we intended on producing a film called God's Town, which is a coming of age story about an 11 year-old boy with an overprotective mother who is tired of waiting on his town's evangelical religion and a silent God to learn the truth about a dead father whom he has never known. That is one of the projects that is in our sights to complete in the near future.
And was it always intended to premiere on your channel?
The film is premiering on Kings of Horror Youtube channel and then is available exclusively for 6 weeks on their web site for subscribers. Covid-19 has definitely altered every traditional way of marketing movies these days.  Basically, we saw this as an opportunity that will allow us to capitalize on a potential audience that would have been lost in a quick sale/lease. I'm incredibly grateful that Kings of Horror, with over a million dedicated viewers, loved our film and understood what we are attempting to do. They love the film and were just as excited to premiere it before Halloween as we were.   We will likely be on most platforms by the end of this, but we want to see if the audience will try this with us. We feel our film is worth the swing, it's well reviewed, has a great cast, excellent acting, shot beautifully, fantastic original score, quality script, and I hear it's scary. So, a non-traditional release is probably a good thing right now since "the traditional release" is being reinvented every two hours.  
Can you tell us about the channel? What else can we expect to see on it in the future?
Whiskey Tango Films is in the process of developing many different projects. While Noise In The Middle is based around a super natural, spiritual awakening and a few of our other projects touch on a similar message as well, we are very diverse in our approach to projects.  We are developing full length feature films – comedy, super natural & sci-fi, a Sci-fi episodic television series, and a number of reality based series as well.
If Noise in the Middle was playing the support feature at the drive-in, what should be the main attraction (or vice versa)?
 I would like to think it could support a number of films, but The Sixth Sense would fit nicely here.  It's all about the misdirect and the ending in both films!"