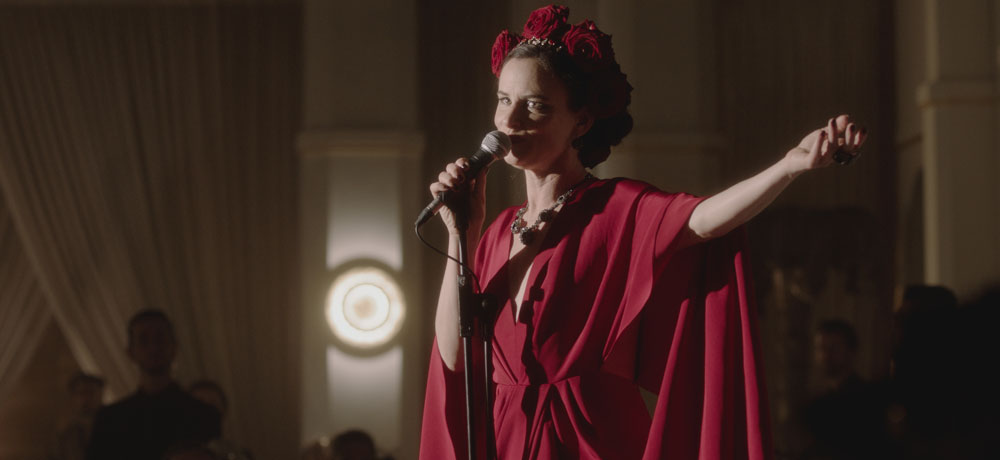 We're back with another installment of Horror Highlights! In today's edition, we have an exclusive clip from Dreamland that features Juliette Lewis, the full documentary Tax Shelter Terrors, release details for Zeta, a teaser for 6:45, and an interview with the composer of Artik:
Exclusive Clip from DREAMLAND: Starring Stephen McHattie, Henry Rollins, Juliette Lewis, directed by Bruce McDonald, written by Tony Burgess and Patrick Whistler:
On the night of the strangest weddings in cinema history, a grotesque gang boss hires a stone cold killer to bring him the finger of a fading, drug-addicted jazz legend.
Uncork'd Entertainment and Dark Star Pictures will release the horror/crime/thriller DREAMLAND in theaters, on VOD and Digital HD on June 5, 2020.
---------
Canadian Horror Documentary Tax Shelter Terrors: "An in depth look how the Canadian Government tax incentives helped develop Canada's horror and exploitation film industry.
MONTREAL, CANADA - IMMEDIATE RELEASE – June 3 2020 – Many of our most beloved exploitation films of old are in fact Canadian and were born out of the Canadian Government tax incentives that were available from 1975 to 1982. Cult classic such as BLACK CHRISTMAS, TERROR TRAIN, HAPPY BIRTHDAY TO ME, MY BLOODY VALENTINE, VISITING HOURS, PROM NIGHT, THE BROOD, SCANNERS, all stemmed from said incentive.
And now you can get an insightful look at how said films came about in the documentary TAX SHELTER TERRORS which takes us back to a different filmmaking landscape and explores the topic head on.
The film sports exclusive and candid interviews with William Lustig (MANIAC), George Mihalka (MY BLOODY VALENTINE), iconic Producer Pierre David (SCANNERS), Gregory Dunning (son of JOHN DUNNING), legendary producer André Link (HAPPY BIRTHDAY TO ME), Dyanne Thorne (ILSA SHE WOLF OF THE SS) and many more!
The acclaimed film (which premiered at the Toronto's Horror-Rama and screened at the prestigious Sitges Film Festival) was directed by Xavier Mendik and co-directed by Deke Richards (the brain child behind the project) and Francesco Giannini.
Here's what documentary creator and co director had to say about the project:
"I wanted to create a documentary that celebrated the accomplishment that was the Canadian cult cinema wave made during the golden years of the tax shelter era! Being that the subject matter had never really been closely examined, I wanted to expose the viewers on how these exploitation films made up North came to be, how they distinguished themselves from the rest and how they have yet to be matched today! In my opinion of course."
-------

Zeta: When the Dead Awaken Release Details: "Zeta: When the Dead Awaken" is set for release on June 12th on Amazon Prime Video which will be handled by Film Regions International (FRI), the company behind the critically acclaimed groundbreaking documentary "My Amityville Horror" as well as the upcoming horror film "The New Hands".
The film is from Indonesia, directed by first time female director Amanda Iswan and starring Cut Muni, Jeff Smith and Edo Borne which centers around a virus that wreaks havoc on people and turns them into zombies.  
"It is strangely fitting that we are releasing the film now, amid the covid19 global pandemic, since this horror film is ironically about a virus that forces people into self-quarantine. However, we found this film last year before covid19 hit" said Myron Ward, co-chairman of FRI. 
"We hope horror audiences and particularly those that are fans of Asian horror will appreciate the film" added John R. Blythe, co-chairman/president of FRI. 
FRI will be licensing the film for distribution in the United States and the United Kingdom and will have English subtitles. Subsequent video-on-demand platforms will follow its initial release on Amazon Prime Video. 
---------
Craig Singer Takes Time for a Loop in the First Look at 6:45: "Los Angeles, CA -- Director/producer Craig Singer (Dark Ride, Perkins '14) has debuted the first look at his latest horror film 6:45.  The time loop slasher follows a young couple in love who take a romantic weekend getaway to an island where things go terribly wrong.   Singer has released new stills and a teaser as the film completes post-production.
6:45 stars Michael Reed (The Haunting of Alice D, The Disco Exorcist), Augie Duke (Exit 0), Armen Garo (The Departed), Thomas G. Waites (The Thing, The Warriors), boxing Hall of Famer-turned-actor Ray "Boom Boom" Mancini, hip-hop DJ The 45 King, and Grammy-nominated rapper Remy Ma ("Love & Hip Hop: New York"). Singer directed and produced from a script by Robert Dean Klein. 6:45 was lensed by Lucas Pitassi and edited by Sam Sam Adelman, with a score from Kostas Christides.
Bobby Patterson is hoping a weekend getaway will save his rocky relationship with his girlfriend Jules Rables. The couple arrives in the quiet island resort of Bog Grove. To their bewilderment, the sleepy beach town is curiously deserted and they quickly learn about the deadly history that's about to repeat itself. Bobby's struggles with Jules are cast aside in order to overcome a dementing cycle of terror they find themselves trapped in. No matter what he does to try to avoid it, he and his girlfriend wake up at 6:45 each morning to the same nightmarish chain of events that lead to them being viciously murdered."
--------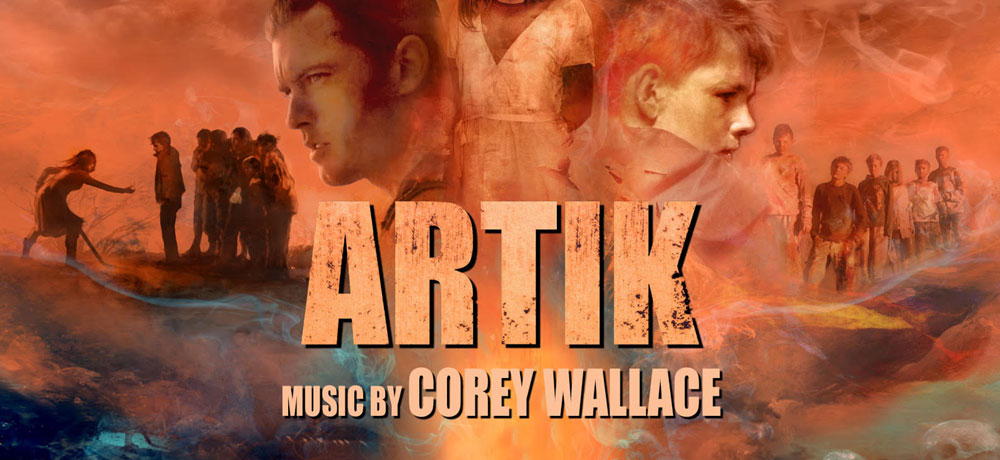 Composer Corey Wallace Discusses His Recent Artik Score Release: There have been many horror albums released in the past few weeks, notable ones being a new version of The Thing by John Carpenter and Ennio Morricone and Timothy Williams' original score for We Summon the Darkness.  Another recent one worth paying attention to is Corey Wallace's score for Artik. The horror/thriller came out last year, but has been garnering new viewers since Notefornote Music announced they would be releasing the album. What makes this score unique is that Wallace purposely used a lot of broken, ugly sounds to match the gritty vibe of the film. We talked to Wallace more about this below and many other subjects relating to the Artik score. You can listen to Wallace's Artik score here: https://www.amazon.com/dp/B089DLWJTR/ref=sr_1_1?dchild=1&keywords=corey+wallace+artik&qid=1590782572&sr=8-1. 
-Is there an instrument that you used in the Artik score that you found produced particularly menacing sounds?
One of the nastier sounds is a recurring cello motif called the "Artik Drone" that is used for the titular character.  You can hear it featured in Track 02-The First Round.  It's a low, slowly bending cello note that is uniquely processed into a super-sized cello-sauras sound with pitch shifting and something I'll call multi-analog processing.  A cello section gets its heft from a group of musicians all playing the same thing but with small differences in tuning and tone from player to player, creating a bandwidth of sound.  Overdubbing one player in the studio is less effective because it's the same player, the same instrument, the same sound over and over again.  The "Artik Drone" is a single cello performance, but it's "overdubbed" using analog processing through up to 7 analog filters, delays, compressors, tube distortion, and spring reverb.  These processes change the sound and color to the point where adding up the layers creates a deep, thick sound that was very menacing.  
-You purposely used a lot of broken, ugly sounds in the Artik score. Can you talk a little more about that?
I'd love to.  Those specific words came from director Tom Botchii, and in one of our early conversations, he referenced a trailer for the amazing film You Were Never Really Here, featuring a track of very discordant string hits. I've worked with lots of studio musicians over the years who are capable of extreme effects on their instruments, but in my experience, it can still be difficult to get a purposefully ugly sound out of musicians who have been training their whole lives to sound beautiful.  To capture a specific sound, we had to play a lot of the instruments ourselves.  Over the years, I've collected a variety of inexpensive instruments that I don't know how to play very well, and don't maintain well or keep in tune, such as a guitar, banjo, mandolin, a child-sized violin, and various drums, all of which were used on Artik.  I got my studio piano for free off Craigslist from a family who kept it in their front yard, it has since been moved 3 times and never tuned.  It has a distinct sound that's very useful in indie films like my co-scores to Oxenfree and the Neo-Western Valley of Bones, and it's featured on the low, dirty pulse in Track 14-Kitchen Fight.  Much of the score's cello is recorded professionally, but I also rented a cello to do our own sampling.  As many parents can attest, the chicken scratches of a beginning player are ear-curdling, and that is exactly what we needed, such as the piercing, distorted swells in the middle of Track 05-The Forking.  As if our amateur cello playing wasn't enough, we loosened and tightened the strings, bowed and struck it with various objects, wove materials through the strings, and then the real fun part began of processing those sounds through my analog studio equipment to open up an entirely new sonic universe.
-In a previous interview you said you get inspired on new projects when there is picture for you to look at, meaning when the film has already been shot or partly shot. Was there a particular still or scene from Artik that helped you get inspired when you first started working on the film?
I had seen a trailer before talking to Tom, and I loved the visual style.  The images had a gritty texture and a vivid sense of color.  It had an aggressive attitude that I felt like I could translate well into music.  Tom is a very talented trailer editor, and he brought that aesthetic into the film.   To me, the emblematic moment is when Holton discovers Artik's torture chair.  Production designer Christopher Scott made this amazingly aggressive chair, like a dentist's chair out of hell, and Tom shoots it from lots of different angles and cuts between them violently.  The scene is dirty, jagged, cold, and it speaks to what type of score is needed as a compliment.  I've written music to scripts, tag lines, and concepts as demos, but I get my best ideas when playing off of picture.  The look and feel of a film, and the way it moves and is paced tells me so much more about what I think the score should be.     
-It is common for composers not to score films in chronological order. Did you score Artik in chronological order? If not, which scene did you start with?
I did not score Artik in chronological order, but I did start with the first scene of the film that I had at the time.  In general, I like starting at the beginning because it sets the tone for the rest of the film.  I received the intro scene and Main Titles sequence later in the scoring process, so I started with the scene of Boy Adam wandering a path until he spots a bug on a pole.  He stops, admires it, and then bashes it and the pole repeatedly with his forehead.  The brutal scene is only a little over a minute, but there are 32 cuts and hits that we attack musically.  Hits were a crucial element to the score's sound since Tom was after a trailer-like feel with lots of action and cuts synced to music.  This scene was a good starting point for constructing the various sizes and styles of hits to be used throughout the score, everything from magnified plucked cello thumps to huge metallic trailer-style hits.  How I decided which cue to score next was different from other films.  Because we did a lot of custom sampling on cello, guitar, and other instruments, when I would listen back to the raw audio, I would hear a gesture or a riff that would inspire me to work on a particular section of the film.  If I could imagine that sound working in a scene, I would jump to that one.  
-There are many types of horror subgenres: slashers, supernatural, psychological to name a few. You have scored a few of these. Do you find that these subgenres each have a different set of rules, musically?
Absolutely.  Maybe not rules, but definitely tendencies and trends that I see in my own work and others, and the differences really equate to the different dramatic needs in the storytelling. In supernatural horror, like Shadow People, Be Afraid, and parts of the NBC series Siberia, the music tends to highlight the mystery of an unknowing world that the characters are trying to understand, and usually trying to escape from with their lives.  These scores tend to be more tonal than sound design driven, connecting with the humanity and emotional journey of the main characters, and the sound design elements have latitude to be out-of-this-world.   While the supernatural tends to be focused outward, psychological horror, and I would classify Artik this way, is focused inward.  These films spend a lot of time getting to know disturbed characters, and it's the score's job is to get inside their heads and reveal their twisted natures, using organic, dissonant sounds to highlight a broken psyche.  In slasher films, the main difference I've found, including my recently completed score to Unsheltered, is that the ratio of action to drama tends to be much higher, so the musical focus is supplying and maintaining high-octane energy without petering out too soon.
-On your IMDB, it says you were the Orchestrator for a few different horror films such as Drew Gabreski's Be Afraid and Matthew Arnold's Shadow People. Can you tell us what you do as Orchestrator?
On those films I was both the composer and the orchestrator.  For those who don't know, the orchestrator in film takes the music from a demo or mockup and prepares the written score for the orchestra to use during a recording session.  There are plenty of reasons that this is often a different person or group than the composer, but as a classically trained composer and orchestrator, I love to orchestrate my own work whenever possible.  I see it as a continuation of the composition process and a new creative opportunity for the score. For a more traditional orchestral score, the recording sessions mostly come at the end of the scoring process, but for experimental horror film scores, I like to record at many stages, especially in the middle, which is what we did for Artik.  This gives me enough time to figure out what type of material needs to recorded, as well as time afterwards to experiment and manipulate those recordings into new sounds.  Since we only used a single cello player, not a full orchestra, I took a Producer-like approach to our recording session and did not prepare any sheet music, but rather came in with a list of musical ideas and performance concepts to experiment with.  We didn't record to click or to picture, but I knew where some sounds were meant to go in the film.  Other sounds were complete surprises. and others were discarded, but that's all part of the process.
-You worked with prominent horror composer Chris Young (Sinister, Hellraiser, The Grudge) for a while. What was one thing you learned from him during that time about scoring in the horror genre?
After studying with Chris Young at USC, my first job out of school (not counting my brief run at Starbucks) was as his teaching assistant for many years, helping develop and prepare materials for his USC class, and we also started writing a book based on his lessons.  The influence he's had on my work is incalculable, so picking just one thing I learned is difficult, but the concept that jumps to mind is what he taught me about pacing a cue, how the rhythm, tempo, and spacing of musical ideas can be used to impact the drama.  Chris always says that the best composers can condense time to make a 3-minute scene feel like 1-minute, and especially in horror, the great ones can also stretch time when necessary, making a single, terrifying moment linger for what can seem like forever.  Chris' class is largely based on two principles, writing melody for film scores and scoring for genre films.  For the latter, we generalize dramatic categories such as Mystery, Suspense, and Action, breaking them down into their dramatic needs and what are the musical solutions to accomplish those goals.  For each category, a defining characteristic is its relationship to time and how the music should be paced.  Is the cue frozen still or is there a pulse, is it fast or slow, how quickly do the musical ideas change?  These decisions affect how the audience is guided through the drama of a scene and help tie the story together.  You can see that influence in Artik, for example, on Track 07-What Seems to be the Problem? It's a suspense scene from the film where Artik and Kar are talking outside Artik's farmhouse, and the brewing tension is all in the context, not the content of the dialogue, so it's important that the music highlight that subtext.  The decision to use a slow pulse on a single bass note as the engine reflects the scenes inactivity as well as the slow onslaught of dread that we all know is coming.
-You contributed music to The First Purge underneath composer Kevin Lax, what was that experience like?
Kevin is very collaborative, so that was a cool one. Similar to Artik, there was a conscience effort to find new sounds. Before doing any additional writing or orchestrating, I first spent time with sample development, experimenting with my analog and modular synthesizers, and I came up with some unique pulses, pads, and FX like the wavering high synth that starts Track 10-Purge Party, and the choppy pulse around 1:30 on Track 20-The 14th Floor (both coming out of my Mutable Instruments Clouds).  The 14th Floor also features a pulsating Moog synth that builds for 25 seconds starting around 2:30.  I remember making that sound during a session that lasted over 8 minutes, where the sound evolved by very slowly ratcheting up the tension through different synth modules and analog gear.  I find processes like that to be hypnotic and intoxicating, and it's fun to live inside a little sound world like that for a while.  A unique aspect to The First Purge score is the involvement of the rapper Desiigner.  He has some songs on the soundtrack, and Kevin had these ad lib sound bites from him to integrate into the score.  I have an all-tube analog distortion unit called the Thermionic Culture Vulture, my favorite, and it perfectly crushed Desiigner's already grisly, aggressive tone.  Looping the distorted sounds and adding analog delay made for some cool pulses which you can hear starting around 0:25 on Purge Party.