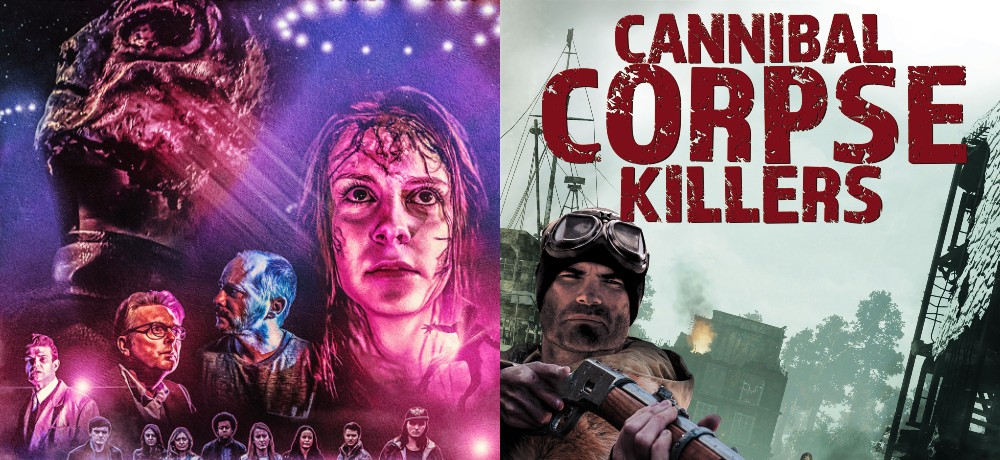 We have two exclusives to share with Daily Dead readers in today's Horror Highlights: a clip from the sci-fi thriller Invasion Earth and character poster premieres for the new horror film Cannibal Corpse Killers! We also have details on the Indiegogo campaign for the recreation of Quint's ship Orca from Jaws, a look at the short films Down Here and Renovation, as well as a Q&A with author Patrick Marsh, who is one of the writers for the new horror podcast Hidden Oaks.
Exclusive Clip from Invasion Earth: "Premiering in loungerooms this August, an exhilarating new science-fiction thriller that'll have you "begging for more"*, Invasion Earth.
The story follows a group of addicts who attend therapy to avoid being sent to prison, while a TV journalist goes undercover and joins the group to try and expose this as a scam. However, all of their lives are thrown into chaos by the beginning of an alien invasion.
Charlotte Gould, Phoebe Delikoura, Tony Fadil, Jon-Paul Gates, Nigel Thijs, and David Shaw star in the critically acclaimed new film from James Twyman, only On Demand and DVD August 8 from Midnight Releasing.
*RepulsiveReviews"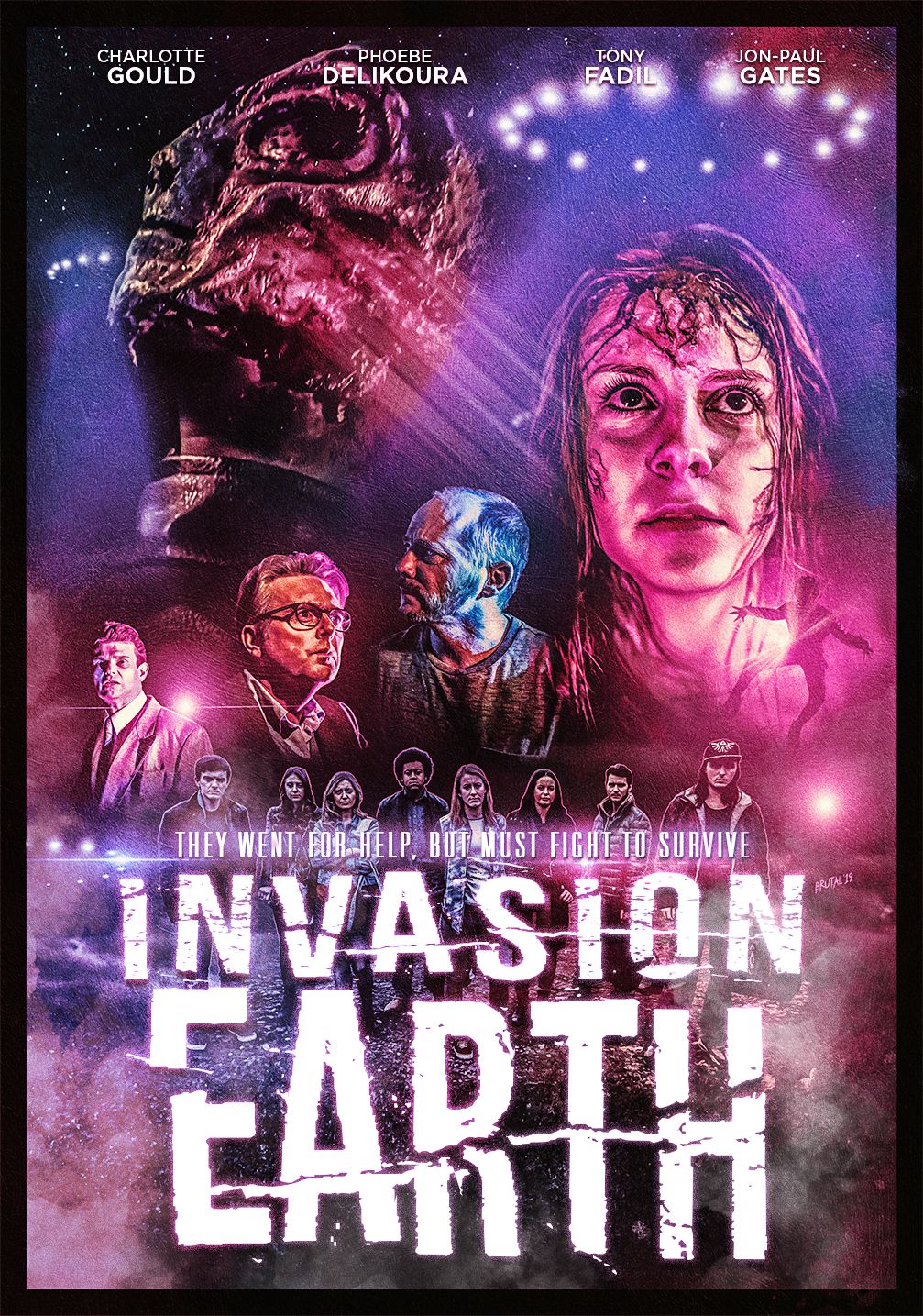 ---------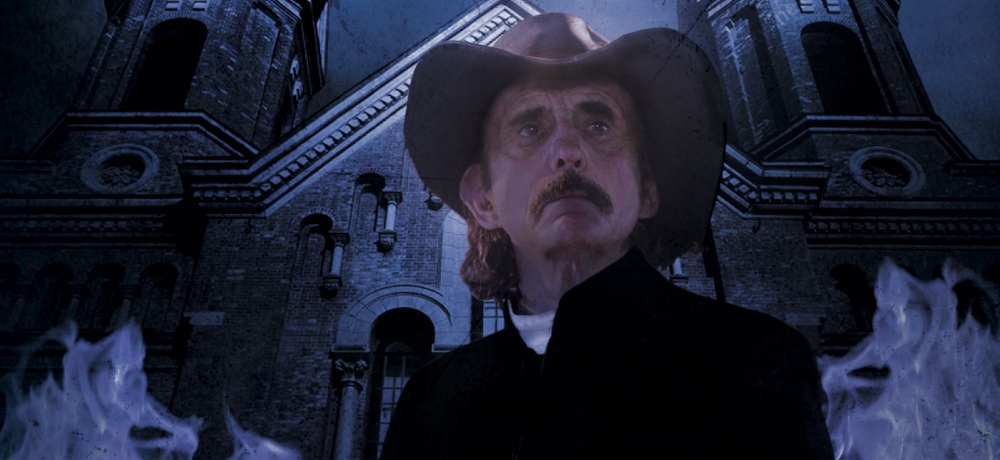 Exclusive Cannibal Corpse Killers Character Posters: "LOS ANGELES - From acclaimed horror director Joaquin Montalvan, Cannibal Corpse Killers arrives on DVD and On Demand on August 18 from Indican Pictures. The DVD will include behind-the-scenes featurettes and deleted scenes from the gruesome, heart-pounding thriller.
Cannibal Corpse Killers follows Pike (Dennis Haggard, Hole) and a group of survivors as they endure a long, treacherous mission to Jawbone, a hotbed for cannibals in post-apocalyptic America. Now that a deadly virus has wiped out the nation, the group must cope with the recurring memories of those who died before them and defend themselves against cannibal demons. As they migrate anxiously through the desert, endless trouble surrounds the group once they learn of The Magistrate (Ron Jason, Legend of the Hillbilly Butcher), a man with a dark agenda to build an army of his own cannibal corpse killers. Now, Pike and the group must fight for survival as they work together to retrieve the answers they need to stop The Magistrate and his growing army of cannibals.
Synopsis: Cannibal Corpse Killers follows Pike after a simple virus has led to a legion of demons overwhelming the planet and systemically killing humans, turning the world into an apocalyptic wasteland. Pike leads a group of survivors fighting demonically possessed corpses through the new America, while trying to make it to the epicenter – Jawbone. In his way stands The Magistrate (Ron Jason, Legend of the Hillbilly Butcher), an amoral leader using an army of cannibal corpses to serve him as he attempts to lead the new world. It all started in Jawbone and it will all end in
Jawbone.
Special Features
● Deleted Scenes
● Greetings from the Wasteland
● Sounds from the Wasteland
DVD + Digital Release
Street Date: August 18, 2020
Run Time: 100 minutes
Rating: Not Rated"
Exclusive Character Posters of Boots and The Magistrate: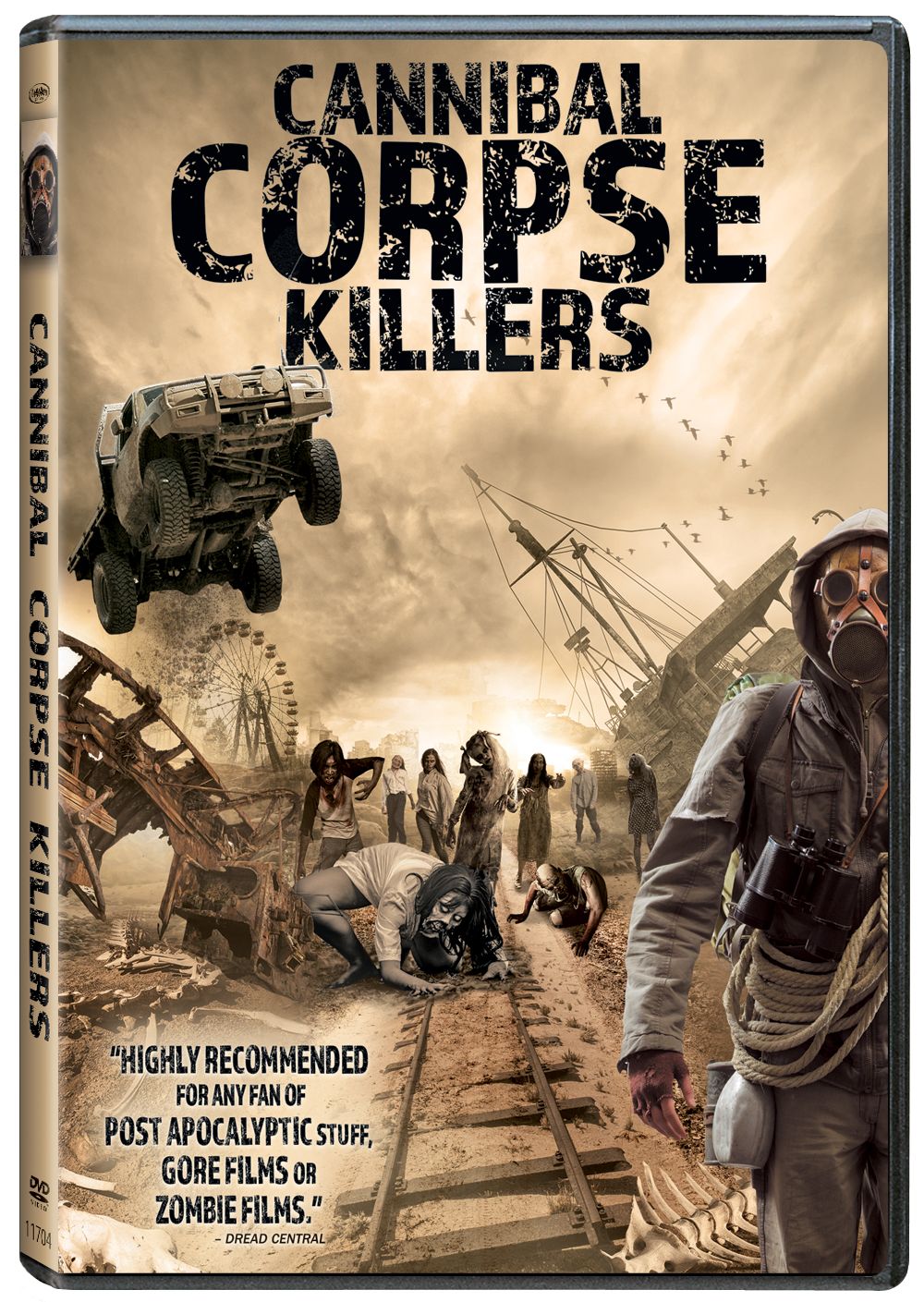 ---------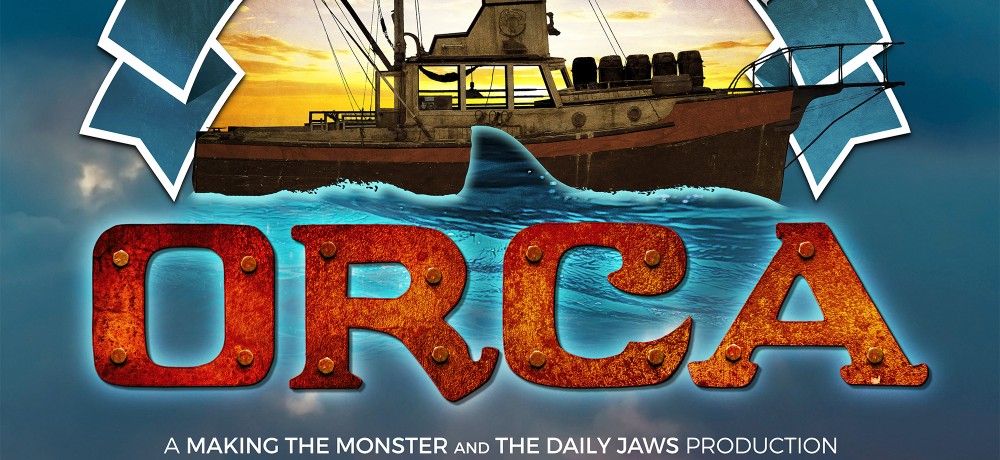 Return of the ORCA: "The Orca, Quint's legendary boat from the film Jaws, is being recreated by the original people involved in the blockbuster who designed and built her for the film released in 1975.
Rather than hunting the great white shark, as in the film, part of the Orca's new mission will be researching marine life and helping people better understand the varieties of shark species in the area around Martha's Vineyard including great white sharks.
Jaws author Peter Benchley was a huge advocate of conservation, a legacy continued by his widow. Wendy Benchley is on the board of directors of Beneath The Waves, a non-profit organization dedicated to promoting ocean health and focusing on threatened species conservation, who will use the new Orca as part of its mission offering expeditions for the organization's researchers.
Wendy said: "The return of the Orca is a celebration for the fans of Jaws as well as an exciting new resource in the pursuit of a greater understanding about our oceans and the life teeming in it. We are so happy that we can be a part of this exciting project.
"Bringing the people who love the film together with those dedicated to the real-world study of marine environments is a powerful collaboration that can impact our society in many ways."
Helping realise this project is academy award nominee and Jaws production designer Joe Alves. Also involved is Martha's Vineyard local Chris Crawford, who refitted the boat 'Warlock' in just six weeks back in 1974, creating the Orca in Jaws. This time round, the new Orca will be a refit from a Nova Scotia lobster boat, the "Lydia", found on the north shore of Massachusetts.
Additionally, Crawford served as production pilot of the original Orca, driving the boat for its appearance on camera while Roy Scheider, Robert Shaw and Richard Dreyfuss fend off the mechanical shark.
Today, Alves and Crawford are working as a team once more to create Orca III. Crawford will be in charge of the physical recreation with a team of expert boat builders while Alves, secure in his Los Angeles home during the COVID-19 pandemic, will provide design plans and art direction to ensure the boat matches the look and feel of the original Orca as much as possible.
And none of this film fan's dream would be happening without two Jaws-related organizations, Making The Monster and The Daily Jaws. Both groups are world authorities on Jaws and dedicated to celebrating the film and its rich, vibrant community of cinema and shark lovers alike.
David Bigelow, Principal of Making The Monster, said: "This project is the culmination of years of effort. I'm just so honored to be a part of the event. Now the new Orca will have a legendary team behind her and a mission that evolves her purpose in the world. It's the way it should happen."
Ross Williams, Principal of The Daily Jaws is equally proud of the project, he added: "As a Jaws fan this project is just hugely exciting, everything about this incredible once in a lifetime event is the best possible way to bring the Orca back to the world and waters of 'Amity Island', for both film fans as well as the​ environmentalists. What more could you possibly want as a lover of Jaws on its 45​ anniversary?!"
As well as good news for local conservation efforts, the project is also looking to help local youth charities on Martha's Vineyard. After completion of the build, the Orca III will be launched at a public christening ceremony into the waters off Martha's Vineyard, just like in the film.
Orca III will then begin her conservationist mission. Greg Skomal, PhD, and Marine Fisheries biologist at Martha's Vineyard Fisheries, will journey aboard the Orca III to the waters off Martha's Vineyard. There he will work with his crew to stage research of the sharks around the island prowling the waters for the rich seal population which has exploded over the past 20 years.
From there, the future of the Orca III will be dedicated to giving movie fans a boat to visit that they haven't seen in decades as well as providing a vessel for the scientists at Beneath The Waves to use in their conservation efforts.
Austin Gallagher, PhD, and CEO and Chief Scientist for Beneath The Waves, said: "The return of the Orca represents an evolution of the mission for which that craft was built. In the classic film, she was a vessel for destruction. Now she'll be a part of the preservation and study of the marine world we at Beneath The Waves have been focused on for the last several years in the Northwest Atlantic."
All that is missing is John Williams' score and you, find out how you can step aboard this exciting project: Website:​ ​www.returnoftheorca.com
Indiegogo: ​https://igg.me/at/buildorca3"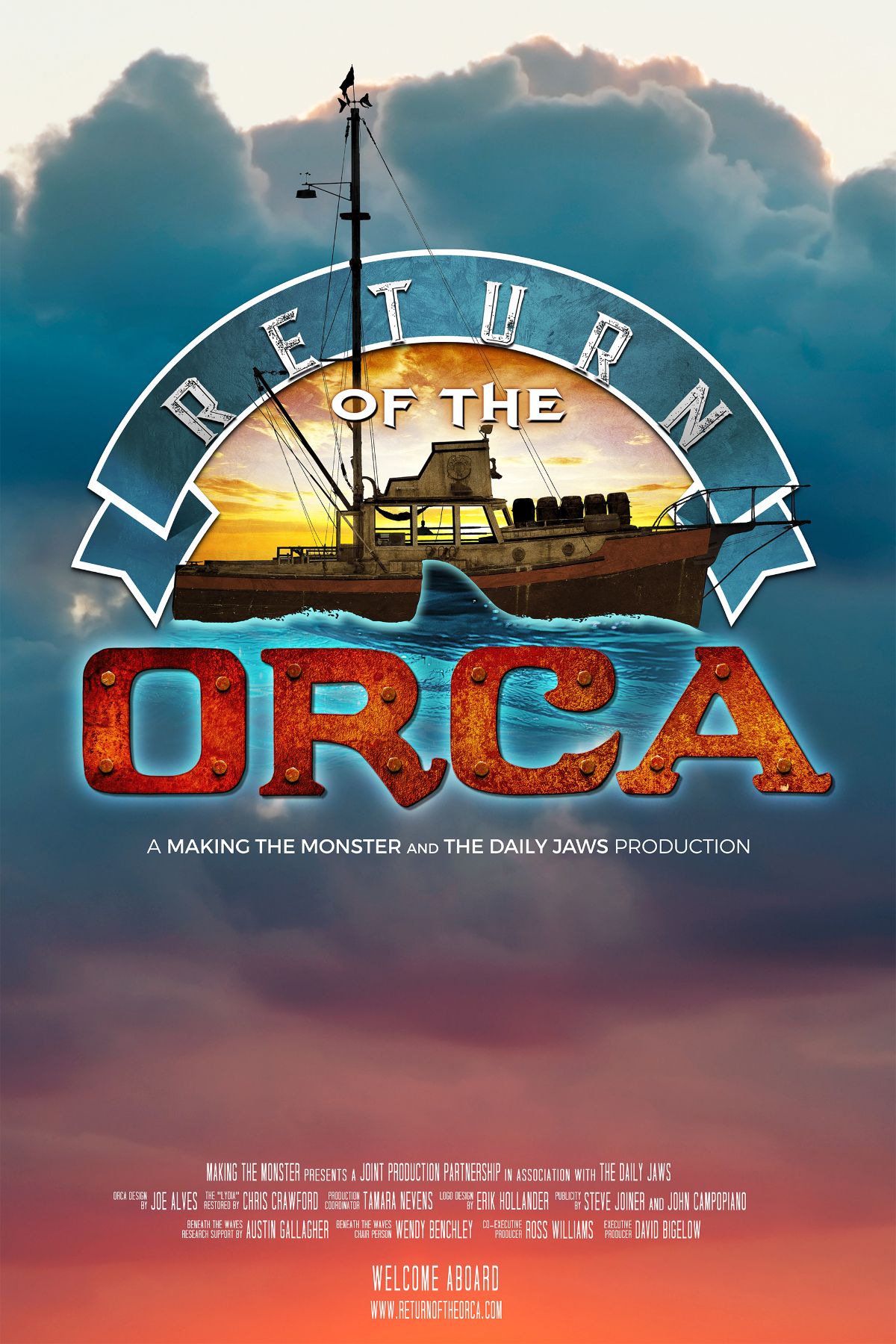 ---------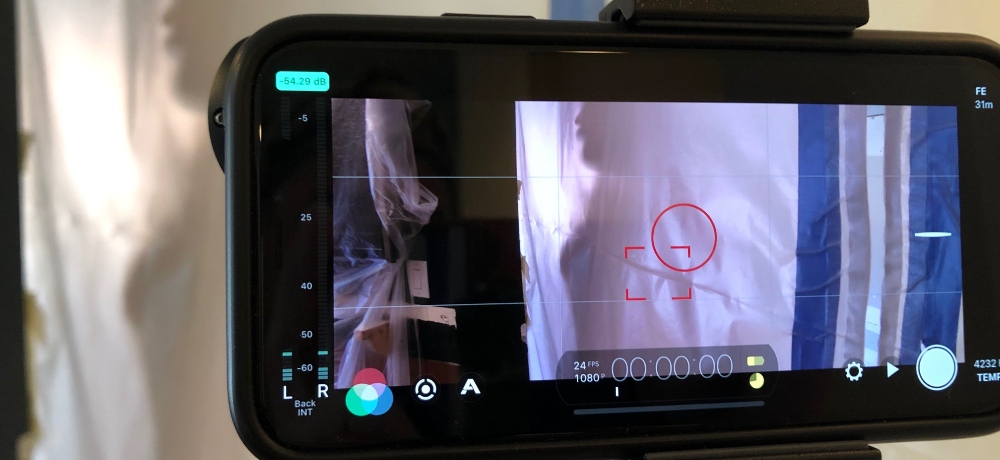 Watch the Short Film Renovation: "Check out a new horror short, RENOVATION from Tyler Christensen (House of Purgatory) shot on an iPhone while quarantining at home and starring his husband.
Christensen made his directorial debut with the feature film House of Purgatory (2016) which he also wrote. The film stars Anne Leighton (NBC's Grimm) and Brian Krause of Charmed fame. The film was named an Official Selection at the Fear Fete Horror Film Festival, and was acquired and distributed by Terror Films. House of Purgatory is currently available on Amazon Prime Video, iTunes and DVD. More recently Christensen won the Sleepy Hollow Film Fest screenplay competition for his feature Vulture, and was a finalist in the Nightmare Film Festival screenplay competition for his feature Residual.
Tyler Christensen on Twitter: @TJC8085"
---------
Watch the Short Film Down Here: Directed by Harry Chaskin at his home during the COVID-19 pandemic, you can watch the new short film Down Here below!
"An isolated submarine captain slowly loses his mind. And he may not be alone..."
To learn more about Chaskin and his work, visit:
---------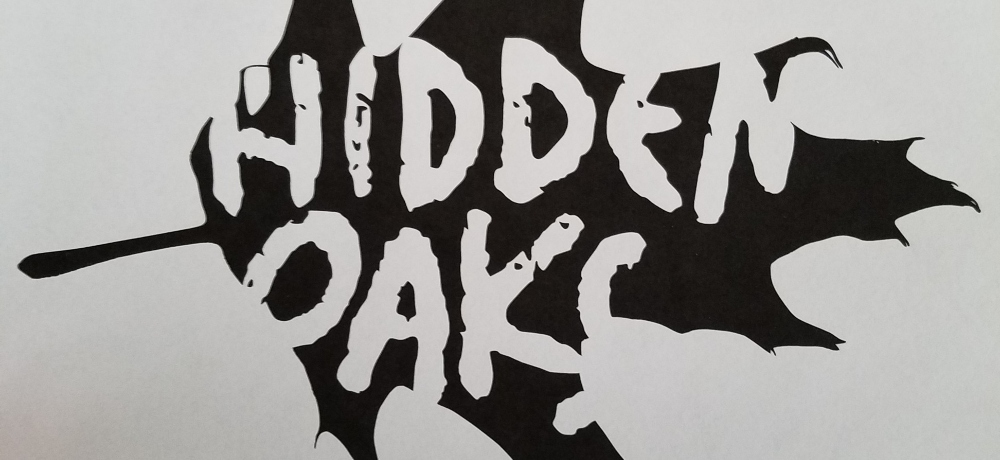 Q&A with Patrick Marsh of the Hidden Oaks Podcast: We recently caught up with Patrick Marsh, author of the The Greenland Diaries post-apocalyptic book series, to discuss his work on the new horror podcast Hidden Oaks:
Thanks for taking the time to answer questions for us, Patrick. What was the genesis for the Hidden Oaks podcast? What inspired this idea?
Patrick Marsh: Thank you for having me. It came from a few different sources actually, one being a monster concept I had been sitting on for the last decade. I can't go into direct details (spoilers), but I had been looking for a specific setting to use it in. The suburban atmosphere was the perfect environment, because it operates very abstractly, and it relies on illusions. You never really know what's happening in these quiet, private houses. After floating a few different ideas to Robert Daun over lunch, (one being a Metroidvania-like tale), we decided to go with a story that focused on a particular era of our youth, or the 1990s. Nostalgia is a powerful thing, especially for storytellers. We wanted to mine that resource, while introducing an original concept.
You work with a very talented team to bring Hidden Oaks to life, including Robert Daun as the voice of the podcast, Owen Swerkstrom, and Dave Schwartz as the composer of the podcast's music. How did you go about assembling the team for Hidden Oaks?
Patrick Marsh: I originally met Robert Daun through some mutual friends. Robert runs and produces an excellent podcast called Bob's Short Story Hour, where he featured some fiction of mine on his podcast years ago. Bob has been performing stories for years on this podcast and done really well with it. We'd become friends since this endeavor and talked many times about doing projects. Owen I also met through a mutual friend, who recruited me for his awesome film production company, Chunky Milk Productions, to help write his films for the Minneapolis 48 Hour Film Festival. In 2019 we actually won best film for our movie "The Chair" which represented the Twin Cities in Rotterdam. Dave Schwartz was part of Owen's team, and actually produced music for his films. Finding people who you can work with on a daily basis for creative projects like this can be tricky. After working with both of them separately, I could see their passion for quality storytelling, so I arranged a little meeting to talk about the podcast. Bob knew what was happening, but I had tricked Owen into being there under the guise that we were planning another movie. The rest is history.
Hidden Oaks is set in the Minneapolis suburbs in the '90s, and as someone who grew up in Minnesota in the '90s, it's an absolute delight to recognize some of the places where your stories are set. How much did your formative years in Minnesota influence the writing of the show?
Patrick Marsh: They had a tremendous influence on me. I had a ton of memories from growing up in the suburbs of the 1990s that were eating away at my muses like some sort of creative acid. For the better part of the decade I had been contemplating about how to incorporate this nonfiction life into a fictional story with one of my beloved monsters. The answer was simple: write about a monster being trapped inside a small park two blocks away from where I grew up, this way I could get the best of both worlds. As storytellers, you can never underestimate the weight of your own memory in your composition, so sometimes instead of running from this gravity, you turn it to your advantage. Finding other creators like Robert and Owen from similar age groups helped spread this web of menacing nostalgia.
As Minnesota residents may know, Hidden Oaks is a real park in New Brighton. How much has that real location influenced the tone and settings of your podcast?
Patrick Marsh: One thing I realized about writing fiction specifically, and I sort of practiced this tactic in my book series The Greenland Diaries, is writing about familiar and nonfiction locations in fictional settings gives the audience better sensory details. You can describe the wear and tear on a wooden sign, the particular shape of a streetlight halo, or the type of emptiness between playgrounds. You can share why these images are personal to you, while at the same time reinventing them for your audience. For us, we wanted to include details from our personal lives and experiences that would be relatable to our listeners. We wanted the audience to be able to identify with these places down to the smallest details. This was a bit easier for me, since I lived down the road from Hidden Oaks and had been visiting it since I was eight years old. Also, my experiences around the park and in the neighborhood helped extend the settings into realistic locations where we could spawn our narrative.
Were you influenced or inspired by any horror podcasts, TV series, movies, or books while writing Hidden Oaks?
Patrick Marsh: For each of us writing this podcast, we all brought a galaxy of inspirations. For Robert, it was really horror literature, like Lovecraft, Clark Ashton Smith, Robert Bloch, Robert E. Howard, Stephen King, and Terry Pratchett. For Owen, it was all over the place: Lovecraft, Timothy Zahn, Stanley Kubrick, Donald Glover, Dan Harmon, and Susana Clark. For me, I really was influenced by American Horror Story, Grendel by John Gardener, Welcome to Nightvale, Edgar Allan Poe, and Ray Bradbury.
As an author, you've written many books, including The Greenland Diaries, which is also set in Minnesota. What has it been like writing for an audio drama as opposed to the printed page? Do you find it more challenging or rewarding in any way?
Patrick Marsh: It is a different beast in many ways. With audio drama, you realize that it is also a performance piece rather than just a piece of writing, which for me after all these years of books, alleviates a sort of pressure on me. You can leave room for the narrator (Robert Daun) to play with the language, and illuminate it. With dialogue you don't need to rely on describing each person speaking, but let the voice actors create those identities with their performances. Also, you tend to have to describe things a little bit more so the audience can get the internal imagery in their mind's eye quicker, because they don't have a page to look back at. One thing that has helped is that in the creative writing programs I did, they taught us the very basic DNA of storytelling, which sort of transcends media in most ways, so I have that understanding to fall back on.
While Hidden Oaks has an anthology format with different stories and characters, it has the common thread of a shared location. How much world building have you and your team mapped out for Hidden Oaks to keep track of everything that's going on in the podcast? Can we expect to see certain characters reappear in future episodes?
Patrick Marsh: We've spent a ridiculous amount of time building this universe around this common setting of a quiet, suburban park. At first, we were kind of flying by the seat of our pants, but eventually we started to iron out a system for not only producing the stories, as well as how the plot worked in terms of a timeline. You can most certainly expect certain characters to reappear in the story. Often times nothing happens by accident with the plot. There is a plan for every detail.
Your audio drama's anthology format allows multiple authors to tell unique stories from different points of view, and it looks like you're open to new authors submitting content for Hidden Oaks. For someone who might be interested in adding to the world of Hidden Oaks, what are you looking for in new content?
Patrick Marsh: Essentially we're looking for a diversity of perspective and voice to add to this narrative tapestry. There are main arcs that we as the writing staff sort of hammer out specifically. We're requesting standalone stories from other writers which echo the supernatural complexity of our setting, while showing a perspective from other people that are not us. Representation in storytelling is incredibly important to us and having guest authors contribute is just the first step in celebrating this multiplicity of our community.
You've released a new episode every week since Hidden Oaks launched in early May. How many episodes do you currently have planned?
Patrick Marsh: We currently have released a ten-episode first season you can listen to through both our website www.hiddenoakspodcast.com and where all fine pods are cast. We're planning on four additional seasons of Hidden Oaks. We don't have a release date for our second season, but we're already hard at work writing and planning it. Each season will be at the very least ten episodes. There is plenty more story for Hidden Oaks to be told.
In its first several episodes, Hidden Oaks has featured a diverse set of stories every week that tap into different fears of the human condition. Can you give our readers a tease of what's to come on Hidden Oaks?
Patrick Marsh: That's a good question, and I can almost share those details, but I want to avoid spoilers. I will say that multiple characters you enjoyed in the first season will be appearing again. The monster, or She, will be appearing more and more. As storytellers, we'll continue to push the boundaries on perspective, stereotypes, and identities with our narrative. It is our belief that if we as writers can emotionally relate to our characters, then the audience will as well.
In addition to Hidden Oaks, do you have any other upcoming projects that you can share with our readers? Are you currently working on any new books in The Greenland Diaries series?
Patrick Marsh: Hidden Oaks is really siphoning up a lot of my time for other writing, but I'm either planning on motoring through and finishing the fifth book in The Greenland Diaries, or finding another book to release from my pit of unused material. Sadly, due to COVID-19, there won't be any conventions happening anytime soon. Without that avenue to sell my books, I'm a little restricted by the economics of releasing a new book, but, I do have some ideas.
Thanks so much for your time, Patrick!
Patrick Marsh: Thank you for having me, please check out www.hiddenoakspodcast.com for more information and for all the episodes. Thank you for your time and support.