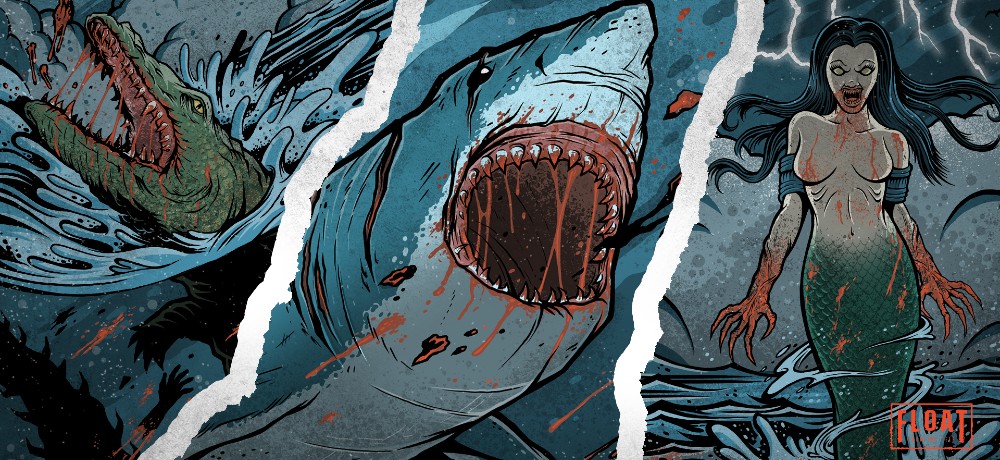 FLOAT: FROM THE DEEP: "From the creators of Mixtape Massacre comes an aquatic horror survival game where  you and your friends are the bait. 
When a mysterious explosion sends a cruise ship sinking to the bottom of the ocean, five  groups of survivors band together in lifeboats and set sail in search of land. 
But what seemed like an easy expedition, quickly goes south with food and water shortages,  treacherous storms, and desperation taking over. 
Worse yet, the creatures from below are beginning to surface… and FEED. 
FLOAT: From the Deep, is a new, fast-paced tabletop game from Bright Light, where 2- 5  players find themselves lost at sea, battling ferocious creatures from below and attempting to  outsmart and outlast their fellow players. With only 7 days to make it to the island in the foggy  distance, its sink, swim, or be devoured by the next monster from the deep. 
FLOAT: From the Deep launches on Kickstarter November 3, 2021. The Bright Light team has  a handful of Kickstarter exclusives planned for early pledges as well as surprises throughout  out the campaign. Get ready to dive into a whole new chapter of terror. 
What's In the Box?  
1 Rulebook  
1 Game Board  
1 Calendar Tracker  
3 Standard Dice  
5 Player Stations  
5 Danger Meter Trackers  
8 Leader Cards  
20 From the Deep Cards  
20 Daily Status Cards  
20 Castaway Cards  
25 Water Cubes  
30 Health Tokens  
100 Out of the Blue Cards  
-- 
Follow FLOAT: From The Deep for more previews and details: 
Website: floatthegame.com 
Facebook: facebook.com/floatthegame 
Twitter: twitter.com/floatthegame 
Instagram: instagram.com/floatthegame
-----------
Music of Halloween Horror Nights to be re-released, Midnight Syndicate signing at Universal Orlando on October 6th: "On September 14th, Universal Orlando will re-release Midnight Syndicate's Music of Halloween Horror Nights. This limited-edition run of 1000 copies features new artwork and is pressed on golden orange vinyl. The album will be sold in the Halloween Horror Nights Tribute Store as well as on the Universal Orlando Online Merchandise Store for a limited time.
To commemorate Halloween Horror Night's 30th Year Celebration, Midnight Syndicate will make their first public appearance in Orlando on October 6th. This special meet-and-greet autograph session will be held at the Five and Dime Store inside the Universal Orlando Resort at 2pm and 6:30pm.
Music of Halloween Horror Nights celebrates some of the band's most iconic tracks that have been featured in the event over the past twenty years (a limited-edition version released in 2020, sold out in less than 36 hours). The re-release comes with a digital download that includes four bonus tracks that were not included in the 2020 digital download version of the album.
"We've had a special relationship with Halloween Horror Nights and the Universal Orlando Entertainment team for so many years now," said Edward Douglas of Midnight Syndicate, "With this album, Gavin and I are extremely excited to memorialize some of the cool stuff we've done together."
In the liner notes of the album, T.J. Mannarino, Vice President of Entertainment Art & Design at Universal Orlando said, "It is difficult to overemphasize how much the music of Midnight Syndicate played in the historic success of Halloween Horror Nights. Our art and design team drew inspiration from the various tracks from many of their albums as we envisioned, created, and produced early websites, attractions, scare-zones, and haunted houses. Those same sounds played throughout the event itself. Proof of this invaluable contribution is evident in this compilation of memorable cuts. To this day, Midnight Syndicate music wafts through our design studios as we imagine worlds to come."
 Midnight SyndicateMidnight Syndicate is synonymous with haunting themes, gothic soundtracks and musical storytelling at its most evocative. If you've visited a haunted attraction or amusement park around the world during the Halloween season, or simply enjoyed a night of trick-or-treating in your neighborhood, chances are you've heard their music. Since 1997, dark music pioneers Edward Douglas and Gavin Goszka have been entertaining fans of Halloween, gothic music, haunted attractions, horror cinema, video games, and roleplaying games with their soundtracks to imaginary films. Featuring a signature blend of orchestral music and sound effects, Midnight Syndicate's fourteen studio albums, along with their independent film, The Dead Matter, and several film scores, have earned them a worldwide following with combined sales now approaching 800,000 physical and digital units. In 2003, the band was approached to produce the first official soundtrack to the seminal roleplaying game, Dungeons & Dragons. Their success has led them to collaborations with Universal Studios' Halloween Horror Nights, Cedar Point's HalloWeekends, and Grandin Road, along with being featured in television shows, HSN, SiriusXM's Scream Radio, video games, King Diamond tours, a Misfits live album, releases by major horrorcore artists, and even Hugh Hefner's Playboy Mansion private Halloween parties. In 2014, the band began producing Midnight Syndicate Live!, a series of horror-themed multimedia concerts which continue to enjoy successful runs at Cedar Point's annual HalloWeekends event."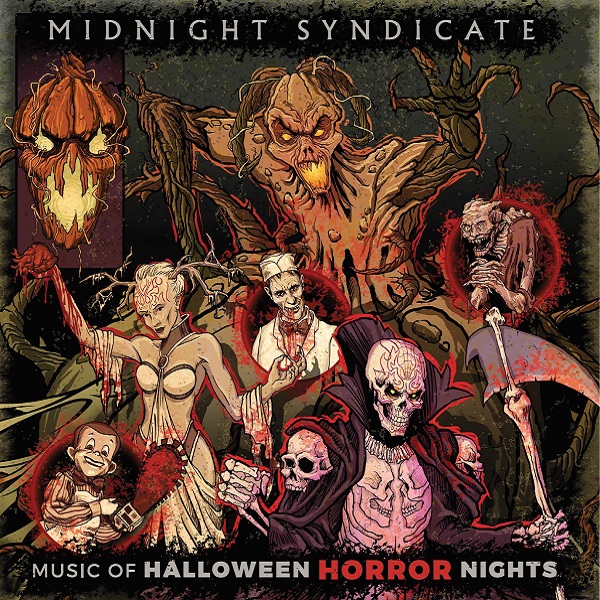 ---------
KNOCKING: "After suffering a traumatic incident, Molly (Cecilia Milocco) moves into a new apartment to begin her path to recovery, but it's not long after her arrival that a series of persistent knocks and screams begin to wake her up at night. Molly's new life begins to unravel as the screams intensify and no one else in the building believes or is willing to help her.
KNOCKING, which world premiered to great acclaim at the 2021 Sundance Film Festival in the Midnight section, is the narrative feature debut from Swedish director Frida Kempff, whose past credits include the 2010 Cannes Prix du Jury winning short BATHING MICKY and the 2015 documentary WINTER BUOY.
A timely psychological horror thriller built on very real human fears and anxieties, skillfully lensed with claustrophobic precision by Hannes Krantz (THE UNTHINKABLE) and given a pulsing score by Martin Dirkov (BORDER).
Starring Çecilia Milocco, Albin Grenholm, Alexander Salzberger, Krister Kern, Ville Virtanen, Charlotta Åkerblom, and Naida Ragimova.
KNOCKING is written by Emma Broström and produced by Erik Andersson for Läsk in collaboration with SVT and the Swedish Film Institute through the initiative Moving Sweden with support from Norrköpings Filmfond. Federico Ambrosini served as executive producer on the film adapted from a novel written by Johan Theorin."
IN THEATERS OCT 8 AND ON DIGITAL & ON-DEMAND OCT 19
----------
Hola Mexico Film Festival's NOCTURNO: "The largest Mexican film festival outside of the Mexican territory, Hola México Film Festival presented by DishLATINO, returns for its 13th annual edition this September 17-25 during Hispanic Heritage Month.
Bringing audiences back to the cinema, Hola México Film Festival presented by DishLATINO will give viewers an opportunity to gather once again to celebrate the perseverance of the film community and see some of the most compelling films that have recently come out of Mexico.
"Although Hola México Film Festival continued in 2020 in a virtual format, we deeply missed the irreplaceable communal experience of being with each other to showcase the strength and diversity of Mexican cinema. Through the enduring power of the cinematic arts community, we are absolutely thrilled to welcome back film lovers and finally be able to gather and embrace in-person during the 2021 Hola México Film Festival," remarks Samuel Douek, Founder & Director. "We look forward to helping ensure that Mexican filmmaking continues to grow and prosper for years to come."
The 13th annual Hola Mexico Film Festival presented by DishLATINO will take place at Regal L.A. LIVE, located at 1000 W Olympic Blvd, Los Angeles, CA 90015. Opening & Closing ceremonies will take place at LA Plaza de Cultura Y Artes (an open-air venue). Opening Night Tickets & Festival Passes are available now at 10AM (PST) on www.holamexicoff.com."
Hola Mexico Film Festival's "NOCTURNO" category of films are below, along with trailer link. "The films combine scenes of Mexican life with traditional horror themes such as exorcism (EL EXORCISMO DE CARMEN FARIAS), vampires (SIN ORIGEN/ WITHOUT ORIGIN), a vicous dog and it's murderous owners (ANIMALES HUMANOS/ HUMAN ANIMALS) to create a unique take on the genre."
ANIMALES HUMANOS/ HUMAN ANIMALS
1h 27min
MEXICO 2021
DIRECTOR: Lex Ortega
CAST: ADRIANA LOUVIER, CAMILA NUÑEZ, ANTONIO DE LA VEGA, AROA GIMENO
GUION: Adrian Garcia Bogliano, Miguel Garcia Moreno, Carlos Meléndez
Sometimes the most disturbing secrets are hidden in the places that appear to be the safest. This is the case for a couple and their daughter who live in the quiet suburbs, until their neighbors' dog unleashes a wave of violent events. An accident caused by the animal leads it to a disastrous fate that deeply hurts its owners and set in motion a gruesome nightmare. The presumed normalcy to which they were accustomed disappears and it's replaced by a fierce survival instinct that makes us question whether humans are perhaps more savage than beasts.
https://www.youtube.com/watch?v=ZLhXwk0u9a0
ColOZio
1h 31min
MEXICO 2020
Dir. Artemio Narro
Cast: Diego Calva, Orlando Moguel, Manolo Caso, Ignacio Peales.
Guion: Artemio Narro María Gonzalez De León
In 1994, Mexican presidential candidate Luis Donaldo Colosio captured national attention for his democratic ideology and anti-corruption stance. But his political rise ended tragically when he was shot in the head in Tijuana. Based on true events, "ColOZio" begins three days before his death with a strange prophecy. Two friends who love hallucinogenic substances, Diego and Gael, are tasked with the mission of saving Colosio, for which they must travel from the capital to the north of the country. An incredible animated sequence sets the irreverent tone of this kaleidoscopic odyssey that includes mythical characters, cartoony action, and quite a few narcotics.
https://www.youtube.com/watch?v=TVv9QborX9o
EL EXORCISMO DE CARMEN FARIAS
Dir. Rodrigo Fiallega
Nocturno, 2020
Cast: Camila Sodi, Juan Pablo Castañeda, Juan Carlos Colombo
Guion: Molo Alcocer Délano
Combining the paranormal with the crisis of violence related to drug trafficking that plagues Mexico, this film follows Carmen, a fearless journalist in charge of covering kidnappings and murders. After the death of her mother, Carmen discovers a secret from her past: as a teenager she was possessed by demonic forces and subjected to an exorcism. Now she must search for answers in her family's history to confront the inexplicable situations that haunt her present.
https://www.youtube.com/watch?v=OgMXHOHDT5Q
SIN ORIGEN/ WITHOUT ORIGIN
1h 32min
Dir. Rigoberto Castañeda
Actor: Daniel Martínez, Lisette Morelos, Paulina Gil, Horacio García Rojas, Arap Bethke,
Guion: Michael Caissie, Rigoberto Castañeda
This epic supernatural battle begins when Pedro de Toro, who worked for a powerful cartel, decides to take refuge with his family in a high-tech safe house in a remote location. His goal is to finally leave his illicit life helping organized crime with his financial knowledge behind. But surviving will not be so easy. The night Pedro hopes everything will end, Lina, a sickly 10-year-old girl, comes to his home by surprise. In addition to protecting her, Pedro must face a group of evil assassins with inexplicable powers that use high technology with medieval weapons. Combining incredible action scenes and special effects with a human story, this film is perfect for lovers of high-octane cinema.