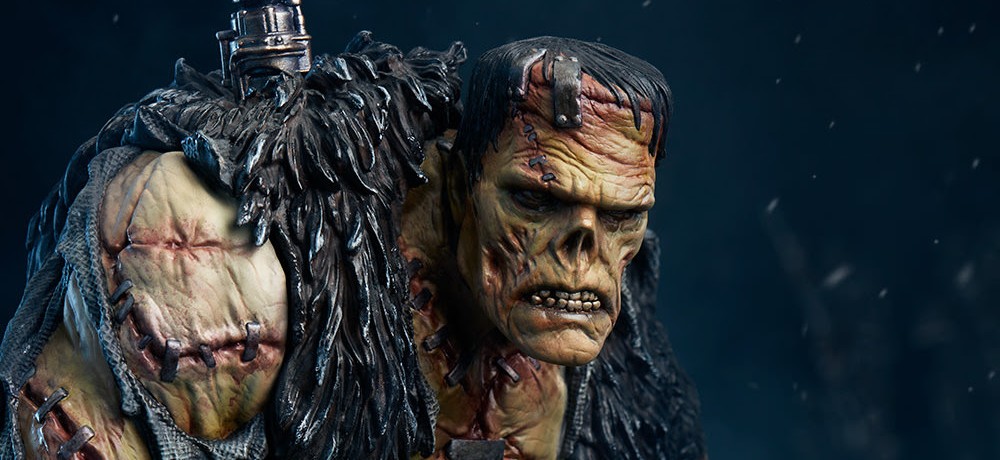 SIDESHOW BRINGS FRANKENSTEIN'S MONSTER TO LIFE: "First brought to life by the words of Mary Shelley, the creation known as Frankenstein's Monster has taken on many forms throughout popular culture. Inspired by the iconic literary character and his visual legacy across the centuries, the Frankenstein's Monster Statue by Sideshow honors the creature's horror roots and tragic nature with a new, original design.
This stunningly detailed, fully sculpted piece shows the hulking figure cloaked in the pelt of a black bear and clad in patchwork pants. Two large electrodes emerge from his back and silver staples hold his reanimated flesh together. He is painted with a cadaverous mixture of yellows and reds, emphasizing how Frankenstein's creation straddles the line between life and death.
Lurching through a melancholy cemetery scene, Frankenstein's Monster crosses a snow-dusted grave where a lantern, shovel, and broken skull rest. The headstone bears an epitaph to Elizabeth Lavenza, the would-be bride of Victor Frankenstein and victim to the monster's vengeance.
Shock some new life into your horror collection with the eerily atmospheric Frankenstein's Monster Statue by Sideshow. Available to pre-order now from Sideshow.com."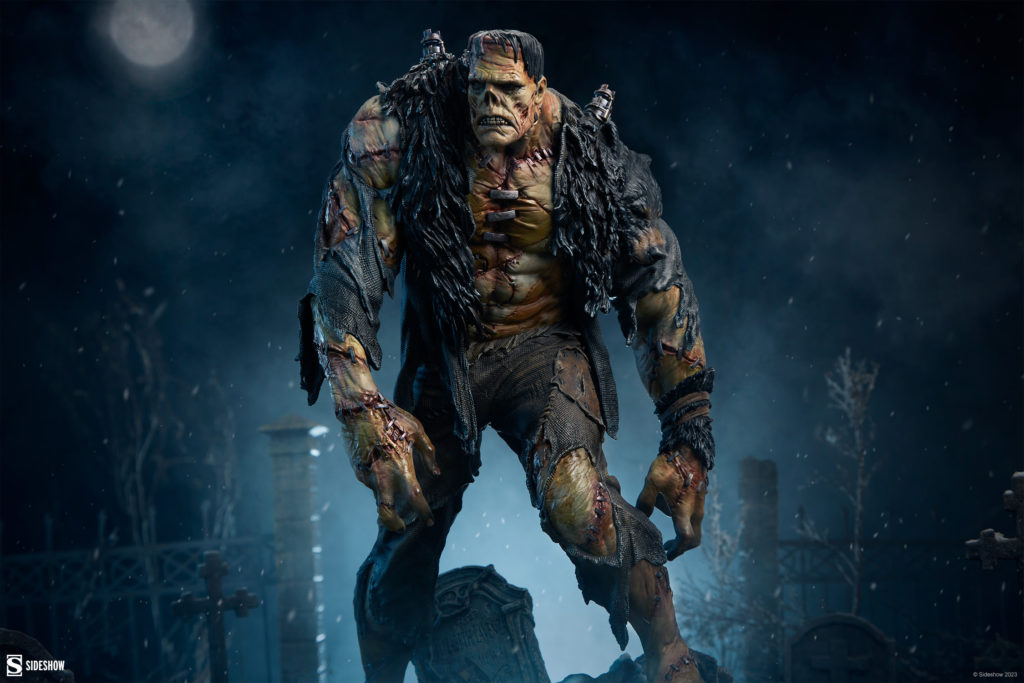 ---
The Caretaker by Cass Clarke - A Queer Horror Novella from Hear Us Scream Press: "Cara, an overworked ICU nurse, could think of one million other things to do than sort through her dead mother's house. Still, she's here -- cleaning a home she thought she abandoned long ago. Of course, it doesn't take Cara long before she stumbles upon her mother's buried secrets and becomes curiously stuck with a haunted hospice bed. 
Roping in her ride-or-die cousin Dylan and witchy ex-girlfriend Beth, Cara unwittingly drags her beloveds into a gauntlet of horrors. Stitched together with humor and ramshackle nerves, THE CARETAKER is a story that How will you go on after the worst has already happened to you? 
Best described as Motherthing meets Something Wicked This Way Comes, THE CARETAKER is a raw story of grief that seeks to break as many hearts as it heals. Perfect for those horror fans who don't mind getting messy with gore, regret, and going on an unexpected journey through rocky emotional terrain."
Available now on paperback and digital!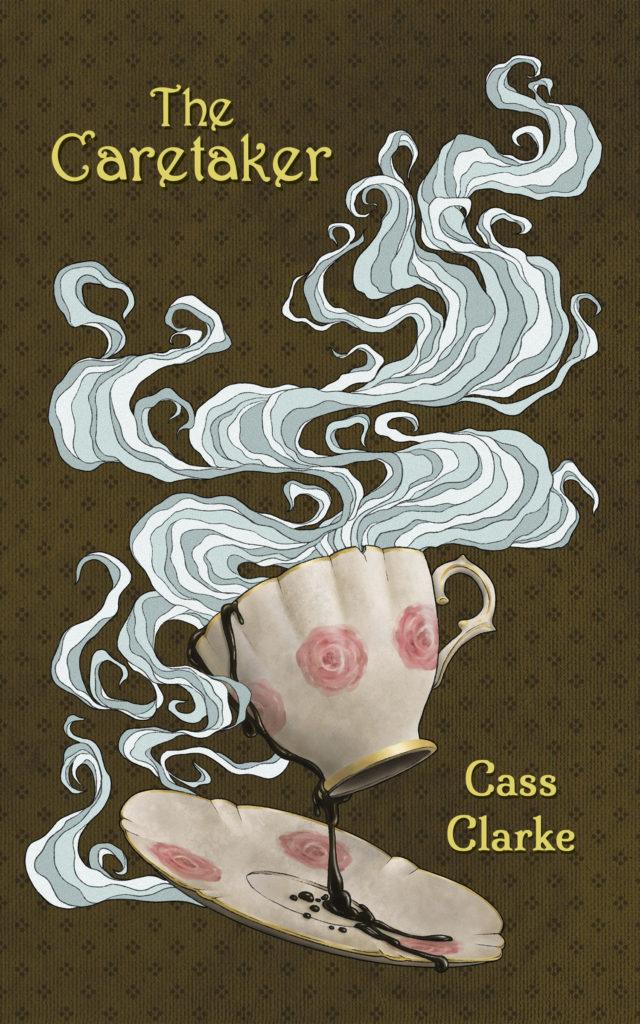 ---
Megan McDuffee Releases the Sinister Jack The Ripper-Inspired Song, "Entity": "Acclaimed video game composer, music producer, and artist Megan McDuffee releases "Entity," a dark electronic-meets-metal song inspired by infamous killer, Jack the Ripper. McDuffee takes a unique approach by unfolding the story from the victim's perspective. She asks the question, "what if one of Jack's victims came back from the dead seeking revenge?"
The answer is a slow, haunting, and sultry grind, ultimately building to a screaming climax. "Entity" is a perfect Halloween jam and vengeance song in one. Shot in Alberta Canada, the music video takes the viewer on a bloody, surreal trip through McDuffee's edgy beautiful tune.
Megan McDuffee is a Seattle-based composer and producer, best known for her video game scores (River City Girls 1 & 2, Apex Legends Mobile, Atari Recharged Series, etc.). Her work has been featured in numerous film trailers and TV shows, such as Annihilation, The Predator, Love is Blind, The Bachelor, and HBO's VICE. McDuffee's sound is influenced by bands such as IAMX, Depeche Mode, and Massive Attack, plus the weird late 80's and early 90's animated films of her childhood."
---
23rd Annual Screamfest Horror Film Festival Announces 2023 Winners:
Short Film Audience Choice Award: Red Velvet
Best Screenplay: Fragments by Jake Moses
Best Student Short – Voyager dir. Pablo Pagan
Best Animated Short Film – Lands of Steel – directed by Cyril Vrancken
Best Short Film – The Looming – directed by Masha Ko
Best Actor – Victor Clavijo for La Espera (The Wait)
Best Actress – Jennifer Kim for Somewhere Quiet
Best Musical Score – Darren Lim for You'll Never Find Me
Best Special Effects Makeup – The Deep Dark
Best Special Effects – The Deep Dark
Best Editing – Sofi Marshall for Somewhere Quiet
Best Cinematography – Alain Duplantier for The Deep Dark
Best Director – Olivia West Lloyd for Somewhere Quiet
Best Picture – The Deep Dark dir. Mathieu Tur