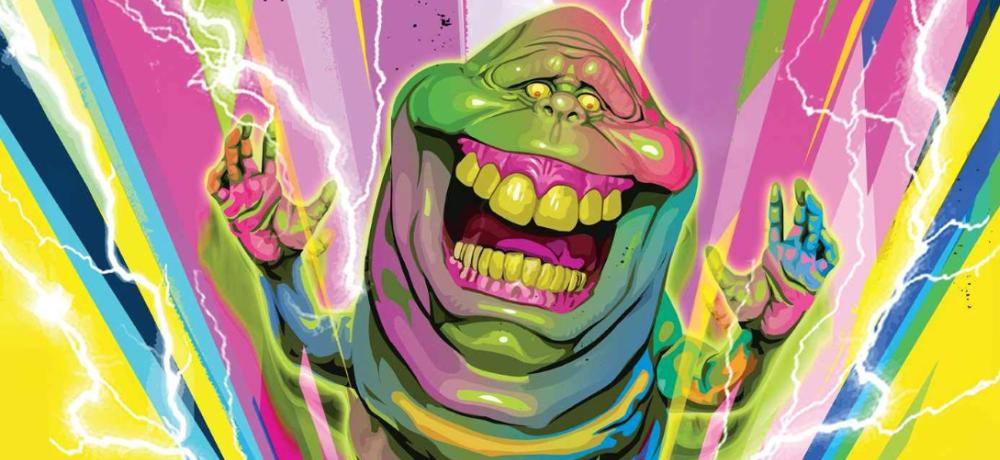 The Ghostbusters creators, as well as fans from all over the world, have kept the tenacious heart of the franchise beating since 1984! To celebrate this classic franchise, the company Printed in Blood has created Ghostbusters: Art Book, filled with illustrations from various artists showcasing some of our favorite characters. Also in today's Horror Highlights: an exclusive clip from Road Head, Grimmfest's classic horror screenings details, as well as a teaser trailer and release details for both Blood on Her Name and The Horrific Evil Monsters.
Ghostbusters: Artbook Details: "Printed in Blood is proud to present Ghostbusters: Artbook—an exclusive, fully illustrated celebration of the iconic film franchise, featuring hundreds of unique art pieces from creators all over the world.
Celebrating the legacy of the pop-culture classic, Ghostbusters, this deluxe, hardcover art book features an ectoplasmic jackpot of brand-new, exclusive artwork inspired by the most iconic paranormal investigators in cinematic history. Bringing together brilliant artists from animation, comics, fine art, and beyond, Ghostbusters: Artbook showcases incredible artwork inspired by the iconic 1984 film. Filled with unique interpretations of fan-favorite characters such as the Ghostbusting team, Slimer, Gozer, and the Stay Puft Marshmallow Man, this deluxe artbook shows that decades later there's still only one team to call—Ghostbusters!"
For more information, visit:
The US Amazon page.
The UK Amazon page.
---------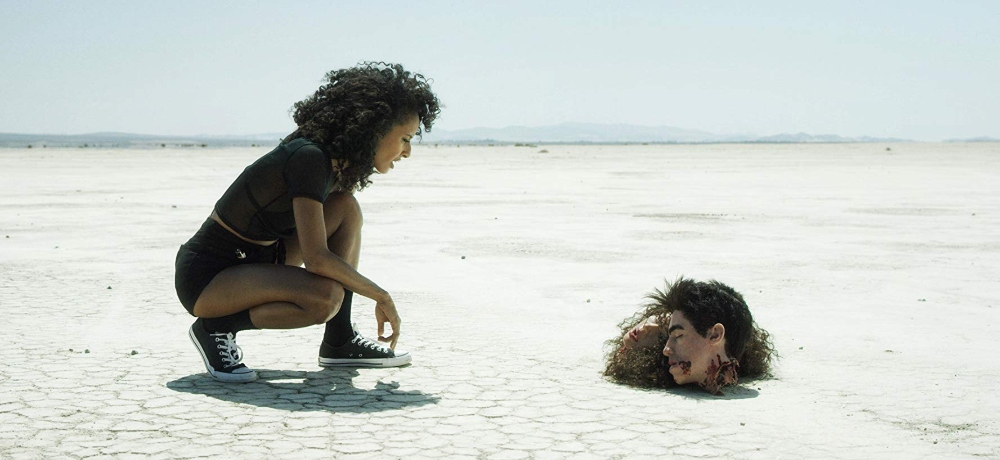 Road Head Trailer and Premiere Details: "David Del Rio's indie horror Road Head, is receiving its world premiere at the 2020 Cinequest Film & Creativity Festival.
Named #1 film festival by USA Today's readers, Cinequest announced its international lineup of dramatic and documentary competition films for the next edition of the popular California winter event, taking place March 3-15, 2020 in San Jose and Redwood City, CA.
More than 105,000 attendees will experience the work of internationally renowned and emerging artists and technologists this year at Cinequest Film & VR Festival. Representing a spectrum of genres, genders, ethnicities, orientations, and viewpoints, this year's lineup is not to be missed - including the horror stoner comedy, Road Head from the producers of the acclaimed Sick For Toys.
Road Head's world premiere will take place on March 7th, with screenings to follow on March 8th, 13th, and the 15th.
A Nine Ten Films and Delco-Cut co-production, Road Head tells the story of three friends who take a road trip to the Mojave-desert where their complicated relationships are pushed to their breaking point as the group encounters a reclusive, murderous cult.
Directed by David Del Rio, the film stars Clayton Farris, Damian Joseph Quinn, Adam Nemet and Elizabeth Grullon (known for playing the villain in the new Star Wars Video game).
"I'm honored to be included in such a highly respected film festival that will help bring widespread exposure to our film, and leave our audience with an amazing experience," says David Gunning, co-producer of Road Head.
"I am beyond thrilled to showcase our film at Cinequest! The combination of creativity and innovation makes for an exciting event; experiencing new technologies that go beyond film. I hope the audience is surprised by Road Head! Not in what the film reveals as the "twist;" but working with audience expectations of what this film is based on, the ridiculousness of the concept, starting with even the playful title "Road Head". I hope the audience feels surprised by how much more they will see in the film," comments filmmaker David Del Rio.
"Cinequest has been on our radar since our first short film in 2012. We are thrilled to debut our feature film ROAD HEAD at Cinequest 2020; and we hope audiences have a blast watching this ridiculous, poignant and genre-bending film!" adds co-producer Jon Paul Burkhart.
The Cinequest Film Festival is an annual independent film festival held each March in San Jose, California and Redwood City, California. The international festival combines the cinematic arts with Silicon Valley's innovation. In 2019, the festival was renamed the Cinequest Film & Creativity Festival in recognition of the many creative experiences presented each year including film, virtual and augmented realities, comedy, television, fashion, art and design, dance, and more."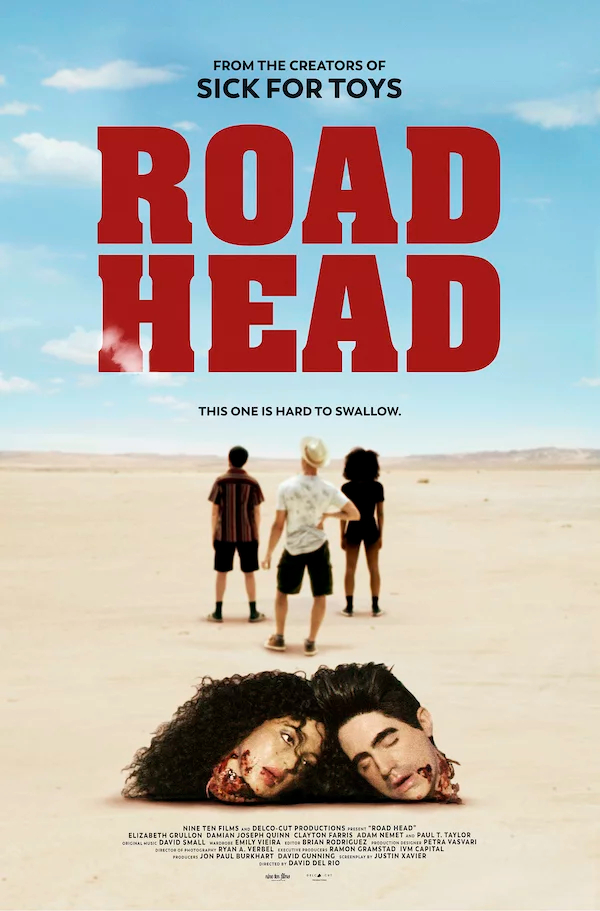 ---------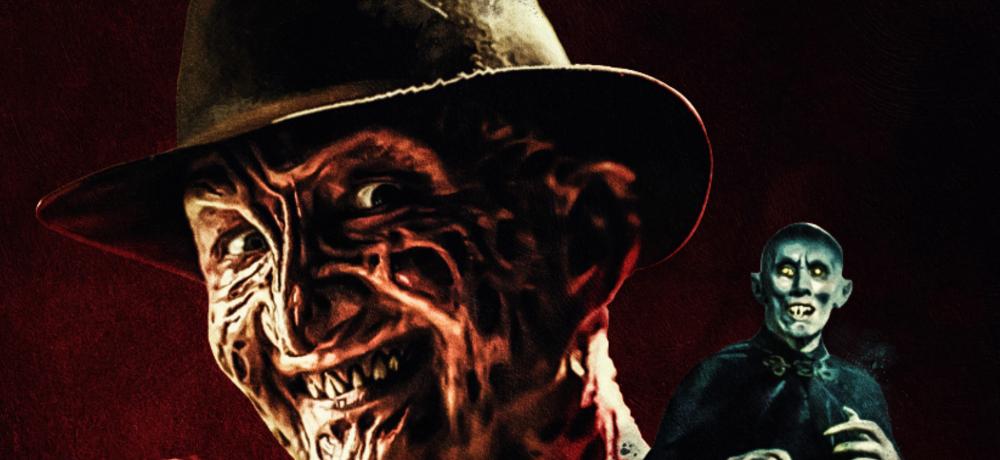 Grimmfest's Classic Horror Screenings Details: Press Release: "Grimmfest, considered one of the UK's biggest horror cinema specialists, celebrate the history of horror cinema.
This year, Grimmfest has partnered with The Horror Channel to offer big-screen presentations of a whole host of classic horror films from four masters of the genre all on the big screen, across Spring and early Summer.
In 2020, Grimmfest will pay tribute to four Legends of Horror, in the suitably elegant, art-deco surroundings of Stockport Plaza. Experience classics of the genre in suitably grand, elegant style, in the most beautiful Picture Palace in the region.
Join Grimmfest through 2020 for some classic horror movies from four of the truly great directors, Tobe Hooper (9/2/20), David Cronenberg (8/3/20), John Carpenter (9/5/20) and Wes Craven (5/7/20). 16 movies in total over 4 special day events.
All events start at 1.00 pm prompt!
TOBE HOOPER – SUNDAY 9/2/20
"No matter where you're going it's the wrong place." – Tobe Hooper.
TEXAS CHAINSAW MASSACRE
Described as "an exercise in the pornography of terror" by James Ferman, former head of the BBFC, it was recently added to the permanent collection of the Museum of Modern Art in 1981.
POLTERGEIST
"They're heeeeerrrre!" Spielberg tries his hand at horror but is smart enough to enlist Hooper to direct.
TEXAS CHAINSAW MASSACRE 2
Leatherface is back. And this time he's got Dennis Hopper to answer to.
SALEM'S LOT (180 mins)
Nosferatu in Small Town America, in Hooper's classic adaptation of Stephen King's novel.
DAVID CRONENBERG - SUNDAY 8/3/20
"Everybody's a mad scientist, and life is their lab. We're all trying to experiment to find a way to live, to solve problems, to fend off madness and chaos." – David Cronenberg.
RABID
In the wake of the Soska Twins' recent remake, a chance to revisit the stark, bleak original; the film in which Marilyn Chambers truly is insatiable.
VIDEODROME
"Long live the new flesh!" Remember the whole "video nasties" hysteria of the 1980s? Fear of what exposure to such things might be doing to the young? It could have been a lot worse.
THE FLY
"There was an old lady who swallowed a fly. I don't know why. Perhaps she'll die…" One of the genre's greatest ever love stories. Yes, seriously.
CRASH
Cronenberg's cinematic reimagining of J.G Ballard's novel was described as "beyond the bounds of depravity" by critic Alexander Walker. The perfect combination of filmmaker and source material, in other words.
JOHN CARPENTER - SATURDAY 9/5/20
"In France, I'm an auteur, in Germany a filmmaker, in England a genre film director, in the USA a bum!" – John Carpenter.
PRINCE OF DARKNESS
Carpenter's homage to Nigel Kneale's Quatermass series. With added satanism. And Alice Cooper.
BIG TROUBLE IN LITTLE CHINA
Every 70s martial arts movie you ever loved, put into a blender and then thrown at Kurt Russell. Who comes out fighting.
THEY LIVE
Rowdy Roddy Piper is all out of chewing gum. Those alien invaders had better watch out. The perfect combination of political satire and all-in wrestling.
IN THE MOUTH OF MADNESS
"God's not supposed to be a hack horror writer." But let's face it, that would actually explain a lot…
WES CRAVEN - SUNDAY 5/7/20
"Wes Craven reinvented horror at least four times. Most directors don't even manage it once." – Kim Newman.
THE HILLS HAVE EYES
Family values in conflict; a stark and brutal confrontation between civilization and savagery in which the lines between the two become increasingly blurred.
SCREAM
What happens when the killers don't play by The Rules anymore?
THE PEOPLE UNDER THE STAIRS
Part fairy tale, part social satire, Craven tackles the subjects of homelessness and urban gentrification in typically full-on fashion.
A NIGHTMARE ON ELM STREET
One, two, Freddy's coming for you……
And right now, Grimmfest is hosting a social media competition to win an amazing Grimmfest horror movie goodie bag and 2 x passes for our first event, TOBE HOOPER ALL -DAYER. Check out our Grimmfest FB page and website for more info.
For more information, visit: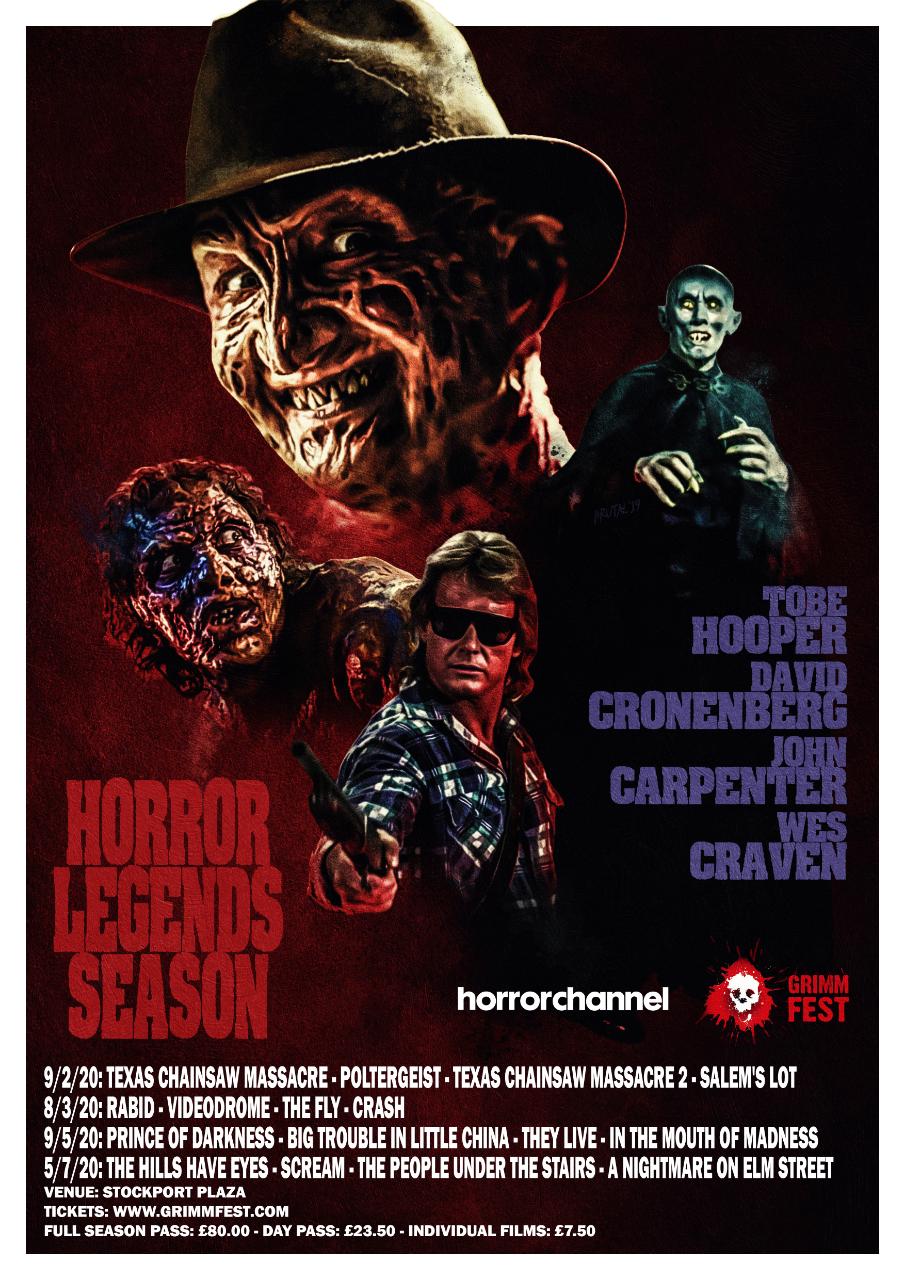 ---------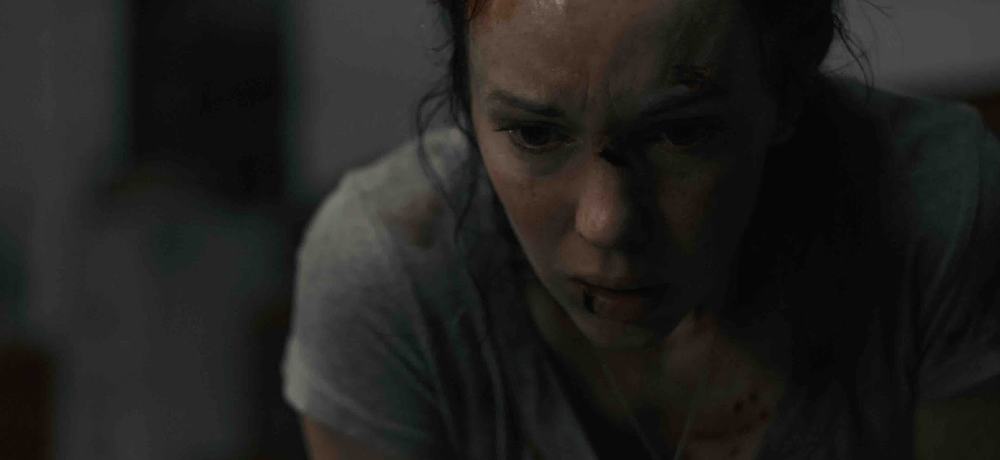 Blood on Her Name Teaser Trailer and Release Details: "A woman's panicked decision to cover up an accidental killing spirals out of control when her conscience demands she return the dead man's body to his family.
BLOOD ON HER NAME is the feature debut from Atlanta-based filmmaker Matthew Pope, who's previous work has garnered him both national and film festivals accolades. Pope co-wrote the film alongside producer Don Thompson, and the two co-founded Rising Creek together.
SYNOPSIS: The dead body lies at her feet, its blood still draining onto the floor. It was an accident, borne of self-defense, but its discovery could have devastating consequences for local garage owner Leigh Tiller and her son.
In a panic, Leigh decides to conceal the crime, cleaning the bloody scene and scrambling to dispose of the body. But can she actually disappear a man from the earth—from his family—leaving them forever wondering? As Leigh is torn between her primal instincts and tortured conscience she struggles to keep her sins hidden from her estranged father--a cop with a long history of moral compromise --and from the keen-eyed girlfriend of the deceased. Blood On Her Name is a character-driven thriller that explores questions of guilt, moral identity, and the irrevocability of choices in the direst circumstances.
The film World Premiered at the Fantasia International Film Festival and celebrated it's US Premiere at L.A.'s Beyond Fest.
Blood on Her Name
Genre: Thriller / Southern Gothic, Neo-Noir
Country: USA
Runtime: 83 min
Language: English
Rating: NA."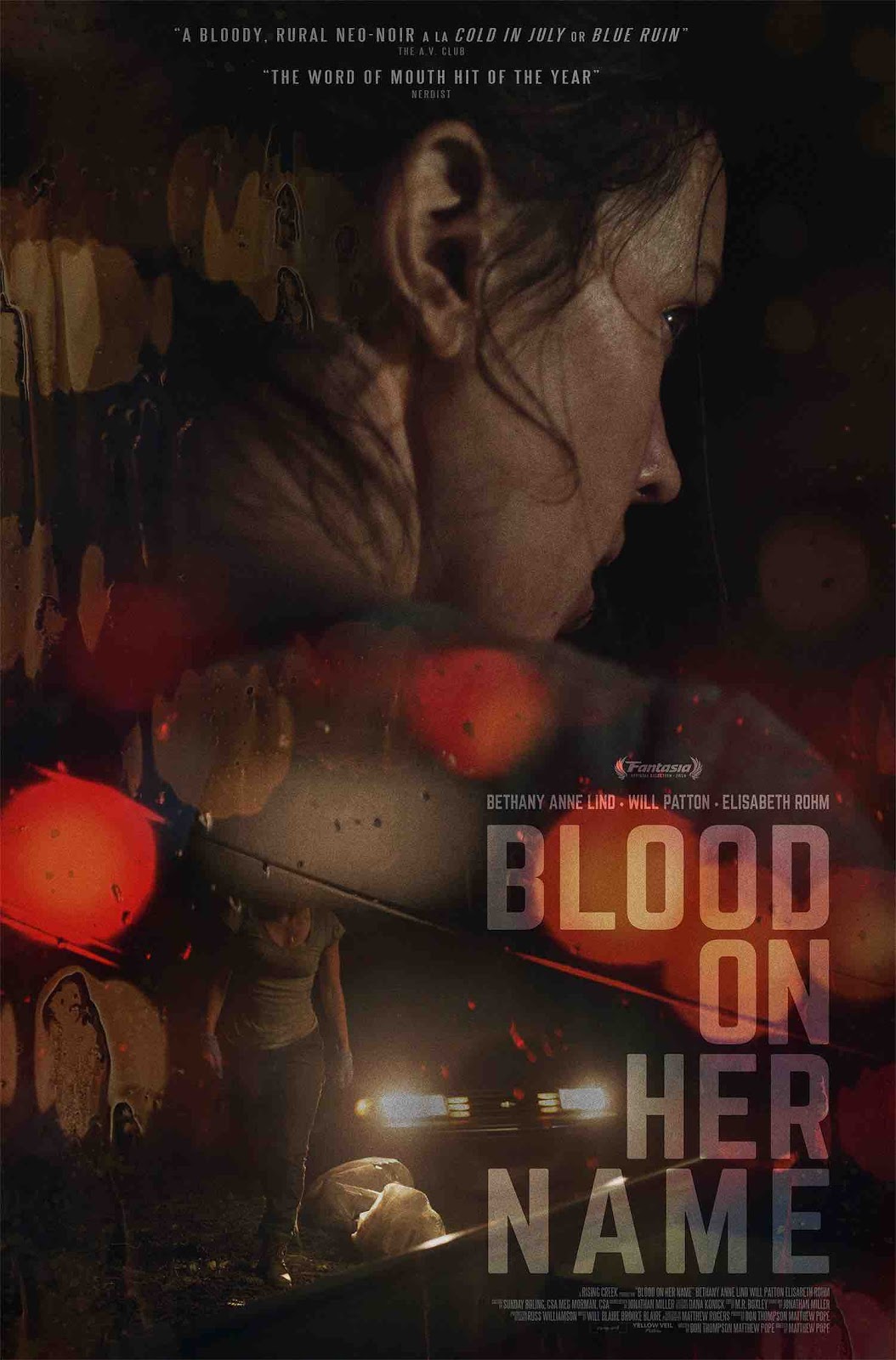 ---------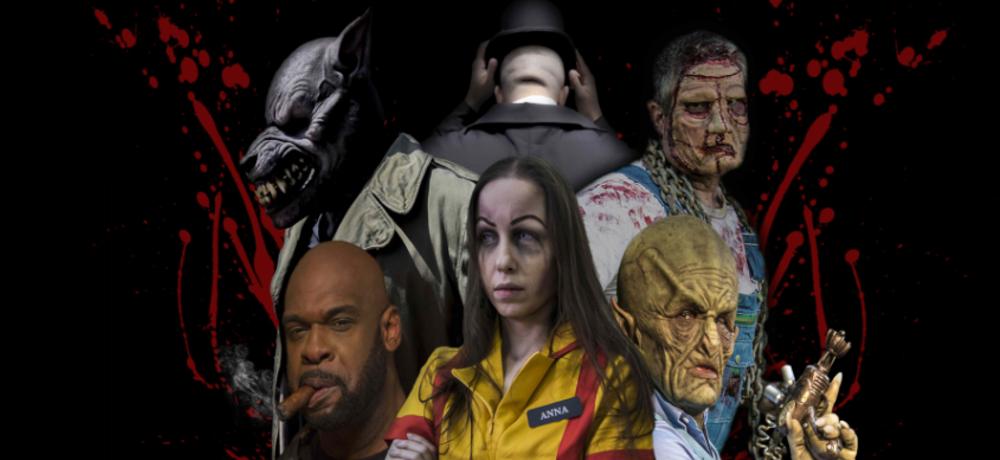 Watch The Horrific Evil Monsters Teaser Trailer: "388 Studios and Macrocosm Productions release the first official teaser trailer for The Horrific Evil Monsters. A superhero take on the world of horror icons such as a zombie, an alien, a werewolf, a grim reaper, and an unstoppable masked killer commissioned by a secret government agency code name T.H.E.M. The Horrific Evil Monsters is led by a mysterious man named 'Mick' as he recruits some of the most hazardous horror and science fiction characters of all time to take on a biblical unrelenting force that brings the apocalypse with them. The film is targeted for a limited October release, followed by a 2021 festival run.
The Horrific Evil Monsters' all-star cast led by Bishop Stevens (Empire, Chicago PD), Gregory Blair (Garden Party Massacre, Deadly Revisions), scream queens Kaylee Williams (Mrs. Claus, Teacher Shortage), and Jennie Russo (She Kills, FANG) as well as horror icon Jason John Beebe (Ombis: Alien Invasion, Crossbreed) with a special appearance by Dawna Lee Heising. The film is accentuated by practical special effects, unique costuming and ingenuity designed to awe its audience. Phill Beith serves as special effects master, taught by the legendary Tom Savini School of Arts, who has trained the likes of The Walking Dead's Greg Nicotero, and many others.
Once the production wrapped on principal photography, The Horrific Evil Monsters made a charitable donation of over more than 2000 pieces of clothing, featured as set dressing in its entirety to two local homeless outreach programs, Friends of Night People and Hearts for the Homeless. The attire from shoes, t-shirts, pants, and various other clothing items and directly impacts those in need in Western New York.
For more information, visit:
Facebook: https://www.facebook.com/TheHorrificEvilMonsters/
IMDB: https://www.imdb.com/title/tt7343800/"