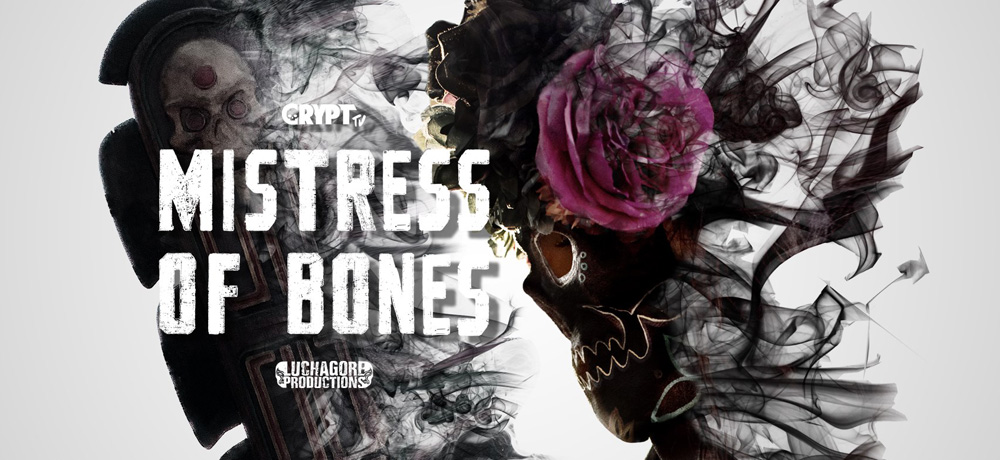 In today's Horror Highlights: Watch the short film Day of the Dead from Gigi Saul Guerrero, check out trailers for Dark Offerings and What Lies Below, take a look at the poster for Hunter Hunter, listen to Dr. Loomis, and learn more about Black Pumpkin!
Watch the MISTRESS OF BONES Short Film: "Director Gigi Saul Guerrero, Blumhouse & Hulu's Into The Dark: CULTURE SHOCK, and production company Luchagore Productions have partnered again with Crypt TV to bring you an original new short film just in time for the Mexican Holiday Dia De Los Muertos (Day of the Dead).
"Mistress Of Bones is a 10 minute short film that explores mysterious and dark Aztec mythology that introduces our new and exciting LATINX HERO. " says Raynor Shima, Producer at Luchagore, "This was an ambitious project to shoot and edit during Covid, but we couldn't be more proud of everybody involved."
We give you Mistress of Bones, Official selection at Morbido Film Fest 2020, starring Nicole Muñoz (Van Helsing, Pyewacket), Michel Issa Rubio (Snowpiercer Tv Series) and from Luchagore's famous short film on SHUDDER, Edwin Perez from EL GIGANTE."
Directed and Edited by Gigi Saul Guerrero
Written by Shane McKenzie
Cinematography by Luke Bramley
----------
DARK OFFERINGS Teaser Trailer: "Sophia Hapgood is thrust into a horrifying world after her brother James brings her into a fatal situation. He passes a demon to her that she must spread to others within 6 days or else they both die. Sophia must make a choice to save her brother or find a way to end the curse in this terrifying film called The Dark Offerings."
Edited and Directed by Marcus Slabine
Written and Produced by Elizabeth Piper S. and Marcus Slabine
Starring Elizabeth Piper S., Felissa Rose, Terry Alexander, Clifton Dunn, Paul Sheehan, Michael Leavy, Lydia Kalmen, Jason Leavy, Tina Nikolova, Benjamin Frankenberg, Eileen Dietz, Tamara Glynn, Shawn C. Phillips, and David Howard Thornton.
----------
WHAT LIES BELOW Trailer: "Liberty, a socially awkward 16-year-old, returns from two months at camp to a blindsided introduction of her Mother's fiancé, John Smith, whose charm, intelligence, and beauty paint the picture of a man too perfect to be human."
Starring: Ema Horvath, Trey Tucker, Mena Suvari
Directed By: Braden R. Duemmler
Written By: Braden R. Duemmler
ON DEMAND AND DIGITAL: December 4, 2020
----------
HUNTER HUNTER Poster: "HUNTER HUNTER follows a family living in the remote wilderness earning a living as fur trappers. Joseph Mersault (Devon Sawa), his wife Anne (Camille Sullivan), and their daughter Renée (Summer H. Howell) struggle to make ends meet and think their traps are being hunted by the return of a rogue wolf. Determined to catch the predator in the act, Joseph leaves his family behind to track the wolf. Anne and Renée grow increasingly anxious during Joseph's prolonged absence and struggle to survive without him.  When they hear a strange noise outside their cabin, Anne hopes it is Joseph but instead finds a man named Lou (Nick Stahl), who has been severely injured and left for dead. The longer Lou stays and Joseph is away, the more paranoid Anne becomes, and the idea of a mysterious predator in the woods slowly becomes a threat much closer to home."
IN SELECT THEATERS, ON DIGITAL & ON DEMAND - DECEMBER 18, 2020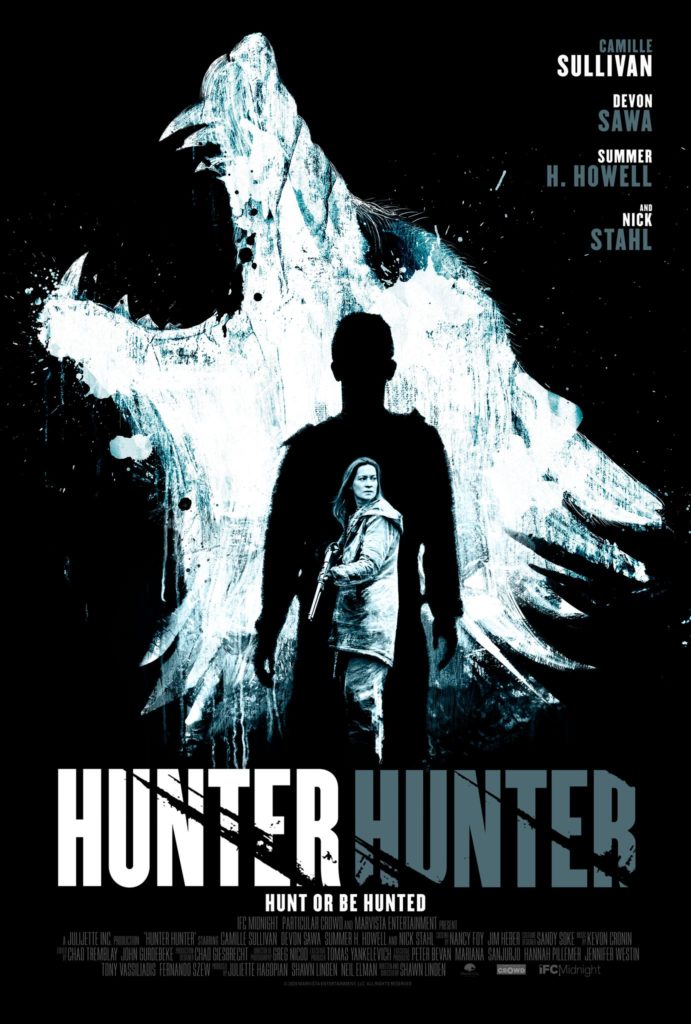 ---------
ASMR Halloween Roleplay – DR. LOOMIS: "A couple months ago, I started a horror-themed ASMR channel called SLAYsmr, where every week, I whisper my thoughts about a different horror movie that I love. This past week for Halloween, I tried something a little different: I did a Halloween roleplay where I portrayed Dr. Loomis talking to a young Michael Myers at Smith's Grove Sanitarium."
---------
BLACK PUMPKIN: "After its first shooting cut presentation to cast & crew at the KaPow Intergalactic Film Festival , Uncork'd Entertainment announced that they've acquired Black Pumpkin, the latest Twisted Tall Tale by Ryan McGonagle and Produced by Triangle Road Entertainment.
Black Pumpkin, a new indie horror from the mind of Writer/Director Ryan McGonagle, will soon arrive on digital platforms. The tween-driven Halloween thriller received rave reviews from their screening at the KaPow Intergalactic Film Festival, prompting Uncork'd Entertainment to pick up the film for distribution.
Black Pumpkin takes place in Fall Creek Valley, where two boys accidentally uncover a grizzly urban legend that their small town attempted to keep buried in the past. What begins as an innocent curiosity, spirals into a terrifying Halloween night of voodoo dolls, aggressive religious high school protests, a raving mad conspiracy theorist, and Bloody Bobby the Hellspawn. A haunting soundtrack by Beat Royalty Group, lives as its own character, highlighting each jumpscare perfectly.
Dogen Eyeler (PAW Patrol), Gemma Brooke Allen (SEAL Team), Grayson Thorne Patrick (Wet Hot American Summer: 10 Years Later), Kamilla Alnes (American Horror Story), Ellie Patrikios (In The Blink of An Eye), Alix Lane (One Minute Worlds), Jacques Derosena (The Wire), Connor Weil (Scream: The TV Series), Christopher DeMaci (The Silent e), Malaak Hattab (Meth Head), David Uchansky (Max Neptune and the Menacing Squid), Curt Clendenin (Legend of Fall Creek), Ryan Poole (Power Rangers), Jo Osmond (Doctor Who), Jordyn Lucas (Room 104), Brittany Belt (The Rookie), Tasha Dixon (CollegeHumor Originals), and Joseph Barone (American Horror Story) star in the film. Black Pumpkin will be released on iTunes, Vudu, Xbox, Googleplay, Amazon, DirecTV, Dish Network, Fandango Now, and iNDEMAND, December 2020.
"After our Feb 2020 reshoots, we buckled down during quarantine to accommodate the new edits. We can't wait to see this Halloween classic introduced to the world by Uncork'd!" says Associate Producer Jacques Derosena, who also plays "Mr. Carpenter", a school teacher warning his students about Bloody Bobby and the dangers lurking in the area known as Diablo's Den.
Black Pumpkin was filmed in various spots throughout LA County, before the pandemic struck, including one of Triangle Road Entertainment's premier locations. Executive Producer Shaeda Moghaddam's personal experience of witnessing a battle scene inspired her to share "This bloody movie appeals to all generations of Horrorlovers. Magic happens when you work with a team of big imaginations, and now together with Keith Leopard from Uncork'd Entertainment, the possibilities have multiplied!""