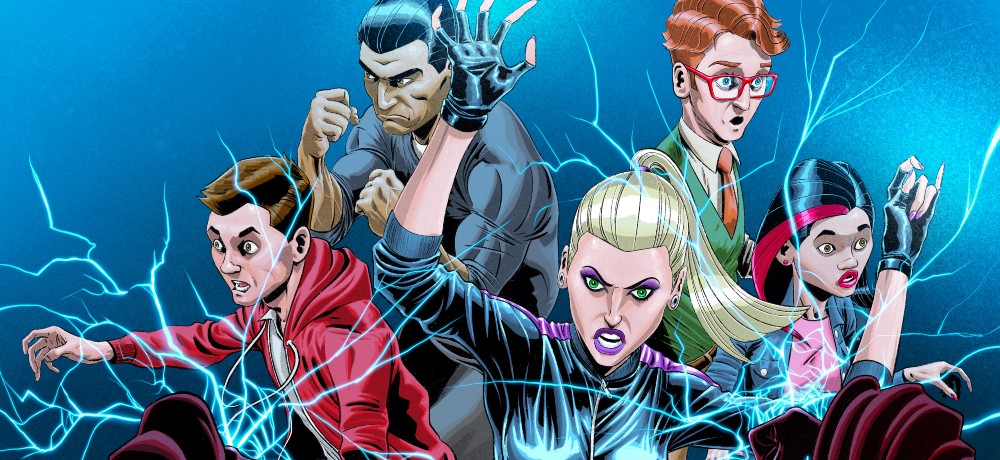 HALLOWEEN TEAM #4: "THE THRILLING CONCLUSION! After uncovering the dark secrets of Red Circle, the team rushes to save Tommy before he's sacrificed as part of an evil plot to bring about hell on earth. But what does the future hold for Halloween Team? And how does this latest adventure connect back to the mysterious Laura? In this action-packed final issue ... big decisions will be made, a new path will be forged, and a shocking secret about the team's past will be revealed. You won't want to miss this one."
HALLOWEEN TEAM Issue #4 (of 4) will be available to purchase digitally via Amazon/Comixology and GlobalComix on June 20th. Issues #1-3 are also still available for purchase. For more news and updates, follow @HalloweenTeam22 on Twitter or Halloween Team on Facebook.
About HALLOWEEN TEAM: "Years ago, five misfit kids banded together to form Halloween Team - a group dedicated to solving mysteries and hunting monsters in the small town of Greenwood, MA. Now, twenty years later, the kids are grown and lead separate lives - until a new mystery brings them together for one more adventure. And that adventure begins with this thrilling four-issue comic book series! If you're a fan of Stranger Things, Paper Girls, Buffy, or just love Halloween - you won't want to miss this!"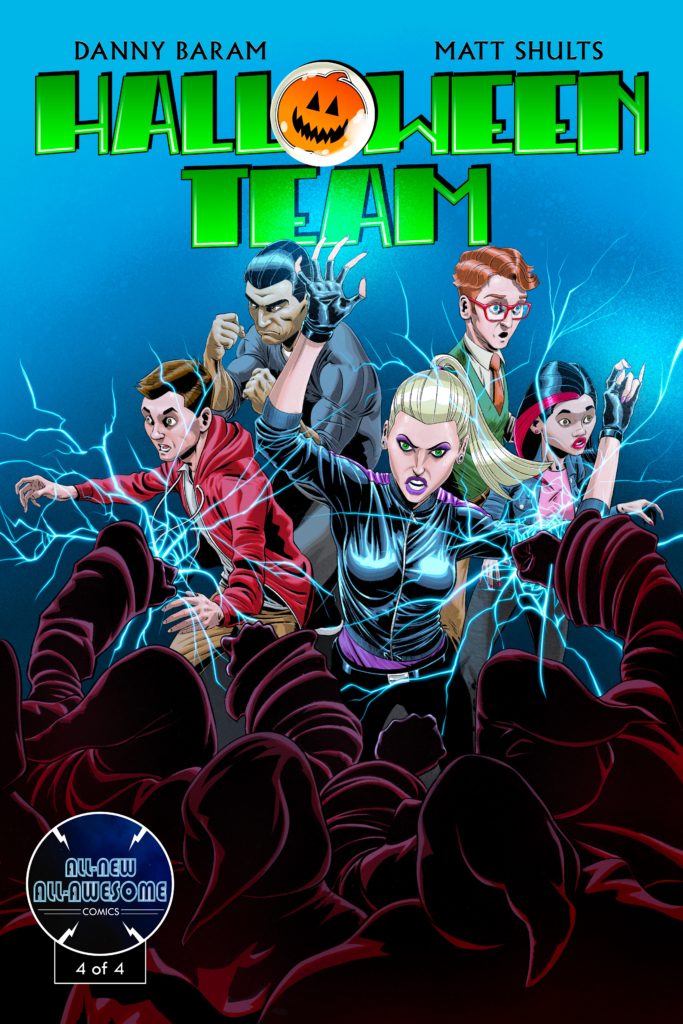 ---
REAL COOL TIME Premiere at Days of the Dead: The short film will have its world premiere on Saturday, June 24, as part of the Days of the Dead International Film Festival, held this year at the Marriott Indianapolis East in Indianapolis, IN.
Synopsis: "A stubborn, unwelcome journalist's late-night visit to the home of a haunted musician reveals dark secrets and whets deadly appetites."
Cast: Lanae Hyneman as Devin, Alice Shen as Juliya, Kara Gray as Myca
Crew: Written and Directed by Matthew Packman, Executive Producers Jakob Bilinski & Emily Durchholz, Produced/Post Production Services by Cinephreak Pictures, Director of Photography/Colorist Jakob Bilinski, Original Music and Sound Design Nicholas Nylen, Make-Up and FX Emily Durchholz, Edited by Jakob Bilinski and Matthew Packman
---
SYMPATHY FOR THE DEVIL: "After being forced to drive a mysterious passenger at gunpoint, a man finds himself in a high-stakes game of cat and mouse where it becomes clear that not everything is at it seems."
In theaters on July 28, 2023
Starring: Nicolas Cage, Joel Kinnaman
Directed By: Yuval Adler
Written By: Luke Paradise
---
GUNPOWDER & SKY DOUBLES DOWN ON ITS RAPIDLY GROWING SCI-FI & HORROR FAST CHANNELS - DUST & ALTER: " Gunpowder & Sky (G&S), an independent studio, announced today that it has doubled down on its specialized, genre-specific FAST channels, DUST and ALTER, by acquiring more than 30 TV series and feature films.
New acquisitions will include an array of iconic titles including: Train to Busan; Creep; Hounds of Love; Summer of '84; The "Masters of Horror" series, with episodes directed by John Carpenter (The Thing, Halloween),Tobe Hooper (The Texas Chain Saw Massacre), Joe Dante (Gremlins) and John Landis (An American Werewolf in London); "Fear Itself", starring Elisabeth Moss, Anna Kendrick and Jesse Plemons; Elvira's "Movie Macabre" (1980s); Mark Hamill's "Pop Culture Quest"; "Weird or What?" with William Shatner; and "Encounter: UFO". Franchise marathons include: Phantasm, Phantasm 3: Lord of the Dead, Phantasm 4: Oblivion, Phantasm 5: Ravager; Grave Encounters 1 & 2; The Stepfather 1 – 3; Waxwork 1 & 2; Wishmaster, Wishmaster 2: Evil Never Dies, Wishmaster 3, Sword of Justice, Wishmaster 4: The Prophecy Fulfilled; Amityville 4: The Evil Escapes, Amityville: It's About Time, Amityville: A New Generation, Amityville Dollhouse, and many others.
"It's amazing to see how quickly our channels are growing, and because of that we are now able to invest a lot more in programming," said Floris Bauer, Co-Founder of Gunpowder & Sky. "We are excited to take the channels to the next level, offering fans a highly curated mix of iconic titles, as well as boundary-pushing new films and series. And, for ALTER and DUST filmmakers just starting out, they get to see their short films live shoulder-to-shoulder with the masters of the genre, and be viewed by millions of people."
With a focus on quality over quantity, G&S was an early-mover when it started its FAST strategy in 2018, with a handcrafted and curated approach to building new "TV" channels. Today, both DUST and ALTER have garnered rapid distribution on all the major platforms, including Samsung, Roku, Sling TV, Freevee, Vizio, Xumo, STIRR, Samsung TV Plus, Tubi, LG and Redbox. With a collective audience of 12M+ monthly viewers, the channels have a loyal following of 10M+ fans on social media. In addition, the launch of the DUST podcast has garnered 6M+ downloads to date, and the team has worked with more than 1000 global filmmakers. "