HELLBOY: THE BONES OF GIANTS: "Timed to the twentieth anniversary of the publication of Hellboy: The Bones of Giants, legendary Hellboy creator Mike Mignola and bestselling novelist Christopher Golden are adapting their classic prose novel into an all-new four-issue comic book series, drawn by Barbarian Lord creator Matt Smith and featuring colors by Chris O'Halloran (Ice Cream Man) and lettering by Clem Robins. The debut issue of Hellboy: The Bones of Giants comes to comic shops this November.
"Matt Smith's Barbarian Lord is one of my favorite contemporary comics," said Mignola. "It's awfully hard to imagine an artist who is a better fit than Matt to draw Hellboy: The Bones of Giants, with its mix of Norse mythology and action-packed drama."
In Hellboy: The Bones of Giants, lightning strikes from a clear sky on a frozen riverbank in Sweden. The skeleton of a huge man is revealed, his fingers clutched around the handle of an iron hammer. No one who comes to see this marvel from Norse mythology can move it. No one, that is, but Hellboy, who lifts the hammer just in time for lightning to strike again, welding it to his hand and leading him toward a bizarre series of visions and encounters. What ensues is a wild adventure full of Norse legends, mythical creatures, and a threat that could bring not just Earth, but the Nine Realms of Norse mythology to their knees.
"Elves, dwarves, wolves, and giants. These are things I've drawn for myself many times before, because I love them," said Matt Smith. "I expect I'll continue to draw them until the wolf eats the sun or I am taken by trolls (fate goes as fate must). What I did not expect was to be invited to draw them for an adaptation of a novel I also love, and have read many times since it was released. Now I can only hope fellow Hellboy and Norse mythology fans have as good a time reading it as I did working on it. Skál!"
""It's a thrill to return to the world of Hellboy: The Bones of Giants," said Christopher Golden, whose highly anticipated new novel The Road of Bones has been endorsed by the likes of Stephen King, Paul Tremblay, and Stephen Graham Jones, and will be published in 2022 by St. Martin's Press. "I've been deeply in love with Norse mythology since first reading Dorothy Hosford's Thunder of the Gods in the fifth grade. I might have been the only one to take it out of the St. Bridget's School library that year, but I read it fifteen times, so there wasn't much opportunity for other kids to read it. When Mike first told me he had this image in his head of lightning flashing down from the sky to strike Mjollnir, where it lay in the grip of the corpse of Thor…well, that was like Christmas morning, getting to indulge my love of Norse myth and my love of Hellboy. The story that Mike and I created in the novel is epic, and now Hellboy's fight against the Frost Giants will get the full color treatment it deserves by one of the great artists making comics today—Matt Smith—who also happens to love Norse mythology even more than Mike and I do. This adaptation exists purely because Matt wanted to draw it, and when you see the art, you'll see how much fun we all had on every page."
Hellboy: The Bones of Giants #1 debuts on November 3rd, 2021. For more information about the Hellboy Universe, follow Dark Horse Comics on Twitter, Facebook and Instagram. "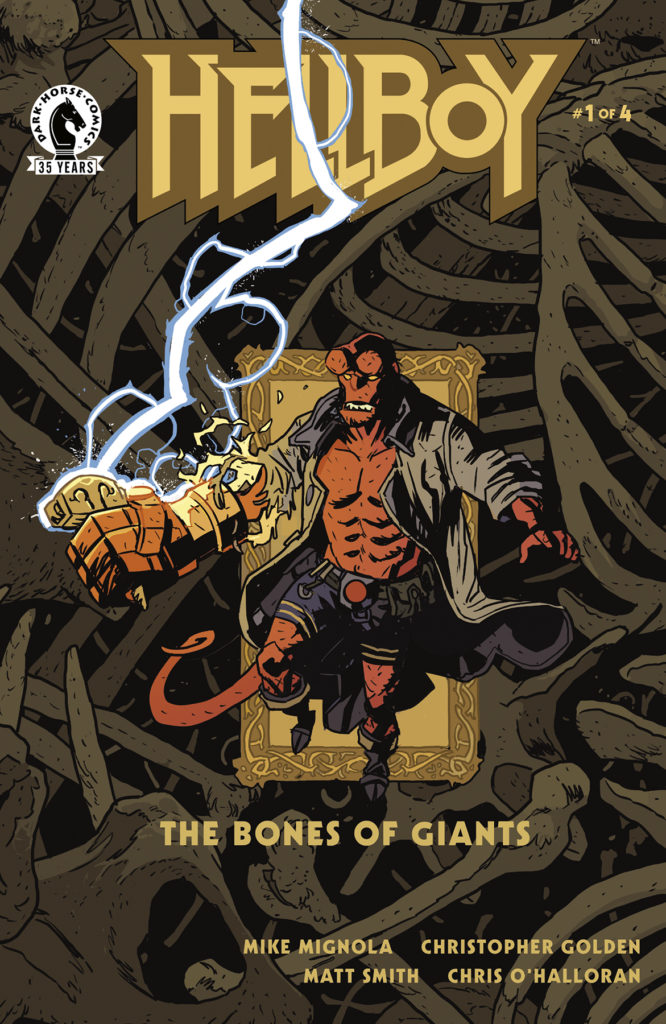 ---------
BROADCAST SIGNAL INTRUSION: "While logging tapes of decades-old TV broadcasts, video archivist James (Harry Shum Jr.) discovers a surreal and disturbing clip that James believes is the product of a mysterious broadcast signal hacking. His discovery takes a sinister turn when he tracks down similar broadcast intrusions that send him on an obsessive mission. Now James must confront two very real possibilities: that the videos may be clues to a crime beyond all comprehension; and that whoever was behind them may be very aware that James is coming uncomfortably close to the truth.
The film stars Harry Shum Jr. (Glee, Crazy Rich Asians), Kelley Mack (The Walking Dead) and Chris Sullivan (This Is Us, Stranger Things). BROADCAST SIGNAL INTRUSION was inspired by actual broadcast interruptions that occurred in the Windy City in the late 1980s, and remain unsolved to this day. The film is an unsettling journey into our collective technological nightmares, confronting our deepest, darkest fears of both man and machine.
Also releasing is the film's Original Motion Picture Soundtrack featuring composer Ben Lovett's trumpet-driven, noir-inspired original score. Variety noted Lovett's music "encompassed both a giallo-type theme in a vintage Morricone mode," while Forbes described the score as "the perfect soundtrack to drive down LA's neon streets at midnight, and certainly the right score to hear while investigating nefarious happenings under a rainy overpass." The album will be available on all major music streaming platforms October 22nd.
Cast: Harry Shum Jr. (Glee, Crazy Rich Asians), Kelley Mack (The Walking Dead), Chris Sullivan (This Is Us, Stranger Things), Jennifer Jelsema, Arif Yampolsky, Justin Welborn, Michael B. Woods, Steve Pringle
Director: Jacob Gentry
Writers: Phil Drinkwater, Tim Woodall
Producers: Greg Newman, Brett Hays, Giles Edwards, Nicola Goelzhaeuser
Executive Producer: Harry Shum Jr.
Production Company: Queensbury Pictures
Distributor: Dark Sky Films"
In theaters and on digital October 22
----------
HOSTAGE: "Suspense thriller HOSTAGE, directed by Eddie Augustin and starring Nicole Henderson, premieres on digital August 20 from Terror Films.
MARK is down on his luck & looking for a house to rob. He picks one that is seemingly empty and breaks in through the window. To his surprise, he is attacked by an unknown assailant, ASHLEY, the daughter of the people that live in the house and is taken hostage by the entire family."
"Hostage" is my feature film, directorial debut. After directing several short films, I decided it was time to make my own feature. I partnered with my long-time collaborator, Laura Polisena to co-write and produce a compelling story that would focus on a convoluted character and the people that made her that way. We also wanted to tell a story in which the audience does not know who to side for because everyone has their own evil motive (of course some are worse than others).
Along with my experience in short films, I come from a background in photography. I wanted to use my skills to visually tell a story in a limited space and work with a professional team to bring my eerie vision as to what might go on in a suburban house. The experience was challenging at times, but I'm pleased to say that we have managed to make something we are truly proud of."
-Director Eddie Augustin
--------
THE CREATURE PREACHERS' UNEARTHED CD: "Presented here for the first time in physical format, this collection of 13 selected tracks spans our recorded output thus far and includes two previously unreleased covers."
Creep From The Deep
Jack The Ripper
Mr. Hyde's New Ride
Reanimated
Summertime
Surf A.D.
Swamp Stomp
The Cringe
The Mortician's Intermission
The Mummy's Minuet
The Warlock
The Way I Feel Inside
Waking the Krampus
Learn more at: https://alteredstateofreverb.com/product/701640