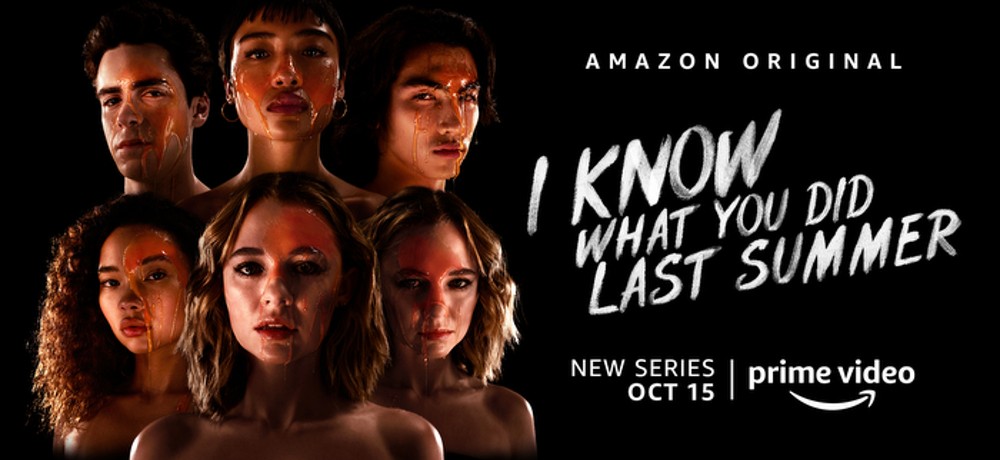 I KNOW WHAT YOU DID LAST SUMMER: "Written and executive produced by Sara Goodman, I Know What You Did Last Summer is based on Lois Duncan's 1973 novel, which was also the basis of the iconic 1997 film. One year after the fatal car accident that haunted their graduation night, a group of teenagers find themselves bound together by a dark secret and stalked by a brutal killer. As they try to piece together who's after them, they reveal the dark side of their seemingly perfect town—and themselves. Everyone is hiding something, and uncovering the wrong secret could be deadly. I Know What You Did Last Summer is produced by Amazon Studios and Sony Pictures Television. Goodman writes and executive produces alongside Original Film's Neal H. Moritz and Pavun Shetty, Erik Feig, Peter Guber, Atomic Monster's James Wan, Michael Clear, and Rob Hackett, Craig William Macneill and Shay Hatten. The series stars Madison Iseman, Bill Heck, Brianne Tju, Ezekiel Goodman, Ashley Moore, Sebastian Amoruso, Fiona Rene, Cassie Beck, and Brooke Bloom."
I Know What You Did Last Summer – New Series on Amazon Prime Video, October 15.
----------
ENTROPY: "On the same day Abby is diagnosed with ovarian cancer, she and her girlfriend, Miranda, are invited to dinner by Miranda's former self-help group to celebrate the return of their estranged friend, Scott, who left to discover the origins of their practices. But it's not long into the night until Abby realizes that Scott and the others have their own sinister methods by which they intend to heal her cancer-wracked body."
Crew:
Director -

Kameron Hale

Writers -

Scott Hale,

Kameron Hale

Producers -

Kameron Hale,

Scott Hale

Composer -

Justin Miller

Cinematographer -

Benjamin Paul Rigney

Editor -

Kameron Hale

Sound Department -

Scott Hale (

Sound Editor),

TJ Peloguin (

Boom operator)

Special Effects -

Petra Burkhalter (

Special Effects supervisor),

Eric Justin Bennett (

Mold Technician), 

Tyler Crews (

Special effects technician), 

Jenna Fox (

Special effects Makeup),

John Mulligan (

Special effects technician), 

Jordan Umerley (

Special effects technician)

Additional Crew -

Nathan Hackmann (

Production Assistant), 

Jordon Odoms (

Production Assistant)
Cast:
Miranda Nieman,

Hayley Sunshine,

Scott Hale,

William E. Newton,

Tyler Joseph Campbell,

Kristen Lopez,

Robert Lopez, and

Kameron Hale
Entropy was recently acquired by Gravitas Ventures, with plans to release the film digitally and on physical media in early 2022.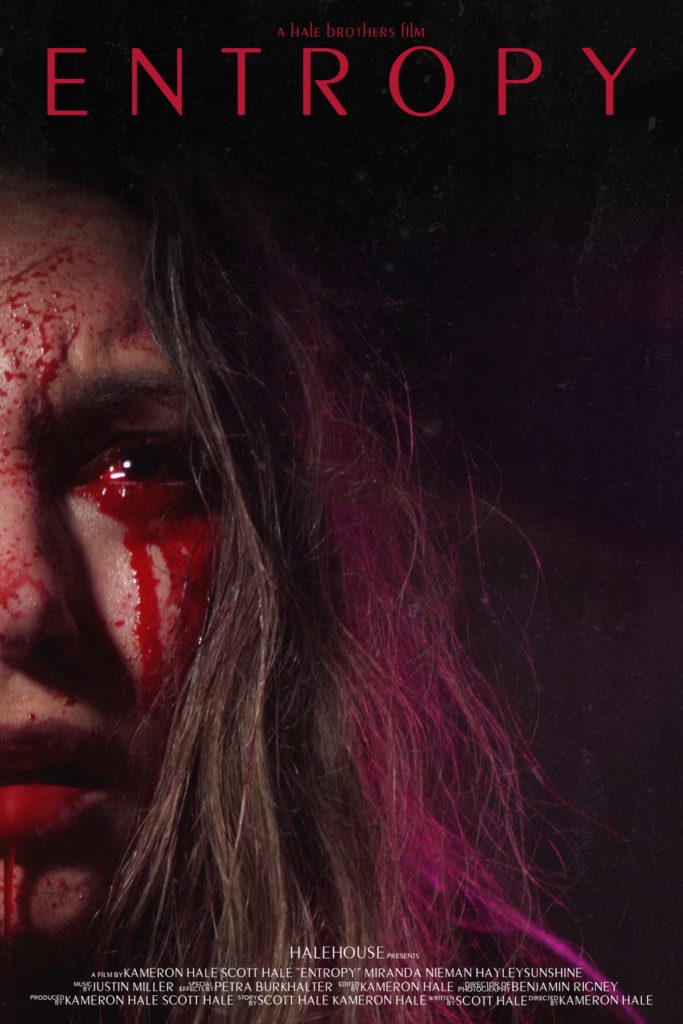 ---------
LADY USHER: "When Roderick (John Tupy) learns that his father has taken ill, he tells his fiancé Morgan (Billie D. Merritt, "Deputy") that he must leave college and head to his gothic-style southern home to be with his family. Though he warns her not to come, Morgan is encouraged by her friend Liz (Allyson Cristofaro, Breaking Them Up) to follow Roderick, making a surprise and unannounced trip to be by his side and meet his family. Shocked by her arrival, Roderick is forced to introduce Morgan to everyone - who are all learning about her for the first time - including the family matriarch, Lady Usher (Theresa Santiago, Emerald, Texas), who makes it evidently and venomously clear that she is unwelcome. With a household cursed by madness and unrequited love, Morgan's arrival spells the beginning of the end as Roderick's family will stop at nothing to prevent their marriage. Can Morgan survive long enough to take Roderick away from the madness that is the House of Usher?
In a modern-day retelling of Edgar Allan Poe's classic short story, The Fall of the House of Usher, Lady Usher is written, directed, and produced by George Adams (Climate of the Hunter), and also stars John Ferguson (Army of Frankensteins), Michael Gibbons (Wildlife), and Kim Titus ("Breakers")."
Limited Theatrical Release: September 10, 2021 at select theaters in Oklahoma City, Norman, and Tulsa, OK
Digital HD Release: September 14, 2021
DVD Release: October 10, 2021
Digital Platforms: Apple TV, DirecTV, Google Play, Prime Video, FandangoNOW, and more