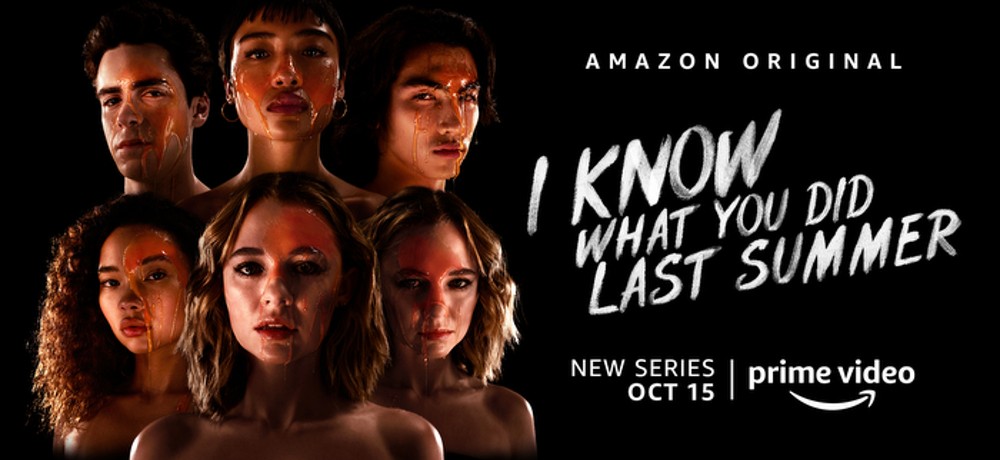 New Trailer for I KNOW WHAT YOU DID LAST SUMMER: "Written and executive produced by Sara Goodman, I Know What You Did Last Summer is based on Lois Duncan's 1973 novel, which was also the basis of the iconic 1997 film. One year after the fatal car accident that haunted their graduation night, a group of teenagers find themselves bound together by a dark secret and stalked by a brutal killer. As they try to piece together who's after them, they reveal the dark side of their seemingly perfect town—and themselves. Everyone is hiding something, and uncovering the wrong secret could be deadly. I Know What You Did Last Summer is produced by Amazon Studios and Sony Pictures Television. Goodman writes and executive produces alongside Original Film's Neal H. Moritz and Pavun Shetty, Erik Feig, Peter Guber, Atomic Monster's James Wan, Michael Clear, and Rob Hackett, Craig William Macneill and Shay Hatten. The series stars Madison Iseman, Bill Heck, Brianne Tju, Ezekiel Goodman, Ashley Moore, Sebastian Amoruso, Fiona Rene, Cassie Beck, and Brooke Bloom."
I Know What You Did Last Summer – New Series on Amazon Prime Video, October 15.
----------
THE SPORE: "Fleeing from civilization as a horrific plague ravages mankind. Meadow gets a lift from a stranger. When she sees that the driver is gruesomely infected, Meadow escapes and takes refuge in a cabin that's abandoned…or is it? The apocalypse started days earlier when an evil spore, long dormant beneath an ancient ice field, was awakened by global warming. Now, as ten strangers try to evade the madness, some must succumb to the hideously mutating fungus and claim the survivors as their bitter prey."
Coming to Digital, On Demand and DVD November 9
-----------
ARROW Announces October SVOD Lineup, Leading With Micro-Budget Horror DEMENTER & TEXAS CHAINSAW MASSACRE: THE SHOCKING TRUTH: "London, UK - Arrow Video is excited to announce the October 2021 lineup of their new subscription-based ARROW platform, available to subscribers in the US, Canada, the UK and Ireland.
The October lineup leads with the ARROW release of Chad Kinkle's sophomore feature Dementer, available to subscribers in the US, Canada, the UK and Ireland. Raw and unsettling, Dementer is a brave and unflinching story of lives lived on the fringes of society, and a battle with demons inside and out. Shot on real locations with many non-actors playing versions of themselves – including Kinkle's real life sister Stephanie – Dementer is a deeply personal genre film with an emotional punch that lingers long after the credits have rolled. The film will debut on ARROW October 1.
ARROW Stories will be home to a number of exclusive extras for Dementer, including several audio commentaries with director Chad Crawford Kinkle and the cast, The Making of Dementer, a brand-new in-depth look behind the scenes of how and why the film was made and In the Words of Larry, a new interview with actor Larry Fessenden discussing his role in Dementer and what drew him to the project.
Ahead of the ARROW bow of his latest film, Kinkle shared, "The idea for Dementer came from my desire to build a horror film around my sister Stephanie, who has Down syndrome. I wanted to go through this journey with her and see what type of experience it would be like to create a film like this and also to see what kind of film it would make."
October 1 will see the arrival of Dementer (UK/US/CA/IRE), Patrick (US/CA), Ban the Sadist Videos (UK/US/CA/IRE), Texas Chainsaw Massacre: The Shocking Truth (UK/US/CA/IRE), The Changeling (US/CA), Tales of the Uncanny (US/CA), Phil Tippett: Mad Dreams and Monsters (US/CA), The Frankenstein Complex (US/CA), and The Initiation (US).
October 1's Seasonal offerings kicks off with The Shocktober 31. 31 days, 31 movies. This October ARROW is bringing back the infamous Shocktober 31 and highlighting some of our favourite horror titles streaming on ARROW each day. From classic bloody chills to new thrills, the lineup changes daily so you won't need to spend hours scrolling for your fright fix this Halloween season.  Titles include: Dementer, Threshold, Kolobos, Beyond the Door, Dark Water, The Woman, Audition, Ringu, Deep Red, The Hills Have Eyes, The Stylist, The Mutilator and more.Also launching on October 1 is Shocktober Essentials. This Halloween, ARROW is bringing home a devilishly curated selection of twelve must-watch collections with our Shocktober Essentials. All treats, no tricks. The categories include: Zombies, Vampires, Monsters, Spirits, Giallo, Slashers, Comedies, Gore, Psychological, Documentaries, 70s Horrors, and 80s Horrors.
October 2 sees the arrival of F.W. Murnau's Nosferatu (UK/US). An unauthorized adaptation of Bram Stoker's Dracula, Murnau's surreal 1922 cine-fable remains the original and landmark entry in the entire global tradition of "the horror film".
October 4 will debut Clive Barker's Rawhead Rex (US), following a hulking, ancient demon as it tears a bloody swathe across the Irish countryside.
October 8 packs the spooky schedule with Anthropophagous (US/CA), The Manson Family (UK/US/CA/IRE), Paganini Horror (US/CA), Vampyros Lesbos (US/CA), 100 Monsters (UK/US/CA/IRE), Along with Ghosts (UK/US/CA/IRE), The Great Yokai War (UK/US/CA/IRE), and Spook Warfare (UK/US/CA/IRE).
October 8's Season goes to the ghouls with Monster Mash: a suitably spooky offering of five Japanese monster movies.Titles include: 100 Monsters, Along with Ghosts, Spook Warfare, The Great Yokai War, The Snake Girl and the Silver Haired-Witch.
October 11 gets full with the spirit of Halloween, launching Fulci for Fake (US/CA), Thirst (US/CA), Emanuelle and the Last Cannibals (US/CA), Zombie 3 (US/CA), Demonia (UK/US/CA/IRE), Aenigma (US/CA), Primitives (US/CA), and Massacre in Dinosaur Valley (US/CA).
Also on October 11 is a Seasonal celebration of the Godfather of Gore with Maestro of the Macabre: The Films of Lucio Fulci. From eye-gouging horrors, to demonic mayhem, plus a twisted take on the classic Italian Western, ARROW is ready to unlock the gates of Hell to unleash a brand of Italian terror that you'll never forget! Titles include: Demonia, Zombie, Aenigma, Massacre Time, Manhattan Baby.
October 15 goes deep into the dangers of the animal kingdom with The Uncanny (US/CA), Killer Crocodile (US/CA), and Killer Crocodile 2 (US/CA).
October 15 heads to the Amazon for a Season of tropical terror with Welcome to the Jungle. Titles include: Emanuelle and the last Cannibals, Robowar, Killer Crocodile, The Annihilators.
October 18 weaves a terrifying tale with Olaf Ittenbach's The Burning Moon (US/CA), complete with two terrifying bedtime stories of the damned.
October 22 caps off the month, heading straight towards Halloween with a celebration of death and gore with Zombie 4 (US/CA) and 1982's Death Screams (UK/US/CA/IRE), a body count-heavy, long overlooked slice of Southern fried hack-and-slash. Lovingly restored from the only-known existing 35mm print, this little-seen slasher classic is ready to carve its way into the bleeding hearts of horror fans everywhere!
On October 22, ARROW honors the reason for the season with a look back at a number of horror classics in the final Season of the month: Behind the Screams. Behind the Screams is a curated lineup of deep-diving docs that will dish dirt and drop knowledge on everyone and everything from The Texas Chainsaw Massacre to Ken Russell's The Devils to Hellraiser and beyond. Titles include: Ban the Sadist Videos, Texas Chainsaw Massacre: The Shocking Truth, Hell On Earth: The Desecration and Resurrection of Ken Russell's The Devils, Phil Tipett: Mad Dreams and Monsters, Fulci for Fake.
-
ARROW is available in the US, Canada, the UK and Ireland on the following Apps/devices: Roku (all Roku sticks, boxes, devices, etc), Apple TV & iOS devices, Android TV and mobile devices , Fire TV (all Amazon Fire TV Sticks, boxes, etc), and on all web browsers at https://www.arrow-player.com.