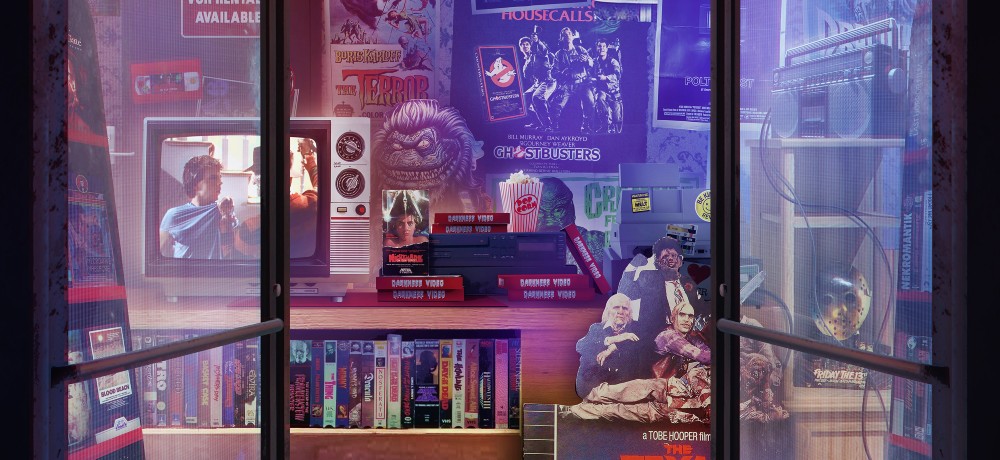 IN SEARCH OF DARKNESS: PART III: In Search of Darkness: Part III, the final chapter in the worldwide '80s horror documentary In Search of Darkness saga from CREATORVC, will be available to the public for a limited-time membership sale from October 6th through midnight on October 31st (Halloween) at 80sHorrorDoc.com.
Building on the momentum of two celebrated superdocs and high demand from fans for more,  In Search of Darkness: Part III promises to offer another 4+ hours of deeper cuts and to highlight the "underbelly" of '80s horror movies. This final chapter in the superdoc saga moves beyond the focus of  In Search of Darkness: Part 1 & 2, paying special attention to the straight-to-VHS era and championing the titles historically found at the very bottom of the video rental shelf.
Returning cast members include Robert Englund, Linnea Quigley, Tom Savini, Cassandra Peterson, Lloyd Kaufman, Kane Hodder, Bill Moseley, Geretta Geretta, Doug Bradley, John Carpenter, and many more In Search of Darkness staples. New faces to the series include Adrienne Barbeau, Dee Wallace, Julie Brown, Gene Simmons, and more to be announced.
Supporters of this membership drive for In Search of Darkness: Part III will not only help enable the film production for this final chapter, but will also become members of an exclusive Video Club --  in honor of the programs from the bygone video store days -- and be welcomed to participate  an unique co-curating experience that will decide the films and themes featured in the documentary.
Membership Merchandise Includes:
In Search of Darkness: Part III Blu-ray w/ slipcase and inlay booklet

Digital copy of In Search of Darkness: Part III

Digital soundtrack for In Search of Darkness: Part III

3 exclusive In Search of Darkness: Part III posters (16.5" x 23.4")

Collectible enamel pin (while supplies last)

12-month membership engagement program and schedule

Exclusive Video Club Membership Card

Name in In Search of Darkness: Part III credits
Optional Upgrades:
In Search of Darkness Blu-ray

In Search of Darkness: Part II Blu-ray

Associate Producer, Producer and Executive Producer credits available

Special 3x disc slipcase (Limited to campaign supporters of In Search of Darkness: Part 1 & 2)
In Search of Darkness: Part III is executive-produced by Robin Block and written/directed by David Weiner.
From In Search of Darkness: Part III writer/director David Weiner:
"When we completed In Search of Darkness: Part II, I was afraid that we might have hammered the final nail into the '80s horror coffin. But the overwhelming encouragement and enthusiasm from fans for even more exploration and discussion of '80s horror goodness fills me with joy. There is an almost never-ending supply of dark and quirky films to mine from the dusty bottom shelves of our collective basement video stores. And this final, extended celebration of the era in In Search of Darkness: Part III may be the most nostalgic and heartfelt yet."
From CREATORVC CEO and executive producer Robin Block:
"Our mission is to provide backers with a truly immersive and interactive '80s Horror experience that will last throughout the production lifecycle. Join us as we deep dive into the straight to video era and uncover the hidden treasure from the depths of the VHS archive. We offer a once-in-a-lifetime opportunity to celebrate this unique era of horror cinema and for hardcore fans to co-curate the defining documentary opus."
About CREATORVC: An independent producer of community-powered entertainment: long-form factual content that is funded, inspired, and shaped by a dedicated community of fans. CREATORVC projects include the 'critically acclaimed' documentaries In Search of Darkness I & II, the upcoming In Search of Tomorrow, First Person Shooter.  For more information go to www.creatorvc.com or CREATORVC's YouTube channel.
----------
The Luchador: The 1,000 Fights of El Fuego Fuerte: "LOS ANGELES, CA –  / A fresh action-adventure audio drama featuring some of the most recognizable and eclectic voices in professional wrestling makes its in-ring debut across every major podcast platform on Tuesday, October 5th.
The Luchador: The 1,000 Fights of El Fuego Fuerte is set in a supernaturally charged world of Lucha Libre and Mesoamerican myth. The show follows the story of the "Champion of Mexico City", the heroic yet often ethically perplexed El Fuego Fuerte. Season one finds Fuerte confronting an Aztec vampire menacem on a rampage to corrupt and enlist Mexico City's finest wrestlers into their undead army.
Colt Cabana, well known wrestler seen in both AEW and WWE, joins the cast as a guest star right from Chapter One. Cabana summed up his interest in the project, "After wrestling around the world for the past two decades, I have never seen Lucahdores fighting vampires. It must be seen… I mean… heard to be believed."
Another wrestler who's built a loyal fanbase through his online presence and work in Ring Of Honor, Danhausen, weighed in with his experience on the show in his own inimitable style, "Danhausen had a great time on The Luchador because it allowed him to do a whole new role. Danhausen's character he played was very bad, very evil! Much different than very nice, very evil."
The five-episode debut season goes on to be filled with more guest stars every major wrestling fan will know and love including including Luchasaurus (AEW, Lucha Underground), Effie (Effie's Big Gay Brunch), and Raven (ECW, WWE)
Show creator Daniel Valero Fletcher drew inspiration to create this fresh take on the beloved pastime of Lucha Libre from his long-time love of professional wrestling and desire to bring inclusive representation of Latinx/e voices to noir storytelling. Valero Fletcher states, "I hope this  show is a gateway that inspires people to go and watch some of the amazing films made in Mexico in the 1960s and 70s. Lucha Libre stars like El Santo and Blue Demon really inspired this podcast. In a lot of ways, The Luchador is me honoring a part of my culture that I've always wanted to feel closer to."
Episodes will be released biweekly beginning October 5th through November 30th. Fans can listen and subscribe on nearly any podcast platform. Learn more here: https://anchor.fm/theluchadorpod
More About the Creator

Daniel Valero Fletcher is a writer and producer living in Austin, Texas. A graduate of the Loyola Marymount University School of Film and Television MFA Screenwriting program, he focuses on creating imaginative genre content wherever he can find an audience. He previously turned his day job as a self-taught coder into a successful four part web series where greek gods run a tech start up (The Pantheon.) The Luchador: The 1,000 Fights of El Fuego Fuerte is his first podcast and a celebration of his Mexican-American heritage and lifelong love of professional wrestling."
--------
HOLLYWOOD & VAMP: "Announcing HOLLYWOOD & VAMP, an immersive theatrical show experience like no other -- taking audiences into the unsettling underworld of vampires and depravity, Hollywood Queen Vamp, Theda Bara and her sultry staff welcome you to their bar where vampires and humans co-exist, for now.   This fantastic new show is a tongue-in-cheek blend of pop culture, Hollywood and Halloween.  A unique adult production built for those looking to fill their October with seasonal experiences appears for FOUR WEEKNIGHTS ONLY – OCTOBER 19 & 20 and OCTOBER 26 & 27.   It features an all-star cast from Rock of Ages Hollywood and veteran immersive theatre performers sharing scenes with each other and the audience in an innovative blending of rock opera and immersive haunt experience.
HOLLYWOOD & VAMP is one-part immersive theatre experience and one-part rock show, but together it's an experience unlike anything else.
A sexy/campy send-up to Halloween, HOLLYWOOD & VAMP appears at Hollywood's popular performance venue, The Bourbon Room, which also serves as home to the hugely popular Rock of Ages show.  From the team that created 2020's acclaimed "Quaranscream Live," a blend of live theatre and film, done virtually during the pandemic, 88Twenty Group proudly returns for 2021 with a nearly all female production to deliver a live in-person show.
Tickets for HOLLYWOOD & VAMP will sellout.  More information and tickets are now available online at http://hollywoodandvamp.com or at The Bourbon Room, priced at $75, which includes full access to the show and a specialty cocktail, to get the fun started.
About the HOLLYWOOD & VAMP Show:
You're summoned into a Hollywood bar owned and operated by the Queen Vamp of Hollywood, Theda Bara. She insists her human staff all be sultry hot, and her vampire children all behave for their human guests... and for the most part they do.
Guests get the opportunity to mingle with vampires, some of whom seem friendly, some of whom are less so... but from the very beginning, this bar doesn't seem as safe as you've been led to believe, whispers of a torture chamber in the kitchen and nightly ritual killings, is this just a feeding ground for vampires you've foolishly walked straight into? But the drinks are delicious and the atmosphere's forbidden alure is too intoxicating to deny…
You're invited into the theatre for a show, despite your better judgement, you journey beyond the curtain and find yourself locked in. The music starts and it's like being front row at on the Strip in the 80s while Guns N Roses and Motley Crue shredded away in tiny clubs and you think to yourself... maybe this isn't too bad.   But then one vampire attacks someone, then another, before you know it the entire room is in a frenzy of vampires fighting vampires and you're just caught in the middle. When the sun rises you only hope you can walk out into the warm air and breathe it in, but that's not guaranteed.
VERY Limited Week Day Show Run Dates: 10/19, 10/20, 10/26, 10/27
Ticket Price: $75 including a specialty cocktail
Tickets are non-refundable & non-transferable. Proof of Covid vaccination is required.
Tickets available at: http://hollywoodandvamp.com
Location:  The Bourbon Room – 5356 Hollywood Blvd, Hollywood 90028"
----------
CURIA: "The October collection will feature several new collections including a Gothic Horror collection, anchored by the legendary Roger Corman, Mario Bava and Vincent Price, as well as a Bloodlust collection that spans almost 100 years of cinema featuring films that are all bonded together though the lust for blood, mayhem, or simple bloodshed.
CURIA "You Had Me at Curia" Podcast
CURIA has also launched a new podcast, "You Had Me at Curia," with two new episodes launching this month. CURIA brings that special human touch into the new streaming era, inspiring their first "Staff pics" episode. Host Ricky Camilleri and the CURIA team share their favorite movies from the October film collections for truly trustworthy, insightful, and one-of-a-kind recommendations. Their next episode, releasing on October 4th, dives into their "Beginner's Luck" collection of films that highlight first-time feature films from some of today's most notable and exciting filmmakers. Join CURIA's Jarod Neece, host Ricky Camilleri, and their special guest Oscar-winning producer, Adele Romanski as they dive into this exciting group of films. The podcasts will available here, as well as on Acast, Spotfiy, and Apple Podcasts.
CURIA October Collection Highlight
Check out the sizzle reel below for CURIA'S October collection highlights and more details on the current collections. Press access to CURIA is available upon request and interview opportunities are with the team behind acquisitions in programming - Garrett Weaver (formerly Director of Acquisitions at Universal Pictures) and Jarod Neece (former Film Programmer and Event Producer at SXSW)."
Learn more at: https://curia.tv/