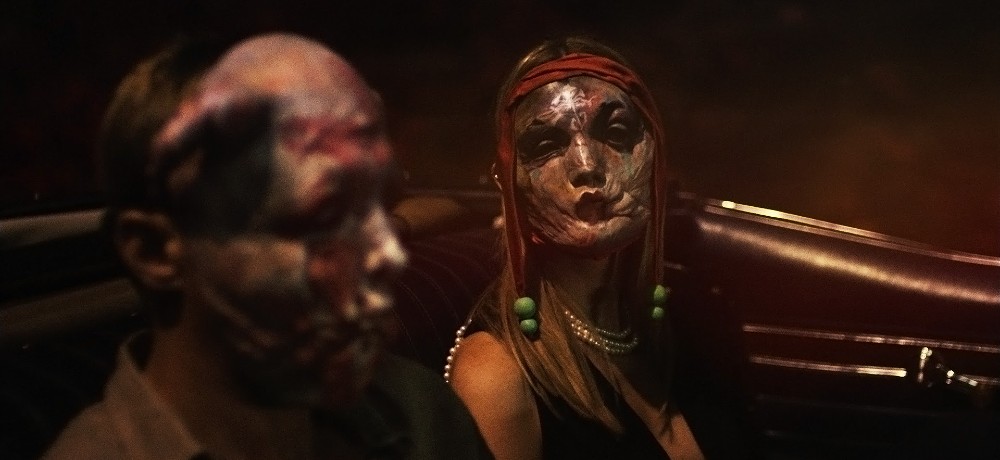 INFINITY POOL Trailer: "While staying at an isolated island resort, James (Alexander Skarsgård) and Em (Cleopatra Coleman) are enjoying a perfect vacation of pristine beaches, exceptional staff, and soaking up the sun. But guided by the seductive and mysterious Gabi (Mia Goth), they venture outside the resort grounds and find themselves in a culture filled with violence, hedonism, and untold horror. A tragic accident leaves them facing a zero tolerance policy for crime: either you'll be executed, or, if you're rich enough to afford it, you can watch yourself die instead.Show less"
In Theaters January 27th, 2023
---
TALES FROM MIDDLETON HIGH: "Evil cheerleaders…haunted dances…deadly school plays…follow Principal Clemens as she recounts strange and terrifying tales from Middleton High - the most haunted high school in the United States."
MAIN CREW: 
MAIN CAST: 
Avril Dominguez…

Penelope, Anne, Permelia, Pearlie 

Roxanne Saylor…

Principal Clemens 

Danielle Lauder…

Lucy 

Lauren Elyse Buckley…

Daphne 

Brittany Lewis…

Brittney 

Anjali Nath…

Greta 

Hannah Shealy

…Cynthia 

Sarah J Bartholomew…

Melinda
Now Streaming on Tubi: https://tubitv.com/movies/703185/tales-from-middleton-high?start=true
---
CORMAN/POE : Upcoming Roger Corman Interview Book Now On Pre-Sale!: "Filmmaker and author Chris Alexander charts the making of the classic and influential "Poe Cycle" of horror films in CORMAN/POE, a new, fully illustrated book featuring over two decades of extensive, revealing interviews with - as well as a brand new foreword from - maverick director Roger Corman.
The book (officially releasing June 6th from UK's Headpress) is currently pre-ordering from Amazon international, Barnes & Noble, Indigo Books and many other notable booksellers.
About the Book
THE FALL OF THE HOUSE OF USHER, THE PIT AND THE PENDULUM, PREMATURE BURIAL, TALES OF TERROR, THE HAUNTED PALACE, THE RAVEN, MASQUE OF THE RED DEATH, THE TOMB OF LIGEIA…
Produced on modest budgets for American International Pictures, iconic independent film director Roger Corman's adaptations of Edgar Allan Poe stories were popular in their time as escapist horror cinema. Most starred horror icon Vincent Price and were written (and "freely adapted") by the likes of Richard Matheson, Charles Beaumont and Robert Towne. Today the series is recognized as unique and sophisticated, one that delivers decadent Gothic chills while exploring ideas of faith, sexuality, psychology and the supernatural.
CORMAN/POE: Interviews and Essays Exploring the Making of Roger Corman's Edgar Allan Poe Films, 1960–1964 is the only book to fully examine this important chapter in horror film history. In-depth conversations with the maverick Roger Corman are book-ended by engaging critical analyses of each of the eight films, which together stand as a fully realized and consistent creative vision.
The book is illustrated with dozens of photographs and stills, many of which have never been published before, and features a brand-new foreword from Corman.
About the Authors:
CHRIS ALEXANDER
Chris Alexander is a Canadian writer, editor, music composer and filmmaker. He is the former editor-in-chief of iconic horror film magazine FANGORIA and editor-in-chief/co-founder of DELIRIUM magazine. He is the writer, director and composer of numerous horror films, including BLOOD FOR IRINA, QUEEN OF BLOOD, SPACE VAMPIRE and many others. He has released the albums MUSIC FOR MURDER, BLUE EYES OF THE BROKEN DOLL and BODY DOUBLE. He is a professor of horror film history at Canada's Sheridan College and the proud father of three wonderful sons.
ROGER CORMAN
Director, producer, distributor and mentor Roger Corman, often dubbed "The Pope of Pop Cinema", is widely recognized as one of the founding fathers of independent genre cinema via his pioneering work in the 1950s and '60s. In the1970s, Corman found even greater success with his company New World Pictures and in the1980s became a major player in the direct to video and cable market boom. Along the way he has discovered and nurtured such major talents as Francis Ford Coppola, Jack Nicholson, Dick Miller, Joe Dante, Martin Scorsese, Jonathan Demme, James Cameron and many more."