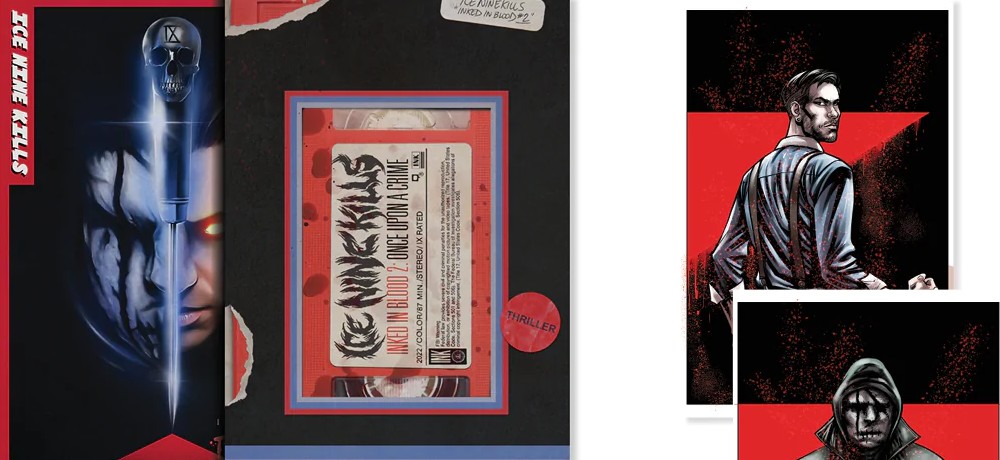 Ice Nine Kills & Z2 Return For More Meta Carnage in New Graphic Novel Sequel, Inked in Blood II: Once Upon A Crime: "New York City—Z2 is proud to announce Ice Nine Kills—Inked in Blood II: Once Upon A Crime, the sequel to last year's slasher thriller. This new volume blends the real-world journey of the famed theatrical metal pioneers with a claustrophobic, adrenaline-doused dose of serial-killer slayings. Due in Fall 2023, the direct sequel unites Ice Nine Kills architect Spencer Charnas with co-writer Ryan J. Downey and artists Nino Cammarata and Giorgia Sposito. Mike Cortada, who's responsible for the evocative album artwork behind Ice Nine Kills' most recent albums The Silver Scream and Welcome to Horrorwood: The Silver Scream 2, returns to illustrate the cover art.
Ice Nine Kills—Inked in Blood II escalates the tension from the first volume, introducing Max Charnas—the identical twin brother of INK mastermind Spencer Charnas—who hatches a plan to blackmail, frame, and destroy his sibling. The new volume ignites at The Silver Scream Con, the real-world Massachusetts gathering that debuted last August, where the blood and power chords continue to fly. The resulting thrill ride packs more crunch and hooks than an Ice Nine Kills breakdown, with serial killers and doppelgängers cleaving a bloody path from panel to panel.
"I'm bloody honored that Spencer asked me to take a stab at telling this story with him," writer Ryan J. Downey explains. "He's one of my favorite people, even if I half expect to find him lurking outside my window some rainy night."
Ice Nine Kills has honed its sound over the course of two decades plus, evolving into a serrated metal and hardcore beast that's netted opening slots for industry icons including Metallica and Slipknot. The group's last two albums—2018's The Silver Scream and last year's Welcome To Horrorwood: The Silver Scream 2—both embraced Charnas' adoration of '80s and '90s celluloid terror, each song paying homage to a hallmark horror movie with an accompanying video. The videos often star actors and props from the inspiring films.
"We're stoked to be teaming up again with Spencer and Ice Nine Kills," editor Camilla Zhang continues. "Nobody does heavy riffs and brutal twists better, and Inked in Blood 2 begs for even more carnage."
Z2 and Ice Nine Kills present Inked In Blood II: Once Upon a Crime in standard hardcover and deluxe hardcover editions, set to release Fall 2023. The deluxe hardcover will come with a print triptych by Phillip Sevy art prints and two-sided Spencer Charnas collector's coin. Oversized platinum editions will come signed by Spencer Charnas with an elegant slipcase, the triptych art prints, the double-sided collector's coin, and the Ice Nine Kills double LP of Welcome to Horrorwood: The Silver Scream 2 in an exclusive purple splatter vinyl variant."
Preorder now at https://z2comics.com/products/ink2
---
HERETIC: "Hannah Blair (Marlene McCohen, "It's Always Sunny in Philadelphia") tells people stories, predicts their future and even dabbles in communicating with the dead. One stormy night that all changes when she meets Rachel (Ginny You, Robin Hood: Ghosts of Sherwood), who is actually a dead, lost spirit. Emboldened by this event, she is determined to find out the truth about what happened to her parents' years before. Hannah embarks on a journey into the netherworld where she comes face to face with the Entity. An evil who has haunted mankind since the dawn of time and, who now, wants Hannah."
Release Details 
DVD + On Demand Release: January 31, 2022
Digital Availability: Apple TV, Prime Video, Vudu, Google Play, DirecTV and more Run Time: 87 Minutes
Rating: Not Rated
---
Cinedigm Acquires the Darkly Comedic SXSW Oddity JETHICA for the U.S.: "Cinedigm announced today the acquisition of Pete Ohs' offbeat genre-bender Jethica, which premiered at SXSW earlier this year, and released the first trailer for the film ahead of its release early next year in the U.S. Well received by critics and audiences, the film has a 91% rating on Rotten Tomatoes and has screened at festivals around the world including Busan, Overlook, Maryland, Filmfort, Germany's B3 Biennial, and the Brooklyn Horror Film Festival — where it received a Special Jury Award.
Jethica is set to release in select theaters Friday, January 13, starting with a run in L.A. at the Lumiere Music Hall, before premiering on the company's indie discovery platform Fandor on Tuesday, February 14, followed by an exclusive window on Cinedigm's horror streaming service Screambox.
Hailed by Indiewire as "a rising filmmaker well worth the attention," Jethica director Pete Ohs (Youngstown, Everything Beautiful Is Far Away) has created "a distinctive funny-sad look at alienation and the extreme desire for companionship in the middle of an empty world," while Variety praised the film as "an ingenious, deadpan horror-satire [with] an endearingly throwback vibe." Collider called it "a ghoulish delight" while Deadline noted its "biting sarcasm that's utilized in a way rarely seen in the genre."
In this future cult classic, Jessica lives in fear of a man named Kevin who follows her everywhere she goes. While on a road trip in New Mexico, she reconnects with Elena — an old friend she hasn't seen since high school — who has been hiding out at her deceased grandmother's ranch. When Kevin mysteriously appears again, Jessica and Elena seek help from beyond the grave to get rid of him for good... but Kevin is different from other stalkers and won't move on so easily.
Jethica is co-written by Ohs in collaboration with stars Callie Hernandez (Under the Silver Lake), Ashley Denise Robinson (The Beta Test), Andy Faulkner (Youngstown), and Will Madden (The Wolf of Snow Hollow). The intimate production was carried by Ohs, who also shot, edited, and produced the film, with Ryan Kampe acting as Executive Producer.
"Cinedigm has given an incredible platform to independent cinema thanks to Fandor, and I'm thrilled that Jethica will be a part of it," said director Pete Ohs. "It's meaningful when small movies like this get the opportunity to reach a wider audience. I think we made a very cool and strange film that challenges expectations and I'm looking forward to more people seeing it."
"Jethica is a gift for adventurous viewers, a singular creation that could be described as a comedy, a drama, even a supernatural thriller," said Aaron Hillis, Director of Programming for Cinedigm. "Life doesn't fit neatly into one genre, and the story Pete Ohs and his players have told is both outrageously weird yet profoundly human."
The deal was negotiated by Brandon Hill, Director of Acquisitions, on behalf of Cinedigm and Ryan Kampe of Visit Films on behalf of the filmmakers."