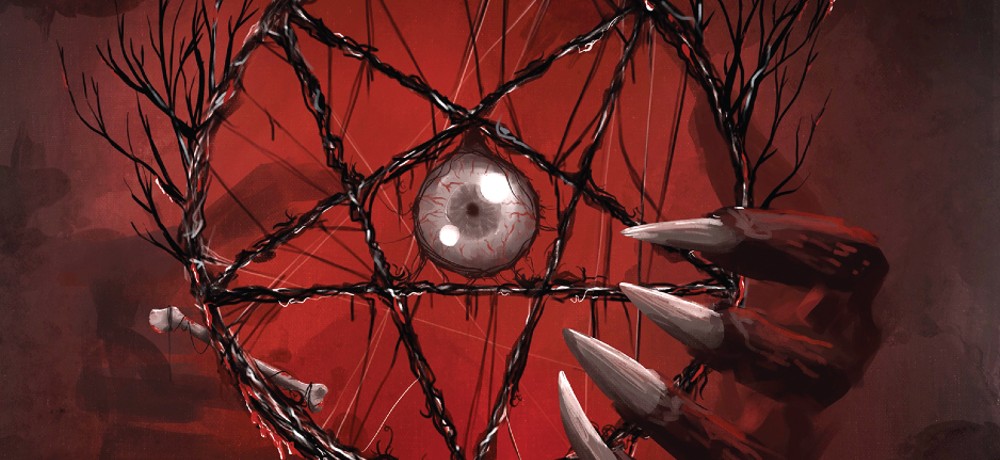 John Penney Set To Release His Third Novel IT COMES BACK: "John Penney, known for writing horror film favorites Return of the Living Dead 3 and The Kindred, is set to release his third novel with It Comes Back. An evil presence preys on the trauma, guilt and people's unsuccessful attempts to run away from their past mistakes.
It knows what you did… It will use it against you.
Allison Cutter is just a typical housewife living in California with her husband Ray. One night she wakes up to find herself alone in her bed with Ray nowhere in sight. She looks for him, but instead of finding her husband, she finds a different man in her kitchen. A completely nude man with slashed wrists raiding her refrigerator. Before Allison can call for help, she is stabbed seven times in the back. What follows is a story of a man framed for his wife's murder and a sinister truth everyone will soon discover.
Some genre greats reflect on It Comes Back:
"John Penney's latest masterful suspense novel is a spine-tingling delight…Mr. Penney's brilliant work…gets under your skin and creeps into your soul! Brilliant insights into the psychology of guilt and terror make it an unforgettable page-turner! Do NOT miss this fantastic read!" – Steve Carpenter (Creator of "Grimm" – NBC television)
"In his latest book John Penney serves up horror with a vengeance!
During a single hellacious night at a remote desert police station this roller coaster ride of a thriller brings us face to face with a unique supernatural horror that feeds off guilt and loss.
It is a riveting and satisfying nightmare." – Brian Yuzna (Director of Society, The Dentist, and Bride of Re-Animator)
Penney is known for writing horror film favorites Return of the Living Dead 3 and The Kindred. He also wrote and directed the supernatural thriller, Hellgate, which starred William Hurt and Cary Elwes. He has also written and directed additional films such as Zyzzyx Road, starring Katherine Heigl, and Magic featuring Christopher Lloyd.
Other books by Penney include Truck Stop and Killing Time.
It Comes Back will be available everywhere books are sold on May 19, 2023. You can pre-order now. You can also buy direct physical copies from Encyclopocalypse right now at BuyHorrorBooks.com and receive early shipping.
Since its inception, Encyclopocalypse Publications has become a coveted publishing destination for independent authors and genre notables alike. Alongside producing audiobook renditions of literary classics, the imprint continually expands its catalog with new, original works and movie novelizations by the best dark fiction writers in the business today."
To learn more and pre-order, visit: https://www.encyclopocalypse.com/product/it-comes-back/123
Cover Art by: Teguh Suwanda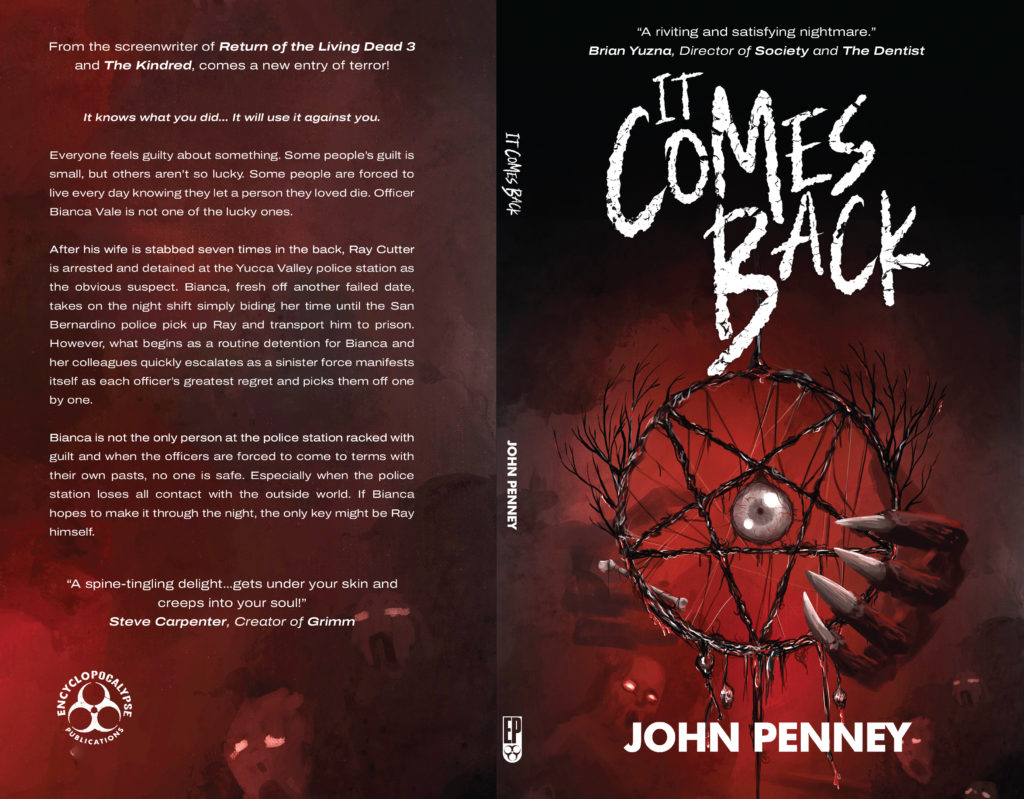 ---
Watch Experimental Horror Short Film "Succubus à Distance": "A young woman suffers night terrors which suggest that all may not safely rest in the realm of sleep."
Starring Syn Ariad & Raven Victoria
Written & Directed by Hal Sinden
1st Assistant Director & Key Grip - Dan Newcomb
Digital Colourist & Post Production Consultant - Hien Lam
To watch now, visit: https://www.youtube.com/watch?v=5Vwho7_JMqQ
---
ARROW April Releases: "Key highlights this April on the essential, alternative streaming service ARROW includes, in eye-popping 4K on www.Arrow-Player.com, David Cronenberg's adaptation of the cult classic novel Naked Lunch; the extraordinary slime mould documentary The Creeping Garden; a triple bill starring the incomparable Nicolas Cage; four films from Japanese auteur Nobuhiko Ôbayashi, as well as much more...
In April, ARROW are proud to present - streaming in all its hallucinatory glory in 4K only on www.Arrow-Player.com - Naked Lunch, David Cronenberg's adaptation of William S. Burroughs' cult 1959 novel. Starring Peter Weller and Judy Davis, and featuring outlandish visuals and unforgettable creature effects melded with a discombobulating nightmare jazz score, this is an absolute one-of-a-kind film that will burrow into your brain and never leave…
April sees the addition of The Creeping Garden, an award-winning feature-length documentary exploring the extraordinary world of the plasmodial slime mould, as revealed through the eyes of the fringe scientists, mycologists and artists who work with them. Long overlooked by biologists, in recent years this curious organism has become the focus of much research in such areas as biological-inspired design, emergence theory, unconventional computing and robot engineering, much of which borders on the world of science fiction. The film depicts these otherworldly lifeforms using startling time-lapse macro-cinematography to reveal hidden facets of the world around us.
Showing on ARROW are four films from legendary Japanese director Nobuhiko Ôbayashi, a cinema pioneer whose career spanned sixty years and dozens of films. Immerse yourself into the wonderful, visionary world of Ôbayashi with the intriguing sci-fi fantasies School in the Crosshairs and The Girl Who Leapt Through Time, the dazzling magical adventure The Island Closest to Heaven, and the romantic drama His Motorbike, Her Island. 
Seasons in April include Cage Rage, a fantastic triple bill of films starring the Oscar-winning meme icon and cult hero Nicolas Cage - the horror mystery Pay the Ghost, where he is hunting for the son he had taken from him at a Halloween carnival; the strange but sort of true comedy Army of One, which sees Cage as a modern-day Don Quixote commanded by God (Russell Brand) to kill Osama Bin Laden with a sword bought from a shopping channel; and the slick thriller, Inconceivable, which sees Nic facing off against an obsessed nanny. April sees Ban This Sick Filth: The Return, where the disgusting reprobates at ARROW have filled their streaming airwaves with the sauciest, dirtiest, sleaziest, most controversial content imaginable!
ALSO SHOWING: Insightful documentaries on legendary directors Sam Peckinpah and Peter Bogdanovich, horror in the woods in Cabin Fever, a selection of unmissable film picks from directing duo Justin Benson and Aaron Moorhead, mad scientists, zombies and much much more…
APRIL RELEASE CALENDAR
New Titles – From April 3
Benson & Moorhead Selects
New Titles – From April 7
Sam Peckinpah: Man of Iron
Pieces of Time: Bogdanovich on the Movies
The Dead Walk!
From April 10
From April 14
Army of One
Inconceivable
Pay the Ghost
From April 17
From April 21
School in the Crosshairs
The Girl Who Leapt Through Time
The Island Closest to Heaven
His Motorbike, Her Island
Ban This Sick Filth: The Return
From April 28
Cabin Fever
The Creeping Garden
It's Alive! The Mad Scientists Collection
ARROW is now available on Xbox
Where to get it
The Art of Cult. Head to ARROW and start your 30-day free trial. Available on the following Apps/devices: Xbox, Roku (all Roku sticks, boxes, devices, etc), Apple TV; iOS devices, Android TV and mobile devices, Fire TV (all Amazon Fire TV Sticks, boxes, etc), and on all web browsers at www.ARROW-Player.com."
---
TOMMY GUNS: "With his eccentric, shape-shifting breakthrough, Carlos Conceição confidently announces his arrival as a daring filmmaker preoccupied with the colonialist legacy of his native country. Set in 1974 Angola, during the waning days of Portugal's militaristic rule over the African nation, the film jumps between different perspectives, including those of local rebels and villagers contending with the persistence of authoritarian forces and the occupying soldiers who occasionally use the weapons of the title with indiscriminate force. Yet the film also vaults among genres and modes with audacity, constantly reinventing itself with elements of war drama, comedy, and supernatural horror. An unexpected reflection on historical tyranny and the metaphysical effects of war retold as a tale of nightmarish resurrection, the jolting Tommy Guns was the winner of the Best European Film award at the 2022 Locarno Film Festival. A Kino Lorber release."
North American Premiere in NYC, including Q&A with Carlos Conceição on April 8 and 9. For more details, visit: https://www.newdirectors.org/2023/films/tommy-guns
---
ASHKAL: THE TUNISIAN INVESTIGATION: "In Tunisian director Youssef Chebbi's assured and gripping thriller, a young detective named Fatma (Fatma Oussaifi) investigates a disturbing series of connected deaths—all of them apparent suicides by self-immolation. Ashkal ("shapes" in Arabic) is set in the environs of a halted construction site for a district in northern Tunis that never came to be—called the Gardens of Carthage, it had been intended for dignitaries of the country's former regime before the 2010 revolution. A nocturnal descent, the film uses startling imagery that evokes 21st-century political traumas, most blatantly the death of Tunisian street vendor Mohamed Bouazizi. While Fatma combats misogyny in her own profession and political pressures in the city at large, she begins to succumb to obsession with an increasingly confounding case."
Screening April 4 and 5 in NYC. For more details, visit: https://www.newdirectors.org/2023/films/ashkal-the-tunisian-investigation