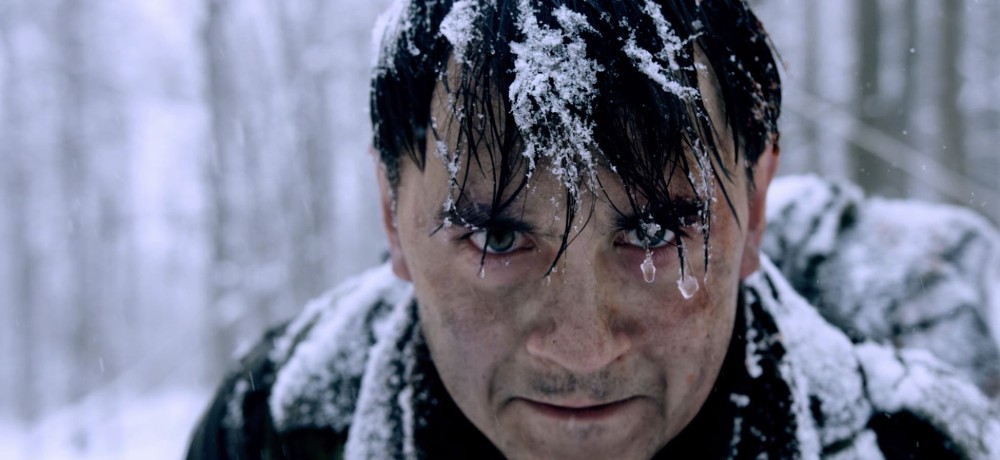 Watch ITHACA The Miniseries: "Season one of ITHACA: The Miniseries was created without a budget, using only available resources, and using only a skeleton crew of 2-4 crew members. Filming began over 8 years ago as a means for my wife and I to create a passion project that would evolve as our relationship evolved. Devon and I are primarily actors, but we are firm believers that if you are not seeing the types of projects that you want to be in, then you have to create them yourself. This series was an opportunity for us to create something we were truly passionate about and to stretch our creative talents to dive deeper into the craft of filmmaking.
She and I would both act in front of the camera as the protagonists while also learning what it meant to wear all of the other hats on the crew at one point or another. Teaming up with EVERYTHING'S FIRE, we dove into the genres we love to experience film from the perspective of a guerrilla filmmaker (which we believe is the real heart of independent filmmaking). We would use only the available resources, imagination, passion, hustle, and intuition to create a high quality project with a gripping, visceral, intimate story. We used only free and available programs for post-production with the hope that it would inspire other filmmakers to rely on their own resourcefulness, as opposed to the resources. There would be no excuse for us to not pursue our passion and take responsibility for our future.
When we released ITHACA: The Miniseries during the pandemic, we were fortunate that our efforts were recognized by one of the greatest guerrilla filmmakers of our generation, Eduardo Sanchez (Director of the Blair Witch Project, Supernatural, Yellowjackets, Charmed, Queen of the South). Eduardo has been an avid supporter of our series and we are thrilled that he joined our project as an Executive Producer and is now helping create the prequel season which we hope to film in Bali, Indonesia.
ITHACA: The Miniseries was meant to capture a more intimate side of a genre that can really ask a viewer to suspend their disbelief to their limits. But it was also meant to be a story that would be influenced by several mythologies that view morality principles that still resonate within us. This story was deeply inspired by THE ODYSSEY, the Balinese legend of the CALONARANG, and King Arthur's search for the Holy Grail. And of course, it's all set within the backdrop of what I consider the mythological creatures of our time: infected zombies. My wife and I adore zombies.
We hoped to create an adventure that would explore the struggle of a broken man rectifying a broken relationship in isolation. Solitude can be such a dangerous thing during a pandemic. And resentment in a marriage is a festering wound. With nothing but time on our protagonist' hands to try and sift through heavy, disjointed memories that are tainted with guilt, he would battle both his mind, zombies, and the supernatural. It's challenging to work through our demons by ourselves. However, as we learned from the Arthurian legend - you must enter the forest at the point which is darkest for YOU. It's a path that no one else should have taken. This is where YOUR dragon awaits. This is where your true transformation happens.
A Balinese ritual that depicts aspects of the legends of the Calonarang, inacts the battle of the demon witch Rangda leading her demon army against the soldiers of the kingdom. Her spells possess the soldiers of the kingdom to turn their own blades against themselves to commit suicide. It is only the presence of the Barong, a benevolent spirit, that makes the soldier's chests impenetrable as they try to plunge their poisoned laced knives into their hearts. The story represents a battle in which neither good nor evil prevails. A stalemate. However, it represents an ongoing eternal battle that resonates in our hearts emotionally, mentally and spiritually.
The journey of Odysseus has been a deep influence on the story. The character is not an Everyman. He's depicted as a hero who stands above other men. He's a wily trickster meant to disrupt systems. But he's a man who not only goes through tremendous pain on his journey back home to his family, but is one who causes tremendous pain to those around him. This was one of the controlling ideas of ITHACA. The man who is responsible for the suffering of others while enduring so much. Through the destruction of systems, there are seeds that are planted that could not have found a footing in any other way. As our protagonist sifts through the memories that haunt him, he must decide whether to continue forward for his own life, or to turn backwards through uncomfortable and familiar territory. As Odysseus travels back home to ITHACA, so must our protagonist journey backwards through his mind to truly rectify his broken marriage.
This series captures some of our family's most intimate moments on camera, including Devon and I responding to our daughter's kicking while in the womb, and our daughter seeing the ocean for the first time. She is our legacy. And we are thrilled that she gets to see her mother and father dedicated to carving our own path with something we are passionate about. This has resonated with our fanbase as they have grown a close emotional attachment to watching the authenticity of a family fighting to make it.
We wanted to create an adventure story that would stretch our abilities despite the lack of budget or resources. We believed that this was a wonderful opportunity to think outside the box to problem solve and dive deeper into the craft of filmmaking. It was an opportunity to see how mythology from different countries can intertwine over morality principles that are so deeply enmeshed into our DNA. They are eternal. And we can't wait to explore it further in our prequel season. And this time with a budget, a full crew, and access to more resources.
Devon and I are deeply grateful that you've taken the time to watch this first installment of a passion project that continues to evolve. It has been a cross that has chiseled us and deepened our relationship as we have carried it. It has given us the opportunity to appreciate the efforts of those who came before us, and to cherish those who are around us. We hope you enjoy."
To watch all of Season 1, visit: https://www.youtube.com/playlist?list=PLb1xPQKe9RsQp0GIcToFx9g4yzhP_5xUV
---
GAYLIENS: "HERE TV, America's first and largest LGBTQ+ premium subscription TV and streaming service, announced today the official release of the highly anticipated LGBTQ/horror-thriller series Gayliens.
 The six-episode compelling anthology series will premiere exclusively on HERE TV with the first episode, Gayliens: Love and the Mothman (Season 1, Episode 1) debuting on Friday, April 8, 2022, at https://www.here.tv/gayliens
Created, written, and directed by critically acclaimed scriptwriter/filmmaker Mark Bessenger, the mastermind behind the cult classic LGBT/Horror film, Bite Marks, Gayliens is a HERE TV Original series with stand-alone episodes ranging from sci-fi to comedy, where each installment details an encounter between gay men and extra-terrestrials.
Starring Daniel Moser, Tamario Fletcher, Hunter Evans, and Kevin Roach, Episode 1 follows two closeted high school boys who come out at Lover's Lane and are terrorized by the legendary Mothman.
Adhering to the classic sci-fi/horror-thriller genre, Gayliens checks off all the bloody boxes gore fans' twisted hearts desire. A gripping must-watch series!
"I am very excited to be working with HERE TV, bringing these fantastic tales of gay men and their alien encounters to the screen!" says director Mark Bessenger. "GAYLIENS is an anthology series, so consider me a queer Rod Serling! It's my hope that viewers will follow me on these fun journeys from the nearest back alleys of Boystown to the farthest reaches of Uranus!"
"Gayliens represents HERE TV's first foray into the Sci-Fi arena, opening yet another genre for our diverse, authentic LGBTQ+ creatives to tell their stories and reach this vast audience," comments Emmy winning actor-producer, David Millbern.
America's first and largest SVOD LGBTQ+ TV video channel, HERE TV boasts an Award-Winning library of movies, series, shorts, and specials dedicated to equality, relationships, and Pride.
HERE TV is also home to Academy award-winning film "Gods and Monsters", Daytime Emmy® Award-Winning short form documentary series "Girls' Voices Now", as well as award-winning HERE TV Originals from today's most creative storytellers.  The recipient of five Daytime Emmy® Award nominations including a 2019 nomination for "A Long Road to Freedom: The Advocate Celebrates 50 Years", HERE TV reaches millions of diverse, cultured, and engaged viewers every month."
---
Cartoonist Matt Kindt Launches Flux House Imprint at Dark Horse Comics: "For over 20 years, bestselling cartoonist Matt Kindt has been writing and illustrating creator-owned comics that balance action-packed storytelling with a highly personal creative vision, with titles like BRZRKR (with Keanu Reeves), Apache Delivery Service, BANG! Dept. H, Ether, Fear Case, MIND MGMT, Folklords, Revolver, 3 Story, Super Spy, and Pistolwhip. Now the acclaimed cartoonist is collaborating with Dark Horse Comics, his longtime publisher, to launch Flux House, a new boutique imprint that will feature the writing (and sometimes) art of Kindt, with crime, science fiction, and humor stories, all told and presented in startling and untraditional ways.
Upcoming Flux House publications will take many forms and formats, with each release having a distinct presentation including unique trim-sizes with two publications to be magazine-sized and special print features (like die-cut and fur) and a punch-card dust jacket that reveals a secret message . These publications are personally designed by Kindt to be both books and art objects.
Flux House will launch in July with MIND MGMT: BOOTLEG, a new 4-part mini-series by Kindt and artists Farel Dalrymple, Jill Thompson, David Rubín, and Matt Lesniewski. The latest series in the conspiracy-laden and mind-twisting universe of MIND MGMT, MIND MGMT: BOOTLEG marks the first time the series has been illustrated by an artist other than Kindt. The all-new series will include variant covers by Jim Rugg, Marguerite Sauvage, Aron Wiesenfeld, and Laura Perez, and the polybagged variant versions of MIND MGMT: BOOTLEG will contain a subversive, collectible playing card.
"Flux House is inspired by Fluxus – an avant-garde art movement from the 1950s that was an extension of Surrealists and Dadaists," said Kindt. "The Fluxus movement focused on the creative process and experimental art forms. Their trademarks include accessibility, absurdism, and a sense of humor. If you've seen me burn or cut one of my books apart at a signing, you already have a sense of where I'm going with this. Flux House aims to embody all of these elements. It won't be limited by traditional forms of books and print. And the story format will, as the name implies, always be in flux."
As part of the Flux House agreement with Dark Horse, Kindt's upcoming creator-owned works will all be published by the company. Flux House is the latest in Dark Horse's growing line of prestige publishing imprints for creator-owned comics, joining Karen Berger's Berger Books, Brian Michael Bendis' Jinxworld, and Kevin Smith's Secret Stash.
"Matt Kindt is a smart and innovative artist, who wants to push at the limitations of the comics medium," said Mike Richardson, Dark Horse Comics President and Founder. "Dark Horse first published his work in March 2010, when a Super Spy short story appeared on Dark Horse's Dark Horse Presents MySpace web comic. When Matt pitched me the idea of a pop-up imprint with books that would be unique, collectible artifacts, I didn't hesitate to say yes."
"I promise you that MIND MGMT: BOOTLEG is not a prequel, a studio-driven sequel, or a corporate re-imagining of that comic you love," said Kindt. "It remains weird, paranoid storytelling and it was the perfect title to launch Flux House with."
In MIND MGMT, a covert government agency of psychic super spies fell into oblivion after one of their top agents went rogue. What looked like the end was only the beginning as a former leader of MIND MGMT explores the darkest parts of the world and recruits a team of forgotten agents to rebuild the organization, bend reality, and go to war with a competing agency.
"Whether you've been following Kindt's career or are new to his storytelling, Flux House will deliver compulsively readable stories full of adventure and intrigue, with some very, very strange twists," said Dark Horse Comics Senior Editor Daniel Chabon.
For more information about Flux House, follow Dark Horse Comics on Twitter, Facebook and Instagram."
---
Ava Cantrell & Gene Farber Join Psychological Horror-Thriller 'Abigail': "Psychological horror-thriller Feature Film Abigail is currently filming on location in rural Central California with Ava Cantrell the La Femme rising star winner from Warner Bros Lights Out and Young Sheldon along with Gene Farber from Captain America Civil War and X-man: First Class. Also on board are Karimah Westbrook All American, Hermione Lynch Succession as well Tren Reed-Brown making his feature film debut in a starring role.
The film is set in the summer of 1974 and is the story of a troubled teen and her mom moving to a small town to start a new life. Soon, their violent past begins to wreak havoc on the town and its residents, especially their bullied teen neighbor.
Abigail is penned by award winning screenwriter Gunnar Garrett Jr The Weak Outdoors and directed by Melissa Vitello Speak Now. The film is produced by Dark Gravity Studios, Ranch Hand Films and Sandcastle Productions
Ava Cantrell leads the all-star cast of Abigail in the title role. This is the second film she stars in directed by Vitello and written by Garrett. The three collaborated on the award-winning film Twenty-Two where Cantrell played a soldier returning home from a tour of duty in the Middle East with a missing arm and leg. This is Cantrell's first return to horror since co-starring in the 2016 smash hit from James Wan and David Sandberg Lights out where she also played the antagonist, as Teen Diana.
Tren Reed-Brown, a rising star on the music scene whose father is Kurupt from the American rap duo Tha Dog Pound and will be following in his mother's (Natina Reed Bring It On who passed away in 2012) footsteps by pursing an acting career as well as music.
Cantrell is repped by AEFH and Lane Management, Farber is repped by Defining Artist and Velocity Entertainment, Westbrook is repped by AEFH and Zero Gravity, Lynch is repped by A3 Artists and Alchemy Entertainment, and Reed-Brown is repped by Harlan Management."