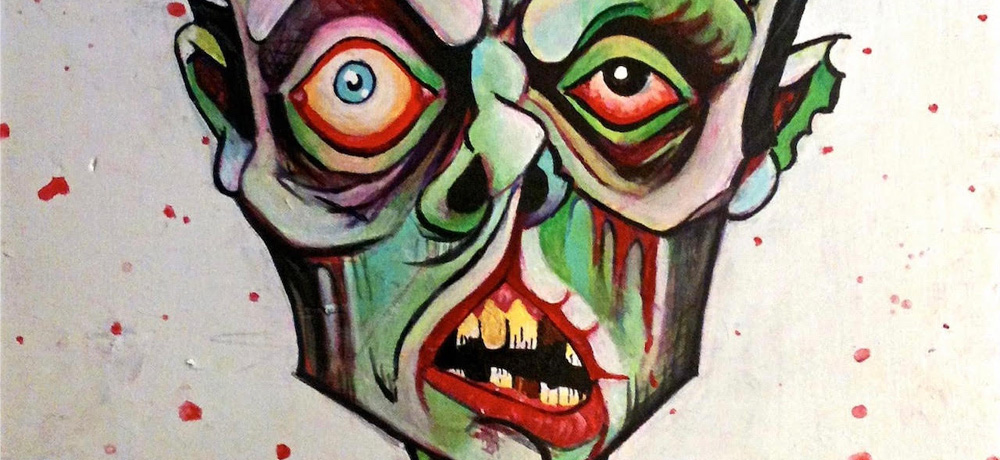 Jennifer Brackett Le Roy Art: "Jennifer Brackett Le Roy is a formally trained artist that is constantly pushing the boundaries of her training and talent. She graduated from the prestigious School of the Art Institute of Chicago and had a residency at The Slade in London. Since then she has exhibited and sold her art at several shows in cities such as Los Angeles, New York, Chicago, London and Austin. She is well versed in many mediums and after graduating from The School of the Art Institute of Chicago, Jennifer added Spraypaint to her arsenal of artistic tools. Her main focus is the human face, producing zombie-like creatures that express a multitude of emotions, from dead pompadoured greasers brandishing punk rock sneers on giant spraypainted boards, to hot rockabilly girls expressing despair and longing. What comes across in her art are original interpretations of her many eclectic influences, giving a new visual representation to such things as rockabilly and gory horror movies. Recently, she started making zombie portraits where she turns you or a loved one into a zombie!
She is fortunate to have the freedom to create whatever her inspiration dictates, but she has also had successful collaborations with clients who have requested specific works from her, and she is always interested in new challenges and demanding projects where her talents can shine.
You can contact her at: brackett@kreaturesandkreeps.com, and view her work at: www.kreaturesandkreeps.com"
----------
Drive-In Double Feature of World War Z & A Quiet Place Part II: "Opening Friday May 28 over Memorial Day Weekend, Drive-Ins across the country are showing Brad Pitt's 2013 blockbuster "WORLD WAR Z" in a nation-wide Drive-In Theatre rerelease on a Double feature with "A QUIET PLACE PART II".   
Academy Award winning actor and film producer Brad Pitt has honored Drive-In Theatres during his last two Academy Award appearances. In 2020 during his acceptance speech for his Best Supporting Actor Award for Quentin Tarantino's "ONCE UPON A TIME IN HOLLYWOOD", Mr. Pitt mentioned seeing "BUTCH CASSIDY AND THE SUNDANCE KID" at the Drive-In with his parents. And during his Academy Award presentation in 2021, Mr. Pitt mentioned that his love for the movies began at the local Drive-In watching Clint Eastwood and Godzilla movies.  
Drive-In Theatre owners are excited to screen "WORLD WAR Z" at Drive-In screens across the country over Memorial Day weekend as a tribute and thank you to Mr. Pitt for his support of the Drive-In Theatre Industry.
To see a Double feature of "A QUIET PLACE PART II" and "WORLD WAR Z" this Memorial Day Weekend, visit a Drive-In Theatre near you!"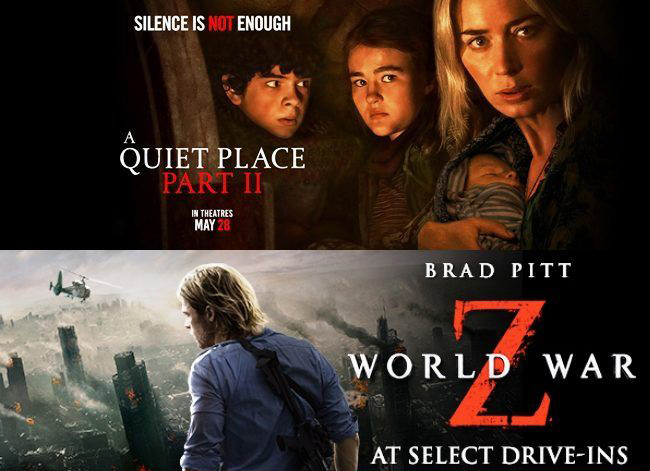 ---------
LALIFF 2021 Horror Films: "The Los Angeles Latino International Film Festival (LALIFF) is a premier international event dedicated to showcasing the entirety of human experience from the Latino perspective, whether through film, television, digital, music, art, or any other vehicle, regardless of platform. This year's festival will be held June 2-6, 2021."
Here's a list of horror titles that will be screening at LALIFF 2021:
MY HEART CAN'T BEAT UNLESS YOU TELL IT TO: "Dwight and his sister Jessie reach a crossroads over what to do about their younger brother Thomas and his mysterious illness. The increasingly dangerous task of keeping him alive weighs heavy on sensitive Dwight. As a fiercely private and close-knit family unit, Thomas and Jessie depend on him and the rituals they've learned in order to keep their secret. Dwight yearns for another life, but Jessie will stop at nothing to keep her family together."
LA CIGUAPA SIEMPRE: "Shy Milagro always knew she was adopted, but has just found out there is no record of her birth parents at all. To help her relax, Milagro's boyfriend Davis takes her on a camping trip, even though she has been wary of his loyalty. As the night progresses and the couple argues, somehow Milagro knows Davis has been cheating on her. Davis adamantly denies it, but a deep rage builds inside Milagro, transforming her into what she's always been meant to be: a ciguapa"
WORRY DOLLS: "A woman, Mia, is traumatized by a past assault. She has recurring nightmares of the horrific incident. During her therapy session, she explains that she can't sleep and she constantly fears her attacker will break into her house again. When Mia feels traditional therapy isn't working, she takes her sister's advice to see a local curandero. He gives her a set of small, colorful, handmade dolls called "worry dolls." He explains the dolls were originally a gift from the Sun God to a Mayan Princess and they act as an amulet to take away one's worries. Mia soon discovers the dolls' magic is indeed real and they are intent on keeping her safe, no matter the cost."
WOMAN IN THE BOOK: "When three estranged siblings reunite at a grand Mexican hacienda to receive their inheritance, they inadvertently unleash a book-bound horror that has plagued their family for generations. Woman in the Book is a multilingual animated show featuring both Spanish and English."
For more information on LALIFF 2021, visit: https://laliff.org/
----------
Watch an Exclusive Clip from ROAD HEAD: "Elizabeth Grullon (Netflix's "Lucifer"), Damian Joseph Quinn (US vs Billie Holiday), Clayton Farris ("American Horror Story") and Paul T.Taylor ('Pinhead' in Hellraiser : Judgement) star in a wild horror-comedy from writer Chloe Skye.
Three friends (Elizabeth Grullon, Damian Joseph Quinn, Clayton Farris) take a road trip to the Mojave Desert where their complicated relationships are pushed to their breaking point as the group encounters a reclusive, murderous cult.
Road Head is on digital platforms June 4."
----------
Watch the Trailer for Monster House: "Writer/director David Axe's HOUSE MONSTER, starring, premieres on digital and DVD September 7 from Wild Eye Releasing. A struggling actress self-quarantines at home to weather a global pandemic. Something joins her. Stars Mike Amason, Aaron Blomberg, Jennifer Hill, and Josh Kern."