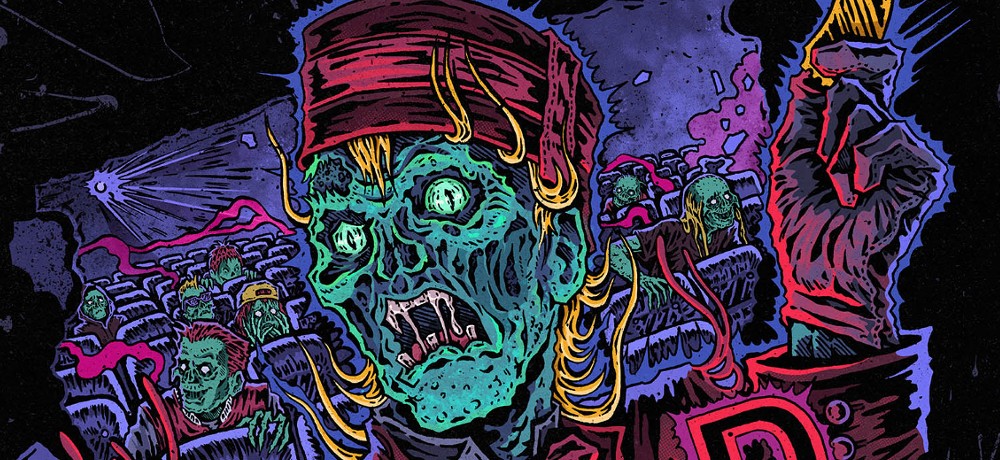 Knoxville Horror Film Fest 2021: "The Knoxville Horror Film Fest will present its lucky 13th annual weekend of cinematic scares Thursday, October 21 through Sunday, October 24, with events split between Maryville, Tennessee's Parkway Drive-In and the festival's home base at Central Cinema in Knoxville. 
It was COVID-era necessity that drove last year's premier programming to the Parkway, but it's pure pleasure that brings it back for a second year. Thursday night's lineup will kick off the festival with a triple feature of John Carpenter's ghostly 1980 classic The Fog, Rialto Pictures' new 40th anniversary 4K restoration of Joe Dante's The Howling (1981), and heavy metal horror cult item Trick Or Treat (1986). Friday night will continue the fun with the trailers of the 2021 KHFF Grindhouse Grind-out, followed by another triple feature of Friday the 13th: The Final Chapter (1984), An American Werewolf In London (1981) and SFX genius Phil Tippett's years-in-the-making Mad God. Both evenings at the Parkway will also include a host of horror-adjacent vendors; table signups are now open. 
These drive-in programs are just the beginning for full KHFF passholders, who will rejoin the festivities through the weekend at Central Cinema. Over the course of Friday afternoon and all day Saturday and Sunday this crew of horror diehards will enjoy KHFF's storied one-track marathon of short films, feature presentations and special events. Titles confirmed for this year's feature competition include John Adams, Zelda Adams & Toby Poser's Hellbender, Richard Bates Jr.'s King Knight, Jim Cummings & PJ McCabe's The Beta Test, Lee Haven Jones's The Feast, and Philip Gelatt & Morgan Galen King's The Spine of Night, mixed in with cult flashback favorites Popcorn (1991) and a 40th anniversary restoration of Andrzej Żuławski's 1981 classic Possession. (Short film programming, including a dedicated program of local "Tennessee Terrors" submissions, will be announced along with the festival schedule in early October.) 
KHFF Festival Passes ($100 standard, $150 deluxe "RIP"), Two Night Drive-In Passes ($45) and Single Night Drive-In Tickets ($25) are available now at KnoxHorrorFest.com via Film Freeway. Due to the nature of the event and Central Cinema's intimate setting, proof of full COVID-19 vaccination will be required of full festival passholders at time of check-in; Thursday and Friday's drive-in screenings will be open to the public regardless of vaccination status. 
The tenth annual KHFF Grindhouse Grind-out Filmmaking Competition (in which teams of local creatives are given two weeks to produce a fake movie trailer) will kick off at 6pm on Wednesday, September 22 at Central Cinema and shoot through October 6, with the resulting trailers screening at Friday's KHFF drive-in program. Teams can register now for $40 through the KHFF website. 
Founded in 2009, the Knoxville Horror Film Fest has grown from a single short film program into a multi-venue weekend event celebrating the best in horror cinema. It is the longest-running film festival in Knoxville, and recognized as one of the southeast's premier genre movie destinations. In 2018 the KHFF team opened Central Cinema to local acclaim, and are excited to bring KHFF back to the venue in full force after a capacity-limited 2020 festival. 
The 2021 Knoxville Horror Film Fest is sponsored by Xul Beer Co, Cherokee Distributing, Dogfish Head WUTK 90.3 Volunteer Radio, Fangoria, Ancient Lore Village, Southland Books, The Bird & The Book and Salsarita's. "
Learn more at: http://knoxvillehorrorfest.com/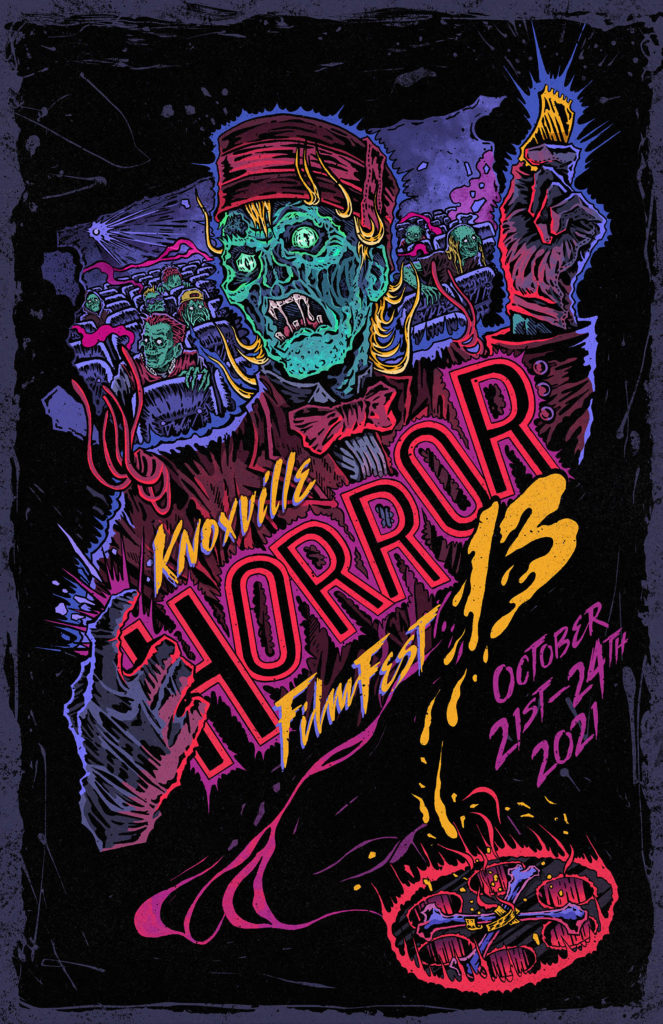 ---------
WELCOME TO THE BLUMHOUSE LIVE: "Amazon Prime Video, in partnership with Blumhouse Television and Little Cinema Digital, presents the return of WELCOME TO THE BLUMHOUSE LIVE: an Emmy-nominated virtual adventure that celebrates the exclusive release of four highly-anticipated Amazon Studios and Blumhouse Television films on Prime Video this October.
On Thursday, October 14, movie fans worldwide are invited to start Halloween early by stepping inside WELCOME TO THE BLUMHOUSE LIVE. Taking inspiration from the upcoming features Bingo Hell, Black as Night, Madres and The Manor, the WELCOME TO THE BLUMHOUSE LIVE experience weaves the 4 films together in chilling synchrony into one interactive and explorable story world.
Guests can RSVP now at www.WelcomeToTheBlumhouse.live to join the exclusive WELCOME TO THE BLUMHOUSE LIVE experience. Admission is free. Spots are strictly limited.
Sequel to the EMMY-nominated event from last year, WELCOME TO THE BLUMHOUSE LIVE is a spine-chilling thriller that matches the spirit of the films, drawing you in as part of the mystery. Guests of the event will become members of a search party, exploring a labyrinth of interactive rooms, deviant characters, musical performances, 360° audiovisual hypnosis, and more unsettling twists - all contained within a 4-story virtual house.
The experience begins with the vanishing of Estela, an elderly resident of the enigmatic Welcome To The Blumhouse manor. Before she disappeared, Estela was hunting a sinister evil lurking within the house. Now, to solve the mystery of her disappearance, guests will have to follow the clues she left behind in real time, while also uncovering what she learned before disappearing. But be warned, Estela isn't the first to disappear down these dark corridors....
The unique collaboration between streaming powerhouse Amazon Prime Video, independent studio Blumhouse Television, and creative studio Little Cinema forges a single narrative thread connecting four groundbreaking films into a cohesive interactive landscape. Demonstrating the power of shared direct experience through sound, performance, film and technology, THE WELCOME TO THE BLUMHOUSE LIVE is a truly exhilarating virtual adventure."
WHEN:
Thursday, October 14th, 2021
6:00pm PT / 9:00pm ET
RSVP: https://www.welcometotheblumhouse.live/
---------
THE BROOKLYN HORROR FILM FESTIVAL ANNOUNCES FULL 2021 IN-PERSON PROGRAM: "The Brooklyn Horror Film Festival will once again hold an in-person festival for their sixth edition, with screenings for the 2021 fest to take place in North Brooklyn at Nitehawk Cinema Williamsburg, Williamsburg Cinemas, and Stuart Cinema from October 14-21. With a line-up of 14 features and 6 short blocks, including premieres from around the world and our signature focus on New York-made horror and LGBTQ+ curation. In addition to the in-person film festival, Brooklyn Horror will once again collaborate with the Boston Underground Film Festival, North Bend Film Festival and Overlook Film Festival for the virtual-only event NIGHTSTREAM, taking place October 7-13, 2021, with program announcements to come shortly.
On the heels of their world premieres at TIFF, BHFF 2021 will open with the sensational South African chiller GOOD MADAM (MLUNGU WAM) and honor celebrated French filmmaker Lucile Hadžihalilović's latest, EARWIG, as centerpiece film. The closing night film of Brooklyn Horror will be Rob Jabbaz's abrasive and acclaimed Taiwanese zombie horror THE SADNESS, an instant breakout on the festival circuit and an award-winning feature debut for Jabbaz.
This year's co-presentation with New York queer film festival NewFest include Slayed, our annual showcase of LGBTQ+ short films, as well as the U.S Premiere of Edoardo Vitaletti's impressive queer horror-drama feature debut THE LAST THING MARY SAW. The festival will host two exciting World Premieres in its sixth edition; Alfonso Cortés-Cavanillas' COVID-set psychological doppelganger cyber thriller EGO, and Adam Randall's Netflix Original vampire action thriller NIGHT TEETH, featuring Megan Fox and Euphoria's Sydney Sweeney. Continuing Brooklyn Horror's celebration of local voices in filmmaking, the festival will feature two blocks of our celebrated HOME INVASION shorts from NYC filmmakers, in addition to feature film WHEN I CONSUME YOU, the latest from Brooklyn-based director Perry Blackshear, screening in the festival's main competition.
As part of our ongoing commitment to the health and safety of our guests, the 2021 festival has adopted the following policies and procedures in response to COVID-19:
All attendees will be required to show proof of full vaccination and a valid ID - your last vaccination must have occurred at least 14 days prior to the first screening you attend.

All attendees will be required to wear masks indoors, including during film screenings unless eating or drinking.

Festival staff will conduct temperature checks at the door.

There will be no parties, mixers, or live events."
To learn more, visit: Brooklynhorrorfest.com