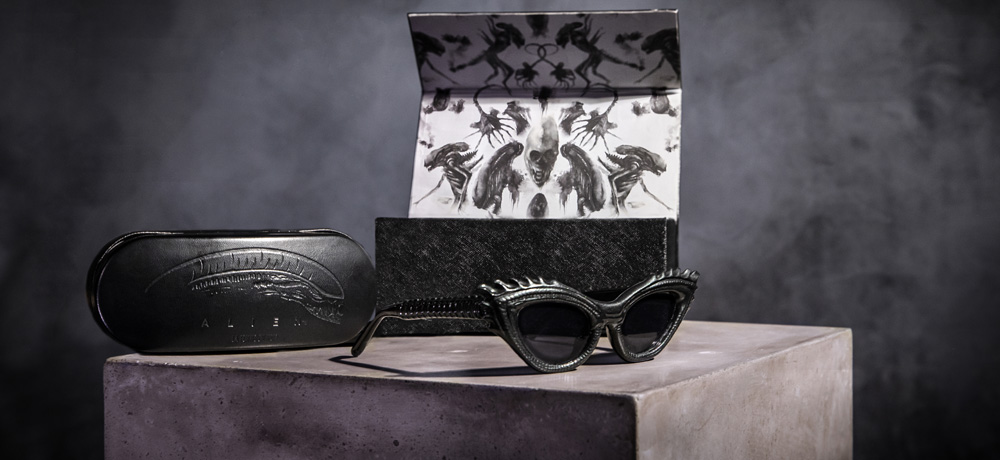 La Femme en Noir Launches Licensed ALIEN Collection on Alien Day 4/26: "LA-based gothic-style clothing house La Femme en Noir, headed by designers and co-founders Lynh Haaga and Micheline Pitt, is thrilled to celebrate one of the most beloved franchises in movie history with a line-up of officially licensed ALIEN-inspired clothing and accessories for "Alien Day." The yearly celebration of the ALIEN universe is held annually on April 26, a nod to planet LV-426 from the original landmark film.
Launching today at LaFemmeEnNoir.net, the avant-garde and fashion-forward "Alien Day" collection of unisex eyewear, bomber jackets, and t-shirts. The collection also includes dresses and separates specifically geared towards female fandom while still being accessible to all genders and celebrating all identities and body types.
La Femme en Noir is a private female-owned POC slow fashion house that is entering the world of major studio licensing, and the first to launch a line of clothing and accessories geared towards women for a franchise built upon the character of Ripley, arguably the greatest feminine hero in sci-fi history.
"Like many girls who grew up watching ALIEN, we idolized Ripley, she was this powerhouse female character who broke the mold of who and what woman could be in film," says La Femme en Noir co-founder and designer Micheline Pitt. "I was always so enamored by the set design and creatures in ALIEN. There is something truly sophisticated about the world of this film. The attention to detail is something that has become iconic in all of Ridley Scott's filmmaking. As a female fan I rarely had any merchandise to wear to celebrate my fandom of this film, so with this collection we wanted to honor that incredible detailed design of the Xenomorph itself, while creating a line that catered to a multitude of fans, not just female fans, but all gendered fans of this incredible franchise."
"We wanted to bring a femme-centric collection to the ALIEN brand, especially considering that the franchise features such a cool and capable lead in Ripley," says La Femme en Noir co-founder and designer Lynh Haaga. "The character's strength and fortitude throughout the series was an inspiration for us as young movie viewers and continues to be so as the designers of this collection. The ALIEN franchise was a new and exciting take on sci-fi, horror and cinema in general. We wanted to follow suit by offering the kinds of clothes and accessories that married the two genres together the same way the film did so perfectly. We are thrilled and excited to be a part of this innovative and classic series."
Among the line, fans will find the first ever Alien Day offerings with designs incorporating iconic ALIEN conceptual art."
For more information and to see the full collection, visit: lafemmeennoir.net
----------
Watch the new Trailer for ANTIDOTE: "A young woman is held captive in an underground medical facility where selected individuals are perpetually mutilated and then healed using an experimental miracle drug : a panacea."
The film is written and directed by Peter Daskaloff, and stars Louis Mandylor and Ashlynn Yennie, with Augie Duke, Yorgos Karamihos, and Christos Vasilopoulos.
Antidote will be released on May 11th on VOD & DVD from Un'corked Entertainment
----------
ARROW's May Lineup: "London, UK - Arrow Video is excited to announce the May 2021 lineup of their new subscription-based ARROW platform, available to subscribers in the US, Canada and the UK.
The May lineup leads with the ARROW release of Powell Robinson and Patrick R. Young's acclaimed Threshold, available to subscribers in the US, Canada and the UK. The haunted road trip thriller world premiered at the Salem Horror Fest in October and made its European premiere at Soho Horror Film Festival in November. On May 3, ARROW subscribers in the US, Canada and the UK can go on a trip with Threshold from the comfort of their homes.
Threshold, the second feature from co-directors Powell Robinson, Patrick R. Young and producer Lauren Bates, following their debut Bastard (2015), was improvised and shot on two iPhones over the course of a 12-day road trip with a crew of just three. The results are an inventive and compelling psychological thriller with hints of the supernatural that recalls such indie cult classics as Ben Wheatley's Kill List (2011) and Justin Benson and Aaron Moorhead's Resolution (2013).
Patrick R. Young commented: "We're excited to have Threshold join the Arrow family. This is a deeply personal project, and we couldn't imagine better caretakers than these cult, genre, bizarro film-loving cine-freaks. Our only hope is that this gives people a chance to connect with our actor's characters as much as we have."
Powell Robinson commented: "We set out to make Threshold with two goals: tell a very intimate story which all of us could put a piece of ourselves into, and also to inspire others to do the same. Arrow is the perfect platform to get this in front of the right someone who just needed a small push to hit the road with a tight-knit crew and do the same."
ARROW Stories will be home to a number of exclusive extras for Threshold, including a directors' intro to the film, a directors' and editor's feature commentary, a cast and crew feature commentary, The Making of Threshold featurette, behind the scenes featurettes, and more.
May 3 will see the arrival of Threshold (US/CA/UK), Versus (US/UK), Fukuchan of Fukufuku Flats (US/UK), Lowlife Love (US/UK), and Love and Other Cults (US/UK).
May 3rd's Seasonal arrivals are Ghouls & Gangsters, a violent blend of bullets and blood, mafia lords and the living dead. Titles include: Versus, Zombie for Sale, Wolf
Guy and more.
Unclean Spirits will unleash the darkest souls of the angrily departed, unwilling to rest while there is suffering to cause among the living. Titles include: Demons, Demons 2, Mirror/Mirror, Dream Demon, and Scared Stiff.
May 7 sees the arrival of the award-winning family drama Toto the Hero (US/CA/UK).
May 14 will debut with Putney Swope (US/CA/UK), Zombie Nightmare (US/CA/UK), and The Reflecting Skin (US/CA).
May 14 sees the sun set and the body count rise with Blood Lust, ARROW's love letter to the vampire genre. Titles include: The Reflecting Skin, The Sheltering Sky, the Bloodthirsty Trilogy, The Addiction, Vampyres, and Tenderness of the Wolves.
May 17 will see the release of Walter Cichy's action thriller Cop Killers (US/CA/UK)."
ARROW is available in the US, Canada and the UK on the following Apps/devices: Roku (all Roku sticks, boxes, devices, etc), Apple TV & iOS devices, Android TV and mobile devices , Fire TV (all Amazon Fire TV Sticks, boxes, etc), and on all web browsers at https://www.arrow-player.com.