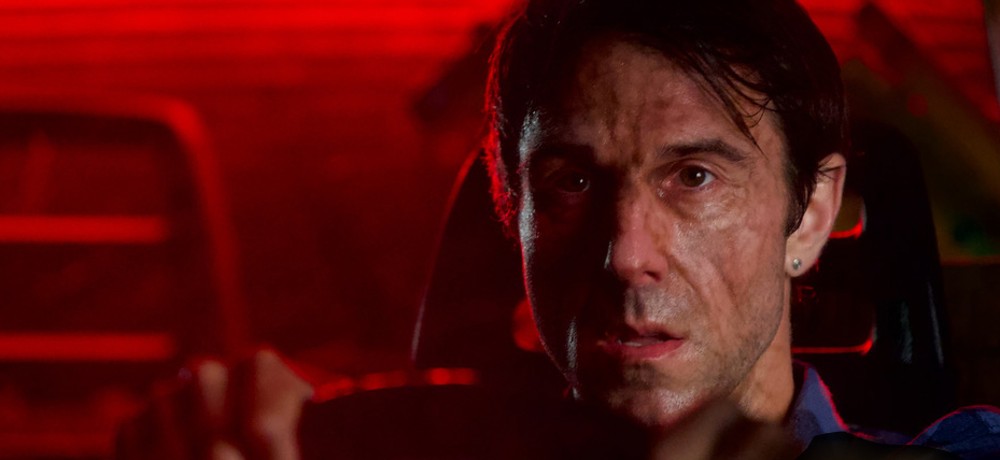 PRINCIPAL PHOTOGRAPHY WRAPS on Larry Fessenden's BLACKOUT: "Independent production shingle Glass Eye Pix is pleased to announce director Larry Fessenden has completed principal photography on his seventh feature film, Blackout. The picture, which stars Alex Hurt as Charley Barrett, a Fine Arts painter convinced that he is a werewolf wreaking havoc on a small American town under the full moon, wrapped under the glow of October 8th's Hunter Moon, with pickups completed October 16th.
The film features an Altman-esque array of co-stars - some newcomers and many long-time members of the Glass Eye Pix stable - including Addison Timlin (Little Sister, Like Me, Depraved), Motell Gyn Foster (Marriage Story, Foxhole), Joseph Castillo-Midyett (Equalizer, Death Saved My Life), Ella Rae Peck (upcoming Crumb Catcher), Rigo Garay (upcoming Crumb Catcher), John Speredakos (Wendigo, I Sell The Dead), Michael Buscemi (Habit, BlacKkKlansman), Jeremy Holm (The Ranger, Brooklyn 45), Joe Swanberg (You're Next, Offseason), Barbara Crampton (You're Next, Jakob's Wife), James Le Gros (Foxhole, The Last Winter), and Marshall Bell (Total Recall, Stand By Me). Casting was handled by Lois Drabkin, who previously worked with Fessenden on Beneath and The Ranger.
The film was produced by Fessenden, James Felix McKenney, and Chris Ingvordsen, and Co-Produced by Gaby Leyner. Collin Braizie was cinematographer, following his previous stint on the Glass Eye Pix production Foxhole. Paintings for the main character's artwork were created for the film by Brooklyn-based artist John Mitchell.
Blackout was shot at local shops and locations in New York's Hudson Valley and serves as a portrait of the area including Woodstock, Olivebridge, Andes, and Kingston. Many local merchants generously supported the independent production. Fessenden explains, "My approach was to blend a naturalistic docu-style with the mythological tropes of the werewolf story, an ongoing interest to blend realism with stylization, and to fuse themes of contemporary society with classic monster movie clichés."
Makeup and special effects were handled by long-time Glass Eye Pix collaborators Brian Spears and Peter Gerner, who previously created the Frankenstein monster for Fessenden's 2019 film Depraved. Comments Fessenden, "Yes, I'm competing with Marvel and Blumhouse to create my own Monsterverse, but at a very different price-point." Fessenden's 1997 film Habit is a vampire film of some distinction due to its gritty 90's New York atmosphere and naturalistic treatment of the genre.
Fessenden heads into post-production immediately, with his trademark impatience to get the work out in a timely fashion."
---
Oscilloscope to Release MOON GARDEN in 2023: "Oscilloscope has acquired world widerights from Fire Trial Films to Ryan Stevens Harris's MOON GARDEN and is planning a traditional theatrical release for the film in 2023.
Five-year-old Emma's life teeters between happy moments and intense parental conflict. Comatose after an accident at home, Emma is propelled into a journey through an industrial wonderland, encountering various strange and visually intriguing figures and situations inspired by her imagination, on her way back to consciousness. Shot on expired 35mm film stock with vintage lenses, and utilizing stop motion animation, practical effects, and miniatures, MOON GARDEN is a meticulously constructed, lush, dark, fantasy odyssey.
Filmmaker Ryan Stevens Harris said, "We're so thrilled for MOON GARDEN to find a home with Oscilloscope. They were always our first choice to handle the film's release as I've always admired their nuanced white glove approach with each of their pictures. They have this uncanny ability to ingrain a film in the cultural zeitgeist, something truly rare nowadays. MOON GARDEN is a unique project, years in the making—a dark fantasy dashed with bittersweet drama, filtered through the dark lens of a midnight movie. We knew we needed a partner who embraced all the film's aspects and would put as much care into its release as we did into production. Oscilloscope is the perfect partner and we couldn't be happier."
O-Scope's Dan Berger said, "MOON GARDEN is a sight to behold. A long-gestating labor of love, Ryan's film has all the pomp of a $100m studio sci-fi epic, but a tactileness that studios could never achieve. You can feel the sweat poured into every frame to render this deeply touching, deeply strange, and deeply resonant film that is clearly the work of a visionary. We can't wait to bring this to audiences far and wide.""
---
DALF-LO: A CEREAL WORTH KILLING FOR #2: "In the beginning...there was the perfect balanced-breakfast cereal children loved to devour while watching their Saturday morning cartoons. Since the 1970s, Sweet Vitamin Puffs of Fun, and it's quirky cartoon mascot Dalf-Lo, enthralled children worldwide with fun commercials and delicious sugary cereal.  But slowly, over time, in specific households across the world, a terrifying trend was emerging! Kids were going missing and their parents were found murdered and horribly mutilated! Some parents were found to be partially eaten! In multi-children households, only one child, usually aged 9 or 10, was missing without a trace. The only common threads between the international cases, spanning decades, was a box of Sweet Vitamin Puffs of Fun at every crime scene and the insane babbling of witnesses claiming to have seen "food portals" and a cartoon demon. Police assumed a deranged serial killer and/or child abductor was the real culprit, but the truth was far darker, scarier and sinister! No one would ever suspect the cereal's cartoon mascot Dalf-Lo as the culprit. Very few people know he's real and targeting specific children to join his loyal brainwashed army in a fantasy 'Breakfast Bliss' food dimension! Welcome to the insane horrific world of Dalf-Lo: A Cereal Worth Killing For!"
"The story of Dalf-Lo and his pursuit of the 'perfect children' to become part of his rabid army of breakfast cereal cannibals continues in Dalf-Lo: A Cereal Worth Killing For #2!
Issue #1 had more of a slow build-up before the bloodshed to allow readers to better understand this new horror character. However, with issue #2 - it is all-out anarchy! The full extent of Dalf-Lo's powers and crimes against humanity will be in full bloom! Get ready for a slaughter-fest!!
Dalf-Lo: A Cereal Worth Killing For #2 is a VERY special issue! In 2021, Dalf-Lo was the first character introduced in the greater Enter The World of Mephistopheles horror universe. This new issue will act as the cameo appearance of multiple characters, good and evil, that will be key players in the greater Enter the World of Mephistopheles landscape. Each of these characters will be featured in their own titles starting in 2023.
Who are these maleficent characters? What are their names? What are their abilities? What do they want with humanity? Good questions...that can only be answered within the pages of Dalf-Lo: A cereal Worth Killing For #2  ;-D"
To learn more and support the Kickstarter campaign, visit: https://www.kickstarter.com/projects/zelphacomics/dalf-lo-a-cereal-worth-killing-for-2?ref=project_link