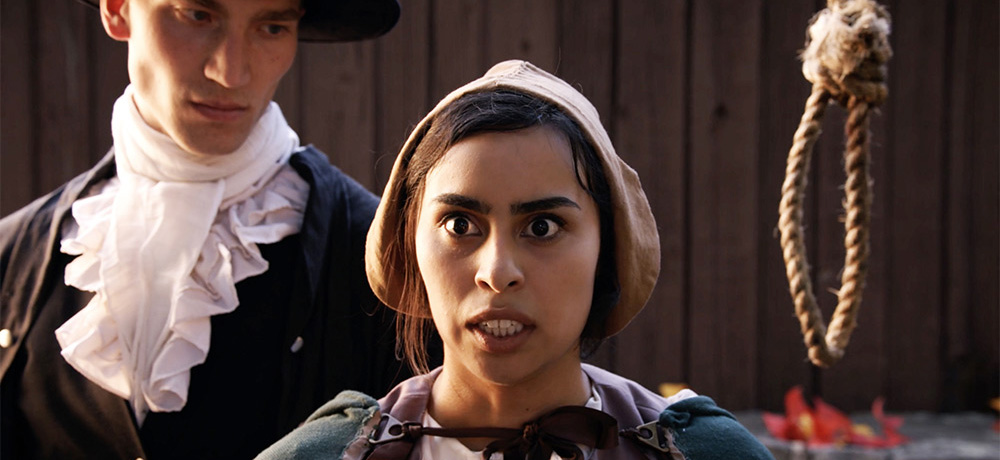 In today's edition of Horror Highlights, we have the trailers for Mass Hysteria, The Devil to Pay, and #NotAllGhosts, along with a look at the YouTube channel "The Best & Worst Moments of Horror:"
Mass Hysteria: "[Los Angeles, CA] Emerging genre distributor The Horror Collective announced today on Collider that it will be releasing Jeff Ryan and Arielle Cimino's Halloween-theme horror comedy MASS HYSTERIA on VOD on October 1st.
MASS HYSTERIA is now available for pre-orders on Vimeo: https://vimeo.com/ondemand/masshysteria2020
When a tourist dies on Halloween night in Salem, the crowd seeks justice by mounting a modern day witch hunt. With the low-key charm of SHAUN OF THE DEAD and the sophisticated sarcasm of WHAT WE DO IN THE SHADOWS, MASS HYSTERIA is a dark comedy that conquers the horror of the Salem Witch Trials by juxtaposing it with the 2020 Covid pandemic and a funny, satirical story.
MASS HYSTERIA stars Jeff Ryan (Orange Is the New Black), Charlie Pollock (The Good Wife), Michelle Veintimilla (Gotham), Louis Cancelmi (Billions) Destry Allyn (I Know This Much Is True), Scott Swayze (Brooklyn Moving Company), and Geena Santiago (YouthMin).
---------
THE DEVIL TO PAY: "This October, The Haves and the Have Nots' Danielle Deadwyler brings a reckoning in a new film from the writers of Becky.
After the disappearance of her husband, Lemon, a struggling farmer in an isolated Appalachian community, must repay her husband's debt to the oldest family on the mountain and their murderous biscuit-making matriarch in order to save her young son's life. Armed with only her wits and tenacity, Lemon must unravel the mysteries her husband left behind or lose everything she's ever loved.
From directors Ruckus Skye and Lane Skye, Danielle Deadwyler, Catherine Dyer, Jayson Warner Smith, Brad Carter, Luce Rains, Adam Boyer, Charles Black, Parisa Johnston, Tim Habeger, and Ezra Haslam star in Devil to Pay in  Drive-in theaters October 2 and On Demand and DVD release October 6 via Uncork'd Entertainment and Dark Star Pictures.
Starring | Danielle Deadwyler, Catherine Dyer, Jayson Warner Smith, Brad Carter, Luce Rains, Adam Boyer, Charles Black, Parisa Johnston, Tim Habeger, and Ezra Haslam
Directed by | Ruckus Skye, Lane Skye
Distributor | Uncork'd Entertainment, Dark Star Pictures"
---------
#NotAllGhosts: "Directed by Andy Schroeder & Produced by Erin Schroeder (the team behind the 2016 indie ghost story spectacular "DISTILLER" - www.distillermovie.com ) and starring Amy Ciupek (also of "DISTILLER") "#NotAllGhosts" is the story of a woman with a creeper roommate haunting her life. A ghost story for the #metoo era, the short film was designed as a test of Optical Radiance's capabilities in a production environment and includes footage shot in the studio, on location and on blue screen. All of the film's practical effects, creature effects and miniatures were also filmed in Optical Radiance (no computer generated imagery was used in the film)."
To watch the film, visit: https://www.amazon.com/gp/video/detail/B08H87WV5H/ref=atv_dp_share_cu_r
---------
The Best & Worst Moments of Horror: "We all watch horror movies, and eventually by watching so many we become obsessed with the genre. Which is how the channel, and in particular, this video series came about.
I've seen certain horrors countless times, so I've made an interesting game out of watching them, where I pick 10 moments; a mix of what I deem the best and worst it has to offer. It's a chance for me to chat about horror movies, whilst watching them, with a community - so why not come along?
Below we've got an example of the series with Netflix's The Babysitter, ahead of The Babysitter: Killer Queens release, which I will be covering, so if you want to catch that after watching this video you can subscribe over at www.youtube.com/woodyrec"