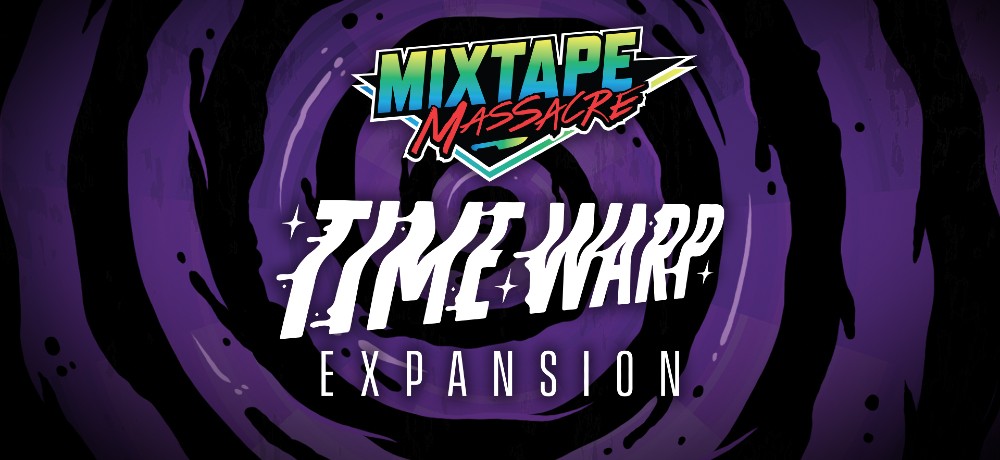 MIXTAPE MASSACRE: TIME WARP: "Coming to Kickstarter June 20th, a brand new entry in the Mixtape Massacre TableTop Game Universe...
Mixtape Massacre: Time Warp is the brand new expansion in the long running Tales from Tall Oaks. It is also the final entry in this 1980's six part collection.
In this brand new expansion for Escape from Tall Oaks (with additionalcomponents for use with Mixtape Massacre) Time Warp has players working together as you travel back and forth through time in an attempt to clean up, or mess up the Tall Oaks' timeline.
During your travels, you'll be chased by new slashers of Tall Oaks past and futurewhile also trying to not cause time paradoxes that could tear apart the town and game. With new survivors and slashers, new modes of play, and multiple possibilities for endings, prepare for the time of your life... or death.
It's Time to head back to Tall Oaks!
Follow the Kickstarter Campaign Launch page here: https://www.kickstarter.com/projects/1910591295/mixtape-massacre-time-warp-expansion
Haven't made a visit to Tall Oaks yet? Head over to mixtapemassacre.com to stock up on all the entries from the Mixtape Massacre TableTop Game Universe, and use code TIMEWARP10 for 10% off your order now until June 20th."
---
SUBSPECIES V: BLOODRISE: "The fifth frightening entry in the FMF cult-classic Subspecies franchise, renowned as one of the most famous vampire film series of all time, follows the descent of Radu (once more played by series regular Anders Hove) from a noble warrior of the Church to a depraved, blood-hungry creature of the night. Stolen by crusaders on the night of his birth from his demon mother and vampire father, Radu grows up with no knowledge of his monstrous bloodline. Trained and exploited by a brotherhood of mystic monks to slay all enemies of the church, fate brings him back one night to his father's castle, armed with the monster-slaying Sword of Laertes, to destroy the vampire Vladislas and reclaim a holy relic, the Bloodstone.
Filmed in Serbia, in and around historical castles and ruins, and co-starring original series star Denice Duff in a surprising role, this sensual, violent, and operatic exploration of evil marks a stunning return for one of the screen's most beloved monsters.
SUBSPECIES V: BLOODRISE is directed by series mainstay Ted Nicolaou (TERRORVISION), making SUBSPECIES one of the only horror franchises in which every entry is helmed by the same director."
Now available to stream on FullMoonFeatures.com and Screambox!
---
KILLER KLOWNS FROM OUTER SPACE Live Music Celebration: "TUESDAY JUNE 6th, 6:00PM (666) PST
Prepare to rock as HorrorCon LA, Cinematic SteamPunk, and Nostalgic Nebula join forces to present an unforgettable event! 
ONE… SHOW… ONLY… 
The Darkkest Karnival - Killer Klowns from Outer Space 35th Anniversary Live Music Celebration 
Starring…
THE DICKIES  An Intimate Evening Starring LA's Original Punk Rock Pioneers! -and- JOHN MASSARI, the composer of both the beloved classic movie and the  most anticipated video game of the decade,"Killer Klowns From Outer Space", performing his KKFOS DJ/Synth Set.
Show Time  September 30, 2023 The Dickies: 9:30pm to 10:30pm John Massari: 7:30pm to 9:00pm
Venue LA Convention Center 411 Theater (299-seat) 1201 S Figueroa St, Los Angeles, CA 90015 
An intimate evening with THE two artists that created the musical worldfor one of horror's most iconic 80s films. 
An epic evening in the Eerie Killer Klown from Outer Space Universe.
Fans can take part in games such as:  Best Air Guitar, Air Drums, Cosplay, Tattoo and Dance routine  during John Massari's DJ Set. Fans get a special gift for playing and participating! 
This is a very rare opportunity that true Killer Klowns fans will not want to miss! 
COMMEMORATIVE POSTER The Dickies founding members Leonard Phillips and Stan Lee, along with  Soundtrack/Game composer John Massari, will pre-sign your special  commemorative 12"x12" poster in advance.  The posters are sequentially numbered and end with #299.
The exclusive limited edition poster will be created by the world-famous comic, film,  and vinyl record soundtrack artist Juan Carlos Ruiz Burgos.  

TICKETS & POSTERS Concert tickets are currently available for purchase at $60.00 Pre-signed autographed posters can ONLY be purchased with a concert ticket for an additional $40.00    -Posters NOT sold separately- 
Both tickets and posters are limited to the first 299 Killer Klowns fans.
All purchases MUST be made in advance. Tickets and posters will NOT be sold at the event. 
One pre-signed autographed poster per concert ticket purchased. NO EXCEPTIONS
Your pre-signed poster will be waiting for you at the concert."
To learn more and pick up tickets, visit: https://www.eventbrite.com/e/killer-klowns-from-outer-space-35th-anniversary-music-celebration-tickets-642469512607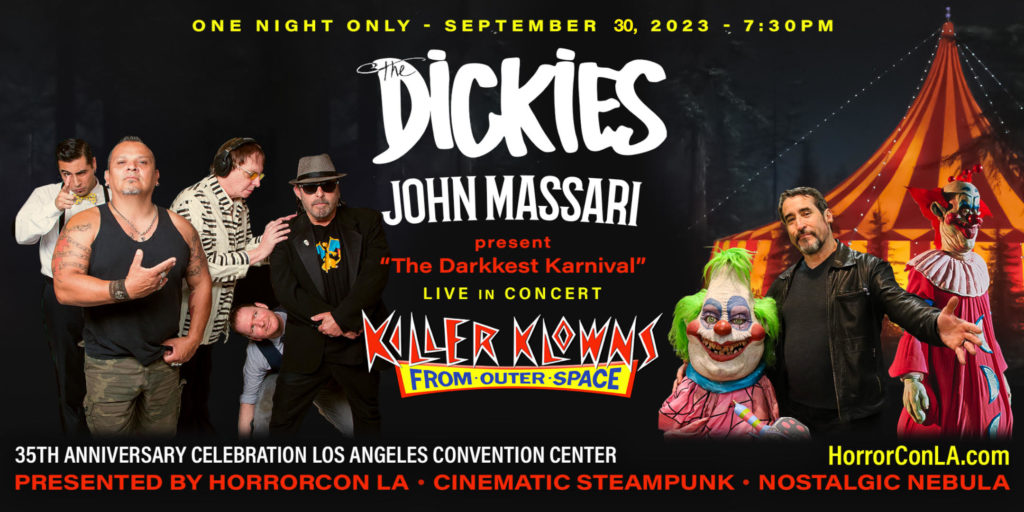 ---
DON'T OPEN THE BOX: "'Don't Open The Box' tells the harrowing story of a mysterious artifact that unleashes unimaginable horrors upon its unsuspecting victims. Are you brave enough to witness the evil that lurks within?"
'Don't Open The Box' written & directed by Sean Breathnach. 
Starring John Ryan Howard (Gateway, Beyond The Woods)
Box Designed by Lisa Zagone 
Supported by Offaly Arts
---
ARROW Offers Classic and Cutting Edge Cult Cinema June 2023 Lineup Includes Martial Arts, Blood Money, John Cassavetes, Monte Hellman and Sci-Fi Stunners: "Arrow Video is excited to announce the June 2023 lineup of their subscription-based ARROW platform, available to subscribers in the US, Canada, the UK and Ireland.
June 2nd kicks off the month with ARROW's latest curation of Paul Joyce documentaries, this time looking at legendary filmmaker John Cassavetes, straight from the mouth of his friend and collaborator co-star Peter Falk (Columbo) in Out of the Shadows: The Films of John Cassavetes.
After a six year directing hiatus, Monte Hellman sat down with Paul Joyce and just talked for an hour while Joyce filmed. The result is Plunging on Alone: Monte Hellman's Life In a Day.
June 2nd kicks off ARROW's Seasons with Ero Guro (UK/IRE/US/CA): The Japanese sub-genre of horror and pink films Ero Guro combines the erotic (ero) and the grotesque (guro) to deviant, decadent and unforgettable effect. ARROW's Ero Guro collection features the unholy trinity of core Ero Guro films, Teruo Ishii's Shogun's Joy of Torture and Horrors of Malformed Men and Yasuzo Masumura's Blind Beast, plus plenty more exciting, explicit and enticingly depraved delights to delve into.
Titles Include: Shogun's Joy of Torture, Blind Beast, Irezumi.
On June 6, ARROW invites subscribers to Warriors Two (US/CA). After making his directorial debut with the intense The Iron-Fisted Monk and firmly solidifying his worth at Golden Harvest, Sammo Hung would be given more creative control behind the camera. Now able to inject more of his own personality, Hung would bring to life the more upbeat (yet only slightly less violent) Wing Chun cult classic: Warriors Two!
Predating the Ip Man tetralogy by three decades – as well as Hung's own The Prodigal Son (starring Yuen Biao as the younger incarnation of Leung Tsan) by a few years – Warriors Two is one of the earliest films to authentically portray the teachings of Wing Chun while also delivering the kind of kinetic and pulse-pounding fights synonymous with the name Sammo Hung!
On June 16, Splatter icon Eli Roth takes a stroll through the archives with Eli Roth Selects (UK/IRE/US/CA). "I absolutely love Arrow and have been a collector of their editions for years, and Arrow Player is the most streamed channel in my house. I've seen a lot of Select lists, and while I agree with them, I wanted to highlight some that people might have otherwise overlooked."
Titles Include: Basket Case, Contamination, Madhouse.
On June 19, ARROW plays Toru Murakawa's Game Trilogy (UK/IRE/US/CA).
Made at the end of the 1970s, Toru Murakawa's Game Trilogy launched actor Yûsaku Matsuda as the Toei tough guy for a new generation. Matsuda was the definitive screen icon of 1980s until his career was tragically cut short by cancer at the age of 40, following his Hollywood debut in Ridley Scott's Black Rain.
The Most Dangerous Game (UK/IRE/US/CA): In this career-defining triptych, Matsuda is Shohei Narumi, an ice cool hitman of few words, a steely trigger finger, and a heart of stone, hired in The Most Dangerous Game by a company bidding for a lucrative government air defence contract to take out the competition.
The Killing Game (UK/IRE/US/CA): Narumi finds himself caught in the midst of violent yakuza gang warfare, while his own brutal past catches up with him in the form of two beautiful women still bearing the emotional scars of his past assignments.
The Execution Game (UK/IRE/US/CA): Narumi falls for a mysterious saloon bar chanteuse who may or may not be part of the same, shadowy underworld organisation as the rival hitmen he is employed to rub out.
On June 23, ARROW heads to the beach for some terror with shark attacks.
Cruel Jaws (US/CA): A huge shark terrorizes a beach in Florida, and the locals try everything to kill it.
Deep Blood (US/CA): Several young men have to stop an ancient native American evil in the form of a killer shark which is attacking a small beach community.
For the penultimate Season, ARROW boldly goes to the stars on June 23, seeking out new life and new cinema.
Sci-fi Stunners (UK/IRE/US/CA): There are other worlds than these. Come and explore them in this collection of cybernetic, planet-probing, time-travelling, cosmos-trotting, aliens-zapping, virtual and far-too-real adventures in Sci-fi Stunners - ARROW's home world for the coolest Cult science-fiction films in the galaxy.
Titles Include: No Escape, Donnie Darko, Crimes of the Future.
ARROW caps off the month with Cosa Nostra Collection (UK/IRE/US/CA):
The most American of directors according to celebrated critic Paolo Mereghetti, Damiano Damiani (A Bullet for the General) nevertheless surveyed his own country's mafia history unlike anyone before him, to critical and box office success.
Full of twists and a fascinating meta-commentary on cinema, Damiani points the camera at himself and the genre as he investigates the social impact of mafia violence, a fitting end to this survey of Damiani's Cosa Nostra.
Titles Include: Day of the Owl, The Case is Closed, Forget It, How To Kill a Judge.
ARROW is available in the US, Canada, the UK and Ireland on the following Apps/devices: Roku (all Roku sticks, boxes, devices, etc), Apple TV & iOS devices, Samsung TVs, Android TV and mobile devices, Fire TV (all Amazon Fire TV Sticks, boxes, etc), and on all web browsers at https://www.arrow-player.com.
With a slickly designed and user-friendly interface, and an unparalleled roster of quality content from westerns to giallo to Asian cinema, trailers, Midnight Movies, filmmaker picks and much, much more, ARROW is the place to go for the very best in on-demand entertainment."