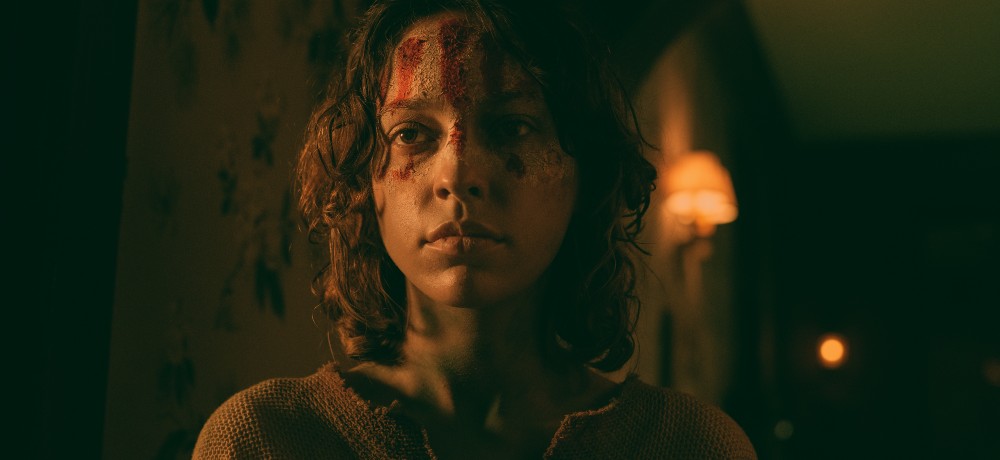 NO ONE GETS OUT ALIVE: "Ambar (Cristina Rodlo) is an immigrant in search of the American dream, but when she's forced to take a room in a boarding house, she finds herself in a nightmare she can't escape."
Director: Santiago Menghini
Writers: Jon Croker, Fernanda Coppel
Based on the Novel No One Gets Out Alive by Adam Nevill
Cast: Cristina Rodlo, Marc Menchaca
Producers: Jonathan Cavendish, Will Tennant
Executive Producers: Andy Serkis, David Bruckner, Philip Robertson, Adam Nevill, Jon Croker
Releases globally on Netflix on September 29, 2021
---------
MEAN SPIRITED: "Michelle Veintimilla, Neville Archambault, and Will Madden join the cast for MEAN SPIRITED, the solo directorial debut from Jeff Ryan. The film, which is co-written by Ryan and Joe Adams, is a found-footage horror-comedy set to begin shooting this fall.
Madden will star as Andy, an up-and-coming Vlogger whose attempts to reconnect with his estranged friend, Bryce (played by Ryan) fall apart while a demonic presence begins tormenting the vacationing group.
Michelle Veintimilla is best known for her recurring role as Bridgit Pike / Firefly on the hit series Gotham and has most recently been seen on ABC's Big Sky and The Baker and the Beauty.
Neville Archambault is celebrated for his roles in genre films including Victor Zarcoff's 13 CAMERAS and its sequel, 14 CAMERAS. He starred in THE BLOCK ISLAND SOUND, from Cobra Kai and American Vandal directing duo Kevin McManus and Matthew McManus, and shared the screen with Madden previously in Jim Cummings' THE WOLF OF SNOW HOLLOW.
Will Madden starred in BEAST BEAST, the acclaimed feature directorial debut from his brother, Danny Madden, which boasts Alec Baldwin as executive producer and Jim Cummings as producer.
In addition to Veintimilla, Archambault, Madden, and Ryan, MEAN SPIRITED will star Daniel Rashid (BEAST BEAST), Jake Cannavale (Nurse Jackie), Maria DeCotis (EUPHONIA), and Charlie Pollock (The Good Wife).
Jeff Ryan's previous directing credits include the 2018 mockumentary YOUTHMIN and the 2019 horror feature MASS HYSTERIA, both co-directed alongside Arielle Cimino. In addition to being a SAG-AFTRA actor, with credits that include his own features, Ryan is the founder and owner of New York-based independent production company First-Names Films.
"After seeing BEAST BEAST, we knew we needed Will Madden to play Andrew in this film. I'm humbled for the opportunity to work with these amazing actors," says Ryan on the casting, adding, "growing up reading Weird NJ, I would often break into abandoned hotels and insane asylums. I wanted to tell a personal story about friendship, jealousy, and an inherent need to be seen amidst the former Honeymoon Capital of the World: The Poconos."
MEAN SPIRITED is set to begin filming this fall in the Pocono Mountains and is a First-Names Films production."
--------
GO/DON'T GO, New psychological thriller from director Alex Knapp, Free to Stream this September on Amazon Prime: "Kamikaze Dogfight and Gravitas Ventures have announced that the psychological thriller, "Go/Don't Go" written and directed by first time filmmaker, Alex Knapp is now available to stream for free on Amazon Prime. The thriller stars Alex Knapp, Olivia Luccardi, Nore Davis, Bettina Skye, Tom Essig, and Zoey Wagner.
After an unknown cataclysm, Adam (Alex Knapp) is alone. The sole inhabitant of a vacant, unchanged world, or so he thinks. While attempting to stay grounded in the desolate landscape, visions come to him—the fateful night his best friend Kyle (Nore Davis) introduces him to the love of his life, K (Olivia Luccardi).
As Adam's mental state starts to unravel, he is plagued by lingering questions and uncertain realities about his world. His grip on what's left starts to slip away—sending him spiraling towards a series of unforeseen consequences and unexpected truths.
Go / Don't Go is a post-apocalyptic psychological thriller, oscillating between a forgotten love story and inescapable paranoia.
"We're incredibly excited to be partnering with Kamikaze Dogfight and Gravitas Ventures for the release of Go/Don't Go. The broad far-reaching infrastructure of Gravitas, paired with the hands-on approach of Kamikaze made this the perfect home for our film – and their partnership is something really inspiring to be on the ground floor of. We're hopeful audiences will connect with the emotional and tonal relevance to our current quarantined lifestyle, and the isolation and melancholy longing for a previous existence. Ultimately our film is a love story, be-it wrapped up in the uncertainty of a world changing event for our main character. My producing partner Max Gardner and I couldn't have possibly dreamed to execute a project like this without our incredible cast, crew, and producing team, and we're thrilled to be able to share it with audiences," said writer/director Alex Knapp."