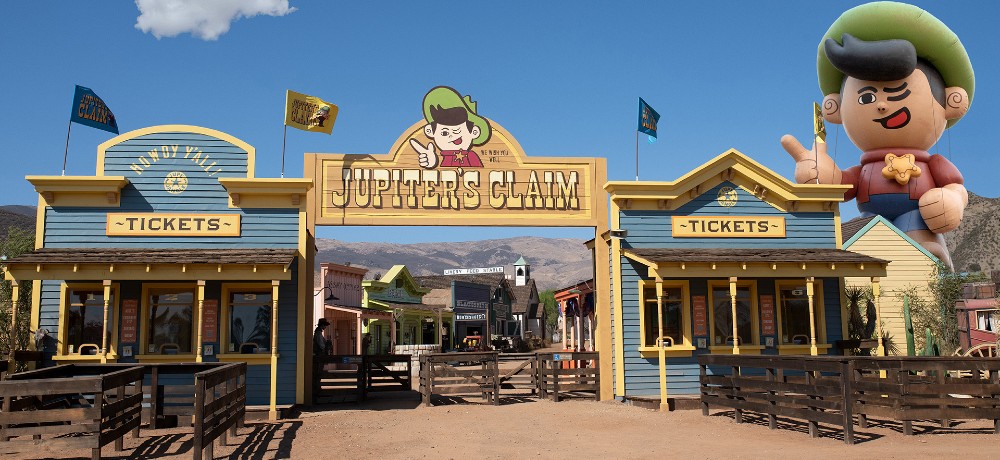 Universal Studios Hollywood Introduces Jupiter's Claim as a Permanent Attraction on the World-Famous Studio Tour: "Universal City, California – July 7, 2022 –The original Jupiter's Claim set from Jordan Peele's expansive new horror epic, Nope, will be featured exclusively at Universal Studios Hollywood as a new attraction on the world-famous Studio Tour, beginning Friday, July 22, in tandem with the theatrical release of the new summer event film from Universal Pictures and Peele's Monkeypaw Productions.
The impressive and elaborate Jupiter's Claim set was created by Production Designer Ruth DeJong, then carefully disassembled post-production and transported to Universal Studios Hollywood where it was meticulously reconstructed on site, complete with original props and details from the film.
Jordan Peele, alongside producing partner Ian Cooper and Monkeypaw Productions, is thrilled to bring the film's fictional theme park to Universal Studios Hollywood as a permanent Studio Tour attraction.  Concepting the integration of the set to the Studio Tour began early in production in partnership with the filmmakers, working collaboratively with Universal Creative at Universal Studios Hollywood to ensure authenticity and accuracy.
The Jupiter's Claim set – which can only be seen on the Studio Tour – marks the first time that a Studio Tour attraction has opened day and date with a movie release.  It will be staged within Universal Studios' backlot alongside a host of other iconic movie sets that include Steven Spielberg's War of the Worlds, the infamous Psycho house from Alfred Hitchcock's Psycho and Courthouse Square from Robert Zemeckis' Back to the Future.
"I remember visiting Universal Studios when I was 12 years old and being mesmerized. That experience reinforced my passion and drive to someday join in on the meta-magic of 'backlot life.' Since then, I've been fortunate enough to direct three movies for Universal," said Jordan Peele. "It is a privilege to honor these collaborations with my studio partners, crew members and cast, and to be able to share Jupiter's Claim with fans."
"We're thrilled to collaborate with Jordan Peele and bring a piece of his innovative film to Universal Studios Hollywood for our guests to experience," said Scott Strobl, EVP and General Manager, Universal Studios Hollywood. "Jordan's creativity and ingenuity have produced unique, thought-provoking movies, and we couldn't be more excited to showcase his original Jupiter's Claim set as a permanent centerpiece attraction on the Studio Tour, giving our guests a front row seat to authentic movie-making magic."
Jordan Peele disrupted and redefined modern horror with the Universal blockbusters Get Out and then Us. Now, he reimagines the summer movie with a new pop nightmare. Written, directed and produced by Peele, Nope reunites the filmmaker with Oscar® winner Daniel Kaluuya (Get Out, Judas and the Black Messiah), who is joined by Keke Palmer (Hustlers, Alice) and Oscar® nominee Steven Yeun (Minari, Okja) as residents in a lonely gulch of inland California who bear witness to an uncanny and chilling discovery.
Jupiter's Claim, set in Southern California's Santa Clarita Valley, is a family-fun theme park and predicated on the white-washed history and aesthetics of the California Gold Rush. Owned and operated with evangelical pride by former child star Ricky "Jupe" Park, Jupiter's Claim becomes a pivotal location as the characters seek to investigate mysterious, unexplained phenomena, leading them toward increasing danger and terrifying consequences.
The Studio Tour is renowned for taking guests behind-the-scenes of an authentic movie and television production studio. With the exciting addition of the Jupiter's Claim set from Nope, coupled with the progressive roll out of electric Studio Tour trams, a summer of fun is just beginning at Universal Studios Hollywood.
Following the success of Get Out and Us, Jordan Peele signed an exclusive deal with Universal Pictures and Universal Studio Group for film and television projects.  NBCUniversal has created a vibrant, interconnected brand ecosystem that allows its filmmaking partners to leverage their creative visions through expressions across its broad portfolio, including content throughout the company's numerous platforms and Symphony campaigns.
The company's commitment to leveraging its resources to evolve its film and television programming from cultural moments to 365-day evergreen franchises that allow fans to engage through content extensions, branded experiences, irresistible products and games and truly immersive theme park attractions or integrations, resulted in this groundbreaking partnership at Universal Studios Hollywood tied to Nope.
On July 22, fans can experience Nope on its opening weekend at Universal CityWalk's state-of-the-art Universal Cinema, an AMC® Theater, before heading to Universal Studios Hollywood to see the original set from the film. After all, this is the place to see movies, where movies are made.
More information is available at www.UniversalStudiosHollywood.com. Like Universal Studios Hollywood on Facebook and follow @UniStudios on Instagram and Twitter."
----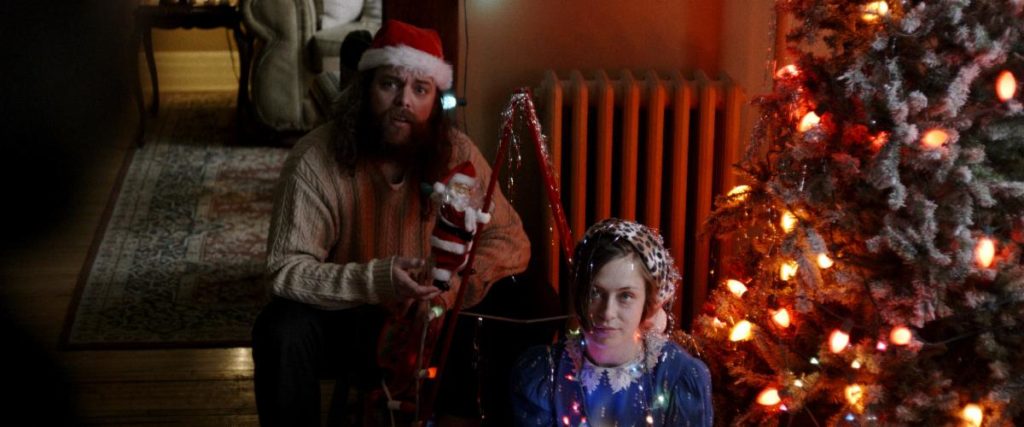 Arrow Films to Release Eric Pennycoff's Festive Horror The Leech in UK, US, IE & Canada: "Arrow Films has acquired distribution rights in the UK, Ireland, US and Canada for Eric Pennycoff's Christmas horror comedy The Leech, set to have its world premiere at Chattanooga Film Festival on June 23. The UK-based premiere label for cult, art, horror and world cinema is planning a release in December 2022.
Father David (Graham Skipper, Dementia: Part II, Sequence Break), a catholic priest struggling to grow his congregation, encounters a stranger by the name of Terry (Jeremy Gardner, Bliss, Offseason) asleep one morning after Mass. Terry is without a home after a fight with his girlfriend Lexi (Taylor Gardner, Sadistic Intentions) and with Christmas less than a week away; David offers him a place to stay for the night. What begins as a simple act of kindness quickly turns complicated as Lexi arrives shortly after with news of being evicted from her house. Unable to turn away this helpless young woman, David allows both her and Terry to stay with him through the holidays on the condition that they open themselves to the healing power of God's love. Yet the harder David tries to reform the lives of these seemingly innocent strangers, the more he himself falls victim to their toxic ways, leading to the belief that their arrival is in fact, a test from God. Will David pass the test and accept his new houseguests as they are? Or will he set aside the ways of Christ and resort to blood soaked, Old Testament justice?
Writer/director Eric Pennycoff commented: "Working with Arrow Films has been a total dream come true. Having been a fan of theirs since the beginning of my filmmaking career, I cannot think of a better home for The Leech to live on in all its holiday madness. Between the deluxe edition Blu-Ray and its streaming premiere on ARROW, Kevin and his team have truly cemented the film's place among a long-lasting range of great titles. There's a reason Quentin Tarantino said ARROW is the only streamer he's subscribed to."
Director of Content Kevin Lambert at Arrow raved: "We're thrilled to be bringing The Leech to our territories and platforms, we're big fans of Eric's work and we're sure this latest outing will blow audiences' minds." Arrow Films is targeting a December digital release in the UK, US, Canada and Ireland as well as a deluxe collector's edition Blu-ray in the UK, US, Canada and Ireland as part of its celebrated Arrow Video brand.
The Leech was produced by Eric Pennycoff, Scott Smith and Adelyn Pennycoff."
----
HELLBILLY CLOTHING: "After a successful launch at Pasadena's Monsterpalooza and NAMM in June, HELLBILLY Clothing is coming to you with a new line of unique Lovecraftian and gothic streetwear. Making its debut back in March at L.A.'s Fashion Week, Hellbilly's signature item THE FALLEN hoodie with an exclusive "bat-wing" design, got people interested and talking. "It was designed as a direct contrast to the trendy 'angel-wing' design that I kept seeing everywhere and on everyone," says designer/artist Neil D'Monte. "I was thinking, what is out there for us horror and gothic lovers who want to feel that sense of 'evil'?"
A sought-after storyboard and concept artist now turning director, this is Neil D'Monte's first foray into clothing design. "I started this because friends kept asking me to do artwork for their band logos and tattoos. I thought it would be fun and a great way of expression to design clothing for people who did not necessarily want huge, body-covering tattoos yet want the empowering feel that tattoo art gives them." D'Monte teamed up with Artist and Graphic Designer Alex Lugo in finalizing their vision. Alex has had a 27 year career as an illustrator and designer, creating graphics for comics, films, and retail packaging for companies such as Disney, the Lakers, Marvel, and many others.
In future months, HELLBILLY clothing will also feature swimwear for men and women, joggers, and leggings including their new the #WITCHY Tee, created using five witches' brooms laid on top of one another to form a pentagram. Both of these items are now available on their website, www.hellbillyclothing.com and will be available in specialty stores soon.
Be on the lookout for some members of such big bands as Ministry, The Cult, Metallica, NIN and Porno for Pyros/Jane's Addiction to be rocking HELLBILLY hoodies on tour this summer as well as on some known horror icons such as FINAL DESTINATION creator Jeffrey Reddick, YOU'RE NEXT actress Sharni Vinson, CASTLE FREAK'S Emily Sweet and DEXTER/L.A. RUSH actress Whitney Anderson.
Neil just wrapped storyboarding the film LOVELY, DARK AND DEEP -- the directorial of Theresa Sutherland, the writer behind the hit Netflix series MIDNIGHT MASS."
LINK TO PURCHASE: https://www.hellbillyclothing.com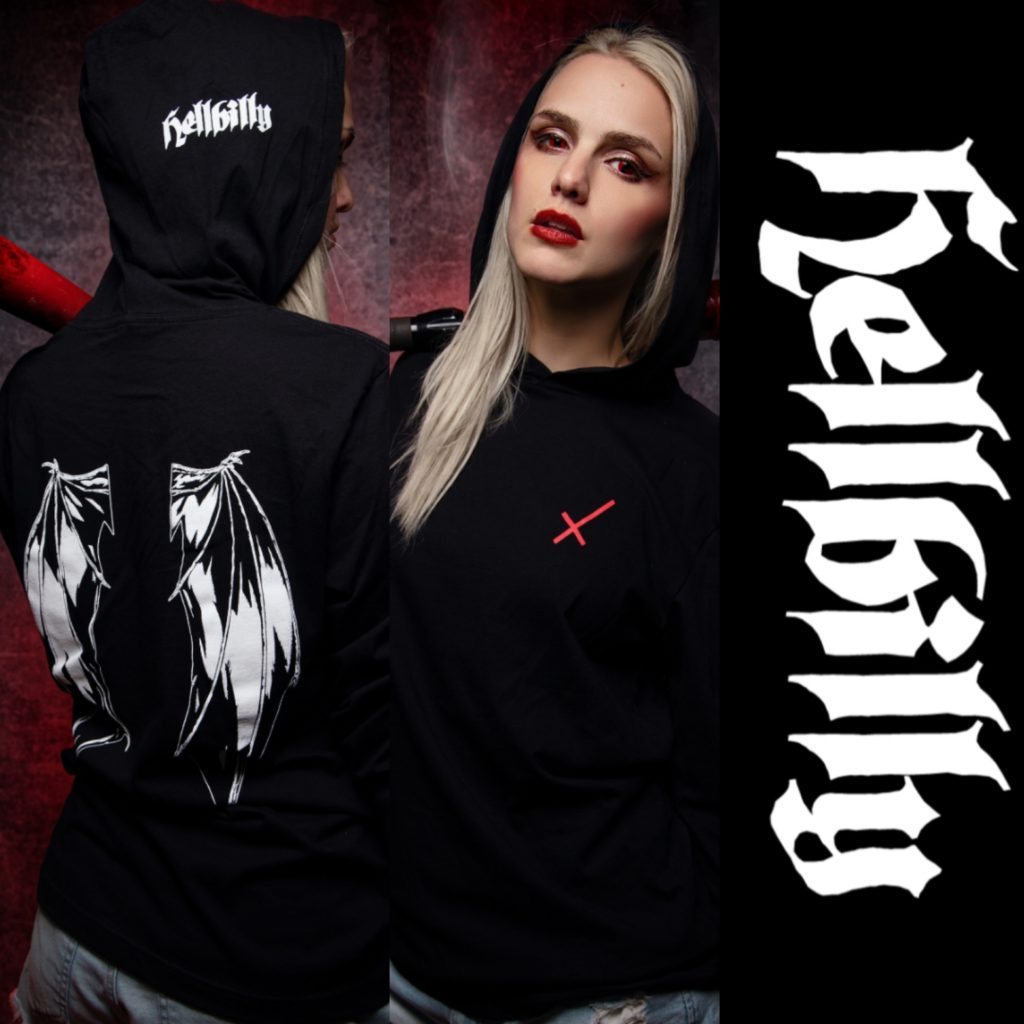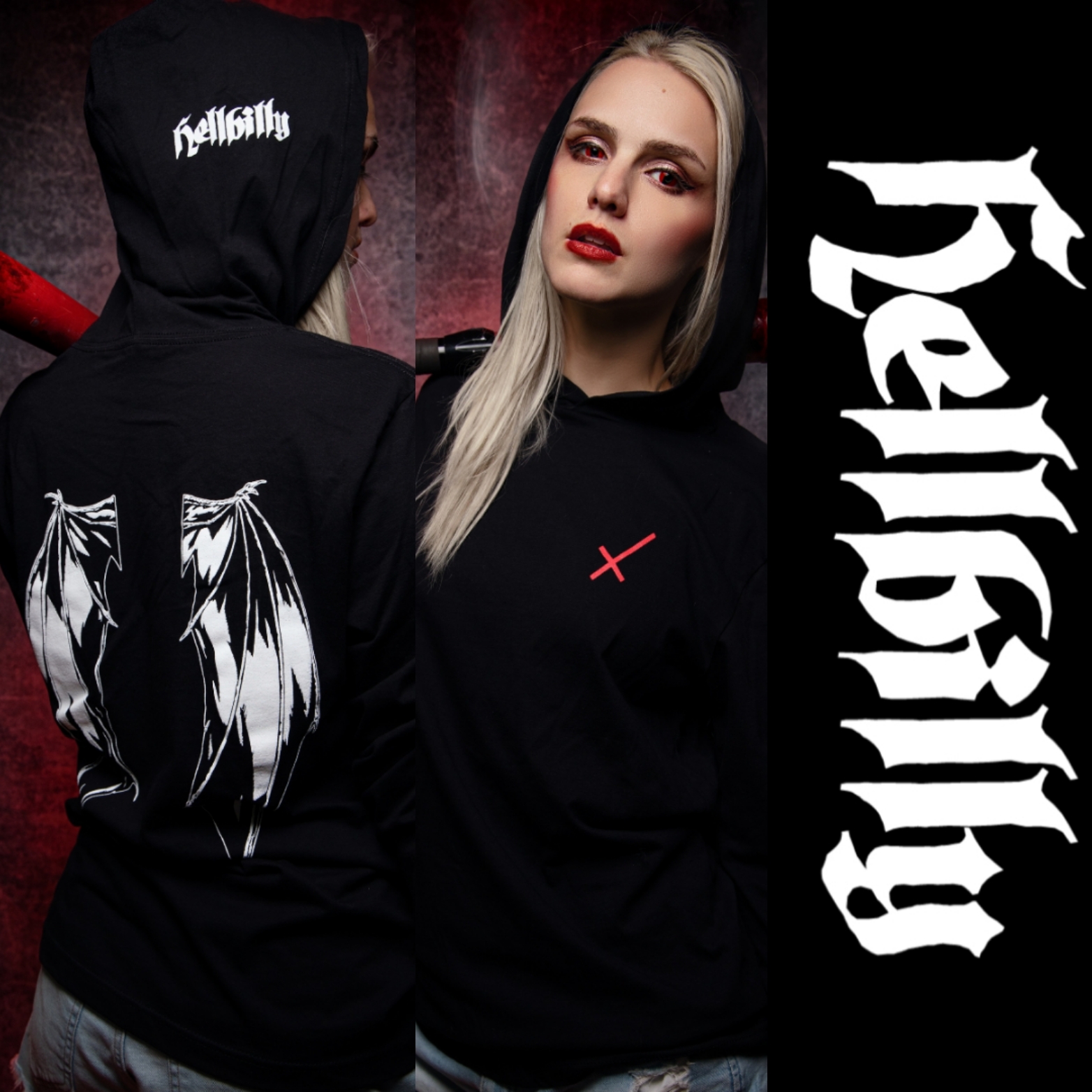 ----
ARROW Offers Classic and Cutting Edge Cult Cinema July 2022 Lineup Includes Gothic Horror, Science Fiction & Slimy Sorority Babes: "London, UK - Arrow Video is excited to announce the July 2022 lineup of their new subscription-based ARROW platform, available to subscribers in the US, Canada, the UK and Ireland.
July 1 starts the month with The King Hu Collection, a quartet of films from the library of director/actor King Hu, available on ARROW in the US, UK, Canada and Ireland.
Stories of honourable heroes battling the forces of evil with stunning swordplay and high-flying martial arts that laugh in the faces of physics and gravity, King Hu's work in the 60s and 70s elevated the spectacular martial arts film genre to new technical and artistic heights.
Titles include: The Fate of Lee Kahn, Raining in the Mountain, Legend of the Mountain, Come Drink With Me.
On July 8, demons and monsters reign supreme with a trio of titles pitting hapless humans against beasts out of a nightmare. Enjoy Castle Freak with Barbara Crampton and Jeffrey Combs (US/UK/CA/IRE), Lurking Fear (US/UK/CA/IRE) and The Unnameable (US/CA).
Also on July 8, ARROW invites audiences to Lovecraftian (US/UK/CA/IRE), a season of films found scrawled on a post-it note in the back of a Necronomicon holding open a fire exit at the Miskatonic University. All within are based on or take inspiration from the Rhode Island writer who was christened "Howard Phillips" - but is known across the cosmos by genre lovers as "HP" Lovecraft.
If it's gothic horror, fantasy and/or science fiction stories that will fill you full of cosmic dread and the sense that ordinary life is but a thin shell over a reality so alien and abstract that merely contemplating it will damage your sanity then you've come to the right place!
Titles include: Castle Freak, Lake Michigan Monster, Lurking Fear, Bride of Re-animator.
July 15 is ladies night, with a pair of beauties designed to titillate and terrify. Sorority Babes in the Slimeball Bowl-O-Rama (UK/US/CA/IRE): They are no freshmen in the college of love, and they're about to graduate to madcap mayhem when a sorority prank goes crazy. Out to steal a trophy from a local bowling alley, the kids accidentally unleash The Imp - a sadistic little spirit with a diabolical sense of humor. He creates demons and loves sexy women. He's inviting you to come along and die laughing - just like everybody else.
Cannibal Women in the Avocado Jungle of Death (UK/US/CA/IRE): The U.S. government, eager to protect the nation's avocado supplies, recruits feminist professor Margo Hunt to make contact with the Piranha Women, an all-female tribe who believe men are only good as a source of food.
On July 18, ARROW takes subscribers under the sea with Bodies of Water (UK/US/CA/IRE): a Season of aquatic horror that will give you second thoughts about escaping the summer heat by taking a dip.
Titles include: Island of Death, Lake of Dracula, Dark Water, Blood Tide.
On July 28, pack your bags and head to Camp ARROW (UK/US/CA/IRE), a definitely-safe camping ground for Cult film fans that is 100% is not haunted or stalked by a wronged and possibly hideously deformed former camper or counsellor, where nothing can possibly go wrong. So pitch your tent or pick your bunk in one of our luxury flimsy cabins, kick off your gore-encrusted hiking boots, take a seat around the campfire and hit play on one of our tales of youngsters getting into deadly trouble by bedding down somewhere they shouldn't - this is most probably not foreshadowing of any kind.
Titles include: The Prey, The Hills Have Eyes, Girls Nite Out, Trapped Alive.
July 28 closes the lineup with a pair of out of this world films that will leave you shaken until August starts. Nightwish (US/CA): Using sensory deprivation techniques, a doctor of parapsychology provokes his students to examine their own deaths in evermore horrifying circumstances. Roles are exchanged and shuffled as reality and fantasy become indistinguishable and each new dreadful death proves more terrifying than the last. Their paranormal explorations lead them to an abandoned mansion in a desolate area that natives call the "Valley of Fear" where years of drinking chemically tainted water have lead to a genetically damaged population and mutant wildlife. Local legends also tell stranger stories of extraterrestrials which the students attempt to explore.
Doctor Mordrid (UK/US/CA/IRE): They are two beings from another dimension; two sorcerers with immeasurable powers. One has sworn to destroy the Earth; the other has vowed to protect it. Bound by hate and a mystical amulet that holds the powers of life and death, the immortal wizards will meet for the last time. Now, their battle takes on majestic proportions as Mordrid and Kabal begin their final conflict...to the death!
ARROW is available in the US, Canada, the UK and Ireland on the following Apps/devices: Roku (all Roku sticks, boxes, devices, etc), Apple TV & iOS devices, Samsung TVs, Android TV and mobile devices, Fire TV (all Amazon Fire TV Sticks, boxes, etc), and on all web browsers at https://www.arrow-player.com.
ARROW Essentials curates collections based on genre, decades and themes; and ARROW Stories takes a fresh look at the world of film and TV with exclusive documentaries, interviews and video essays diving deeper into the many curated seasons and titles on the platform for a richer and deeper viewing experience.
With a slickly designed and user-friendly interface, and an unparalleled roster of quality content from westerns to giallo to Asian cinema, trailers, Midnight Movies, filmmaker picks and much, much more, ARROW is the place to go for the very best in on-demand entertainment."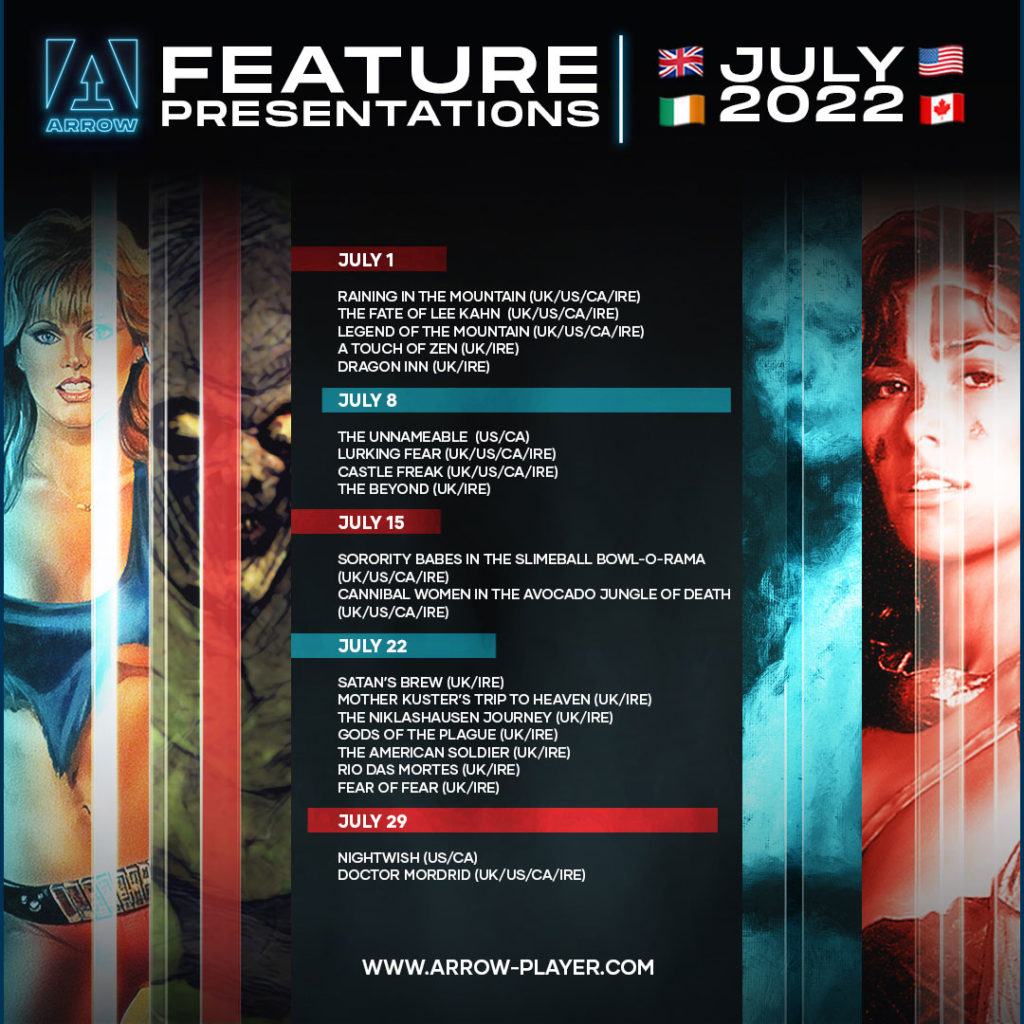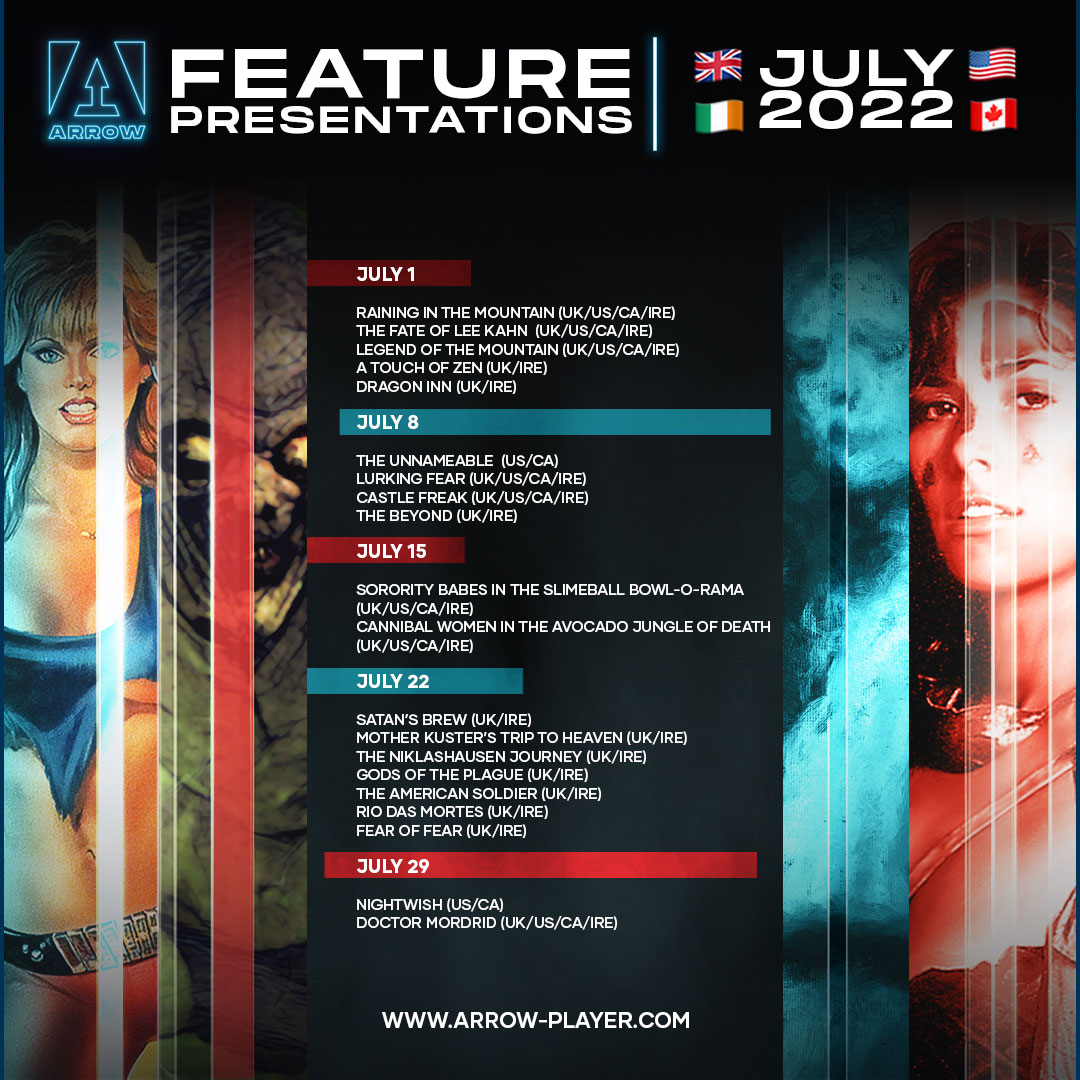 ---
JOBLO MOVIE NETWORK STRIKES DEAL WITH GENRE LABEL TERROR FILMS TO DISTRIBUTE THEIR MOVIES ON NEWLY LAUNCHED YOUTUBE CHANNEL: "JOBLO MOVIE NETWORK, a pioneer in movie fan sites, with over 11M subscribers and 7 billion views across 13 channels, has officially launched their previously announced, full length movie channel.
JoBlo, which generated over 2.2 billion video views across its YouTube network during 2021 and managed to increase its revenues by 130% over that same period, has rebranded JoBlo Movie Trailers, (which currently boasts over 2 million subscribers), to the JOBLO MOVIES Channel. https://www.youtube.com/joblomovienetwork
To kick off the new venture, they've struck a content deal with premiere indie horror distributor, TERROR FILMS. JOBLO will distribute over 100 movies from the TERROR FILMS library, as well as a select handful of movies from their sister label, Global Digital Releasing. The deal will also include exclusive premieres for select, new releases. The channel is currently streaming several films, including fan favorites such as Hell House LLC 1 and 2, Blood Born, The Taking of Deborah Logan, Boggy Creek Monster and Garlic & Gunpowder (among others), with plans to roll out new films weekly.
"We are very excited to sign this deal with Terror Films as we believe the YouTube landscape is hungry for such films and we believe that the combination of their fun horror movies and our movie-loving audience on YouTube is a match made in online heaven", says John Fallon, Director of Original Content and Acquisitions for the JoBlo Movie Network.
JoBlo will be celebrating its 25th anniversary online next year and one of the main reasons that it continues to exist and thrive today is because of its focus on movie fans and its ability to shapeshift with the times and trends. "When I started writing movie reviews in my parent's garage back in 1998, I never would have imagined that all this time later, I would eventually become a film distributor myself, but here we are….", said Berge Garabedian, CEO, and founder of JoBlo Media Inc.
"We are thrilled to be partnering with JoBlo. Between our recognizable brand in the horror genre, coupled with their ability to market and distribute across their vast network of channels and built-in fan base, this was a perfect fit.", said Joe Dain, President of Terror Films/GDR."
To learn more about Terror Films, visit:
To learn more about JoBlo Movie Network, visit: