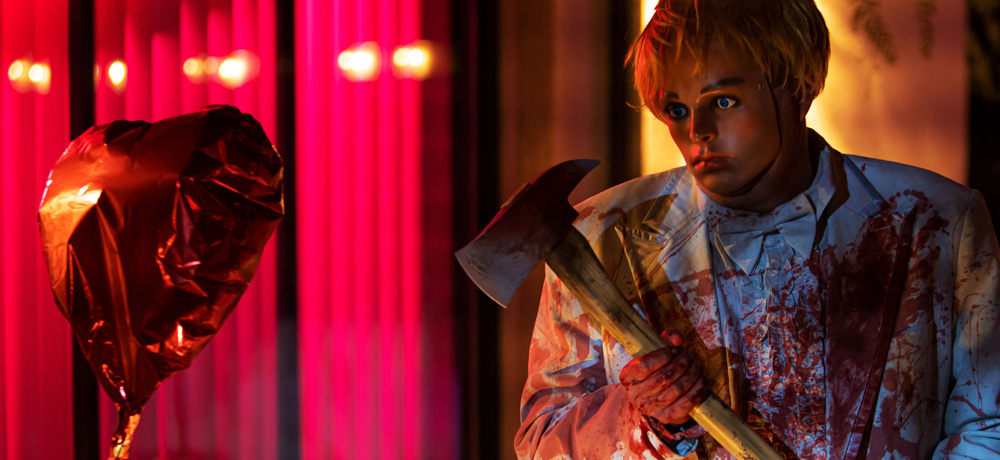 PRETTY BOY: "PRETTY BOY, the follow up to the award-winning film BLIND, has completed principal photography.  PRETTY BOY, directed by Marcel Walz and written by Joe Knetter, continues the story they set in  motion in BLIND.  
Pretty Boy just finished the Post Production with Company 3 (Joker, Wonder Woman)  
MARCEL WALZ (Director) 
"Filming PRETTY BOY the way we did was a dream comes true for me. It is beautiful, fun, gory and  creepy. Seeing our Killer, "PRETTY BOY", slashing through this love letter to the 80s is what I have  always wanted to do! Also, as an LGBTQ Director, I could go crazy on set design for the Valentine's  party and overall theme in the movie, so be prepared for a lot of pinks, glitter and some intestines  Lol!"  
JOE KNETTER (Writer)  
"Filming PRETTY BOY was an amazing experience. Every single person on the cast and crew brought  their 'A' game. Getting back on set safely was our number one priority and we worked hard to make  sure it was a great experience for everyone. The sets we built at Wolfpack Studios took me right back  to that world we previously set up. I will admit, the first time I saw Faye and Pretty Boy back together I  teared up a bit. BLIND is our version of a slow-burn 70's style drama/suspense film. PRETTY BOY is a  total 80's horror slasher." 
RELEASE DATE 2021  
Sarah French (Blind), Heather Grace Hancock (Wicked City), Devanny Pinn (The Dawn), Robert Rusler  (Weird Science), Maria Olsen (Percy Jackson and the Olympians), newcomers Jake Red and Andrew Rohrbach, and returning as PRETTY BOY, Jed Rowen."
Directed by Marcel Walz  
Written by Joe Knetter  
Director of Photography Michael Su  
Produced by Rüdiger w. Kümmerle, Ivan Bernard Hruska,  Oliver Diehm and Daren Hammer  
Executive Producer James Cullen Bressack
---------
Watch the Short Film I WHO HAVE NO ONE: "After years of wanting to look like those who grace the covers of magazines Frances ends up making headlines in a different way..."
"I Who Have No One" Credits
DIRECTING, CINEMATOGRAPHY AND EDITING Pierre Tsigaridis
PRODUCERS Pierre Tsigaridis, Dina Silva, Marina Parodi
WRITTEN BY Pierre Tsigaridis Dina Silva
STARRING
Dina Silva : Frances
Desma Triplett : Gabriella
Ian Michaels : The Pervert
Pierre Tsigaridis : Jerome
PRODUCTION DESIGN Dina Silva
SOUND MIXING TOM BRUNET
----------
NEST OF VAMPIRES: "From writer/director Chris Sanders, Nest of Vampires follows an MI5 agent who travels from London to rural England in search of the people who murdered his wife and kidnapped his only daughter. During his investigation, he uncovers a ruthless vampiric cult that is heavily embroiled in human trafficking and Satanic cult worship.
Jon Paul Gates, Hans Hernke, Lucy , Tom Hendryk, D'Angeles Campos, Peter Mahoney, Rosanne Priest and Shawn C.Phillips star in a Black Coppice films release, Nest of Vampires available on Amazon, Tubi, iTunes and other major platforms beginning March 16."
----------
HOW TO DETER A ROBBER: "Los Angeles – Shout! Studios, the multi-platform entertainment distribution and production arm of Shout! Factory, has acquired North American rights to HOW TO DETER A ROBBER, a smart and stylish dark comedy from XYZ Films. Written and directed by Maria Bissell (Corridor Four), HOW TO DETER A ROBBER stars Vanessa Marano (Saving Zoe, The Comeback, Gilmore Girls), Benjamin Papac (Greenhouse Academy, The Walking Dead), Abbie Cobb (Mom's Night Out, Suburgatory), Sonny Valicenti (Mindhunter, Office Christmas Party), Jonah Ray (Mystery Science Theater 3000: The Return, The Meltdown with Jonah and Kumail), Gabrielle Carteris (BH90210), and Chris Mulkey (Twin Peaks, Whiplash). Produced by Maria Bissell, Joshua Adam Fu, Max Silver, and Stephen Tringali, the film recently premiered at Fantastic Fest to great press and audience enthusiasm. The announcement was made today by Jordan Fields, Shout's Vice President of Acquisitions, and Pip Ngo, Vice President of Sales and Acquisitions at XYZ Films.
Shout! Studios has secured all North American distribution rights HOW TO DETER A ROBBER, including digital, streaming, video-on-demand, broadcast, theatrical, and all home entertainment packaged media (Blu-ray/DVD). Shout! Studios plans a strategic launch of this movie day-and-date across all major entertainment platforms later this year. XYZ Films will continue international sales at the upcoming European Film Market.
"Maria Bissell brings a dark and highly entertaining sense of humor to the home invasion film, deftly blending tension with caustic comedy. Vanessa Marano and the cast realize that tonal balance to perfection, so we're confident it will find a broad audience," stated Jordan Fields, Shout's Vice President of Acquisitions.
"I'm thrilled that my debut feature has found a home at Shout! Studios," writer and director Maria Bissell said. "Shout! has always championed genre film and up-and-coming filmmakers, so I knew they'd make the perfect partner for this release." said writer/director Maria Bissell.
The movie deal was negotiated by Shout's Jordan Fields and Steve Katz, Vice President of Business Affairs for Shout! Studios, and Pip Ngo for XYZ Films on behalf of the filmmakers.
HOW TO DETER A ROBBER (Movie synopsis)
In a desolate Northern Wisconsin town, a stubborn young woman and her naïve boyfriend face off against a pair of amateur house burglars."