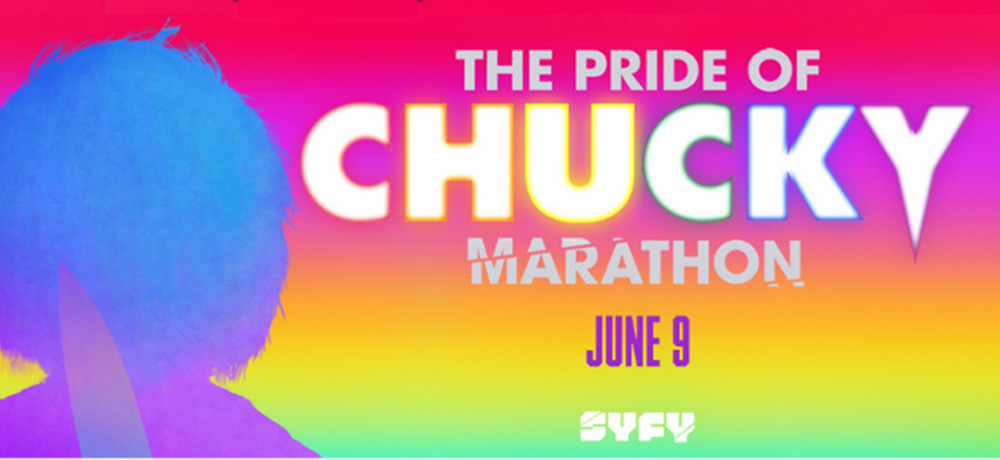 SYFY CELEBRATES PRIDE MONTH WITH PRIDE OF CHUCKY 'CHILD'S PLAY' MOVIE MARATHON ON JUNE 9: "UNIVERSAL CITY, Calif. – June 8, 2021 – In celebration of Pride Month, SYFY will be airing a murderer's row of "Child's Play" movies all day on Wednesday, June 9, starting at 8 a.m. ET. The marathon will call attention to the well-loved horror series' LGBTQ+ elements and serve up some summer scares at the same time.
All of this arrives ahead of SYFY and USA's upcoming "Chucky" series, which premieres this fall with" Child's Play" mastermind Don Mancini at the helm. For more on the upcoming original series "Chucky" visit https://www.syfy.com/chucky.
In his announcement of the marathon on Twitter, Mancini posted a SYFY-exclusive video in which he explains how the series has transformed over the years into a LGBTQ+-friendly space.
"Starting with 'Bride of Chucky,' I started to deliberately inject some LGBTQ elements into the franchise," he says. "As a gay guy, it's something that's increasingly important to me."
Longtime series star Jennifer Tilly, who voices fan-favorite character Tiffany, agreed and said, "I think a lot of the 'Chucky' movies have been very gay friendly."
SYFY's Pride of Chucky "Child's Play" marathon air schedule below. All times are ET:
Wednesday, June 9
8 a.m. – Child's Play 2
9:58 a.m. – Child's Play 3
12 p.m. – Bride of Chucky
2 p.m. – Seed of Chucky
4 p.m. – Curse of Chucky
6 p.m. – Cult of Chucky
8 p.m. – Child's Play 2
10 p.m. – Child's Play 3
Thursday, June 10
12 a.m. – Bride of Chucky
2:02 a.m. – Seed of Chucky
That's more than enough murder and mayhem to get you excited for the upcoming series, which will see the titular doll possessed by the soul of a serial killer turn up in an idyllic small town to wreak havoc on its unsuspecting citizens.
SYFY's "The Pride of Chucky" marathon starts Wednesday, June 9, at 8 a.m. ET and runs all day. SYFY and USA's "Chucky" premieres this fall."
----------
ETHERIA FILM FESTIVAL BRINGS OFFICIAL 2021 LINEUP TO KANSAS CITY: "Etheria Film Night (etheriafilmnight.com) is returning to Screenland Armour Theatre (screeland.com) on Saturday, June 26, 2021 at 9:30 PM. The 2021 lineup features nine short films from around the world. "The Screenland Armour Theatre and the Kansas City genre fans have been so welcoming to Etheria and our filmmakers. We can't not wait to see how they react to this year's amazing selections", says Festival Director, Stacy Pippi Hammon.
The 2021 Jury Awards will be announced at the conclusion of the Saturday, June, 26, 2021, event at Screenland Armour Theatre. Audience Award voting will be open on both the Etheria Film Night and Screenland Armour Theatre websites from June 25,, 2021 to July 25, 2021, to align with the Shudder online streaming of the festival. An encore presentation of the lineup will play at the theater on Monday, June 28th 2021 at 9:00 PM. Adam Roberts, Screenland Armour Theatre co-operator/owner says, "We are thrilled to continue our partnership with Etheria allowing these emerging voices a chance for their work to be seen in a theatrical setting."
The 2021 Etheria Film Festival short film lineup includes the frenetic grand-Guignol horror The Fourth Wall from director Kelsey Bollig, the nail-biting sci-fi thriller Narrow directed by Anna Chazelle, the sci-fi time-travel comedy Bootstrapped from director Katy Erin, the deeply unsettling Spanish cosmic horror You Will Never Return by Mónica Mateo, the perfectly-paced comedy/fantasy The Gray from Myra Aquino, the new period thriller Misfits from director Ciani Rey Walker, the Philip K. Dick-style A.I. encounter Polvotrón 500 from Spanish director Silvia Conesa, the creepy, Gilliam-esque Eye Exam from acclaimed Irish director Aislinn Clarke, and the shockingly bleak and terrifying period horror western Who Goes There from Norwegian/U.K. director Astrid Thorvaldson.
Detailed information about the festival can be found on the official Etheria website at etheriafilmnight.com."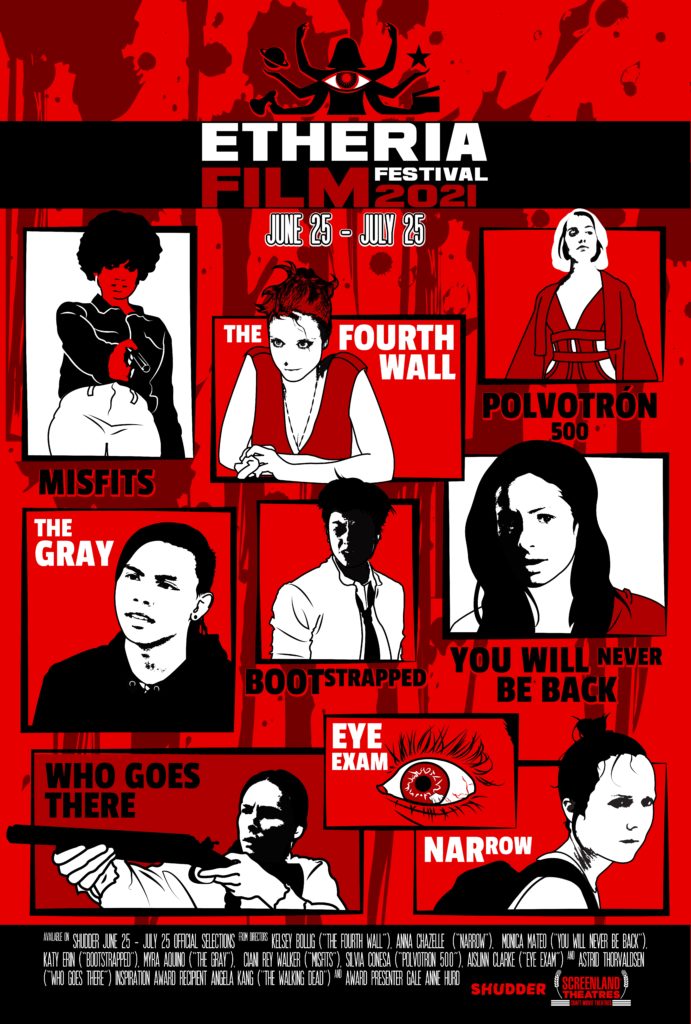 ----------
Netflix's THE SANDMAN - Behind The Scenes Sneak Peek Video: "This Behind The Scenes Sneak Peek video was released today as part of Netflix Geeked's first-ever Geeked Week, a virtual fan-facing event celebrating all things genre entertainment at Netflix."
"The Sandman is a new dark fantasy Netflix series based on The Sandman comic book series created for DC by Neil Gaiman (Good Omens, Coraline). Gaiman is also an Executive Producer and Co-Writer. The series is produced by Warner Bros. Television.
Allan Heinberg (Wonder Woman, Grey's Anatomy) serves as Executive Producer and Showrunner. David S. Goyer (Batman Begins, The Dark Knight, Terminator: Dark Fate, Foundation) serves as Executive Producer and Goyer and Heinberg are also Co-Writers on the project."
Logline: "A rich blend of modern myth and dark fantasy in which contemporary fiction, historical drama and legend are seamlessly interwoven, The Sandman follows the people and places affected by Morpheus, the Dream King, as he mends the cosmic — and human — mistakes he's made during his vast existence."