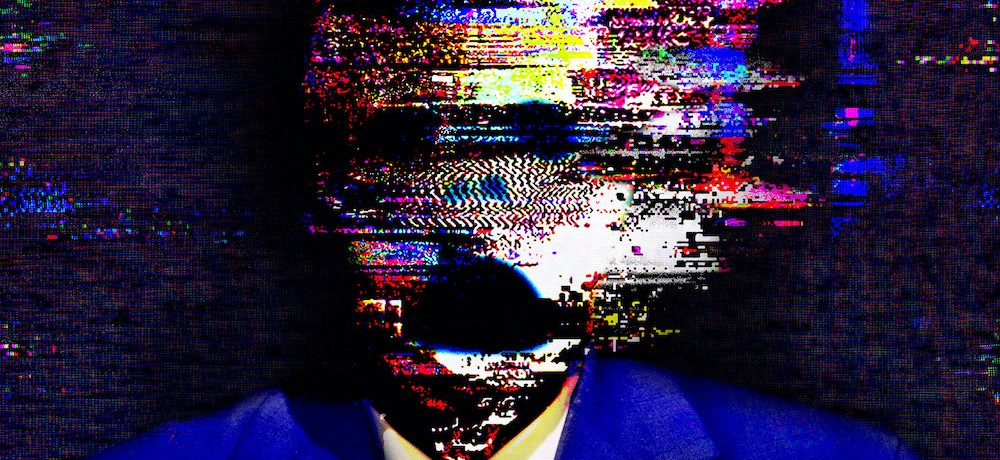 Jordan Peele's Monkeypaw Productions Presents Quiet Part Loud, A Fictional Horror Podcast with Immersive Audio and Sound Design: "Conservative radio personality Rick Egan (Tracy Letts) lost his platform in the wake of 9/11 for spreading xenophobic rumors surrounding a group of missing Muslim teenagers. Eight years later, a washed-up Rick is slumming it on the convention circuit when a mysterious woman (Christina Hendricks) presents a tantalizing revelation: One of the missing teens is back. This sends Rick on a quest for vindication as he follows a trail of unfathomable events. He is left face to face with the true culprit…The Blank (Taran Killam), a faceless sound parasite that thrives on the air of hatred. Rick receives a Faustian bargain from the mysterious entity and is about to find out exactly how far he will go to claw his way back to the top."
About Quiet Part Loud
"From Jordan Peele's Monkeypaw Productions, Quiet Part Loud is an audio horror fable that explores the terrifying power of a violent, virulent, and unrelenting lie. It's a haunting parable of monsters both human and otherworldly and a fictional but unflinching examination of the current animosity, fear, and divisiveness in America.
With immersive audio and sound design, Quiet Part Loud stands out from other horror narrative podcasts. The show consists of 12 bite-sized episodes that are available now for listeners to binge all at once."
Written by Mac Rogers and Clay McLeod Chapman
Directed by Mimi O'Donnell
Produced by Geoff Foster, Amy McLeish, and Katie Pastore
Executive Produced by Jordan Peele, Win Rosenfeld, and Mimi O'Donnell
Quiet Part Loud Cast
Tracy Letts as Rick Egan
Nikohl Boosheri as Noor
Christina Hendricks as Allied Alice
Taran Killam as The Blank
Milly Shapiro as Becca
Arian Moayed as Tariq
Alfredo Narciso as Vernon
Krish Marwah as Khalil
Krysta Rodriguez as Gaby
Heidi Armbruster as Nicole
Dariush Kashani as Imam
Ali Louis Bourzgui as Hassan
Marwan Salama as Yusef
Pooya Mohseni as Fatima
All 12 Episodes Now Live, Exclusively On Spotify
----
FANGORIA's January issue thrills horror fans with its stunning cover by artist "Ghoulish" Gary Pullin:"We've wanted to put Leatherface on the cover for the nearly five years I've been editor of the mag," said Fango EIC Phil Nobile Jr. "When we hit upon the idea to explore the untold story  of the infamous 'Excalibur' trailer from 1990's LEATHERFACE: TEXAS CHAINSAW MASSACRE III, the only two people more excited than me were writer Amanda Reyes, who dug up some amazing details in her research for the article, and illustration artist Gary Pullin, who said 'yes' before I could finish asking him."
The cover story explores the origins and making of one of the great horror trailers, in which the Lady of the Lake (spoiler: it was a man) tosses a chromed chainsaw to the franchise's iconic killer, creating a trailer that lingered in viewers' minds for longer than the actual film it was promoting. 
The cover depicts the moment in the trailer in which the gods give life to the saw via a lightning bolt. In typical Ghoulish Gary fashion, however, he  presents the classic moment from the front, offering a brand-new look at something familiar and classic. 
The January issue also features new releases M3GAN, Jason Eisener's Kids Vs. Aliens, Emily Hagins' Sorry About the Demon and Roxanne Benjamin's There's Something Wrong with the Children, as well Elizabeth Banks' (possibly not horror, but very gory) Cocaine Bear.
FX coverage in FANGORIA #18 includes a conversation  with M3GAN's puppeteering team, makeup legend Ve Neill talks to the great Greg Cannom about his classic work on Bram Stoker's Dracula, and Chainsaw Award winner Christopher Nelson opens up his iPhone to spoil Halloween Ends with some horrific, unseen makeup FX images.
To get this cover, you MUST subscribe; it will not be sold in stores. Readers can subscribe at https://shop.fangoria.com/collections/subscription/products/fangoria and use code LEATHERFACE to get 25% off a new subscription.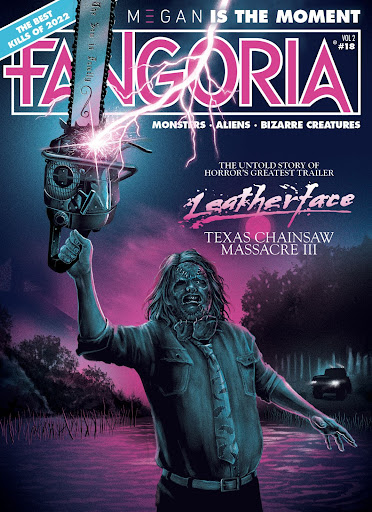 ---
#FLOAT: "Young, beautiful and full of life, vlogger Kali and her friends are heading to the river for their annual float, but it's the first time since their friend overdosed and drowned last year. Their partying turns deadly as a sinister paranormal force plunges them into a life and death struggle forcing them to face their own fears as they turn on each other - and proceed to die one by one.
#FLOAT skillfully plays on classic tropes of '80s slasher films – beautiful young, selfish people blithely ignore warnings about the dangers awaiting them and then get gruesomely killed off – while employing a modern sensibility."
Written and Directed by: Zac Locke (The Voyeurs, Black Christmas)
Country of Origin: USA
Language: English
Genre: Horror
Distributor: XYZ Films
Run Time: 76 minutes
Cast: Kaya Coleman (The Sinners, Dangerous Game: The Legacy Murders) , Scarlett Sperduto (Those Who Walk Away), Grant Morningstar (Meathook), Kate Mayhew, Matt Wise, Christina Nguyen (Lion)