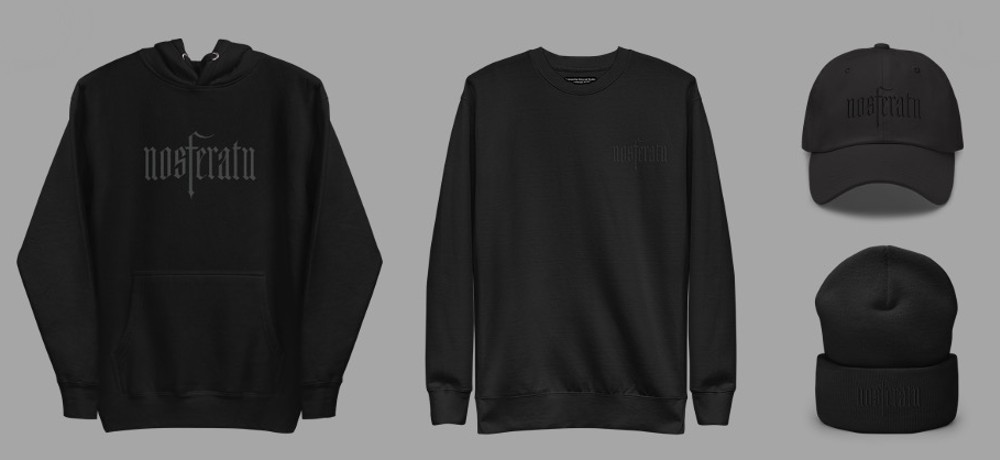 Just in time for Halloween, a limted-edition capsule collection has been released in honor of Robert Eggers' Nosferatu:
 "Nosferatu Limited-Edition Halloween Collection"
Nosferatu Unisex Hoodie: $44.95
Nosferatu Beanie: $24.95
Nosferatu Logo Hat: $29.95
Nosferatu Unisex Embroidered Crewneck: $39.95
For more details and to pick up any of this merch for yourself, visit: https://bit.ly/45LJKYp
Film Synopsis: From visionary filmmaker Robert Eggers comes NOSFERATU, a gothic tale of obsession between a haunted young woman in 19th century Germany and the ancient Transylvanian vampire who stalks her, bringing untold horror with him.
---
LORD OF MISRULE: "Directed by William Brent Bell (THE BOY, ORPHAN: FIRST KILL), LORD OF MISRULE follows Rebecca Holland (Tuppence Middleton), who has recently taken over as priest of a small town. When her young daughter Grace (Evie Templeton) goes missing at the local harvest festival, a desperate search begins. The closer they edge towards finding Grace, the more secrets emerge from the town's dark past. Soon, Rebecca must decide just how much she is willing to sacrifice to rescue her daughter from the grip of evil."
Directed by William Brent Bell
Written by Tom de Ville
Produced by Nik Bower and Deepak Nayar
Producers Jason Newmark, Laurie Cook, William Brent Bell, James Tomlinson, Alison Brister
Executive Producers Mark Fielding, Laura Brook, John Gleeson, Oisín O'Neill, Stephen Kelliher,
Yana Georgieva
Starring Tuppence Middleton, Ralph Ineson, Matt Stokoe, Evie Templeton
---
Resident Evil Village Treats iPhone 15 Pro and iPad Users to the World of Survival Horror Today: "Spooky Season just got a little scarier! Resident Evil™ Village, the award-winning eighth core entry in Capcom's iconic survival horror series, is now available on iPhone 15 Pro, iPhone 15 Pro Max, and all iPads with the M1 chip or later. The highly acclaimed title takes players on a thrilling adventure through a desolate European village teeming with horrors. The Winters' Expansion also joins Resident Evil Village on the App Store today. This downloadable content includes Third Person Mode, new playable characters for The Mercenaries mode, and Shadows of Rose, the surreal final chapter of the Winters family story set 16 years in the future.
With ultra-realistic graphics that parallel the fidelity of consoles, players can now take Resident Evil Village on the go with iPhone and iPad and relive Ethan Winters' nightmarish journey to rescue his kidnapped daughter. The experience is powered by Capcom's RE ENGINE, which takes full advantage of Apple silicon and advanced features like MetalFX Upscaling to deliver scary-good performance.
Conjuring the console roots of Resident Evil Village, the action-packed survival horror gameplay can be enjoyed on iPhone and iPad with wireless game controllers. Built-in touch controls are also included and are fully customizable to deliver easy on-the-go play. Resident Evil Village also supports cross-progression between iPhone and iPad, enabling saves to be shared across devices.
Resident Evil Village is available to try as a free download on the App Store, so players can experience the intense gameplay and striking visuals before purchasing the full game. In celebration of the launch, Resident Evil Village and Winters' Expansion are on sale and currently available for $15.99 USD and $9.99 USD, respectively, until Nov. 20, 2023. iPhone and iPad users who purchase the base game and expansion before that date will receive the Street Wolf Outfit as a special bonus. This alternate costume can be worn by Rose Winters in Shadows of Rose, where she explores a mysterious realm of consciousness in search of a cure for her unwanted powers.
The Resident Evil Village Original Soundtrack Complete Edition is also out now. Available first on Apple Music, this album features 135 spine-tingling songs. The haunting package includes 110 previously unreleased tracks from the base game, Shadows of Rose, and The Mercenaries Additional Orders expansion content. A special offer is available today to commemorate the soundtrack's release, providing listeners up to 3-months free of Apple Music.
The reawakened Resident Evil™ 4 and its high-flying downloadable content Separate Ways are coming soon for iPhone 15 Pro, iPhone 15 Pro Max, and every iPad and Mac with the M1 chip or later. The App Store release of Resident Evil 4 will support Universal Purchase and cross-progression across iPhone, iPad, and Mac."