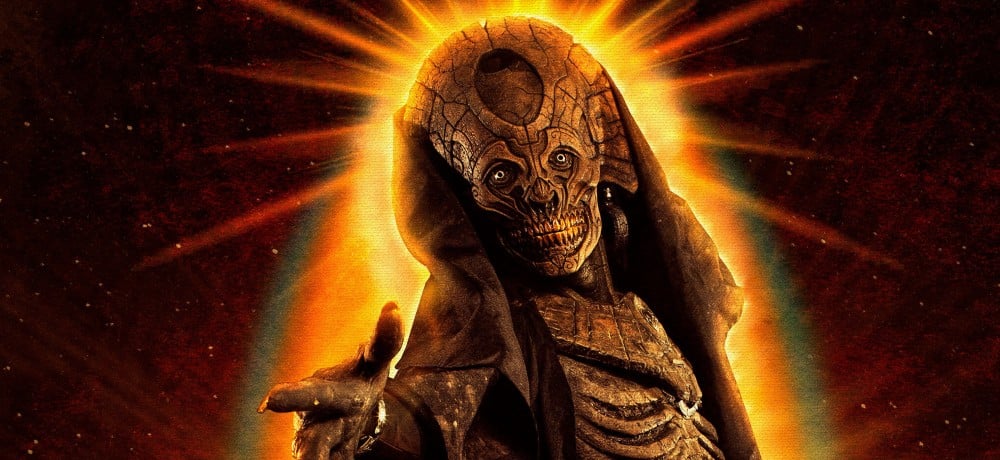 "When police raid a house in El Paso, they find it full of dead Latinos, and only one survivor. He's known as The Traveler, and when they take him to the station for questioning he tells them those lands are full of magic and talks about the horrors he's encountered in his long time on this earth, about portals to other worlds, mythical creatures, demons and the undead. Stories about Latin American legends."
Directed by: Mike Mendez, Demián Rugna, Eduardo Sánchez, Gigi Saul Guerrero, Alejandro Brugués
Written by: Alejandro Mendez, Demián Rugna, Pete Barnstrom, Lino K. Villa, Shadan Saul, Raynor Shima
Produced by: Patrick Ewald, Mike Mendez, Alejandro Brugués
Starring: Efren Ramirez, Greg Grunberg, Hemky Madera, Jonah Ray Rodrigues, Patricia Velásquez, Jacob Vargas, Ari Gallegos, Demian Salomon, Christian Rodrigo, Michael C. Williams
Distributor: Dread
Tickets: satanichispanicsfilm.com
In Theaters September 14
---
SCREAMBOX August Streaming Line-Up Includes ROBODOC, WHO DONE IT, SUBJECT, THE TEXAS CHAIN SAW MASSACRE: "SCREAMBOX has revealed the new films that are joining the horror streaming service in August, including RoboDoc: The Creation of RoboCop, The Texas Chain Saw Massacre, Who Done It: The Clue Documentary, Subject, Ghastly Brothers, and more.
Ghastly Brothers is streaming exclusively on SCREAMBOX today. The Dutch supernatural comedy harkens back to such gateway horrors as Ghostbusters, Beetlejuice, and Goosebumps.
Coming August 8, SCREAMBOX Exclusive Who Done It: The Clue Documentary is a movie about the movie about the board game! Clue cast and crew members including Colleen Camp, Michael McKean, Lesley Ann Warren, Lee Ving, Jeffrey Kramer, and Jonathan Lynn discuss the making and legacy of the 1985 cult classic.
A prisoner is ensnared in a sinister government experiment involving a mysterious creature in the SCREAMBOX Original Subject. Compiled from suppressed footage, the mind-bending Australian found footage horror film streams on August 22.
The first episode in the four-part SCREAMBOX Original series RoboDoc: The Creation of RoboCop releases on August 29, with additional installments dropping weekly. From the makers of Hollywood Dreams & Nightmares: The Robert Englund Story, the doc features insight from Paul Verhoeven, Peter Weller, Diane Robin, Ronny Cox, Nancy Allen, Ray Wise, and more.
Just in time for the new video game, Leatherface slashes into SCREAMBOX in The Texas Chain Saw Massacre, one of several MPI titles streaming this month. Even after nearly 50 years, Tobe Hooper's gritty horror masterpiece remains indelible, influential, and impactful.
Other August highlights include: Starry Eyes, a poignant body-horror gem starring Alex Esoe (Midnight Mass, Doctor Sleep); Lucky McKee's The Woman, a bleak exploration of toxic masculinity with Pollyanna McIntosh (The Walking Dead); The Innkeepers from modern master of horror Ti West (X, The House of the Devil); '80s favorites Chopping Mall and Witchboard; gory sequels Hatchet II, Hatchet III, and Victor Crowley; Richard Attenborough's Magic starring Anthony Hopkins and a psychotic ventriloquist dummy; and more.
Start screaming now with SCREAMBOX on iOS, Android, Apple TV, Prime Video, Roku, YouTube TV, Samsung, Comcast, Cox, Philo, and Screambox.com. Now through August 11, new users can sign up for 99 cents/month for the first three months at screambox.com/offers/scream99
---
NATTY KNOCKS: "NATTY KNOCKS stars Charlotte Fountain-Jardim as a small-town babysitter where she and the kids she is looking after struggle to survive a serial killer on Halloween Eve."
Directed by:  Dwight H. Little
Starring: Robert Englund, Danielle Harris, Bill Moseley