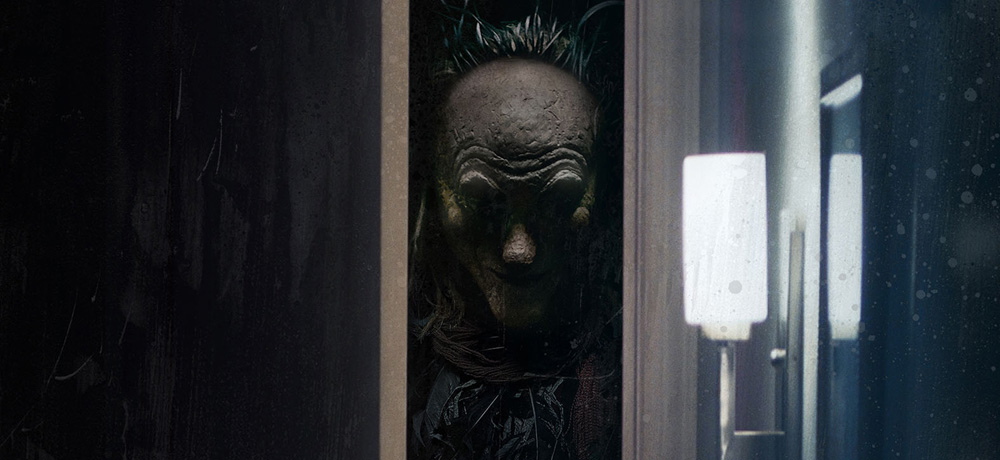 Watch the Trailer for SEPARATION: "8-year-old Jenny (Violet McGraw) is constantly caught in the middle of the feuding between her lawyer mother Maggie (Mamie Gummer) and artist father Jeff (Rupert Friend). She leads a lonely but imaginative life, surrounded by puppets called "Grisly Kin", which are based on the works of her father. When Maggie is tragically killed in a hit-and-run, Jeff and Jenny try to piece together a new life. But when Maggie's father (Brian Cox) sues for custody, and babysitter Samantha (Madeline Brewer) tries to be the new woman of the house, life in their Brooklyn townhome takes a dark turn. The puppets and frightening characters come to life and Jenny is the only person who can see them. When the motives of the ghoulish creatures become clear, the lives of everyone are put very much in jeopardy."
Directed By: William Brent Bell
Written By: Nick Amadeus and Josh Braun
Starring: Rupert Friend, Brian Cox, Madeline Brewer, Mamie Gummer, Violet McGraw
Produced By: Jordan Yale Levine, Jordan Beckerman, Russ Posternak, Jesse Korman, Clay Pecorin, William Brent Bell
Release Date: April 30, 2021
Running Time: 107 minutes 
Rating: R
----------
Fantaspoa Announces the Final Wave of its 2021 Feature Programming: "08 March 2021 // Porto Alegre, Brazil – As previously announced, due to the ongoing COVID-19 pandemic, Brazil's long-running Fantaspoa Fantastic Film Festival will celebrate its seventeenth edition completely online and free of charge. The 2021 edition of the beloved South American genre festival is supported by a special grant from the Brazilian government, which is offered to relevant cultural events amidst the pandemic. The festival has renewed its partnership with Darkflix, Brazil's immensely popular streaming service aimed at fantastic genre cinema.
Fantaspoa's festival directors are keenly aware of the fact that no live events will take place in the cinemas of Porto Alegre in 2021. Theaters currently remain closed due to a worsening of the virus and its variants in Brazil, as well a sharp increase in COVID-related deaths in the country, which has again forced Fantaspoa's directors and programmers to create the best – and safest – online experience for its dedicated fans.
Apart from its extensive Brazil-only programming, comprised of 160 films (which include 103 shorts and 57 features), the festival will offer four special events that will be accessible to viewers worldwide: (1) Q&A's with artists that will take place daily on the festival's YouTube channel; (2) a brand new score by the Brazilian band Quarto Sensorial to accompany Fritz Lang's DESTINY (DER MÜDE TOD) to mark 100 years since its release, also on YouTube; (3) an exhibition comprised of new works from twenty female artists, called Medusa's Laughter, that will be accessible via Fantaspoa's website; and (4) a kick-off online party on April 9 with 9 DJs and a costume contest.
According to festival directors João Fleck and Nicolas Tonsho, "We know that Fantaspoa's core is its amazing film selection, but the festival is so much more. Based on what we learned from last year's digital festival experience, we've worked as hard as possible to try to bring the closest thing to the real Fantaspoa deal to the online community."
The seventeenth edition of Fantaspoa is one of the largest online initiatives of any Latin American film event, with its screenings capped at 3,000 views and geo-blocked to Brazilian viewers. The festival hopes that its attempts to combat social isolation through digital gatherings will be seen as a small but valiant way to help fight this continuing and unprecedented pandemic that has taken such a painful toll on Brazil.
The festival's final wave of 33 feature films includes one World Premiere, four International Premieres, seventeen Latin American Premieres, and six Brazilian Premieres. These films represents 22 countries and have won awards at festivals, such as Moscow International Film Festival, Annecy International Animation Film Festival, Ottawa International Animation Film Festival, and Viennale.
The festival's 2021 trailer can be found at https://youtu.be/ZJhYkJReNC4, and offers a glimpse at many of this year's amazing film selections.
The final wave of Fantaspoa 2021 features include...
AS IN HEAVEN, SO ON EARTH (d. Francesco Erba, 2020, Italy, International Premiere)
BENNY LOVES YOU (d. Karl Holt, 2019, UK, Brazilian Premiere)
BEYOND THE INFINITE TWO MINUTES (d. Junta Yamaguchi, 2021, Japan, Latin American Premiere)
BLACK MEDUSA (d. Youssef Chebbi and Ismaël, 2021, Tunisia, Latin American Premiere)
BLEED WITH ME (d. Amelia Moses, 2020, Canada, Latin American Premiere)
CLAPBOARD JUNGLE: SURVIVING THE INDEPENDENT FILM BUSINESS (d. Justin McConnell, 2020, Canada, Latin American Premiere)
COLORFUL DREAMS (d. Jan Balej, 2020, Czech Republic, International Premiere)
CORTEX (d. Moritz Bleibtreu, 2020, Germany, Latin American Premiere)
DETENTION (d. John Hsu, 2019, Taiwan, Regional Premiere)
EJEN ALI THE MOVIE (d. Muhammad Usamah Zaid, 2019, Malaysia, Latin American Premiere)
ENTREI EM PÂNICO AO SABER O QUE VOCÊS FIZERAM NA SEXTA-FEIRA 13 DO VERÃO PASSADO (d. Felipe M. Guerra, 2001, Brazil)
A GRAVE FOR THREE (d. Mariano Cattaneo, 2020, Argentina, Brazilian Premiere)
HORSE TAIL (d. Manoj Leonel Jason and Shyam Sunder, 2020, India, Latin American Premiere)
IMMORTAL (d. Fernando Spiner, 2020, Argentina, Brazilian Premiere)
IN THE SHADOWS (d. Erdem Tepegoz, 2020, Turkey, Latin American Premiere)
IT CUTS DEEP (d. Nicholas Santos, 2020, USA, Latin American Premiere)
JUMBO (d. Zoé Wittock, 2020, France/Belgium/Luxembourg, Latin American Premiere)
KEEPING COMPANY (d. Josh Wallace, 2021, USA, Latin American Premiere)
KILL IT AND LEAVE THIS TOWN (d. Mariusz Wilczynski, 2019, Poland, Regional Premiere)
LAUGHTER (d. Martin Laroche, 2020, Canada, Latin American Premiere)
MENÁGE (d. Luan Cardoso, 2020, Brazil, Regional Premiere)
MODELL OLIMPIA (d. Frédéric Hambalek, 2020, Germany, Latin American Premiere)
A NAU DOS LOUCOS: MERGULHO E DECOLAGEM DE PAZUCUS (d. Gurcius Gewdner, 2021, Brazil, World Premiere)
THE NEST (d. Roberto De Feo, 2019, Italy, Latin American Premiere)
NON-LIVING (d. Agustín Rubio Alcover, 2020, Spain, Brazilian Premiere)
THE NOSE OR CONSPIRACY OF MAVERICKS (d. Andrey Khrzhanovskiy, 2020, Russia, Regional Premiere)
THE OLD WAYS (d. Christopher Alender, 2020, USA, Latin American Premiere)
PARALLEL MINDS (d. Benjamin Ross Hayden, 2020, Canada, Latin American Premiere)
THE RETURNED (d. Laura Casabe, 2019, Argentina, Brazilian Premiere)
RÖCKËT STÄHR'S DEATH OF A ROCKSTAR (d. Röckët Stähr, 2020, USA, International Premiere)
THE SHADOW OF THE ROOSTER (d. Nicolás Herzog, 2020, Argentina, International Premiere)
TRANS (d. Naeri Do, 2021, South Korea, Latin American Premiere)
VICTIM OF LOVE (d. Jesper Isaksen, 2019, Denmark, Brazilian Premiere)
---------
Watch the Trailer for THE BOONIES: "A fun weekend excursion turns deadly when Aaron (Matt Schultz, "Theo and the Professor") joins his brother, Jeremy (James Quinn, Checkmate), and a group of his friends for a weekend in the Appalachian woods. Instead of a peaceful weekend getaway, the group soon discovers their itinerary includes more than a traditional outdoor adventure. When they unexpectedly meet a couple who report strange local occurrences, the group soon find themselves on a terrifying trek during their fight for survival.
From director Lance Parkin ("Theo and the Professor"), The Boonies was co-written by Parkin and star Matt Schultz. The horror-thriller also stars Daniel Johnson ("Make It Happen"), Jess Uhler (Massacre Academy) and Rick Dutrow (Massacre Academy, "Rust")."
Limited Theatrical: March 30, 2021 (Pittsburgh, PA)
DVD + Digital HD Release: April 13, 2021
Digital Availability: Apple TV, Google Play, Prime Video, FandangoNOW and more
Run Time: 97 minutes
Rating: N/A

--------
Watch the Trailer for BOYS FROM COUNTY HELL: "Strange events unfold in Six Mile Hill – a sleepy Irish town that claims to have been traveled by the famed author Bram Stoker – when construction on a new road disrupts the alleged grave of Abhartach, a legendary Irish vampire said to have inspired Dracula. Deadly and sinister forces terrorize the work crew led by Francie Moffat and his son Eugene, a free-spirited young man who prefers pints to pickaxes, and they're forced to fight to survive the night while exposing the true horror that resides in the town's local myth.
Starring Jack Rowan (Peaky Blinders), Nigel O'Neill (The Bookshop), Louisa Harland (Derry Girls), Fra Fee (Animals, the upcoming Hawkeye series) and John Lynch (The Terror, The Banishing) and Michael Hough (the upcoming Chapelwaite series), and written and directed by Chris Baugh (Bad Day for the Cut).
BOYS FROM COUNTY HELL is produced by Brendan Mullin of Six Mile Hill Productions and Yvonne Donohoe for Blinder Films, and executive produced by Katie Holly for Blinder Films, Brian Kavanaugh-Jones and Rian Cahill for Automatik, and Lesley McKimm for Screen Ireland. The film is a co-production between the Republic of Ireland and Northern Ireland and was supported by Endeavor Content, Screen Ireland, Northern Ireland Screen, and Egg Post Production."
BOYS FROM COUNTY HELL comes to Shudder in the US and Canada April 22nd