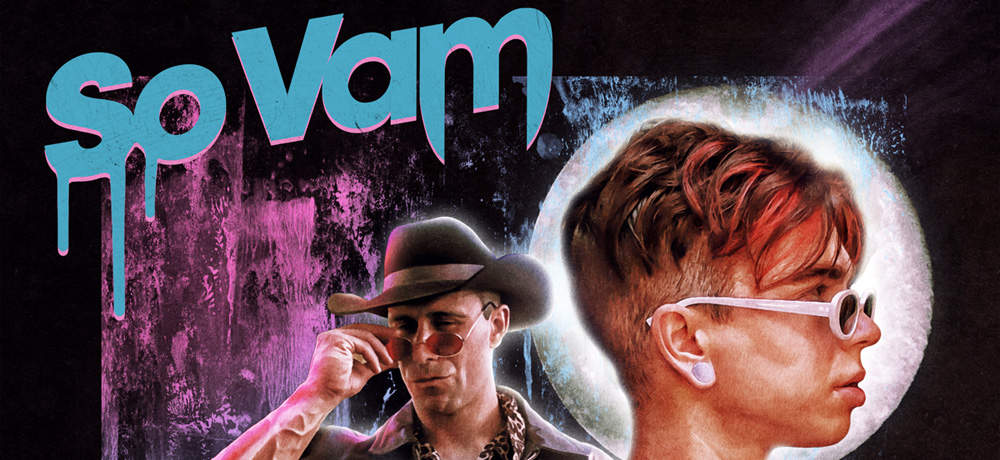 Details on the Upcoming Film SO VAM from Alice Maio Mackay: "Kurt is an outcast in a conservative town who dreams of moving to the city to be a famous drag queen. When he is kidnapped by a predatory old vampire and killed, he is rescued just in time to be resurrected by a gang of rebellious vampires who feed on bigots and abusers. As a vampire he finally knows empowerment and belonging, but his killer is still out there: enslaving new minions with their own rotten hatred and threatening all that he loves. Until Kurt faces the monster, he will never truly be free, but this time he need not face it alone."
Alice Maio Mackay is an award-winning 16 year old filmmaker based in Adelaide, South Australia. Alice's work is produced under her own business, One Manner Productions. We've included stills and the official poster below. To keep up on So Vam, visit: @alice_maiomackay and @onemannerproductions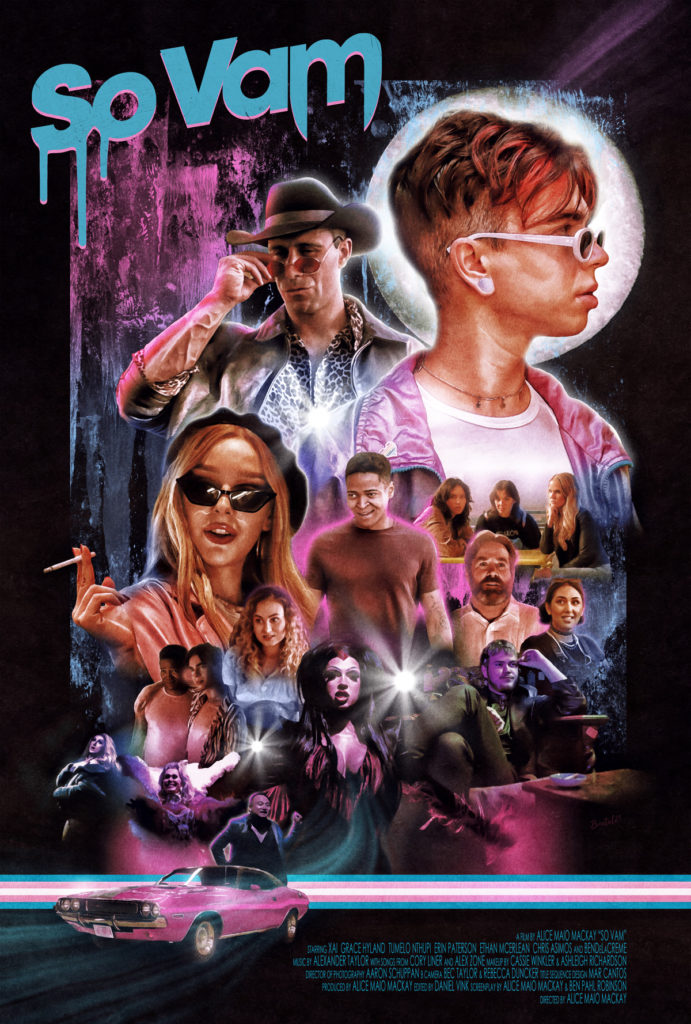 ---------
LET US IN: "Samuel Goldwyn Films announced today that the company has acquired world-wide rights (ex Canada) of the family sci-fi film by director Craig Moss LET US IN. The film stars Makenzie Moss (TV's The Unicorn), O'Neill Monahan (TV's The Middle), Sadie Stanley (THE SLEEPOVER), Eric Callero (DEADLY DAUGHTER SWITCH), Mackenzie Ziegler (TV's Total Eclipse), and Tobin Bell (SAW).
A spirited twelve-year-old girl and her best friend start investigating the sudden disappearances of several missing teens in their small town. Realizing there might be something deeper happening, Emily and Christopher might be up against forces they can't even imagine.
"JW and I couldn't be more thrilled to be working with Samuel Goldwyn Films. I have a history with this company and know we're in good hands when it comes to releasing our film," says Craig Moss.
"I watched this movie with my kids, and we all loved it. It's so rare to be able to find a film that my entire family can watch together. It's a film that reminds me of the great movies I grew up on like "Goonies"," says Peter Goldwyn.
LET US IN was produced, co-written and directed by Craig Moss along with co-writer and executive producer JW Callero and their Just Wanna Make Movies banner.
The deal was negotiated by Peter Goldwyn on behalf of Samuel Goldwyn Films and Craig Moss on behalf of the filmmakers."
---------
Watch the Trailer for GIRL WITH A STRAIGHT RAZOR: "From comes GIRL WITH A STRAIGHT RAZOR, a psychotronic, sensual horror film starring Ali Chappell (NECROPOLIS: LEGION). The film follows themes and moods explored in previous Alexander-helmed films like BLOOD FOR IRINA, QUEEN OF BLOOD, SPACE VAMPIRE and FEMALE WEREWOLF while melding them with a more graphic, neo-giallo aesthetic. GIRL WITH A STRAIGHT RAZOR also stars noted Canadian musician and performance artist Thea Faulds and features practical special effects make-up by artist Carlos Henriques (NECROPOLIS: LEGION, BEAST WITHIN).
GIRL WITH A STRAIGHT RAZOR is the first original genre production from Canadian horror and exploitation film distributor Darkside Releasing with their new partner, Moleman Entertainment, in what is a joint effort to produce and distribute sophisticated independent low budget genre pictures that emphasize style and substance while also delivering more visceral horror elements.
The official poster art for GIRL WITH A STRAIGHT RAZOR was painted by noted British comic and graphic novel artist Nick Percival (JUDGE DREDD, HELLRAISER, MARVEL ZOMBIES) and the poster design was created by Marc Schoenbach at Sadist Art Designs.
"I consider my work to be a kind of 'elevated exploitation' and GIRL WITH A STRAIGHT RAZOR is no exception," says Alexander, who wrote, produced, directed and composed much of the score.
"Once again, I focus on a female protagonist and sympathetic 'human monster' who is trapped in a sort of isolated reality and finds salvation through violence. This time, the isolation was a given, seeing as the picture was carefully produced during the pandemic with minimal cast and crew. The intimacy of the process only added to the texture of the film, really."
Darkside Releasing will release GIRL WITH A STRAIGHT internationally this summer on multiple formats and platforms."
---------
Alessandra Jara Del Castillo wins Killer Shorts Horror Short Screenplay Competition: "Alessandra Jara Del Castillo has won the 2nd Annual Killer Shorts Horror Short Screenplay Competition.
The contest, now in its second year, awarded Alessandra as the overall winner out of 952 entries for her horror short screenplay, THIS HUNGER. Alessandra Jara Del Castillo's script follows 'an indifferent Hispanic housewife who grows infatuated with her husband—only after he returns from the dead, hungry for meat." It's a subtle story about the death, rebirth, and re-death of a marriage that works as both a zombie body horror and a compelling drama.
The Killer Short Contest celebrates horror short screenwriters from around the world, connecting them with managers, producers, and filmmakers. Season 1 third place winner, Chris Hicks, signed with a manager after the contest inspired him to adapt his viral short story THE BUTTER STREET HITCHHIKER, and increased his exposure to industry members on the screenplay submission platform, Coverfly.
COPY CAT by Vanessa Branch has been selected as the 2nd Place Winner and HIDE YOUR CRAZY by Austin Kase has been selected as the 3rd Place Winner.
Killer Shorts partners with female-led film groups to provide heavy discounts for submissions to their female-identifying and non-binary writers. With this discount, the contest saw an increase, from 1 last year, to 4 womxn placing in the Top 10 in Season 2.
"This year we focused on providing even more opportunities for women and POC," says contest director Alison Parker, "Not only did we end up with two women of color in the Top 3, but I was excited to learn that Alessandra entered the contest because of the discount we provided."
The Killer Shorts' jury included: Julian Terry (Whisper, They Hear It, The Nurse), Chelsea Lupkin (Short of the Week, Lucy's Tale), Barbara Crampton (Re-Animator, From Beyond, You're Next), Joe Bob Briggs (The Last Drive-In with Joe Bob Briggs), Scott Stoops (Good Fear Film + Management), Glenn Cockburn (Meridian Artists), Sophie Carroll (ALTER), Scott Carr (Management SGC), Jason Tamasco (Bad Idea Films), John Zaozirny (Bellevue Productions), Zack Zucker (Bellevue Productions), Matthew Dartnell (Writ Large), Krista Sipp (First Friday Entertainment), and Jenn Wexler (The Ranger).
As a part of the prize package, the Top 3 winners receive circulation and recommendation to a network of Hollywood managers, agents, producers, and development executives, Final Draft 12 screenwriting software, Shudder subscriptions, waived entry to multiple other contests and festivals, increased rank on Coverfly's The Red List, and swag from sponsors like Creepy Co and Rue Morgue. The third place winner receives coverage notes from The Script Butcher.
The newest addition to the list of prizes is a one-of-a-kind skull-shaped typewriter trophy, hand-sculpted and designed by Tyler Green of Tyler Green FX Studios (SyFy's FACE/OFF).
"As always, we are looking for original short screenplays with captivating stories and unique voices in the horror genre. The amount of raw talent out there is staggering and we can't wait to read next year's scripts" said Parker.
Next year's competition will reconvene with submissions opening on June 1, 2021 and closing on Dec 17th. The worldwide contest is open to anyone over 18 years old and accepts screenplays up to a maximum of 25 pages.
For more information visit: KillerShortsContest.com "